Before the Heat's home game Saturday night against Toronto, Chris Bosh will receive the Professional Basketball Writers Association's annual Magic Johnson Award in recognition of his big numbers combined with above-and-beyond cooperation with the media in his farewell season with the Raps.
That's the same body of media, incidentally, absolutely crushing him now for his tepid start with the Heat.
Does Bosh deserve more leeway when the Heat's season isn't even 10 games deep? Probably. But this is the sort of scrutiny Bosh invited when he consented to team up with Dwyane Wade and LeBron James on one of the biggest bull's-eye teams of all time, perhaps without realizing how much of an adjustment it would be to play without the ball in his hands for the first time in years. He's got to live with it and do something about it. Fast.
Couldn't really argue with a certain excitable Sports Guy at ESPN.com who deemed Miami's Thursday night showdown with Boston to be the biggest game of Bosh's career, given the dearth of big moments in his Toronto time and the high-profile roasting he was sure to get from Charles Barkley -- and everyone else in the hoops universe who revels in every Heat setback -- after another tentative display. Also can't deny that FoxSports.com's Jason Whitlock gave us all something to ponder with a provocative column that questioned whether Bosh is going to be able replicate the sort of toughness that Dennis Rodman, Horace Grant and Charles Oakley regularly used to supply the Hall of Fame perimeter tandem of Michael Jordan and Scottie Pippen, who serve as the template for the LeBron/D-Wade partnership.
Yet I'm still willing to venture, even after that humbling dunk Rajon Rondo hammered down and the overall beatdown Boston inflicted, that Bosh will look like a different player once the Heat find some flow offensively. And their core guys are too talented not to find it, despite how lost and stagnant they all looked against the Celtics.
I can't shake the suspicion that what we're seeing now -- unacceptably low rebound numbers from Bosh (6.0 rpg through nine games) and a soft presence inside that New Orleans' defensive-minded Emeka Okafor and then Utah's Paul Millsap abused -- stems largely from the fact that he isn't getting as many touches as he's used to. He has never been the impact defender he should be, but Bosh's own complaints about lethargy and confusion at what's supposed to be the fun end leave me with the distinct feeling that he's one of the many players in this league whose success in other areas (like rebounding) is fueled largely by how he feels about himself offensively.
Bosh's life would certainly be easier if he had a bulkier sidekick on Miami's front line, and sources close to the situation say that the Heat are re-evaluating their earlier decision to pass on signing Erick Dampier, who is a free agent again after the collapse of his planned deal with Houston.
Yet even if Dampier winds up elsewhere elsewhere -- with Phoenix and Toronto also looking at him again -- waiting until at least midseason before declaring whether Bosh is a suitable third wheel seems fair. By that point LeBron and D-Wade and Heat coach Erik Spoelstra will have presumably figured out how to start getting the slender lefty more frequent and confidence-building touches.
---
Some numbers of note in the East this week:
6: That $60 million extension for the next five seasons Chicago awarded Joakim Noah in October is looking a lot like the bargain extension Boston locked up with Rajon Rondo in October 2009 after Noah posted a double-double in each of Chicago's first six games. That's the longest such streak to open a season for any Bull since Artis Gilmore had a double-double in the first 11 games of the 1978-79 season. With a nightly average of 15 boards, Noah is also bidding to become just the second Bull to ever lead the league in rebounding. Dennis Rodman did it three times for Chicago in the 1990s.
18: New Jersey's win Wednesday night at Cleveland halted a run of 18 consecutive losses in November dating to last season. The November record for futility is 20 straight defeats for the then-Vancouver Grizzlies in 1995 and 1996, followed by 19 in a row for Dallas in 1980 and 1981.
3: David Lee's 28 points for Golden State on Wednesday night marked the third-highest total for an ex-Knick in his first game back at Madison Square Garden. Zach Randolph (33 points for the Clippers in March 2009) and Latrell Sprewell (31 for Minnesota in December 2003) are the only Knicks alumni who made noisier MSG returns.
2: Lee's 368 regular-season appearances for the Knicks without a playoff appearance, however, are No. 2 in team history behind Johnny Green's 472 games without a taste of the playoffs.
5: Rondo already has five games with at least 15 assists, just three shy of his own single-season franchise record set last season. Nate Archibald had six such games in 1979-80; Bob Cousy had five in 1959-60.
---
One ironic overlooked point about Indiana's ridiculous 54-point third quarter against Denver on Tuesday night: Jim O'Brien's team nearly toppled a record set by his father-in-law's Buffalo Braves early in the 1972-73 season. The Dr. Jack Ramsay-coached Braves scored 58 points in the fourth quarter of a 126-118 loss to Boston on Oct. 20, 1972. O'Brien married Ramsay's daughter, Sharon, in 1976. ... For the record: Miami's SuperFriends needed seven games together for all three of them to score at least 20 points in the same game. Our friends at the Elias Sports Bureau remind us that Ray Allen, Kevin Garnett and Paul Pierce, by comparison, needed only three games together in Boston in 2007-08. Wilt Chamberlain, Elgin Baylor and Jerry West? Just two games together with the Lakers to do it in 1968. Charles Barkley, Clyde Drexler and Hakeem Olajuwon, meanwhile, all reached the 20-point plateau in their very first game together in Houston in 1997. Looking for a famous trio that was slower than LeBron, D-Wade and Bosh? Try Larry Bird, Kevin McHale and Robert Parish, who had to play 36 games together to get there in 1980-81. Remember, though, that McHale began his career as a sixth man, which is surely why it took the Celtics' original supersized three so long. ...The geek in me (all of me?) always gets more excited than I should when a new NBA book gets dropped on the porch, but I was particularly geeked to find out that Walt Frazier and Triumph Books are coming out with an updated version of Walt's 1970s classic "Rockin' Steady." At least now I have a manual for coolness.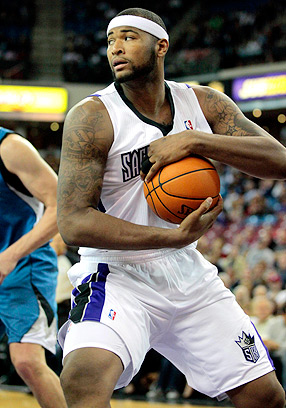 Cary Edmondson-US PRESSWIRE
Sacramento rookie DeMarcus Cousins has been an even bigger handful for his coaches than the Kings expected. (See Box 3)

Wall
John Wall. Derrick Rose. Saturday night. Sounds good, doesn't it?
Only five guards in the past 35 years have been selected No. 1 overall in the NBA draft ... and two of them collide in Chicago this weekend for their first regular-season showdown.
Adding to the anticipation in this case, of course, is the fact that (A) Wall and Rose played only one season of college ball under John Calipari at separate schools and (B) Wall just uncorked his first career triple-double (19 points, 13 assists and 10 rebounds) in Wednesday night's home over Washington.
Which leads us right into another round of Wall-related charts to make us smarter (from the Elias Sports Bureau):
YOUNGEST PLAYERS WITH TRIPLE-DOUBLE
| Name | Year | Years-Days |
| --- | --- | --- |
| LeBron James | 2004-05 | 20-20 |
| LeBron James | 2004-05 | 20-23 |
| Lamar Odom | 1999-00 | 20-54 |
| John Wall | 2010-11 | 20-65 |
| Magic Johnson | 1979-80 | 20-75 |
TRIPLE-DOUBLE WITH FEWEST CAREER GAMES
| Name | Year | Gms |
| --- | --- | --- |
| Oscar Robertson | 1960-61 | 1 |
| Hambone Williams | 1967-68 | 4 |
| Magic Johnson | 1979-80 | 5 |
| Connie Hawkins | 1969-70 | 5 |
| John Wall | 2010-11 | 6 |
| Guy Rodgers | 1958-59 | 6 |
MOST ASSISTS, FIRST SIX NBA GAMES
| Name | Year | Asts |
| --- | --- | --- |
| John Wall | 2010-11 | 61 |
| Oscar Robertson | 1960-61 | 60 |
| Ernie DiGregorio | 1973-74 | 53 |
| Jamaal Tinsley | 2001-02 | 49 |
| Phil Ford | 1978-79 | 49 |
GUARDS PICKED NO. 1 OVERALL LAST 35 YEARS
| Name | Year |
| --- | --- |
| John Wall (Washington) | 2010 |
| Derrick Rose (Chicago) | 2008 |
| Allen Iverson (Philadelphia) | 1996 |
| Magic Johnson (Los Angeles Lakers) | 1979 |
| John Lucas (Houston) | 1976 |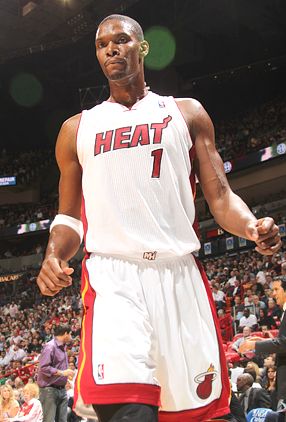 Victor Baldizon/Getty Images
Does Chris Bosh need a supersized sidekick in the post? Or can a few more in-game touches solve his early-season struggles. (See Box 6)