With its season in tatters, Portland is indeed checking around to see what sort of trade possibilities exist, amid the mounting evidence to suggest that the three-man core of Brandon Roy, Greg Oden and LaMarcus Aldridge can never be salvaged because of the knee injuries that have plagued Roy and Oden.
One source close to the situation assures that new general manager Rich Cho is looking at "all options." Unclear, though, is how much latitude the well-regarded Cho has, as a first-year GM, to make sweeping changes, given that the Blazers' upper management ousted Kevin Pritchard in part to have closer control over basketball operations and amid the undeniable uncertainty about what the landscape will look like for small-market teams after labor negotiations in the summer.
The Blazers have no shortage of desirable veterans with cap-friendly contracts: Marcus Camby, Andre Miller and Joel Przybilla could all be dealt easily. Young assets would figure to be Portland's preferred target, but the Blazers have been known to make sneaky runs at the likes of Chris Paul and Steve Nash in recent weeks and months, no matter how many times they're told by the Hornets and Suns that those franchise point guards aren't available.
In a chat with ESPN.com earlier this week, amid a growing belief around the league that his backcourt partnership with Miller will indeed be dissolved before the Feb. 24 trading deadline, Roy professed to have no knowledge of specifics.
But he did say that a shakeup wouldn't surprise many in the Blazers' locker room at this point.
"We've heard [media members say] that if we that don't start winning then [the Blazers] are gonna make some changes," Roy said. "I think that's only normal. You gotta win. Everybody wants to win now, I don't know what's going to happen, but of course if we don't win we're probably going to have some changes around here."
---
Some numbers of note in the West this week:
244: Yao Ming played in 244 of his first 246 regular-season games.
5: Yao has played in five games this season and last season and has missed 193 regular-season games starting with the 2005-06 season.
18: Deron Williams entered his Friday night showdown with Paul in New Orleans having scored at least 30 points in each of his last three games. And D-Will's career total of 18 games with at least 30 points and 10 assists ties him with Pete Maravich for the franchise record.
.588: Golden State's undrafted Reggie Williams is the league's top 3-point shooter in December thus far (minimum 30 attempts) at 20-for-34, good for a success rate of 58.8 percent.
29: Good sign for those of you worried about Kobe Bryant's gas tank: L.A.'s go-to guy is averaging 29.0 points in the second game of the Lakers' five back-to-back sets this season.

Allen
You've been hearing it everywhere: Dec. 15 was a huge day on the NBA's trading calendar because that's when players who signed contracts last summer became eligible to be traded.
There are, however, some exceptions.
We happen to have tallied up around 20.
There are always a handful of players every season possessing a certain kind of one-year contract that prevents teams from trading them without consent.
Specifically, players who sign one-year contracts to return to their last team can't be dealt without granting permission. And that's because the Early Bird or Full Bird free-agent rights their teams would have at the end of those one-year deals are forfeited if the player is traded elsewhere.
Here, then, are 17 players, who signed one-year deals in the offseason to which this little-known rule applies, ensuring that none of them will be dealt before the Feb. 24 trading deadline unless they approve of the move:
Jason Collins (Atlanta)
Ray Allen (Boston)*
Marquis Daniels (Boston)
Jawad Williams (Cleveland)
Anthony Carter (Denver)
Rasual Butler (Los Angeles Clippers)
Craig Smith (Los Angeles Clippers)
Shannon Brown (Los Angeles Lakers)*
Carlos Arroyo (Miami)
James Jones (Miami)*
Jamaal Magloire (Miami)
Aaron Gray (New Orleans)*
Jason Williams (Orlando)
Patty Mills (Portland)
Kyrlyo Fesenko (Utah)
Josh Howard (Washington)
Cartier Martin (Washington)
* -- Allen actually signed a two-year deal with the Celtics, but the second year is a $10 million player option ... and options are not counted when applying the one-year consent rules. Similar circumstances apply for the Lakers' Shannon Brown, Miami's James Jones and New Orleans' Aaron Gray.
There are also, for the record, two more groups of players, in addition to this privileged and unique selection of one-year guys, with trade-blocking power. They are:
1. Kobe Bryant and Dirk Nowitzki with full no-trade clauses.
As discussed here before on numerous occasions, no-trade provisions in the NBA are extremely rare. Players not only must have at least eight seasons of service time and four seasons with the same team to be eligible, but they also can only get them in negotiations for a new contract because the NBA does not allow such clauses to be added to an existing contract or contract extension.
Nowitzki met all three criteria last summer when he re-signed with Dallas and was able to join Bryant -- who has possessed a no-trade clause since 2004 -- in what ranks as one of the league's most exclusive clubs.
Numerous NBA stars who would have the stature and/or leverage to request a no-trade clause often sign their first big-money deals well before their eighth pro season and frequently sign extensions to those big contracts, as opposed to going onto the open market. Many of them, as a result, are never even eligible for a no-trade clause, since they are not permissible in extensions.
2. Players who, as restricted free agents in the previous offseason, signed offer sheets with another team that were subsequently matched by their original employer.
A team that exercises its right of first refusal to retain a restricted free agent cannot trade that player for one year without the player's permission. There are only two in the league at present -- Houston's Kyle Lowry and Orlando's J.J. Redick -- and they also can't be traded to the team that extended the offer sheet for one year.
Players With Matched Offer Sheets
| Name | Signed With | Veto Rights Expires |
| --- | --- | --- |
| Kyle Lowry | Rockets | Cavs, July 15 |
| J.J. Redick | Magic | Bulls, July 16 |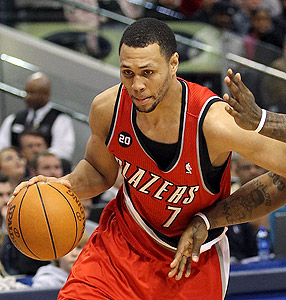 Chris Graythen/Getty Images
Blazers guard Brandon Roy, plagued by rising pain in both of his knees, speaks at length about the challenges of his health situation in a candid Q&A visit. (See Box 2)

The Raptors continue to explore possible trades for recently acquired Peja Stojakovic and his expiring $15 million salary, but sources close to the situation say with increasingly regularity that Stojakovic is far more likely to be bought out by Toronto than dealt again.
Financial flexibility to take into the NBA's new frontier of the next labor agreement would appear to appeal more to the Raps than taking on long-term salary.
Stojakovic has played in just two games since he was dealt to Toronto in the Jarrett Jack deal on Nov. 20, thanks largely to a troublesome knee, but he's sure to attract interest from multiple contenders if he does make it to the open market as expected.
As long as he's released by March 1, Stojakovic will be eligible to play in the playoffs for another team. It is generally assumed in front-office circles that the Raptors will work with the Serbian sharpshooter if they can't find a trade for him, since Stojakovic had to waive $437,470 of his $1.2 million trade kicker for the salary-cap math to work in the New Orleans/Toronto deal that enabled the Raps to shed the contracts of Jack and Marcus Banks.
---
Some numbers of note in the East this week:
12: The Celtics are the third team this season to assemble a 12-game win streak -- joining San Antonio and Dallas -- and have five double-digit win streaks since Kevin Garnett and Ray Allen joined Paul Pierce starting with the 2007-08 season. No other NBA team has more than three double-digit win streaks in that span.
30: After his recent 38-point return to Cleveland in Miami colors, LeBron James has posted at least one 30-point game against every NBA team. The only other active players to do that, according to the Elias Sports Bureau, are Vince Carter, Antawn Jamison, Tracy McGrady and Shaquille O'Neal.
39: Amare Stoudemire's 39 points Wednesday night in the Knicks' crushing home loss to Boston marked the third-highest total recorded against the Celtics in the Garnett Era. Dwyane Wade had a 44-point game against the Celts last season and LeBron scored 42 against them. Derrick Rose (last season) and Caron Butler (with Washington in 2008-09) have also scored 39 against the KG-led Celts.
0: Indiana's Darren Collison, who averaged 18.8 points and 9.1 assists whenever he started in New Orleans last season in place of the injured Paul, is averaging just 13.5 points and 4.1 assists for the Pacers and has yet to record a double-digit assist game this season.
5: Kris Humphries' career year continues in New Jersey. Kim Kardashian's latest pro athlete boyfriend is up to five games with at least 15 rebounds for the Nets, which trails only Kevin Love (15), Blake Griffin (eight) and Joakim Noah (six) this season. After grabbing 17 boards in Thursday night's win over Washington, Humphries is tied in that category with Dwight Howard and Andrew Bogut.
---
It's been a rather somber week in the NBA, thanks largely to Yao's latest potentially career-ending setback in Houston, Noah's thumb injury in Chicago and the deteriorating state of Roy's knees.
Even the lighthearted moments didn't quite pan out for me.
I've been waiting for some time to find out if Ersan Ilyasova was a fan of what I deem to be one of the league's wittiest nicknames: Turk Nowitzki.
That what Bucks fans have been calling him since last season, but Ilyasova tried to convince me Monday night that he doesn't exactly love it.
Not that he gets to choose his own nickname -- since we're not exactly talking Kobe "Black Mamba" Bryant here -- but Ilyasova says he prefers Turkish Thunder.