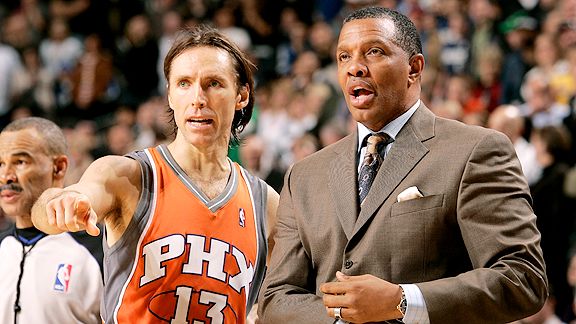 Glenn James/NBAE/Getty Images After reaching the 2010 West finals, Steve Nash and Alvin Gentry had to start from scratch ... twice.
1. Suns Set On Keeping Nash ... For Now
PHOENIX -- Steve Nash does indeed have something wild planned for his 37th birthday Monday night. Something completely out of character.
The tentative arrangement calls for Nash to take a one-day hiatus from the NBA's strictest diet and treat himself to some actual pizza.
"Maybe a slice," Nash said.
"Something tells me I'll probably stick to a salad."
The prospect of Nash ingesting anything that doesn't sprout from all-natural, grass-fed or gluten-free sources legitimately does qualify as NBA news, but something tells me you were hoping for a more provocative bulletin. Something along the lines of a request to be traded.
Nash knows it, too. His Twitter feed fills up daily with messages from loyal Phoenix Suns fans who tell him that they'd totally understand if he asked to be shipped to a contender for the twilight of his career. He remains so beloved and bulletproof in the desert that one can genuinely sense, sitting inside US Airways Center, that the locals are grateful for all he's given them for the past six and a half seasons and want to see Nash finally make it to the NBA Finals after an NBA-record 118 playoff games without a taste. Even if that means he has to leave them.
So something tells me lots of you are going to be disappointed to hear that Nash still swears he has no intention of making that request, as forecasted back in December right after Phoenix shook up its roster. Asking to be dealt is not in the works as a birthday present to himself and not something Nash is plotting to spring on the Suns before the Feb. 24 trading deadline.
Nash insisted again this week, as he lunched on five-bean soup and the healthiest of chopped salads at one of his go-to temples for food purity, that he won't be lobbying Suns owner Robert Sarver and new team president Lon Babby to send him to a contender.
"Maybe I'm old school," Nash said, "but I signed a contract to play here and I want to honor it. I feel like I owe it to my teammates and the city and everybody to keep battling until they tell me it's time to go."
Suns coach Alvin Gentry, meanwhile, told ESPN.com that there is only one scenario that would lead the organization to even contemplate parting with the face of the franchise, which Gentry says would require Nash -- as with anything else in Phoenix that involves a basketball -- to be the initiator.
"The only reason you would ever even remotely consider trading Steve is if he came to you and said, 'I think I need to move on somewhere,' " Gentry says. "That would be the only reason. But to us, making that decision to trade him, I don't see why we would even think about it. You guys can keep talking about it, but we're not going to trade him. He's playing at such a high level. Why would we?
"How you gonna get value for him? Unless you're gonna go get Deron Williams or Chris Paul or somebody like that, tell me how. Why do we have to bottom out to rebuild our team? I don't see why you would want to bottom out and spend the next five years trying to get good again."
Gentry's bosses don't, either.
All of the obvious trepidation on both sides -- with Nash too team-first to force the issue and the Suns set against shopping him unless he wants out -- has prompted various sources close to the situation to repeatedly claim that a trade can't and won't be looked at seriously until after the season. But Gentry and Babby did shed some new light on the Suns' stance during our Phoenix visit, explaining that going super young holds little appeal to them even as cries from outside the organization gain volume in imploring Phoenix to cash in on Nash when his production is statistically superior to his breakthrough MVP season in 2004-05.
"I don't see how it makes any sense for us to move him," Babby said. "I know that people think we ought to look to the future. And we're doing that. But if you look at the history of the teams that have sort of blown it up, as the expression goes, how successful have they been in recapturing [elite status] and how long does it take?
"I'm willing to put more faith in Grant Hill, Steve Nash and the players that we have than I am in a lottery ball," Babby continued. "It's easy to say blow it up, but show me the teams that have successfully done it and how long it took and how much luck was involved, because luck's involved in everything. I don't want to depend on fortuity. I'd rather depend on a two-time MVP."
Teams that have been calling the Suns get the same message. Nash is averaging 16.8 points and 11.1 assists in just 33.1 minutes per game, while shooting his usual 52.6 percent from the field, 91.6 from the line and 40.8 from 3-point range. All despite the fact that Phoenix, in Gentry's words, has "changed all of his receivers" since last season's Cinderella run to the Western Conference finals. Twice.
The Suns thus want to believe that another good move or two, along with increasing promise coming from the recently acquired Marcin Gortat and perhaps a more favorable labor agreement for team-building starting next season, can inch them back up the West ladder faster than the doomsayers suggest. Since Nash can obviously play well with anyone.
None of the above, though, is going to stop the calls from the coming in. "Of course not," Sarver said with a laugh.
Trade Deadline 2011 will always belong to Denver's Carmelo Anthony, whether Melo ultimately gets traded or not, but Nash continues to be regarded as the deadline's X-factor, no matter how publicly or privately Phoenix officials try to shoot down the notion that it can be convinced to part with its best asset.
Sources say Atlanta, Orlando, Portland and, yes, his old friends from Dallas are among the playoff-bound teams that have repeatedly told Phoenix that they're ready to discuss Nash scenarios as soon as the Suns are. Toronto and Minnesota, sources say, are two lottery-bound teams that rank as frequent callers, although Nash would figure to have a fair measure of say on where he goes in any potential deal because (A) he's only got one year left on his contract after this season and could refuse to sign an extension if he doesn't like the landing spot, and (B) it's widely assumed that Phoenix won't just trade Nash anywhere after so many years of good service and the mere fact he came back to the Suns after they initially dealt him to the Mavs on draft day in 1998.
(The Wolves, in other words, can't afford to build an offer for Nash around the rights to Ricky Rubio without assurances that Nash wouldn't just bolt in free agency after playing out the final season of his current two-year, $22 million pact.)
To hear Nash tell it, though, he has little say. Which is yet another reason he says he won't ask out.
"I'm committed to doing my job," Nash said. "I'm committed to this franchise and the fans.
"Even if I did go upstairs and said I wanted to get traded, I have no control over where I go anyways. You never know what the future brings.
"We were close last year and then I went into the summer thinking that we're going to take the next step. To come back to training camp and have to restart ... that was difficult. Obviously I understand losing Amare [Stoudemire], but it's tough. So we start over again. You just have to play your butt off and see where it goes."
It should be noted, though, that there are a handful of Nash associates who greet such statements with undeniable skepticism. Multiple sources close to the Suns' QB told ESPN.com in recent days that they believe Nash is too competitive not to eventually tire of this season's struggle just to get Phoenix into the playoffs. There's a distinct belief in that circle that Nash could still push for a trade before the deadline -- preferably with his good buddy Hill attached to the deal -- and that he can't help but be intrigued by the concept of a Big D reunion with two of his all-time favorite teammates besides Hill: Dirk Nowitzki and Jason Kidd.
Yet Nash, when pressed, offers no such hints.
As for Sarver? The owner says he and Nash talk at least once a week about the team's direction and the idea that Nash might ask to be set free "hasn't ever come up."
At least one rival GM thinks the Suns have every justification to hang onto the heart and soul their team, even if the overriding motivation -- as many Sarver critics charge after Stoudemire's controversial departure -- is the fact that Nash is the Suns' only proven ticket-seller.
Said the exec: "No one's offering them stars. That's the reason they haven't traded him yet. Everyone is offering their third- or fourth-best player for Nash so they can get him to play with their stars."
The sense here, again, is that summertime will be the first time that Nash trade talks take on any depth. One more reason why: Sarver hasn't forgotten last season's 28-7 surge from the precise point in the schedule we're at now, so he wants to see what this season's stretch run holds.
Yet you suspect that no one in Phoenix will be happier to see the passing of the deadline in 19 days than Gentry, who openly describes the thought of Nash lodging that request to be dealt to a contender as "my worst nightmare."
"I'm sure he's slowed down some [at 36], but I don't see it," Gentry said. "I see the level that he's playing it and I don't know why we would ever trade him.
"It's just my opinion, but I think when he plays his last NBA game, I do think it'll be right here in Phoenix. I really feel that way, but you'd have to ask him about that."


ESPN.com senior writer Marc Stein
• On Twitter @ESPNSteinLine | On TrueHoop | On ESPN.com | On email
• Follow ESPN's NBA coverage on Twitter | On Facebook | On Google+
Dimes past: Jan.20 | 21 | 22-23 | 24 | 25 | 26 | 27 | 28 | 29-30 | 31 | Feb. 1 | 2 | 3 | 4
2. Marc's Quote

Griffin
"I'm not sure I'd vote for him for rookie of the year, because he's been around the NBA for a whole year [before this season]. But I might vote for him for MVP. I don't know if there's anybody who's ever walked into the league like him."
Suns coach Alvin Gentry, on the phenomenon known as Blake Griffin.
Gentry blurted out Tuesday that he had indeed voted for Griffin to snag a reserve spot on the Western Conference All-Star squad. Confirmation then came Thursday night that Gentry had sufficient company among West coaches to ensure that the kid, widely acknowledged as the league's most exciting player -- no matter if you consider him a rookie after he lost all of last season to a knee injury -- will indeed be on the West's bench for the All-Star Game in Los Angeles on Feb. 20.
Then, you scan through Griffin's résumé and start wondering why there was ever a debate.
Griffin is averaging 23 points, 12.7 rebounds and 3.6 assists per game in his debut season with the Clippers. Only two players in league history have averaged those numbers for an entire rookie season: Kareem Abdul-Jabbar (1969-70) and Elgin Baylor (1958-59).
Only six rookies, furthermore, have averaged 20, 10 and 3 ... with all but Sidney Wicks in the Basketball Hall of Fame and Griffin on course to be the first since Larry Bird.
20 PPG, 10 RPG, 3 APG: Rookie Season, NBA History
| Season | Player | Team | PPG | RPG | APG |
| --- | --- | --- | --- | --- | --- |
| 1979-80 | Larry Bird | Boston | 21.3 | 10.4 | 4.5 |
| 1971-72 | Sidney Wicks | Portland | 24.5 | 11.5 | 4.3 |
| 1969-70 | K. Abdul-Jabbar | Milwaukee | 28.8 | 14.5 | 4.1 |
| 1960-61 | Oscar Robertson | Cincinnati | 30.5 | 10.1 | 9.7 |
| 1958-59 | Elgin Baylor | L.A. Lakers | 24.9 | 15.0 | 4.1 |
| 1954-55 | Bob Pettit | Milwaukee | 20.4 | 13.8 | 3.2 |
Some historical facts tied to Griffin's All-Star selection, with a side of bonus stats:
• The last rookie to make it to the All-Star Game was Yao Ming, who was voted in by the fans as a West starter in 2003.
• The last rookie to be selected by the coaches as a reserve for the All-Star Game was Tim Duncan in 1998.
• Only eight rookies since 1981 have played in the All-Star Game as non-starters chosen by the coaches, according to the Elias Sports Bureau. They are: Tim Duncan (1998), Dikembe Mutombo (1992), David Robinson (1990), Patrick Ewing (1986), Hakeem Olajuwon (1985), Ralph Sampson (1984), Kelly Tripucka (1982) and Buck Williams (1982).
• For comparison's sake, only five rookies have started the All-Star Game in the last 30 years: Ming (2003), Grant Hill (1995), Shaquille O'Neal (1993), Michael Jordan (1985) and Isiah Thomas (1982).
• The last player before Griffin to have two 40-point games in his rookie season was Allen Iverson in 1996-97.
• Griffin's 14.2 points per game in the paint rank second in the league behind only Dwight Howard.
• Griffin is also third in second-chance points at 5.0 per game (behind only Zach Randolph and Kevin Love) and second in doubles with 40 behind Love's 43.
• Griffin's 110 dunks rank second this season to Howard's total of 118 entering Orlando's home date Thursday with Miami.
• Griffin has drawn 373 fouls on the opposition (behind only Howard) and has four games with at least 30 points, 10 rebounds and five assists (which only trails LeBron James' five such games).
• In the last 20 years, Duncan (1997-98), O'Neal (1992-93) and Alonzo Mourning (1992-93) are the only rookies besides Griffin to rank in the NBA's top 15 in points per game and rebounds per game.
3. Dirk Meets Johnny Mac

Nowitzki
Madison Square Garden has always been one of Nowitzki's favorite buildings, so there was never much doubt Wednesday night that he'd score the 13 points he needed to become the 24th player in league history to top 22,000 points.
But Nowitzki was particularly psyched for his annual MSG stop once he scanned the courtside seats during pregame warmups and saw one of his childhood heroes, John McEnroe.
"I was like a little kid," Nowitzki said.
• Click here to read the whole ESPN Dallas entry

Escaping L.A. with a one-point win over their old rival Thursday night, sealed by a tip-in at the buzzer by Antonio McDyess, enabled the Spurs to avoid an 0-2 start on their Rodeo Road Trip.
The silver lining, though, was there if the Spurs wound up needing it, since they gave themselves more of a cushion than they ever have before leaving town and leading off against the Blazers and Lakers.
How much padding?
The Spurs are just the eighth team in history to win 40 games in 47 games or fewer.
How's this for an encouraging omen? Six of their seven predecessors, as briefly mentioned in Monday's Power Rankings, went on to win the championship.
The full breakdown, courtesy of our friends at the Elias Sports Bureau:
Fewest Games Needed For 40 Wins
| Season | Team | Gms | Playoff Result |
| --- | --- | --- | --- |
| 1995-96 | Bulls | 43 | Won NBA Finals |
| 1971-72 | Lakers | 44 | Won NBA Finals |
| 1966-67 | 76ers | 44 | Won NBA Finals |
| 1996-97 | Bulls | 45 | Won NBA Finals |
| 1982-83 | 76ers | 46 | Won NBA Finals |
| 1972-73 | Celtics | 47 | Lost East finals |
| 1964-65 | Celtics | 47 | Won NBA Finals |
| 2010-11 | Spurs | 47 | TBD |

James
Five pertinent factoids in the wake of LeBron James' 51 points, 11 rebounds and eight assists in Miami's win Thursday night in Orlando:
1. It was the season's first 50-point game from any player and James' ninth career 50-point game ... all of which have come on the road.
2. LeBron is tied for third all-time with Kobe Bryant with those nine 50-point games on the road. Wilt Chamberlain is tops with 46 and Michael Jordan had 13. The arenas where LeBron has scored 50: New York's Madison Square Garden (twice), Milwaukee's Bradley Center (twice), Toronto's Air Canada Centre, Utah's EnergySolutions Arena, Memphis' FedExForum, Sacramento's ARCO Arena and Orlando's Amway Center.
3. LeBron made his first 11 shots. That's the longest run of consecutive makes at any point in any regular-season game in his career.
4. No opposing player had scored more than 36 points (Kevin Durant) against Orlando this season before James, who had 29 points in Thursday's first half. That tied Portland's Wesley Matthews for the second-biggest opening half of the season; Houston's Kevin Martin scored 32 points in the first half against Cleveland on Dec. 11.
5. The Elias Sports Bureau reports that 1,263 regular-season games were played in the league between LeBron's eruption and the last 50-point game: Andre Miller's 52 points in Dallas on Jan. 30, 2010. Elias says it's the second-longest stretch in NBA history without a 50-point game behind the 1,338 games that elapsed between Karl Malone's 56 points on April 7, 1998, and Clifford Robinson's 50 on Jan. 16, 2000.
50 Points, 10 Reb., 8 Assists -- Last 25 Seasons
| | | |
| --- | --- | --- |
| LeBron James | Thursday | 51-11-8 |
| Dwyane Wade | Mar. 14, 2009 | 50-10-9 |
| Kobe Bryant | Dec. 15, 2006 | 53-10-8 |
| Michael Jordan | Jan. 21, 1989 | 53-14-8 |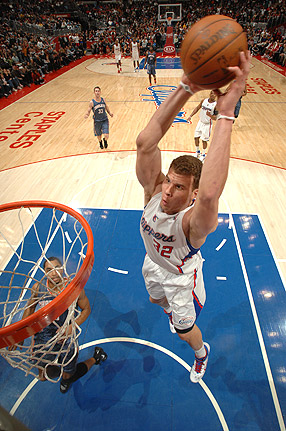 Noah Graham/NBAE via Getty Images
Blake Griffin is a shoo-in to win NBA Rookie of the Year. ... But what about MVP? (See Box 2.)

It's a shorter visit than usual, but Marc Stein dropped by the BS Report recently to discuss Bill Simmons' recent piece on the way veterans such as Steve Nash and Dirk Nowitzki are aging so gracefully. He also talked some of the more pertinent trade topics, as the league's annual trading deadline approaches Feb. 24.
• B.S. Report with Bill Simmons

8.

One-On-One ... To Five

Hinrich
Five questions with Wizards guard Kirk Hinrich:
Q: Fair to say that nightmare isn't too strong a word for what's happening with this road losing streak?
A: I don't know what else to say other than it's past the point of being completely frustrating. It's just hard to explain because we've been really pretty good at home. And to be the complete opposite on the road is disappointing.
Q: Does this basically boil down to you guys being a young team that doesn't know how to finish games on the road yet?
A: We've got guys that have years in the league. John [Wall] is a rookie, but it's not like we're starting a bunch of rookies.
I think it's just mental toughness. It's a different approach. For some reason, we're very comfortable at home and we have trouble playing the right way on the road.
There's a different intensity level that winning teams play with. It starts from Day 1 and it's every day. It won't happen until we understand that.
Q: And then halfway through the season, you find out you have to wear these goggles from now on. This [first season with Washington] hasn't been a joyride, has it?
A: At first it was really a nightmare [adjusting to the goggles]. Now I can see fine out of them. I'm just not used to having them on my face. And I'm not sure I ever will be.
Q: Your name has popped up as a potential trade target for the Lakers and a few other teams. Does that help keep you going when you hear that contending teams might be interested in you?
A: I've been hearing it for the last two or three years. Always when it gets to February time, you kind of start hearing my name.
Q: But does that help keep you locked in or is it still a distraction, even though you've been through it before?
A: It's not a distraction at all. I can't control it. Until something actually happens, it's irrelevant. If something happens, it happens. If it doesn't, I'll just keep concentrating on going out there and playing hard and try to do the things they ask me.
(Editor's note: More background on Hinrich's eye issues can be found here in this Washington Post story by Michael Lee.)
Tim Legler and host Jonathan Coachman check in from the "NBA Tonight" desk to weigh in on Marc Stein's latest edition of the weekly NBA Power Rankings, which are updated every Monday.
10.

Alternative Listening