1. D-Will's Dime Feats Keep Hope Kindled
By Devin Kharpertian
ESPN TrueHoop
"What an entertaining first two quarters in New Jersey." These words were uttered by Phoenix Suns announcer Tom Leander near the end of the first half Monday night.
If only he knew what was in store.
After a wild final 17 minutes that featured huge 3-pointers on both sides, shocking five-second violations and foul calls on impossible shots, Kris Humphries tipped in what would have been a game-winner just barely after the 0.0 light flashed, leaving Channing Frye's 3-pointer seconds earlier as the final points to give the Suns a 104-103 victory.
The Nets took the home floor with Deron Williams as their leader for the first time on Monday and delivered perhaps their most entertaining game of the season. Williams nearly had a double-double in the first half alone, picked up assist after assist down the stretch and, despite obviously feeling the effects of a wrist and hand injury, still led this team within a fingertip of victory.
The Nets played toe-to-toe with an above-.500 team for 53 minutes. Although they lost, that should give you an idea of where their talent level is.
They need to upgrade, but the pieces are there. They've got their unquestionable superstar (Williams), who dished out 18 assists, tying his season high that he set just two days ago. They've got their low-post building block (Brook Lopez), who led the team with 28 points and picked up his fifth double-double of the season. They've got their tenacious rebounder/hustle guy/boyfriend of a famous woman (Humphries), who led the game with 14 rebounds and was literally less than a tenth of a second late on a buzzer-beater.
And they've certainly got their 3-point specialist. With the Nets down 92-87, Anthony Morrow scored all nine Nets points -- two 3-pointers and three ice-in-his-veins free throws -- in the final 22 seconds of regulation to tie the game at 96 and send it to overtime. Morrow didn't score in the extra period, but without him the Nets don't make it there. He finished with 22 points and increased his career 3-point percentage to .455081, extending his lead over Steve Kerr for the highest career percentage in league history. His porous defense aside, $4 million per year for that is a pretty good deal.
Don't get me wrong. All of these guys except Williams are assets as much as they are players, and they're still missing some huge pieces (such as a wing who can create his own shot and any shred of a defensive interior presence). But the foundation they're building on is a solid one, and this game is proof of that.
There's no question about what Williams brings to the team. All of the Nets have been getting open looks regularly with him on the floor these past three games, and Williams has posted three double-doubles and 48(!) assists in his first three games. He also had six turnovers, but they reminded me of the turnovers LeBron James was giving up to start this season -- he's still getting acclimated to his surroundings, and his teammates are getting acclimated to him as well. A few of his turnovers were passes to spaces where a Nets player was expected to fill a lane but didn't. These things will fix themselves with time and growth.
Although Morrow tweeted "no moral victories" shortly after the game, there's a lot of good the Nets can take from Monday night. The crowd was rocking, the game was exciting and the Nets looked completely different from the team that we saw last season -- or even last week. As hard as it might be to see, this game was an excellent sign of things to come. They were less than a tenth of a second away from an exciting overtime victory. That's something the Nets can hang their hat on.
• For more on the Nets, check out NetsAreScorching.com
Dimes past: Feb. 5-6 | 7 | 8 | 9 | 10 | 11-13 | 14 | 15 | 16 | 17 | 18 | 23 | 24 | 25 | 28
2. Bulls Looking Sharp In East Chase
By Nick Friedell
ESPNChicago.com

Boozer
WASHINGTON -- The seeds of the Chicago Bulls' 105-77 drubbing of the Washington Wizards on Monday night were actually planted on Wednesday as Tom Thibodeau's bunch trudged off the floor in Toronto.
The Bulls had just been run up and down by a woeful Toronto Raptors team that outworked them in almost every way and they were determined not to let that happen again. They knew they were better, much better, than what they had just shown and they didn't want to have that feeling in the pit of their stomachs again.
"We learned our lesson in Toronto after the break," Bulls forward Carlos Boozer said. "We had that five-day All-Star break and we came back and lost a game at Toronto, a team that, on paper, we should have beat. But we took them lightly and we got kicked in the butt.
"So tonight we came out, I thought we had great intensity from the beginning of the game and we played great defense. I don't know what they shot from the floor, but I thought we were everywhere tonight. I thought we got our hands on a lot of deflections tonight and did a good job of rebounding. And then on offense, we pushed the ball, made the right plays and I think we learned our lesson from the Toronto game."
The Bulls showed the type of improvement that good teams make over the course of the season. Unlike so many times earlier this season, the Bulls didn't play down to the Wizards' level. They slowly and methodically took apart the Wizards and broke their will.
Their defensive intensity was there and they completely dominated the Wizards down low in every important category. It was the type of game that even the Bulls' coach couldn't find many faults with. "I thought our mindset was right from the beginning," Thibodeau said. "We got established offensively. The rebounding was outstanding to start the game, and I thought that gave us an advantage. We didn't take care of the ball as well as we would have liked to, but other than that, I thought we were ready to play."
The Bulls are still improving and they know it -- a scary thought for the rest of the league.
"You're always growing," Bulls center Joakim Noah said. "Win or lose, you're always growing. It's all about experiences. I think that we have great character on this team and I think that as long as the mindset is just improving and getting better, I think we can do something special. But it's on us to stay focused on the next task."
3. Daily Dime Live Recap
Zach Harper, TrueHoop Network bloggers and fans gave their in-game opinions on all topics throughout Monday's slate of NBA roundball talk in Daily Dime Live.
MONDAY'S BEST

Thornton
Marcus Thornton, Kings: In his first home game in a Kings uniform, Thornton delivered 16 of his 29 points in the fourth quarter of a 105-99 win over the Clippers, boosting Kings fans whose "Here We Stay" campaign produced a rare sellout.
---
MONDAY'S WORST

Everybody beats the Wiz: John Wall shot 3-for-14 (21 percent) as the Wiz dropped a 105-77 home loss to Chicago. The Wiz have lost four of their past eight games by 20 or more points. Against the Bulls, they were outrebounded 56-39.
---
TWEET OF THE NIGHT
Who can come up with the best #likeagoodneighborSTATEfaristhere tweet ?12:10 a.m. ET via Echofon
Nate Robinson
nate_robinson
-- New Thunder guard Nate Robinson, having some fun with fans, giving away tickets. (How about: "With a new Twitter background page to replace my old Boston one")
---
QUOTE OF THE NIGHT
"We came back and Deron got a good look. I was right there, crashing the boards. I thought it was good. I will go to the grave thinking that."
-- Nets center Brook Lopez, who apparently is pretty adament about his belief that Deron Williams' potential game-winner at the buzzer (and Kris Humphries follow) was going in.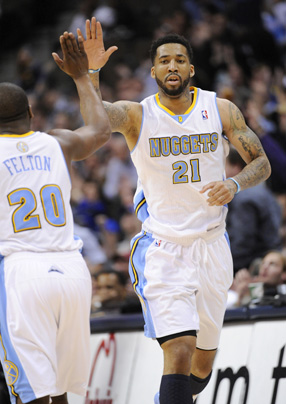 Sam Forencich/NBAE via Getty Images
Ex-Knicks Wilson Chandler and Raymond Felton combined for 31 points in Denver's 100-90 win over visiting Atlanta.
7.

Big Shot's Pass Question
By Michael Wilbon
ESPN

Billups
Marc (NY): Is Chauncey Billups a good pick-and-roll point guard? Watching the three Knicks games since the trade, I see Amare trying to run the pick-and-roll, dropping down into the paint, and Billups seems to alway pass the ball to another player on the wing. Is this just an issue of getting used to playing with a low-post scorer, or is Billups just not that type of point guard?
Michael Wilbon: I think it's just that Billups got used to running the pick-and-pop with a completely different kind of player, Rasheed Wallace, who doesn't set up in ANY of the spots or move in the same ways that Amare Stoudemire does.
I figured it would take a dozen to 15 games for them to figure out that stuff. And when they do the Knicks should be very, very difficult to stop because you simply cannot double Amare when Chauncey can kill you with the 3-ball and Carmelo is on the wing. ... It's a wow, offensively. And yes, Chauncey will run it just fine. I wonder if the Knicks, since the trade, have even had a full practice together.

With a win over the Hawks on Monday the Nuggets are now 47-9 (.839) over the past four seasons in home games against Eastern Conference teams. That's the best record in the NBA in interconference home games over the past four seasons.