1. Party Time? Not Yet For Dirk's West Champs

By Marc Stein
ESPN.com
Archive
DALLAS -- Teammates got the limpest, fastest hugs and saw the faintest of smiles from Dirk Nowitzki. He couldn't wait to pawn that trophy off to a teammate, filter to the back of a jubilant pack of Dallas Mavericks huddled at midcourt, and then scamper back to the locker room when no one was looking.
Western Conference champions?
With the cameras still rolling, Nowitzki didn't even stick around for the end of Wednesday night's trophy presentation.
He quietly took his congratulations and some high praise from a pretty fair scoring forward in his day named Rick Barry, slipped out of view while Mavs owner Mark Cuban handled interview duty with ESPN's Doris Burke … and then high-stepped over the scorer's table to get the heck out of there. Like it was 2001 all over again.
Just like he did a decade earlier to leave the floor as quickly as possible after Karl Malone had knocked his tooth out.
"All that celebration stuff," Nowitzki said, shaking his head at his locker as his voice trailed off.
"This is not what we play for, bro."
Not yet.
There will be a time to step back and marvel at what's happened during the best six weeks of Nowitzki's basketball life, but this wasn't it. You couldn't find a soul at American Airlines Center who looked less impressed by the KO recorded in Game 5 of the Western Conference finals than Nowitzki, who knows better than anyone what -- and most likely whom -- awaits Dallas in the next round.
The Mavericks, for the first time since the worst collapse in NBA Finals history, are going back to the championship round, almost certainly for a rematch with their old friends from Miami. They predictably booked the trip with Nowitzki draining the decisive dagger in Dallas' latest late comeback, with this particular 3-ball and Shawn Marion's best game as a Mav securing a 100-96 victory over the Oklahoma City Thunder. And then Nowitzki, surprising no one who really knows him, let everyone know what he thinks of an on-court ceremony just for getting out of the West. By bolting.
"I was already thinking about the Finals," Nowitzki said once he made it to the interview room, explaining his hurry to ditch that ceremony.
You bet he is.
After they watched Marion match Nowitzki's 26 points in his highest-scoring playoff game since 2007 -- when Marion wasn't combining with Jason Kidd to take Kevin Durant, Russell Westbrook and the rest of OKC's kiddies to night school one last time with their defensive know-how -- there was a lot of political talk coming from the Mavs suggesting that the opponent is immaterial. Hogwash. The truth is that most of them have been quietly sucked into thinking about Miami more and more with each passing win over the young, mistake-prone Thunder, tantalized by the chance to avenge a Finals unraveling that hangs over this franchise (and its fans) to this day.
Doesn't matter that Nowitzki and Mavs guard Jason Terry are the only on-court holdovers from the heartbreak of 2006. Doesn't matter that this team, with a backbone of Kidd and Tyson Chandler flanking Dirk, is so much smarter and tougher than the one Pat Riley's Heat vanquished. Edging to the brink of a 3-0 lead and then cratering to four straight defeats on the game's biggest stage, as one team insider puts it, still "lingers in the air every year" around here. For every Mav who was or wasn't there.
So ...
"Everyone," Terry said, "knows what this next step means."
Terry continued: "Everybody knows when you wear a Dallas Mavericks uniform, certain things come along with it. … As long as you keep talking about [the last Miami series], it's going to hang over us. Me, Dirk, Mark Cuban, [assistant coach] Darrell Armstrong, we sleep with it every night."
Now, though, comes a chance to banish a half-decade of nightmares, made worse by those three first-round exits that followed their Finals failure. Now comes a first trip to the Finals for Marion, Chandler, Peja Stojakovic and Rick Carlisle as a head coach, as well as Kidd's long-awaited third shot at a ring. The Mavs always expected to beat OKC, given their huge experience edge over a team that has never gone this far and has no big men who can score. But plenty of Wednesday's scenes at the AAC were nonetheless surreal, because so many familiar faces who've endured postseason torment in Dallas or elsewhere suddenly have an unexpected title shot that didn't seem possible when these playoffs began. Or really since Caron Butler was lost to a season-ending knee injury on New Year's Day.
"You don't understand how hard it is to get to this point," Stojakovic said. "These opportunities don't come up in your career as much as you want."
Said Thunder center Kendrick Perkins, exasperated by the manner in which the Mavs teased them again for 40-something minutes before turning it all around in crunch time: "They didn't sweep the Lakers for no reason. They're a good team."
Good enough for Terry, Chandler, Kidd and Marion to each get a touch in the scramble to get the ball back to Nowitzki for the go-ahead 3 with 74 seconds to go after Dirk had missed a 3 seconds earlier. Good enough to outscore the athletically superior Thunder by 24 points in the final five minutes of regulation in Games 4 and 5 combined. Good enough to earn another crucial dose of rest for Kidd's 38-year-old bones, similar to the helpfully long break Dallas had before this round. Good enough to rank as the only team in these playoffs to never trail at any point in any round. Good enough to stay on the short list with the mighty Lakers and San Antonio as the only three teams to represent the West in the Finals for the past 13 postseasons … while nine teams in the East have made it to the Finals in the same span.
"If you look, to a man, this team is better than it was in 2006," Terry said. "To a man. The whole makeup. The chemistry. … Just look at the point guard on that team. It was me. Look at the point guard on this team: Jason Kidd. Big difference.
"All the stars have to line up for you to win it all. They're in place right now. It's just on us now to go out and finish the job."
The scorching Heat (OK, OK, or Chicago) won't make it as easy as the Thunder did. With another dose of malfunctioning execution in the fourth quarter, OKC short-circuited this courageous effort in the aftermath of its own 2006-esque Game 4 meltdown.
There's also the very legitimate possibility that Nowitzki has played so well in this transformative postseason -- averaging 32.2 points on 56-percent shooting in this series alone and shredding OKC for an average of nearly 12 points just in fourth quarters -- that he might be able to dodge the heavy shrapnel this time even if the Mavs lose to the Heat again. Especially when the Heat are rolling like they are ... and with LeBron James playing as well as he ever has.
But good luck convincing Nowitzki that anything less than a "better ending" at the last hurdle, as the 32-year-old calls it, would grant him the right to gloat about his systematic destruction of the Portland Trail Blazers, Lakers and Thunder.
Since the Mavs clinched their only other Finals berth on the road in Phoenix back in 2006, winning the West in 2011 is the biggest party they've ever had in front of their own fans, who have a pretty high bar these days after reveling in the Texas Rangers' run to the World Series last fall and Super Bowl host duties in February. Yet you can understand why Nowitzki wanted no part of it.
Carlisle insisted that Nowitzki "is excited" to have this swing at redemption no matter what he says, but who could tell? Dirk ended the party with another understated performance at the postgame podium ... once he dislodged the microphone from its stand like he always does before consenting to break down Dallas' 10th win in 11 games since it blew that 23-point lead at Portland.
"We talked about it, obviously, after the game, that this is a great moment," Nowitzki said. "We can enjoy it for a day. But we got one of those [conference championship] trophies already. And it didn't mean anything at the end."


ESPN.com senior writer Marc Stein
• On Twitter @ESPNSteinLine | On TrueHoop | On ESPN.com | On email
• Follow ESPN's NBA coverage on Twitter | On Facebook | On Google+
Dimes past: May 9 | 10 | 11 | 12 | 13 | 14 | 15 | 16 | 18 | 19 | 20 | 21 | 22 | 23 | 24 | 25
2. In The End, Thunder's Progress Impressive
By John Hollinger
ESPN.com

Durant
OKLAHOMA CITY -- Here's the measure of where the Oklahoma City Thunder were and where they're going: They've become so good at the big things that we can now dissect how bad they are at the little things.
Given that most of their key players should still be in college, this isn't exactly shocking.
But Oklahoma City's inability to make key plays down the stretch bit them again in Game 5, a season-ending 100-96 loss to the Dallas Mavericks. For the second straight game, the Thunder blew a late lead, this time crumbling under Dallas' 14-4 closing run that featured yet another back-breaking shot from Dirk Nowitzki.
This one sends the Thunder into the offseason pondering both how far they've come and how much farther they have to go.
"A couple times this postseason we lost our composure," Thunder center Kendrick Perkins said. "It's nothing about our talent, it's nothing about our togetherness."
Fittingly, it was the little things that did them in at the end. Like a loose-ball situation in which Russell Westbrook may or may not have been fouled by Tyson Chandler, leading to Nowitzki's go-ahead 3-pointer.
"I don't know what to tell you," said Westbrook, who clearly wanted to avoid a fine.
Like backup point guard Eric Maynor waving off a screen and then taking perhaps the most important shot of the season with 55.9 seconds left and the Thunder trailing by a point.
"Had a chance to make a basket and missed it," Maynor said. "It happens."
Like Thunder coach Scott Brooks going with a small lineup the entire fourth quarter, leaving Serge Ibaka on the bench and Maynor on the floor. His only substitution was putting in Daequan Cook with 13 seconds left.
• For the full story, click here »
3. Daily Dime Live
Zach Harper, TrueHoop Network bloggers and fans gave their in-game opinions on all topics throughout Wednesday's slate of NBA playoff talk in Daily Dime Live.
WEDNESDAY'S BEST

Marion
Shawn Marion, Mavs: No longer a perennial would-be West champ in Phoenix, "Trix" dropped a playoff- and season-high 26 points on the Thunder in Game 5. Did it on 10-for-17 shooting, pulling down eight boards and swatting three shots. Bring on the NBA Finals.
---
WEDNESDAY'S WORST

Thunder's finishing skills: Not the collapse of Game 4, but this still hurt. The Thunder were up by six with 4:37 left. Soon enough, Dirk Nowitzki pulled out one of his rarely used weapons, the trey, and dropped it on the Thunder's head with 1:14 left. Ouch. Ballgame. Season.
---
TWEET WATCH
I picked against the Mavs against Portland, LA & OKC. Dare I do it again? I'm starting to get the hint.Midnight ET via Twitter for Mac
Favorite
Retweet
Reply
Chad Ford
chadfordinsider
QUOTE OF THE NIGHT
"Their time will come, but it's not now. We feel like now is our time to move on."
-- Mavs coach Rick Carlisle, saluting the Thunder.
---
6.

Twelve Down, Four To Go
By Tim MacMahon
ESPN Dallas

DALLAS -- The mantra in the Dallas Mavericks' locker room after slamming the door on the Oklahoma City Thunder was, "Four more wins."
The Western Conference title was simply another step toward the ring-less veteran squad's ultimate goal. There won't be any wild celebrations until the Mavs claim the Larry O'Brien Trophy. However, there is already one crown Jason Terry believes the Mavs have earned the right to wear.
"Down the stretch, we like to say that we're the best team in basketball," Terry said after the Mavs' 100-96 win Wednesday night that clinched the Western Conference title.
He'll get no arguments across the Red River. Not after the Mavericks schooled the young Thunder on how to perform in the most pressure-packed moments of the playoffs.
Oklahoma City outplayed the Mavericks for 43 minutes in each of the last two games of the series. It didn't matter because Dallas was so dominant down the stretch.
The Mavs made a historic comeback in Game 4, finishing regulation with a 17-2 run to force overtime en route to becoming the only team in the past 15 years to win a playoff game after trailing by 15 or more points with five minutes remaining. It was fitting that the Mavs finished off the Thunder with a 14-4 run in the final 4 minutes, 19 seconds of Game 5 to punch their ticket to the NBA Finals.
The youth-versus-experience angle has been front and center since the Oklahoma City whiz kids beat the Memphis Grizzlies in Game 7 to earn a matchup with the gray-bearded Mavs. But it's short-sighted to chalk up the Mavs' clutch prowess to an experience edge over a bunch of NBA toddlers.
• To read the full story, click here »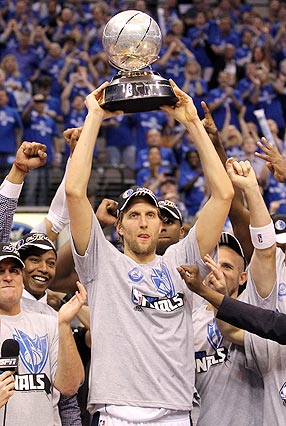 Ronald Martinez/Getty Images
Dirk Nowitzki hoists the Western Conference trophy with relatively little enthusiasm. Later, he explained: "We've got one of those trophies already. This is nice for a day, but we set our goals in October to win it all. We haven't done it yet."
By Jeff Caplan
ESPN Dallas

Terry
DALLAS -- No offense to the MVP and the Chicago Bulls, but the Western Conference champion Dallas Mavericks still have an old bone to pick with Dwyane Wade and the Miami Heat.
Predictably, they did not care to publicly state their favored opponent in the 2011 NBA Finals. So, after watching the Mavs rally yet again for a crunch-time 100-96 Game 5 victory over the youthful and resourceful Oklahoma City Thunder, the 21,092 chanting fans in royal blue shirts that read "The Time is Now" said it for them.
"Beat the Heat!" rained down as the Mavs raised the silver Western Conference trophy. "Beat the Heat! Beat the Heat!"
It doesn't matter that Dirk Nowitzki -- interestingly the first to exit the postgame celebration because, as he would say afterward, "I was already thinking about the Finals" -- and Jason Terry are the only survivors of the wretched 2006 Finals.
Every Mavericks player grasps the spiral of disappointment that has dogged this franchise ever since and how it shaped, even came to define, Nowitzki's otherwise brilliant career.
Terry, who had the Larry O'Brien Trophy tattooed to his right bicep during the preseason, has never wavered from the belief that the Heat's '06 championship trophy rightfully belongs in Dallas. They'll never get that one back, but they finally, remarkably and even unfathomably have another shot at redemption.
• To read the full story, click here »

Nowitzki
Dirk Nowitzki sealed the Mavericks' series-clinching win against the Thunder by sinking two free throws with 13 seconds remaining in the fourth quarter to give Dallas a 100-96 lead, which held up as the final score. Nowitzki was 59-for-61 (.967) from the foul line in the Western Conference finals, setting an NBA record for the highest free throw percentage in a playoff series (minimum: 50 FTA). He broke the mark held by Larry Bird, who was 47-for-50 (.940) versus the Pistons in the 1987 Eastern Conference finals.