1. More Than Anything, Heat's D Does In Mavs

By Marc Stein
ESPN.com
Archive
DALLAS -- They leaned heavily, as ever, on Dwyane Wade's will and skill. They needed daggers both contentious and clutch from Mario Chalmers. And they still had to have a late jumper from the baseline finally go down for Chris Bosh, who has a freshly poked left eye to go with that unsightly shooting percentage.
Make no mistake.
The Miami Heat, on a so-so Sunday night for LeBron James, don't reclaim control of these NBA Finals without all of the above.
But let's be even clearer here.
Nothing -- nothing -- is hurting the Dallas Mavericks like Miami's withering D.
The great fear Dallas had before this Finals reunion with the NBA franchise loathed more than any other in North Texas was not the havoc Wade can still wreak five years later. Or the fact that the Dallas-reared Bosh, for all the hell he's catching after hitting just 16 of 52 shots from the field against his hometown Mavs, is an undeniably handy third option for bailout purposes to pitch the ball to in crunch time when Wade and James can't spring free.
The overriding worry for the team leading the league in offensive efficiency throughout the playoffs was that it wouldn't be able to score enough to beat the Heat four times. The Mavs' dread became reality again in Game 3, when Miami made Dirk Nowitzki work exhaustingly hard for every catch required to score 34 points ... while clamping down on everyone else around him to squeeze out an 88-86 triumph.
"You have to give them credit," Nowitzki said, not even trying to mask his disappointment after the Heat needed just 48 minutes on the road to undo the damage of Game 2, shoving Dallas into a 2-1 series hole.
"Their defense is pretty good."
You'll recall that Nowitzki was more expansive on the subject after his Mavs stole Game 2 in Miami with their epic fourth-quarter comeback from 15 points down. In a post-game "SportsCenter" sitdown with Hannah Storm, Nowitzki described the Heat's team scheme as "probably the best we've seen in the playoffs," which would put the Miami defense ahead of San Antonio at its championship peak and anyone else you'd like to nominate.
After this one, Nowitzki looked too weary to expound on the speed and length that enables the Heat to freely force turnovers, swarm the Mavs' lone All-Star and still scramble back out to the perimeter to hound open shooters after the double-teams. Dirk took down 11 rebounds, helped the hosts dig out of yet another double-digit deficit in the second half and scored Dallas' last 12 points ... but Miami couldn't have defended him better on the Mavs' final two possessions. And Nowitzki came up empty on both, bringing a jarring halt to this duel with D-Wade and preventing a repeat of how Dirk repeatedly shredded Miami in Thursday night's end game.
The Heat double-teamed him into a wild pass after Bosh's go-ahead J with 39.6 seconds left. Then they survived Nowitzki's middle-of-the-floor fallaway at the buzzer when (A) Dirk had to go out farther than he wanted to catch the ball and (B) Udonis Haslem expertly contested the shot after forcing him so far out.
Haslem badly wanted the opportunity to guard Nowitzki on the fatal final sequence in Game 2, only for Heat coach Erik Spoelstra to ignore Haslem's pleas and send the longer Bosh at him. From beyond the 3-point line -- and with the Mavs trailing instead of tied and thus a bit more frantic -- Nowitzki would have needed more than one good move to get to the rim. So he opted for a difficult shot he's been known to make that, on this occasion, bounced long.
"I don't think this is anything that he doesn't expect," Mavs coach Rick Carlisle said of Nowitzki's load. "We would like to make it easier for him ... but tonight was tough. Tonight was not one of those nights.
"I think tonight one of the things that hurt us was we were digging out of holes all night, with the exception of the very beginning of the game. ... It's very difficult playing from behind all the time."
Said Mavs guard Jason Kidd: "They do a great job defensively of making you do something that you don't want to do."
That becomes evident when you delve deeper into the math, after Dallas went home and still couldn't shoot better than 40 percent from the field. The Mavericks averaged a league-best 111.2 points per 100 possessions in the first three rounds of the playoffs with what is generally regarded as the best ball movement on the NBA map. In three games against the Heat's tremendous speed to the ball and precision rotations, Dallas is way down, generating just 100.7 points per 100 possessions.
The solace for Dallas, of course, is that it almost dragged the Heat to overtime anyway. That's despite the fact Miami ushered Mavericks shooters not named Nowitzki to a 17-for-49 evening and likewise cashed in a disputed 36-footer from Chalmers at the first-quarter buzzer. The Mavs argued that the shot should have been waved off because of a backcourt violation that appeared to precede the first of Chalmers' four 3s.
Wade sparkled with a fiery 29 points and 11 rebounds, showing LeBron how it's done by driving the Heat to their whopping 40-22 edge in points in the paint. But the Mavs' own defense and physicality, highlighted by Dirk's rare trio of highlight-reel rejections, caused Miami problems everywhere else. Bosh needed 18 shots to get his 18 points after Kidd inadvertently caught him in the left eye early on and looked tentative on countless face-ups. James, meanwhile, managed a mere 17 points and four free-throw attempts, unable to sustain his pregame vows to attack the rim ... apart from one memorable posterization of the Mavs' Ian Mahinmi.
"He played spectacular basketball," Bosh said of Wade. "We rode the [Wade] wave for a little while."
Said Wade: "We felt this was a must-win."
Reason being: The Game 3 winner in a 1-all Finals has gone on to win the championship 11 times out of 11 since the NBA introduced its 2-3-2 format in 1985.
The Mavs, meanwhile, would appear to be asking for more than ever from the face of the franchise to prevent Miami from making it 12 for 12. Against resistance like this, with Caron Butler's absence increasingly glaring, Dirk's margin for error is getting smaller by the game. No matter how well he's coping with that splint on his left middle finger or matching Wade shot for shot.
"If we're going to keep shooting in the low 40s," Nowitzki said, "it's going to be tough to win."


ESPN.com senior writer Marc Stein
• On Twitter @ESPNSteinLine | On TrueHoop | On ESPN.com | On email
• Follow ESPN's NBA coverage on Twitter | On Facebook | On Google+
Dimes past: May 15 | 16 | 18 | 19 | 20 | 21 | 22 | 23 | 24 | 25 | 26 | June 1 | 2 | 3 | 4 | 5
2. Mavs And Heat Can't Count By Two
By John Hollinger
ESPN.com

James
DALLAS -- Of course it ended on a missed two-point shot. How couldn't it?
The story beneath the story of this series is that neither Miami nor Dallas can make a shot inside the arc. These were the two best teams at this shot in the regular season, and in the Finals, they're missing at a rate worse than every single team in the league.
Amazing, isn't it? And it explains why, through three games, neither team has scored more than 95 points or averaged more than 1.05 points per possession -- even though the Heat are shooting 38.9 percent on 3-pointers and the Mavs are hitting 38.3 percent.
In other words, neither side has shut down the other's 3-point game, but it's become a defensive series anyway, because neither side can make a 2.
On Sunday, for instance, the Mavs were only 20-of-49 on 2-point shots, for 40.8 percent shooting. Not that Miami was any better; the Heat made just 44.1 percent.
For the series, Dallas is shooting 43.4 percent on 2s. Miami is shooting 44.7 percent.
I hear you: "Percentage, percentage, blah, blah, blah."
So what, you say?
Here's why it matters: Because this is about the least likely outcome we would have expected. Dallas and Miami were the league's best 2-point shooting teams in the regular season, and their defenses, while very solid, are hardly overwhelming against these shots.
Let's pull back a bit and look at the whole forest. The average NBA team shot 48.7 percent on 2-pointers this season, and the best defense in the league, Chicago, surrendered 45.3 percent shooting from that range. You'll notice Miami and Dallas are shooting worse in the Finals than even mighty Chicago permitted against its average opponent.
However, Miami and Dallas are not average teams. Anything but.
In the regular season, the Heat and Mavericks were the two best teams in basketball at converting 2-point shots, by a wide margin. Dallas led the league at 51.6 percent, while the Heat were a close second at 51.5 percent. As you can see from the chart, everyone else except Boston was choking on their dust.
Top 2-point teams regular season
| Team | 2-Pt. FG Percentage |
| --- | --- |
| Dallas | 51.6 |
| Miami | 51.5 |
| Boston | 51.3 |
| Orlando | 50.7 |
| Denver | 50.6 |
| League average | 48.7 |
But in the Finals, against each other, both Miami and Dallas have been abysmal. I don't think that's too strong an exaggeration -- the worst 2-point shooting team in basketball, Milwaukee, still managed to convert 45.4 percent from that range, a feat neither Dallas nor Miami has managed in the Finals. The two best 2-point shooting teams in the game have, thus far in the Finals, been worse than the two worst.
Hang on, I'm just getting started.
The 2-point data is even more glaring when you look at who is shooting. The individual players getting the most shots for these teams were also the best at converting the close-range shots in the regular season. Dallas' top three 2-point shooters by volume in the regular season were Jason Terry, Dirk Nowitzki and Shawn Marion, who took 56.5 percent of the team's 2-pointers and all shot well above the league average from that range; they combined to make 50.5 percent.
In the playoffs, they've tried nearly three-quarters of Dallas' 2-pointers (111 of 158) ... and combined to make just 45.9 percent. Of course, they haven't had much help from the cavalry -- the supporting cast is just 17-of-47.
Dallas 2-point shooting
| Player | Regular season | Finals |
| --- | --- | --- |
| Nowitzki | 53.8 | 23-52 |
| Terry | 49.3 | 9-22 |
| Marion | 53.6 | 19-37 |
| Total | 50.5 | 51-111 |
Ditto for the Heat. You probably can guess who Miami's three best 2-point shooters were, and they also were the most frequent launchers. Together they took more than two-thirds of Miami's regular-season 2-pointers and combined to make 53.1 percent.
In the Finals, they've gone from taking two-thirds of the 2s to darn near ALL of them; players outside the Big Three have tried only 32 in the three games. In Game 2, they took only six.
Miami 2-point shooting
| Player | Regular season | Finals |
| --- | --- | --- |
| James | 55.2 | 16-29 |
| Wade | 53.4 | 28-45 |
| Bosh | 50.2 | 16-52 |
| Total | 53.1 | 60-126 |
In Miami's case, however, there's a slightly different spin to the results. While Dallas's diminished 2-point shooting has spread like a virus across the entire roster, Miami's has been almost entirely the work of one player, Chris Bosh, who is a miserable 16-of-52 for the series.
It's quite ironic, then, that the Heat won Game 3 on a Bosh 2-pointer.
Nonetheless, the big-picture takeaway remains the same. The Heat and Mavs, the two best 2-point shooting teams in the regular season, can't make a 2-point against each other ... even though the players who are taking the bulk of the 2s are the exact players each side would want attempting them.
It's a huge quirk that's the root cause of this series being far more defensive than most anticipated, and the guess here is that the first one to snap out of the 2-point slump will take control of the series.
By Maurice Brooks
ESPN.com
SUNDAY'S BEST
Wade
Dwyane Wade, Heat: D-Wade set the tone for the Heat with both his words and his play on the court, scoring 29 points and pulling down 11 rebounds as Miami went to Dallas and held on for the win.
---
SUNDAY'S WORST
Marion
Dallas Mavericks: The Mavericks found out the hard way that Dirk Nowitzki can't do it all by himself. Nowitzki scored 15 in the final period but his Dallas teammates combined to fire in just seven points in the home loss.
---
QUOTE OF THE NIGHT
"It was a good offensive play and a good defensive play. And he happened to miss."
-- Heat coach Erik Spoelstra on Udonis Haslem forcing Dirk Nowitzki to miss a game-tying jumper at the buzzer
---
5.

Bosh Thrives In Public Eye
By Tom Haberstroh
ESPN.com
Bosh
DALLAS -- On the road, with a battered eye, amid one of the coldest shooting stretches he's ever endured, Chris Bosh hit the game-winner on the biggest stage of his career.
Bosh was alone. With the game tied and 40 seconds remaining in Game 3, Tyson Chandler left the Heat power forward on the left baseline in order to stop LeBron James' penetration into the lane. As Chandler met James at the foul line, James immediately turned to his right and flipped a backhanded pass to Bosh, who had missed 11 of his previous 17 shots on the night.
"I saw CB wide open," James said. "I don't care if he missed 15 in a row, he was wide open and that's his sweet spot."
Without hesitation, Bosh rose up and knocked down the jumper, instantly bringing the 20,000 Mavericks fans to a hush in AmericanAirlines Center.
Heat 88, Mavericks 86 -- the final score of Game 3.
• To read the full story, click here »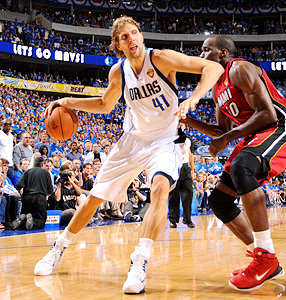 Marc Serota/Getty Images
Dirk Nowitzki was a force, scoring 15 of his 34 points in the fourth quarter, but it wasn't enough to prevent a home loss to the Heat in Game 3.
By Brian Windhorst
ESPN.com
Wade
DALLAS -- This was not a time for ceremonial titles and locker room speeches. Dwyane Wade acted like a captain under heavy pressure on Sunday night. Because of that leadership, the Miami Heat have retaken control of The Finals.
Knowing the heavy implications of Game 3 of the tied series, Wade started to set an example at practice on Saturday. He carried it right on through another taut fourth quarter in a whirl of energy, aggression and spirit.
There were several different reasons the Heat struck back for a 88-86 victory over the Dallas Mavericks to take a 2-1 series lead, not the least of which was another great player missed a shot when Dirk Nowitzki was just off at the buzzer. But there was no bigger difference-maker than Wade, who played like a man both immersed in and unafraid of the moment.
"I took it upon myself as a leader to lead my guys by example," Wade said. "I've been here before."
Indeed he has, and it showed. Wade is now 6-0 over his career in Game 3s when series is tied 1-1 and none of them were grander than this one. He demonstrated his confidence with 29 points and 11 rebounds plus some high-level motivation that started a day earlier. He grabbed the attention of his teammates by practicing like he was the 15th man on the last day before cuts, being as aggressive on an off as they'd seen him all season.
• To read the full story, click here »
8.

Nowitzki Perfect From Line

Dirk Nowitzki has made all 24 of his foul shots during this year's NBA Finals, including going 9-for-9 from the line in Game 3. That's the longest streak of consecutive free throws made to begin an NBA Finals since Reggie Miller made his first 25 shots from the line during the 2000 Finals.
Zach Harper, TrueHoop Network bloggers and fans gave their in-game opinions on all topics throughout Sunday's slate of NBA playoff talk in Daily Dime Live.