1. A Five-Pack Of Surprises Heading Into Game 6

By Marc Stein
ESPN.com
Archive
MIAMI -- Five games into these coin-flip NBA Finals, there's been no shortage of unforeseen developments. Everyone surely has their own list.
Me, too. (Since you know I can't resist lists.)
Here's one man's top five Finals surprises heading into Sunday night's Game 6:
LeBron and D-Wade have so little respect for the star on the other side
Hopefully you never bought into the quaint notion going into these Finals that this wasn't really a rematch because each team only had two holdovers from their 2006 encounter. Let's clarify something, America: This was always a rematch, no matter how much the rosters have turned over, since it reunited two stars from the respective franchises who've had an icy relationship ever since the Miami comeback/Dallas collapse in '06.
Or have you already forgotten the All-Star Game in 2007 when Dwyane Wade and Dirk Nowitzki were the only two starters on the floor in Las Vegas who didn't even bump fists?
But I was actually gullible enough to believe, as well as I remember D-Wade versus Dirk at full chill, that the way Nowitzki has played this postseason would quash some of the Heat hubris we've seen since July, when they staged their infamous laser-light show to celebrate the signings of LeBron James and Chris Bosh as a championship unto itself.
I was foolish enough to think, after a season of ill-conceived statements blowing up in their faces, that Wade and James wouldn't invite more of America's bile by doing something like mocking Nowitzki's recent sinus infection with news cameras rolling with every word and step after they finished up their shootaround. In a series where Nowitzki has been the clear-cut best player, no less.
Wrong and wrong.
You can bet that Wade and James will try to spin this as an episode of misunderstood humor -- another example of how they get no leeway from a voracious and biased national media monster that the Miami Herald's Dan LeBatard brilliantly dubbed a seasonlong All You Can Heat frenzy -- but they'll deserve every ounce of the flak they get this time. They crossed a line with disrespect so flip and blatant.
Especially Wade.
His own rep for inflating/creating drama is such that folks all over American Airlines Center on Thursday night, in the stands and on press row, were questioning how badly that left hip was hurting in Game 5 ... even when Wade actually left the court twice for treatment. It makes no sense that Wade would fake an injury that cost him a huge chunk of game time ... but it makes far, far less for a peer of Wade's stature, as opposed to outside observers, to look straight into the lens and accuse Nowitzki of staging the wheezing misery that was broadcast worldwide in Game 4.
Given the chance to respond Friday night after the Mavericks landed in Miami, Nowitzki declined comment when reached by ESPN.com.
The safest prediction you can make in this impossibly hard-to-call series is that Dirk and D-Wade and LeBron are about to be besieged with questions on the subject at Saturday's media availabilities, now that the tension that has always lingered beneath the surface with these teams has been fully (and foolishly) rekindled for everyone to see.
Dirk 26, LeBron 0
It's true even if you're in the minority, like me, who thinks LeBron isn't getting enough slack for what the minutes he's logging and ground he's covering defensively are doing to his gas tank.
It's still stunning, making all those allowances, to see the disparity between Nowitzki's end-game production and what James isn't doing in the final five minutes of games.
Stunning.
In what NBA statisticians recognize as "clutch time," which equates to the final five minutes of regulation or overtime with the score within five points either way, Nowitzki has 26 points on 8-for-13 shooting from the field and 9-for-9 accuracy at the line.
LeBron? After leading the league in this category through the first three rounds of the playoffs and finally chipping away at the skepticism about his ability to close, James has zero points on 0-for-7 shooting and is still waiting for his first "clutch time" trip to the line. Udonis Haslem (17) has scored more fourth-quarter points in the Finals than James (11), with Nowitzki out of sight at 52 and counting.
I repeat: I'm inclined to cut him more slack than most for the load he's carrying minutes-wise (LeBron again played the entire second half in Game 5) and the way Dallas' peerless ball movement has James moving East-to-West as the Mavs hoped. That's until it hits you, again, that Nowitzki doesn't have a Wade or Bosh to share the burden with at closing time.
There isn't a superstar in the league who carries a larger load offensively than Dirk, who's second-best teammate is, well, after 110 games this season counting exhibitions & we're still not sure. As ESPN's own Jeff Van Gundy said to my man Howard Beck of the New York Times of the way Nowitzki is outnumbered: "How many times has the star power been stacked so much in one team's stable?"
So there's no way the gap should be this wide, even accounting for the growing universal appreciation of Dirk's clutchness.
Fatigue works to only a degree as a James alibi. Since Game 1, when the smoothness of his 3-point stroke had me salivating, LeBron is 3-for-18 on 3s and looking shakier with every jumper. His confidence to launch or drive has clearly been sapped, with only two games, at most, left on the schedule to find it.
Miami hasn't been toeing the line this time
Jittery Mavs fans who still have nightmares about the 97 trips to the line that Dwyane Wade made in the '06 Finals were undoubtedly fearing another free-throw parade five years later. Especially since this incarnation of the Heat, at least in theory, has two rim-attacking stars now.
Yet it's actually Dallas and Dirk, five games in, that hold the aggression and free-throw edges. Which obviously makes it far, far easier for Mavs owner Mark Cuban to maintain his vow of media silence that began in earnest during Dallas' second-round sweep of the Los Angeles Lakers.
The Mavs, in these Finals, have shot 137 free throws entering Game 6 to Miami's 115. Nowitzki has shot a series-high 44 -- draining 43 -- compared to Wade's 42 attempts.
In 2006, Wade shot 46 free throws alone in the final two games of that series, but he's generally finishing plays in this reunion with the Mavs -- and shooting a heady 58 percent from the floor -- more than he's looking for bailouts. And when Game 5 was starting to have an '06 feel, with Wade racking up six quick free-throw attempts in the opening quarter, everything changed after Wade's collision with Brian Cardinal. The resulting left hip contusion required two trips to the locker room for treatment and seemed to rob Wade of his usual slashing prowess.
Eventually, though, as with most of the series storylines, we end up focused on LeBron and what's not happening for him. Through five games, James has earned a whopping 16 trips to the line, which computes to a measly 3.2 per game. He shot 8.8 free throws per game in the Eastern Conference finals against Chicago, but that James was turning corners with conviction and trying to get to the bucket. By mixing up its pick-and-roll blitzing and sagging zones, Dallas has discouraged James from driving in spite of all his between-games promises to attack.
Costly stuff in a series where the Mavs' margin of victory in their three wins in 4.7 points. The Heat have held a lead inside six minutes in all three of those losses, but Dallas has outscored Miami by a tidy 65-41 in the final five minutes of fourth quarters.
The success of the Dallas D
The culture-changing impact and defensive improvement triggered by Tyson Chandler's arrival in Dallas has been well-chronicled. But the Mavs' resistance has gone to another level, intensity-wise, in this series, which might be the biggest reason besides Nowitzki's brilliance that Dallas has a 3-2 lead.
You've heard Nowitzki, even in victory, describe the Heat's collective length, footspeed and athleticism as the most troublesome he's ever coped with in the playoffs when it comes to double teams and fast closeouts on open shooters. But Dirk and Co. have risen to that challenge by countering Miami's D with some pretty stout stuff of their own.
The Mavs rely on a man-to-man scheme, orchestrated by lead assistant coach Dwane Casey, that requires quick and precise help to counter their age and corresponding lack of quickness. Yet it's a man-to-man scheme that allows for easy switching to a zone, resulting in a back-and-forth that helps keep the Heat guessing.
Other key factors include Nowitzki's improvement as a team defender and signal-caller responsible for calling out what play the opposition is running, along with the scrappiness supplied by charge-takers like DeShawn Stevenson and Brian Cardinal.
But Chandler's presence and passion are the keys, as well as his crucial ability to avoid foul trouble for much of the series to lessen the impact of Brendan Haywood's hip injury.
Strong individual work from Shawn Marion and Jason Kidd completes the puzzle. As they did in the Western Conference finals, taking turns on Kevin Durant and Russell Westbrook, Marion and Kidd do their own switching back and forth on Wade and James, constantly changing the looks they're getting from a team that has changed its identity.
The knock on the Mavericks of old, for much of Nowitzki's career, centered around their inability to get stops when they needed them. In these Finals, when Miami has put the clamps on the league's No. 1-ranked team in offensive efficiency this postseason, Dallas was still able to dig out wins in Game 2 and Game 4 when the ball wasn't going down like it did in Game 5.
Frequent references to the "Basketball Gods"
I realize that this is more of an interview-podium surprise that might have escaped even the most hard-core Finals consumers. But I've found it interesting, after Game 4 and Game 5, to hear both Wade and Mavs coach Rick Carlisle make a "basketball gods" reference, proving that it's not just us media types who spout this stuff.
This was Wade after a crucial free throw in the final minute of Game 4 bounced in and out: "The basketball gods just had other plans."
This was Carlisle after the Mavs had about four high-arching prayers from behind the 3-point line -- from a variety of shooters including Jason Terry, J.J. Barea and Nowitzki -- answered in Game 5: "Look, we threw in some difficult shots. But when you play as hard as we've been playing, the basketball gods tend to be kinder to you."
Confession time: I'm struggling these days to give any credence to the notion of hoops-focused higher powers when the prospect of a lockout in two weeks looms over one of the best Finals that I've ever attended and threatens to shut down the league when it's in its healthiest state since Michael Jordan retired.
Yet I suppose we can all be thankful, as a measure of consolation, that we're getting a really good show in the dreaded event this is the last NBA basketball we're going to see for a while.


ESPN.com senior writer Marc Stein
• On Twitter @ESPNSteinLine | On TrueHoop | On ESPN.com | On email
• Follow ESPN's NBA coverage on Twitter | On Facebook | On Google+
Dimes past: May 23 | 24 | 25 | 26 | June 1 | 2 | 3 | 4 | 5 | 6 | 7 | 8 | 9 | 10
2. Mavs Have Look Of Champions
By John Hollinger
ESPN.com

DALLAS -- These guys?
Really???
That's the general reaction to the possibility of the Dallas Mavericks winning a title, and at first glance one understands why: the Mavs had only one All-Star this year, and one struggles to come up with a plausible second representative. But with the Mavericks now just one win from the most unexpected championship run since Detroit in 2004, it's time to revisit our assumptions about what a champion looks like and why this team wouldn't qualify.
• Read the rest of Hollinger's PER Diem for Friday

3. There Is Still Time For The Heat
By Brian Windhorst
ESPN.com

DALLAS -- In the NBA, there's always time.
That was the way I started a story on March 10 when the Miami Heat were on a five-game losing streak. They were also a national joke at that moment because coach Erik Spoelstra had oddly announced some of his players were crying in the locker room after a tough home loss to the Chicago Bulls.
Now, with the Heat on the brink of being vanquished by the Dallas Mavericks in the NBA Finals following a couple of high-intensity nights in Texas, it is time to recall the proverb that refreshes itself over and over.
In the NBA, there's always time.
• To read the entire column, click here
By Tim MacMahon
ESPN Dallas

MIAMI -- Let's be brutally honest about this merry band of basketball misfits, to borrow Donnie Nelson's term of endearment for the flawed but phenomenal team he helped build.
How many times did you write off these Dallas Mavericks as legitimate title contenders?
Full disclosure: To describe every moment of doubt, I'd still be typing at tipoff of Game 6, when the Mavs have a chance to clinch the first NBA championship in franchise history if they finish off the megahyped Miami Heat.
So, in the interest of saving time and cyberspace, let's limit this to when the pessimism peaked.
• The Tyson Chandler trade: This deal ended up being arguably the Mavs' best since a prearranged draft-day swap that sent Robert "Tractor" Traylor to Milwaukee for a goofy German kid named Dirk Nowitzki and fellow first-rounder Pat Garrity, who ended up being part of a package for Steve Nash.
However, when Dallas pulled the trigger on this trade, it was widely considered a disappointment. That's because so much hope had been built up that the Mavs could use Erick Dampier's unique contract -- essentially instantly evaporating $13 million -- as the centerpiece in a sign-and-trade package for one of the big-fish free agents, such as one of the stars they're facing in these NBA Finals.
They settled for a 10-year veteran center who had never been an All-Star and was coming off two seasons ruined by a serious ankle problems, playing it safe instead of rolling the dice and investing much more in a deal for Al Jefferson. Little did we know that a completely healthy Chandler would instantly become the Mavs' emotional leader and the most imposing force the franchise has ever had in the middle.
"We got a little lucky," said Nowitzki, who calls the big man the Mavs' MVP.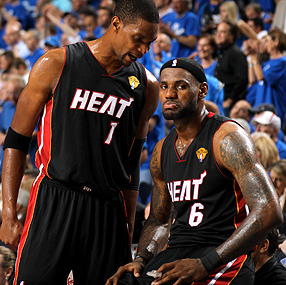 Jesse D. Garrabrant/NBAE/Getty Images
LeBron James had a triple-double (17 points, 10 rebounds and 10 assists) in Game 5, but the Heat fell to the Mavs. What will he do on Sunday?
6.

Carlisle Key In Mavs' Run
By Kevin Pelton
ESPN Insider

Carlisle
The crucible that is the late rounds of the NBA playoffs has a way of making coaches look foolish. The past two coach of the year winners, Scott Brooks and Tom Thibodeau, were criticized this postseason for their teams' scoring difficulties in late-game situations during the conference finals. The previous honoree, Mike Brown, was fired by the Cleveland Cavaliers after the 2010 playoffs in large part because of a lack of creativity in his late-game offense.
During this postseason, Dallas Mavericks coach Rick Carlisle has proved to be the exception. While Dirk Nowitzki and the Mavericks' veterans have played a role in that, Carlisle and his coaching staff deserve credit for an impressive performance throughout the 2011 playoffs.
Carlisle is one victory away from taking a team given only even odds by ESPN experts of winning its opening-round matchup to an unexpected championship. Dallas has gotten here by raising its level of play in the playoffs. With an older team, Carlisle hasn't been able to extend his starters' minutes like counterpart Erik Spoelstra has done with Miami Heat stars LeBron James and Dwyane Wade. Still, the Mavericks have been better at both ends of the floor.
Given how dominant Nowitzki has been in the playoffs, and that he has quality shooters around him, the fact that Dallas leads the league in postseason offensive rating seems unsurprising. During the regular season, however, the lack of a second prolific scorer was one reason the Mavericks ranked just eighth in the NBA in per-possession scoring. Thanks in part to a 2-3 zone implemented by Dwane Casey, one of several excellent assistants at Carlisle's disposal, Dallas won just as much with defense in the regular season. The Mavericks' D has stepped up in the Finals in particular, holding Miami to 5.5 points per 100 possessions below its regular-season output.
• Read the full story from Pelton

8.

Heat's Final Test Of Adversity
By Tom Haberstroh
ESPN.com

Bosh
DALLAS -- This is what the Miami Heat always wanted. Or at least, that is what they want us to believe.
The Heat are down 3-2 to the Dallas Mavericks in the NBA Finals, one loss away from fighting all this way to go home empty-handed. But the Heat insist this adversity fuels their fire. From the outset of the season, they have maintained that the painful losses represent an essential ingredient of the so-called "process." This wouldn't be easy.
Heat coach Erik Spoelstra engineered one of the best defenses in the NBA, but the most impressive defensive mechanism he implemented this season could be heard only on the postgame podium. Following the 112-103 loss to Dallas in Game 5, Spoelstra performed his finest spin-doctoring act of the season, saying the Heat were "able to steal one" in Dallas.
Apparently, losing three out of their past four games was all part of the plan.
"We wouldn't have it any other way than the hard way," Spoelstra said. "This is an opportunity for us."
Their backs are against the wall, and the margin of error is gone. But this is what Spoelstra and the rest of the Heat wanted all along, they'll tell you. From Day 1, they established a bunker mentality in training camp, kicking off their season at Hurlburt Field and Elgin Air Force Base in Florida's panhandle. There, they learned how to fight through the coming adversity and cope during the imminent assault from the outside world.
The message wasn't lost on anybody: The Heat were preparing for battle this season.
And so far, the "band of brothers," as Spoelstra likes to call them, has survived. The incessant boos and hate-filled road atmosphere forced the Heat to take on the role as villain, even if they were never fully comfortable with playing the antagonists. Amid all the fury that the NBA and those outside the league unleashed upon them, the Heat have managed to turn negatives into positives, prevailing when it mattered most.
Until now, this season has been a season of triumph, though it hasn't been easy.