1. Cousins Must Grow Up -- On Another Team

By J.A. Adande
ESPN.com
Archive
"What's up with DeMarcus Cousins?" a player asked me after the Blazers-Clippers game Sunday night.
This was at Staples Center, about 400 miles south of Sacramento, but there's no such thing as far when it comes to news around the NBA. The player was referring to the latest and perhaps final dust-up involving Cousins and the Sacramento Kings, something serious enough to warrant a statement from coach Paul Westphal on the Kings' website and a banishment of Cousins from their game against the Hornets on Sunday night.
The Kings have learned the hard way that there's a reason a player as talented as Cousins was still available to them with the No. 5 pick in the 2010 draft, and they've also learned that those reasons have a way of showing up.
And it usually means that when the players grow up, they will do so elsewhere, not with the team that drafted them. It's why Michael Beasley dropped behind Derrick Rose in the 2008 draft even though Beasley was taller and the college player of the year, and then wound up in Minnesota two years later. It's why the Clippers once got Lamar Odom at No. 4 in 1999, even though he wound up standing taller than Elton Brand, Steve Francis and Baron Davis a decade later.
When a player's immaturity and/or irresponsibility is so deeply ingrained, it's not something that gets resolved during the span of a rookie contract. The Kings have come to that conclusion only a week into Cousins' second season. Better to realize it now than after it's too late.
In the statement, Westphal said Cousins has "continually, aggressively" shown "he is unwilling/unable to embrace traveling in the same direction as his team." Westphal said Cousins demanded a trade. Cousins' agent told Sports Illustrated that the player did not demand a trade. Regardless of who initiated it, the Kings clearly want to move Cousins.
And they should, for everyone's benefit. Cousins needs to be around a veteran who can put some sense into him. The problem is there are so few of those teams to be found in a league that has skewed younger after 15 years of straight-from-high-school players or one-and-done college guys.
The Boston Celtics would be a good environment for Cousins, and perhaps he could learn enough from old dogs Paul Pierce, Ray Allen and Kevin Garnett (despite his antics in games, Garnett has never been a problem for coaches and set a tone of defensive accountability from the moment he arrived in Boston) this season to be a building block for when the team moves forward without the Big Three.
But I can't think of a player that would make sense for Sacramento to take back in a trade. And it's not as if the Kings are looking for expiring contracts. They had enough trouble meeting the minimum payroll this year; the last thing they need is more salary cap space.
The Kings are in a bind because Cousins' reputation is becoming so toxic they can't expect close to equal value for him. But if the Kings can't count on a long-term investment, why not go for the ultimate rental, Dwight Howard? If the Orlando Magic were willing to gamble on Gilbert Arenas, they might be interested in Cousins. He'd come a lot cheaper ($8.8 million over the next two seasons) than anything else the Magic could take on (i.e., a Lakers center or two).
The Kings have the salary cap room to take Howard and his $18 million salary back in a trade without having to send a bunch of players to Orlando. They know he wouldn't want to stick around Sacramento past this season. But with the city trying to secure funding for a new arena to keep the Kings in town, it wouldn't hurt to have a superstar in town to make home games feel like a big event for the next four months.
If the Kings wanted to look after Cousins' best interests, they would find a way to get him to Portland so he could be around Kurt Thomas, the steadying locker room presence on the ninth stop of his 17-year NBA journey.
"This is a business," is what Thomas said he would tell Cousins. "You're not playing for just one team, you're playing for the 29 other teams. You've got to keep playing, keep your head. A lot of guys think it's all show. You've got to keep your head."
Thomas' second sentence was the most important. If things don't work out with the Kings, they probably won't work out with the next team or the next team, until there's no more next team. The Kings could look after their player investment and fire Westphal, but this is a Cousins problem, not a Westphal problem. There were issues with the coaching staff during Cousins' lone collegiate season at Kentucky. There will be issues with Cousins' next coach, whomever or wherever that is.
Another player I talked to Sunday night said the guys in his locker room were concerned Cousins could wind up out of the league if he doesn't get it together. Talent and potential will keep problem players around longer than they merit, but it's not infinite. Ask Stephon Marbury.
This anonymous player said he used to be resistant to any criticism, because he didn't have any strong male authority figures around when he was growing up. He carried anger with him for a long time. It took getting married and having kids for him to settle down. Now he's even reconciled with a former coach with whom he had a frosty relationship.
This player realized what Cousins has to realize: The only thing Westphal or anyone else around want is for him to succeed. A more productive Cousins would help Westphal's job security. But even people with no vested interest only want to help.
After the Lakers' game in Sacramento on Monday night, Kobe Bryant said he pulled Cousins aside during last year's All-Star Weekend to give him a little advice.
"He has too much talent to be doing all of that [stuff]," Bryant said. "Just play, man."
In Cousins' rookie season, that stuff (Bryant actually used a different word) includes an altercation with a teammate who didn't pass him the ball at the end of a game, a fine for a verbal confrontation with a team training staff member and an ejection from a practice after talking back to Westphal. Apparently, his attitude hasn't changed as a sophomore.
The reality is that teams that draft people of questionable character often get the worst of them, only to see them blossom elsewhere. Take Odom with the Clippers, who picked him in 1999 after his stock dropped because of rumors floating around during the buildup to the draft. The fears were realized in Odom's second season, when he was suspended for violating the league's substance abuse program (although sources said the suspension was for not complying with the monitoring process, not a positive test).
The Clippers' patience with Odom was so thoroughly exhausted that when he became a restricted free agent, not only did the Clippers decline to match Miami's offer sheet, they also issued a statement from then-general manager Elgin Baylor detailing exactly why: "In the final analysis, the decision was based on issues of character and other risks involved."
It was an extraordinarily (and unnecessarily) candid moment. I haven't seen anything like it … until Westphal's statement Sunday. Think of how exasperated the Kings had to be to let everyone around the league know they were willing to trade Cousins, while saying just how risky a trade prospect he would make.
Maybe Cousins will go on to have a career like Odom's and become a valuable contributor to back-to-back champions. The only thing we know for sure is that the best of Cousins will come with a different team. That's how these stories end.


ESPN senior writer J.A. Adande
• On Twitter @jadande | On ESPN.com | On TrueHoop | On e-mail
• Follow ESPN's NBA coverage on Twitter | On Facebook | On Google+
2. Offense-Fueled Clippers Dig In On D
By Kevin Arnovitz
ESPN.com

LOS ANGELES -- If Lob City is going to be a functioning municipality, then it's going to need some law and order. Every day can't be a celebratory parade or a civic orgy. Somebody has to sweep the streets, fill the potholes and pick up the garbage.
During the first week of the season, the Los Angeles Clippers delivered spectacle and frills, and entered Sunday's action as the NBA's most efficient offense. Unfortunately, the Clippers' defense was every bit as putrid as their offense was prolific. They knew they'd need a couple of weeks to craft a coherent defensive game plan, but they never imagined that they'd rank dead last in the NBA defensively a week into the season, giving up an unsightly 113.3 points per 100 possessions.
On Sunday night, the Clippers showed signs of life on the defensive end in their 93-88 win over the Portland Trail Blazers. The sellout crowd was treated to its fair share of acrobatics above the rim courtesy of Blake Griffin and DeAndre Jordan, but the Clippers fought this game in the trenches for 36 minutes, then weathered a scintillating 36-point fourth quarter by Portland to hold on.
"I thought we did a good job limiting their easy baskets as much as possible," Clippers coach Vinny Del Negro said. "They got behind our defense a couple of times in the fourth quarter, but overall I thought that was an important part of the game for us."
The Clippers applied tough ball pressure on the Trail Blazers for three quarters, something that was notably absent from losses to San Antonio and Chicago last week. For the game, the Clippers logged 25 deflections -- an average effort for the team generally falls in the 15 range.
"We were in them the whole time," Griffin said. "We were on top of them, getting loose balls, getting steals, deflections. A deflection forces them to have to take a tough shot at the end of the shot clock. It's huge."
Read the rest of Arnovitz's dispatch from L.A. at TrueHoop »
3. Champion Mavs Now Worst In West
By Jeff Caplan
ESPN Dallas


When a team plays with low energy or shoots poorly, it's tough to win in the NBA. When a team plays with low energy and shoots poorly, it's nearly impossible. The Dallas Mavericks, excited about their play in splitting their previous two games, found this out on New Year's Day against a team they are used to beating wherever they play them.
The new-look Minnesota Timberwolves, who took the Thunder, Bucks and Heat to the wire in their three opening losses, earned their first win of the season at the expense of the Mavs, 99-82. Minnesota used a 13-2 run to end the first half with a 50-41 lead. The Timberwolves then tacked on five more points to start the second half, and eventually made it a 60-45 cushion. Dallas rallied in a hurry to get within 67-66 late in the third quarter, but the Ricky Rubio-led Wolves blasted ahead with a 13-3 run.
But these young Wolves are still learning how to win, and again Dallas chopped down a 12-point lead to two in a matter of minutes in the fourth quarter. Kevin Love, who had another sensational game with 25 points and 15 rebounds, hit consecutive 3-pointers to boost Minnesota's lead to 90-82.
By Justin Verrier
ESPN.com
SUNDAY'S BEST
Love
Kevin Love, Wolves: New year, new Wolves. After winning just nine games in the 2011 calendar year, the Wolves started 2012 with a bang with a win over the champs, thanks to a monster night from Love: 35 points (9-for-16, 5-for-6 from 3), 17 rebounds and two late game-clinching 3s.
---
SUNDAY'S WORST
Bryant
Kobe Bryant, Lakers: In the second game of a back-to-back against the Nuggets, Kobe took more shots (28) than Pau Gasol and Andrew Bynum combined (27) but made fewer (6) than either (8 and 7, respectively). He also turned it over six times. The Lakers lost. Shocking, we know.
---
QUOTE OF THE NIGHT
"DeMarcus Cousins has demanded to be traded. In the best interest of our team as we go forward, he has been directed by me, with the support of management, to stay home from the New Orleans game tonight."
-- Kings coach Paul Westphal, in a prepared statement issued by the team before Sacramento's 96-80 win over the Hornets.
5.

Bynum Takes Blame For Loss
Bynum
DENVER -- Kobe Bryant shot just 6-for-28 in the Los Angeles Lakers' 99-90 loss to the Denver Nuggets on Sunday while Andrew Bynum and Pau Gasol combined to shoot 15-for-27, but the Lakers big men did not blame Bryant for the disparate amount of touches.
"I put the onus on me on that, being a little tired and not getting down the court," Bynum said after finishing with 18 points on 7-for-12 shooting to go with 16 rebounds in his second game back from a four-game suspension to start the season. "If I get down the court first I have to get the ball. So, I need to make that happen in order to get the ball."
Bryant went 3-for-10 in the fourth quarter, scoring six points. Gasol scored six points in the fourth on 3-for-5 shooting.
Still, Gasol was comfortable with Bryant's shot selection.
"I hope that every shot that he takes, he makes," Gasol said. "If I want a guy to take a shot down the stretch, it would be him."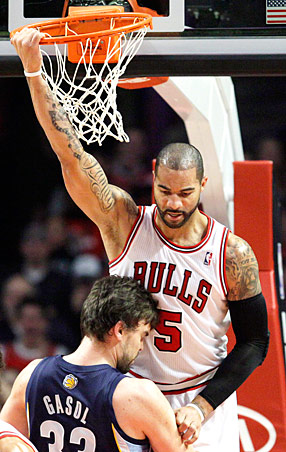 (AP Photo/Nam Y. Huh)
With Mike Conley and Zach Randolph dinged up, the Grizzlies couldn't keep up with the Bulls, who nearly doubled up Memphis in their home opener.
6.

Heat Have LeBron's Back
By Michael Wallace
ESPN.com
James
MIAMI -- Long before LeBron James sputtered through most of the Miami Heat's 129-90 victory against the Charlotte Bobcats on Sunday night at AmericanAirlines Arena, he had already established a pattern of relying on his teammates to get him through an even bigger challenge.
A night that finished with the Heat improving to 5-0 for the best start in franchise history began with LeBron first having to conduct some long unfinished business off the court.
"To me, it felt like he was on his knee for an hour," Heat guard Dwyane Wade said of James.
Wade, of course, was referring to the position James was in just after midnight Sunday morning rather than where the Heat forward would end up Sunday night. But in both spots, when James needed a pick-me-up, his supporting cast was there to provide a lift.
Apparently, the Heat really do things in threes.
By Nick Friedell
ESPN Chicago

CHICAGO -- The Chicago Bulls' 104-64 destruction of the Memphis Grizzlies on Sunday night was such a laugher that Bulls head coach Tom Thibodeau, who rarely ever sits down during a game, actually planted himself on the bench. Midway through the third quarter. The difference on Sunday night, as it will be throughout the course of the season for Thibodeau's bunch, is that the Bulls once again proved that they are among the deepest teams in the league.
Rip Hamilton was a late scratch because of a groin injury. No problem. Ronnie Brewer inserted himself in the lineup and dropped 17 points on the Grizzlies, thanks in part to a much improved 3-point shot.
C.J. Watson hurts his elbow early in the fourth quarter. No problem. John Lucas III comes out of nowhere to score eight points in 10 minutes. The Bulls' bench depth was a reoccurring theme throughout last season and one of the biggest reasons the team led the league with 62 regular-season victories. It's also one of the reasons why the Bulls are so confident they can have the same kind of success this year.
"I think we're the deepest team in the NBA," Bulls center Joakim Noah bluntly said after the game. "I think Omer [Asik] has been playing great for us. Taj Gibson, Kyle Korver, all these guys I feel could be starters. I feel like it definitely takes our team to a whole 'nother level when you bring in the second unit and they're very good."