1. Trade Deadline Looms In Lockout Season

By Marc Stein
ESPN.com
Archive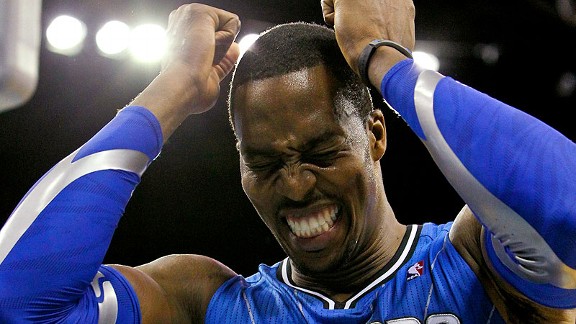 Derick E. Hingle/US PresswireWith one month to go before the trade deadline, it's not easy to get a read on Dwight Howard's future.
The latest trade deadline in league history (thanks again, lockout!) is only about a month away.
Make that 34 days, to be exact, but the calendar seems to be moving faster than usual in this compressed, shortened season.
So it's a fitting time to tap into the NBA grapevine for the first of what will surely be multiple helpings of pertinent personnel chatter from various team officials, coaches, players and agents.
---

The latest and loudest word on Dwight Howard's future in Orlando, via this week's unexpected state of the union from rarely heard Magic owner Rich DeVos, is that the Magic "don't want to trade him" and that DeVos would "like to think we're making headway."
DeVos, though, was candid and genuine enough to concede that Howard is going "to look at his options [and] what's best for him" and that his star center's desires "may or may not coincide with mine."
Which is precisely why our advice remains: Stay tuned.
It's widely assumed around the league by now -- long before DeVos confirmed to the masses that he's going to give Dwight every conceivable second to reconsider his desire to be traded -- that there's no point even trying to engage the Magic in Howard trade talk until after All-Star Weekend in Orlando from Feb. 24-26. Did you see that snazzy ORL '12 T-shirt on the TNT set Thursday night? You can understand why the Magic, with the basketball world coming to town, would want No. 12 to still be their No. 12 for such a big party. At least until everyone leaves.
Yet it's just as widely assumed that the 18 days between the All-Star Game and the March 15 trade deadline are going to be busy and excruciating for DeVos' Magic, because that's when the pressure of exposing themselves to the dreaded Shaq Script gets so real.
If the Magic don't deal their face of the franchise before the deadline, as you've surely heard and read zillions of times by now, Howard can leave them without compensation on his way to the Summer Olympics in London, just like Shaquille O'Neal did in the Olympic summer of 1996. And if that doesn't generate enough stress in Central Florida, there's this helpful forecast from one source close to the situation: "I think Howard's camp will be putting on a lot of pressure for a resolution come Feb. 27."


---

One of the most interesting aspects of the Howard saga, at least on this scorecard, is the likelihood that three of the four teams believed to be the most realistic landing spots for Howard (New Jersey, Dallas and Chicago) are all presumably rooting for Orlando to keep Howard beyond March 15 for reasons unique to each team.
The Nets would have to jump on a Dwight trade immediately if a workable three- or four-team scenario materialized between now and the deadline, because they know anything can happen in July to blow up the best-laid plans, but the thought of Orlando rolling the dice and keeping him for one more playoff run has to be tantalizing. In that scenario, thanks to all of its forthcoming salary-cap space, New Jersey would be able to offer max deals to both Howard and guard Deron Williams in the summer while also keeping its best assets. If the Nets trade for Howard in-season, they know they'll have to gut their team just like the nearby Knicks did to get Carmelo Anthony, surrendering the likes of Brook Lopez and rookie MarShon Brooks as well as four (or more) first-round picks.
Dallas, meanwhile, has never denied that its only shot at Howard requires him to get to free agency. The Mavericks simply lack the trade assets to get in the short-term running, but their well-chronicled intent to try to create more than $30 million in salary-cap space this summer -- $27-plus million is the range they project to be for the moment if Shawn Marion is traded and Brendan Haywood is amnestied after the season -- has established them as a presumed bidder for both D-Will and Dwight.
As for the Bulls …
If you wondering why we've included them here, when they're still not on Howard's Nets-Mavs-Lakers wish list, it's because Chicago keeps quietly making its interest now, romanticized by the prospect of pairing Dwight with Team USA teammate Derrick Rose.
Not necessarily now, sources say. Word is that the Bulls' natural preference is playing out the season with one of the league's consensus top-three rosters and seeing how far they can go. But it's conceivable that they could always make a down-the-road trade play for Howard if he's still in Orlando, since they have several quality players under contract to plug into two- or multi-team trade scenarios. The Magic, remember, are known to want established talent if they do eventually give in because DeVos, at 85, has no interest in a total rebuild.
The Bulls, I'm told, are stunned (and somewhat miffed) that Howard doesn't have them on his wish list, struggling to believe he's not angling to hook up with D-Rose in a true (if frigid) NBA metropolis. And interesting won't begin to describe the situation if these teams do start talking seriously, with Orlando sure to want Joakim Noah and Taj Gibson and Chicago more likely to try to sell the Magic on the likes of Luol Deng, Carlos Boozer and Omer Asik.
(The Lakers would appear to be the only team of the four for whom trading now makes more sense than trading later. But all the longstanding obstacles to a Dwight-to-L.A. deal remain unchanged: Lakers lead decision-maker Jim Buss is unwilling to part with both Andrew Bynum and Pau Gasol in such a swap … while Howard himself is said to A) have reservations about the Lakers parting with both of them and B) have even less interest in following Shaq's footsteps straight to Hollywood.)


---

Two of the factors frequently cited by executives around the league for the relative quiet on the trade front so far this season:
1. Nearly one-fourth of the league's players, as covered in Box 3, aren't eligible to be traded yet.
2. Teams are waiting to see whether Orlando's stance with regard to the Dwight Domino changes as the deadline draws closer.


---
Kaman
The expectation persists that the Hornets will deal center Chris Kaman sooner rather than later even though they've brought him back to the team and let him play 31 minutes in Wednesday's heavy loss to Chicago after initially sending Kaman home to wait for a trade and announcing that playing young players would be the coaching staff's priority.
The league-owned Hornets initially deactivated Kaman and maintained that they were working with the center's agent, Rob Pelinka, to try to find him a new team. But the Hornets, sources said, came away from a weeklong push to consummate a deal convinced that they'd continue to see lowball offers if Kaman remained inactive.
Houston and Indiana, sources say, expressed the strongest interest in the former All-Star. The Pacers are the only team in the league with the requisite salary-cap space to take in Kaman's $14 million expiring contract without sending any salary back to the league-owned Hornets.
The Hornets are said to be seeking at least one good future draft pick or young player for Kaman, but getting even that much has proved difficult to land to date, presumably because of Kaman's ability to become a free agent in July.


---
Smith
Chandler
New York is still the closest thing to a consensus favorite to sign
J.R. Smith
to a rest-of-the-season contract worth $2.5 million when the rangy guard returns from China. Lots of teams are interested in Smith, including both the Clippers and Lakers, but the Knicks are starved for shooters and have more money and a bigger role to offer than most Smith suitors, which gives them an edge.
One source close to the situation, meanwhile, says restricted free-agent swingman Wilson Chandler is giving legit consideration to negotiating a mere one-year, rest-of-the-season contract when he returns from China to the Nuggets in March. The idea there is that Chandler, with perhaps only a couple of months left in the Nuggets' season at that point, might prefer to play out that short span on an expiring deal because he could then become an unrestricted free agent in July.


---
Nash
Absolutely nothing has changed in the desert since the last time we examined Steve Nash's status extensively. Sources close to the situation insist that Nash will be finishing this season as a Sun before the prospect of going elsewhere is even broached. The 38-year-old, for starters, isn't pushing to be moved. Of perhaps greater consequence, Phoenix is also well aware that it can't get back nearly enough in a trade-deadline deal for a free agent-to-be to justify parting with a 38-year-old who happens to have just played his way to his eighth All-Star Game.


ESPN.com senior writer Marc Stein
• On Twitter @ESPNSteinLine | On TrueHoop | On ESPN.com | On email
• Follow ESPN's NBA coverage on Twitter | On Facebook | On Google+
2. Western Conference

Little-known, um, footnote to the stomping incident last weekend in Minnesota that caused the Wolves' Kevin Love to be suspended for two games this week after planting a sneaker in Luis Scola's face:
Sources close to the situation say Love actually met Scola for a drink afterward to clear the air, with the Houston forward not flying out until the next day.
In an interview Thursday night with the TNT studio crew after being named to the Western Conference All-Star team as a reserve, Love didn't get into those specifics but did say that "Luis and I are cool," explaining that the two have been friends since Love made it to the NBA in the summer of 2008.
"I don't want to be known as a guy that makes plays like that," Love told the TNT guys. " I want to be known as a stand-up guy who plays hard in every game."
---
Some numbers of note in the West this week:
4: Crunch time in Sacramento didn't quite work out Thursday night, but Kevin Durant is generally hushing the skeptics about his late-game prowess. The OKC star came into 2011-12 shooting just 4-for-28 on game-tying or go-ahead shots in the final 24 seconds of the fourth quarter or overtime over the previous two seasons. But after his game-winning bucket Tuesday night in Oakland, Durant is shooting 4-for-6 this season in those situations.
11: Oklahoma City's Russell Westbrook entered Thursday's play averaging 11.2 points per game in the paint, tops in the league among guards.
.671: When he went down Monday night in Orlando with a season-ending Achilles tear, Chauncey Billups ranked fifth among active players over the past 10 seasons in regular-season winning percentage according to Elias. Starting in 2002-03 and up through Monday's games, San Antonio's Tim Duncan topped the list with a winning percentage of .716, followed by Spurs teammates Manu Ginobili (.715) and Tony Parker (.711), with Dallas' Dirk Nowitzki (.696) and the Clippers' Billups (.671) at Nos. 4-5.
26: Duncan recently became just the 26th player in league history to surpass 22,000 career points. Only 11 of those players have also pulled in 12,000 rebounds: Wilt Chamberlain, Kareem Abdul-Jabbar, Elvin Hayes, Moses Malone, Robert Parish, Hakeem Olajuwon, Charles Barkley, Karl Malone, Shaquille O'Neal, Kevin Garnett and Duncan.
5: When he quietly totaled 25 points, 11 rebounds and 10 assists while Monta Ellis was racking up 48 points in Tuesday's home loss to the Thunder, Golden State's David Lee became the fifth player this season to record a triple-double, joining Houston's Kyle Lowry, Boston's Rajon Rondo, Philadelphia's Andre Iguodala and Charlotte rookie Kemba Walker. It was Lee's second career triple-double.
3. Market Conditions
As noted at the top of this Weekend Dime, one of the factors that has contributed to the limited in-season trade activity so far is the delayed trade eligibility of more than 100 players.
In a normal NBA season, free agents who ink contracts in the offseason can't be traded for three months from the date they signed or Dec. 15, whichever falls later. The rule, though, had to be amended because of the lockout, which pushed free agency back to Dec. 9 for the 2011-12 season.
Free agents who signed contracts for this lockout-shortened campaign thus can't be traded for two months from the signing date or March 1, whichever falls later. In 20 days, then, every team in the league will have more contracts to plug into deals to satisfy salary-cap requirements, which could serve as a useful impetus to help trigger activity before the March 15 trading deadline.
Said one Eastern Conference executive: "Teams are eager for March 1."
A team-by-team list of the 2011 free agents who will become trade-eligible in just under three weeks:
| | |
| --- | --- |
| ATLANTA | Jason Collins, Willie Green, Ivan Johnson, Tracy McGrady, Jannero Pargo, Vladimir Radmanovic, Jerry Stackhouse |
| BOSTON | Marquis Daniels, Sasha Pavlovic, Mickael Pietrus, Greg Stiemsma, Chris Wilcox |
| CHARLOTTE | Derrick Brown, Cory Higgins, Reggie Williams |
| CHICAGO | Rip Hamilton, Brian Scalabrine |
| CLEVELAND | Anthony Parker |
| DALLAS | Brian Cardinal, Vince Carter, Delonte West, Sean Williams, Brandan Wright |
| DENVER | Nene, Julyan Stone |
| DETROIT | Tayshaun Prince, Damien Wilkins |
| GOLDEN STATE | Kwame Brown, Dominic McGuire, Chris Wright |
| HOUSTON | Samuel Dalembert |
| INDIANA | Jeff Foster, Jeff Pendergraph, David West |
| L.A. CLIPPERS | Caron Butler, Reggie Evans |
| L.A. LAKERS | Jason Kapono, Josh McRoberts, Troy Murphy |
| MEMPHIS | Dante Cunningham, Hamed Haddadi, Jeremy Pargo |
| MIAMI | Shane Battier, Eddy Curry, Terrel Harris, Josh Howard, James Jones |
| MILWAUKEE | Mike Dunleavy |
| MINNESOTA | J.J. Barea |
| NEW JERSEY | Kris Humphries, DeShawn Stevenson, Shawne Williams, Shelden Williams |
| NEW ORLEANS | Gustavo Ayon, Marco Belinelli, Carl Landry, Jason Smith |
| NEW YORK | Mike Bibby, Tyson Chandler, Baron Davis, Jared Jeffries, Steve Novak |
| OKLAHOMA CITY | Daequan Cook |
| ORLANDO | Earl Clark, Glen Davis, Jason Richardson, Von Wafer |
| PHILADELPHIA | Tony Battie, Spencer Hawes |
| PHOENIX | Shannon Brown, Grant Hill, Ronnie Price, Michael Redd, Sebastian Telfair |
| PORTLAND | Jamal Crawford, Greg Oden, Craig Smith, Kurt Thomas |
| SACRAMENTO | Chuck Hayes, Marcus Thornton |
| SAN ANTONIO | T.J. Ford |
| TORONTO | Rasual Butler, Anthony Carter, Gary Forbes, Aaron Gray, Jamaal Magloire |
| UTAH | Josh Howard, Jamaal Tinsley, Earl Watson |
| WASHINGTON | Maurice Evans, Roger Mason, Nick Young |
PS -- There are also a few restricted free agents who either re-signed with their old teams or saw offer sheets matched since the lockout was lifted that can't be traded until after March 1 because of various restrictions, which apply when the salary in the first year of the new contract is greater than 120 percent of the player's salary in the final season of his previous contract ... and when the player's team is over the salary cap. Under the league's new labor pact these players can't be traded for three months from their signing date or January 15, whichever falls later. Here are some notable names who, because of this rule, are trade-eligible for only a small window in March:
PPS -- The contact extensions signed by Denver's Arron Afflalo and Detroit's Rodney Stuckey happened too late for either to be trade eligible this season, since March 19 (four days after the trade deadline) is when the restrictions on their respective contracts are lifted.
PPPS -- There are two more players who signed as free agents in January who don't become trade eligible until shortly after March 1: Dallas' Yi Jianlian (March 6) and Golden State's Nate Robinson (March 4). Players who sign after Jan. 16, such as the Clippers' Kenyon Martin, cannot be traded this season.
Hibbert
Five questions with Pacers center Roy Hibbert:
Q: You guys have a nice little collection of road wins. What's different about this Pacers team compared to some of the recent editions?
A: Our fourth-quarter tempo and our fourth-quarter demeanor has changed on the road. Getting rebounds, limiting teams to one shot, that's what we're about. I think we're the best-kept secret in the league.
Q: Most people draw a line under Miami and Chicago when it comes to contenders in the East. How realistic is it for the league's best-kept secret to get up to that level?
A: The sky's the limit. We're constantly getting better. Defensively we're one of the best teams in the league. We're having fun, we're moving the ball and we're winning. We don't get much pub. Everybody wants to worry about the big-name teams. That's fine.
Q: Just being in the locker room with you guys now, my outsider's impression is that this is a pretty tight group. Tell me I'm not just being fooled after a big win [in Dallas].
A: This is my fourth year in the league and, seriously, I've never seen a locker room like this. Guys can actually talk and communicate with the coaches, so that leads to us being able to communicate [among] ourselves and figure things out on the court without having to worry about getting yelled at.
Q: Not exactly a secret that you were pretty happy with (last season's) coaching change, is it?
A: I'll tell you -- and I've said this before -- that I'd run through a brick wall for that man [coach Frank Vogel]. Whatever he wants me to do, I'll do it. He got me back on top of my game last year.
Q: Why? Why are you so loyal to him?
A: Since I was a rookie, Frank always said, "Roy, you're gonna be good." He's always encouraged me. When I did something wrong, he told me how to fix it. He always encourages me. And, seriously, that goes a long way, when a coach has your back.
(Editor's note: Hibbert had not yet been named to the Eastern Conference All-Star team at the time of this visit.)

Can't have an Eastern Conference notes section without something on Jeremy Lin, right?
So here goes:
The working assumption in several NBA front offices is that Lin will be eligible to be re-signed via the "Early Bird" exception as long as Knicks present him with a qualifying offer by June 30, making him a restricted free agent. In that scenario they would not be required to use their mid-level exception to keep him ... unless, of course, Lin keeps putting up monster numbers to spark a leaguewide bidding war.
So New York will apparently benefit from Lin signing his original two-year deal with the Warriors in the summer of 2010, which is what would set him up for Early Bird eligibility.
For a more detailed explanation on how Early Bird signings work, we advise you, as always, to visit Larry Coon's peerless NBA Salary Cap FAQ for more.
---
Some numbers of note in the East this week:
8: Lou Williams' 24 points in Philly's home loss Wednesday to San Antonio halted a run of eight straight games in which the Sixers didn't have a single 20-point scorer. That's only happened once before in the NBA's shot-clock era that began with the 1954-55 season. According to the Elias Sports Bureau, Cleveland went eight straight games without a 20-point man late in the lockout-shortened 1999 season.
2: More on Williams: Philly's sixth man and Dallas' Jason Terry lead their teams in total points (409 and 384, respectively) without starting a single game so far this season. The last player to lead his team in total points for an entire season without starting a single game was Charlotte's Dell Curry in 1993-94.
6: Orlando's Dwight Howard recorded his sixth 20-point, 20-rebound game this season with 25 points and 24 boards in Wednesday's home win over the Heat. That's as many 20/20 games as the rest of the NBA combined. Howard had 11 points and 10 rebounds in the first quarter to become the first player in the league this season to post a double-double before the second quarter started.
13: Miami's LeBron James leads three Western Conference pursuers with a league-high 13 30-point games this season. The Lakers' Kobe Bryant and Oklahoma City's Kevin Durant are next in line with 10; Minnesota's Kevin Love has seven.
30: Maybe you've already heard this one amid all the Linsanity this week, but it's worth repeating: When Knicks sensation Jeremy Lin erupted for 28 points and eight assists in Monday's win over Utah, he became the first player in more than 30 years to hit those totals in his first NBA start since Isiah Thomas zoomed to 31 points and 11 assists in his NBA debut for Detroit against Milwaukee on Oct. 30, 1981.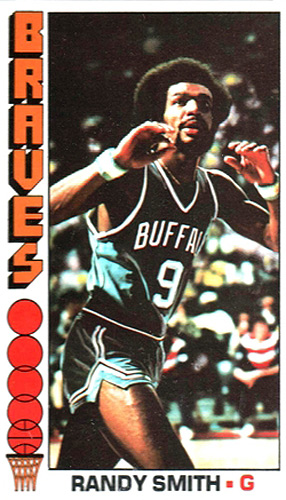 Courtesy of Topps
This beautiful Topps basketball card from 1976 sits on Marc Stein's desk at Stein Line HQ as a tribute to one of his favorite players. The late, great Randy Smith, in Stein's eyes, will always be regarded as the original NBA iron man of his lifetime. (See Box 8.)

Gentry
"As smart as any basketball player that's ever put on a uniform."
Phoenix Suns coach Alvin Gentry, raving about Steve Nash, who turned 38 on Tuesday.
Something tells me you won't be surprised to hear no dissent from this corner, but let's focus on purely the birthday aspect here and how many more of them Nash expects to celebrate as an active NBA player.
Two or three "for sure" is Nash's forecast. Which would take him beyond his 40th birthday just like fellow West Coast Conference legend John Stockton, who played in the NBA until he was 41.
Nash, though, made it clear in a recent visit with ESPN.com that the milestone of playing point guard in the NBA into his 40s, something only Stockton and Bob Cousy have done, is not his motivation.
"No," Nash said. "The numbers and the age don't mean anything to me. It's the level of play. If I can still compete with the best, I want to do so.
"I could keep playing for a long time if I want to diminish my role. But to play at this level, I don't know what you think, but I think I could play a while [longer]."
Said Gentry: "I never talk about his age. I just talk about his fitness, and his fitness is as good as anybody's in the league."
As for Nash's All-Star play this season, even with no one to throw it to who scores more than Marcin Gortat's nightly average of 15.1 points per game, Gentry added: "Nothing Steve does really surprises me."
(What I'd really like to see, if I may selfishly chime in now, is the day that Nash and his heir when it comes to making the NBA's flashiest passes -- Minnesota rook Ricky Rubio -- are playing in the same Western Conference backcourt in the All-Star Game. Hopefully we don't have to wait beyond February 2013 in Houston for that treat.)
Miller
How fast can things change in this 66-game death march of a regular season?
Mere days before the Achilles tear in Orlando that killed off his maiden season in Clipperland and ruled him out of this summer's Olympics, Chauncey Billups was locked in a historic duel at Staples Center with Denver's Andre Miller.
Historic because it was only the second time ever in the NBA that two players in the same game were appearing in the 1,000th regular-season game of their careers.
The only other time it happened was March 10, 1998, when Rockets teammates Charles Barkley and Kevin Willis reached that millennium milestone on the same night in a game against Dallas. Billups and Miller are just the 99th and 100th players in the game to reach the 1,000-game benchmark.
But seeing what's since happened to Chauncey, who actually got to the pros two seasons before Miller, inevitability leaves you marveling at Dre's ridiculous durability, which is positively Randy Smith-esque.
Since making his debut with Cleveland in the 1999-2000 season, Miller has missed a total of four games. Only four other players, according to the Elias Sports Bureau, had missed four or fewer games by the time they had played in 1,000. That very short list:
| NAME | GAMES MISSED |
| --- | --- |
| A.C. Green | 3 |
| John Stockton | 4 |
| Karl Malone | 4 |
| Bill Laimbeer | 4 |
P.S. -- With apologies to the uber-dependable Green, whom I covered extensively in both L.A. and Dallas as he eventually eclipsed Smith's record with 1,192 consecutive games played, Randy was my first NBA hero and the original Iron Man of my lifetime. Which hopefully explains why he's referenced above.
10.

Alternative Listening
Marc Stein gets the B.S. Report summons from Grantland's Bill Simmons to talk All-Star rosters, injuries and, of course, trades, trades, trades.