1. Handing Out Awards For NBA's First Half

By Marc Stein
ESPN.com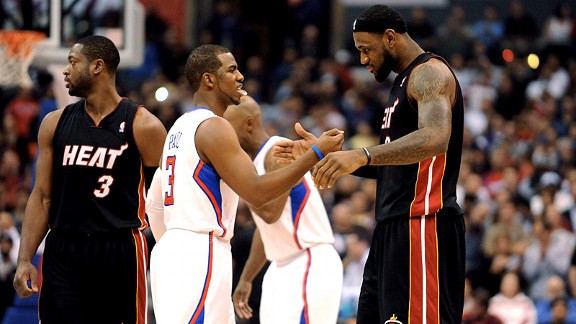 Andrew D. Bernstein/NBAE/Getty ImagesCP3 and LeBron have reason to celebrate the tweaks to the awards schedule at Stein Line HQ.
A lockout-compacted season shortened from 82 to 66 games mandates adjustments. For players, coaches, team execs, refs, agents and, way down there at the bottom of the NBA food chain, even media pests.
So ...
The usual routine here at Stein Line HQ had to be altered slightly. The season's too short for our usual Trimester reports, which typically take stock of the season through the prism of the major award categories every 27 or 28 games or so. It made far more sense in 2011-12 to opt for a midseason look at the various award races before our official ballots are revealed to the world at the end of April.
And, yes, we're really almost halfway through this 123-day grind. Already.
The Bulls' Saturday night home date with New Jersey will make them the first team to play 33 games, with several more teams scheduled to get there before next weekend's All-Star break.
Eastern Conference MVP of the First Half
James
LeBron James, Miami Heat
I remain skeptical about a majority of my peers, at season's end, voting for LeBron to win his third MVP trophy. No matter what his stats say. This is indeed a new season that theoretically should be judged 100 percent separately from last season, but Bron knows better than anyone that he'll never have peace from know-it-all gnats like me until he wins a championship or three. Not after the way Miami, and specifically LeBron, collapsed in the Finals last June.
So it'll be very, very interesting this May, if LeBron continues to average 28, 8 and 7 with a PER of nearly 33, to see how MVP voting turns out. Will he be graded solely on what he's done over the course of 66 games? Maybe I'm being overly cynical here, but instinct tells me to expect an MVP vote that's well short of a runaway.
At this juncture, though, it's not even a discussion. Trimester, half-term, whatever … you needn't bother looking for challengers to LeBron in the East when you're talking MVP candidates. Not an ailing Derrick Rose. Not an up-and-down Dwight Howard. Whether or not Dwyane Wade has been healthy enough to join him in Miami's lineup, James has been a better-than-ever wrecking ball. You could see it the other night in Indiana when the Heat dismantled Indiana on the Pacers' floor, with James picking up on Frank Vogel's play calls and disrupting Indy's offense as spectacularly as he was flushing Wade's lobs at the other end.
In a season where the Heat aren't supposed to be able to impress us with anything they do until the playoffs, LeBron ain't listening.
---
Western Conference MVP of the First Half
Paul
Chris Paul, Los Angeles Clippers
Kevin Durant is shooting just over 50 percent from the field and has nudged his nightly rebounds and blocks averages to a career-best 8.2 and 1.4, respectively, alongside that sparkly scoring average of 27.0 and his unyielding determination to tune out all the naysayers and do whatever it takes to make his partnership with Russell Westbrook work. Kobe Bryant, meanwhile, seems intent on trying to supplant Jerry West (31 years and 298 days old when he averaged 31.2 points per game in 1969-70) as the oldest player in league history to ring up 30 a night, ignoring whatever's going on in that banged-up wrist as well as those of us chirping haughty warnings from press row that he'll never make it to the end of the season with the scoring load he's shouldering.
Tony Parker is another Westerner who merits a strong mention for averaging 19.0 points and a career-best 7.6 assists in piloting San Antonio to a 15-7 record while Manu Ginobili was out with a broken hand, but the choice in this conference is clear-cut in its own way. The biggest threat to LeBron's MVP campaign, based on what we've witnessed so far, is unquestionably CP3.
Paul's numbers are killer/borderline spotless, he's closing games in the fourth quarter better than ever and, perhaps most crucially, he's combined with Blake Griffin to make the Clippers -- yes, we said Clippers -- a prime destination for free agents. Can't ask for more than that from your new-to-town franchise player.
"You're just payin' a little bit more attention," Paul told me Monday night, trying to suggest that this is what he's always done.
Maybe so, but I've been studying Clipperland for a lot longer than he has. And it's never looked like this. The clock is already ticking loudly down to the summer of 2013, when both CP3 and Blake can flee, but this is all new ground for one of the league's longtime punching bags. Which is why Paul would have ranked as the best in the West with us even if he kept missing Thursday night in Portland ... as opposed to torching the Blazers in TNT crunch time like he did.
---
Coach of the First Half

Carlisle
Rick Carlisle, Dallas Mavericks
If I had a dollar for every time I whined about how hard it is to zero in on two or three gents in this category, let alone one, I could probably buy the Dodgers.
My apologies.
Yet this is another one of those years (surprise!) when whining is unavoidable, because Doug Collins has the Sixers winning two out of every three games with no discernible star apart from the coach himself … and because Tom Thibodeau just keeps stacking up the wins in Chicago no matter how many Bulls are hurt … and because others in the neighborhood (most notably Atlanta's Larry Drew, Orlando's Stan Van Gundy and Boston's ever-reliable Doc Rivers) have made a habit of winning in the face of all sorts of distractions. Whether it's injuries or franchise-shaking trade demands or plain old age.
And that's just in the East.
It's two coaches in the West, though, who have ultimately nudged ahead of a chasing pack that should probably also include Minnesota's instantly impactful Rick Adelman and Indiana's Vogel. Two guys who've been around and who can be found in the Southwest Division: San Antonio's Gregg Popovich and Dallas' Rick Carlisle.
The way Pop has quietly worked in a bunch of kids (Kawhi Leonard and Danny Green alongside the slightly older Gary Neal and Tiago Splitter) to help Parker and 35-year-old Tim Duncan weather Ginobili's 22-game absence to keep the Spurs in the West elite is some of Pop's best-ever work. The only coach who can realistically trump that effort, to date, is Carlisle from the auld enemy in North Texas, where slow starts for Dirk Nowitzki, Jason Kidd and Lamar Odom -- as well as the departures of defensive anchor Tyson Chandler and defensive coordinator Dwane Casey -- haven't stopped the defending champs from turning "into an incredibly good defensive team" in the words of Denver's George Karl.
If you saw the Mavs' first three games … you understand how impressive it is now to see Carlisle presiding over a 19-11 team that ranks in the top five in scoring D and defensive efficiency.
---
Rookie of the First Half
Irving
Kyrie Irving, Cleveland Cavaliers
Voting against Ricky Rubio is literally painful. I can't name three players in the sport I'd rather watch than him.
Especially with Adelman and future MVP contender Kevin Love as co-pilots and with Rubio surrounded by a bevy of athletes who can finish so much better than any supporting cast he ever had in Europe..
There's little choice here, however. Irving has so spectacularly exceeded expectations in his first half-season that Rubio's brilliance, even with a lot of fourth-quarter success, can't fully make up the gap created by the Spaniard's .374 shooting from the floor.
Not when Irving is shooting 49.9 percent from the floor, 42.6 on 3-pointers and making dazzling, spinning drives as often as Rubio lifts you out of your seat with one of his tasty dishes. Alongside a resurgent (until he got re-injured) Anderson Varejao, Irving has given Cleveland hope far faster than seemed possible if you caught any of Year 1 post-LeBron.
When you've got Irving's skill, feel and instincts -- when you've clearly got a pro game -- it doesn't matter that you only played 11 games in college.
---
Sixth Man of the First Half
Williams
Lou Williams, Philadelphia 76ers
James Harden. Jason Terry. Al Harrington. Mo Williams. Jamal Crawford.
Maybe I'm just getting older, but I don't remember too many Sixth Man Award races with five or six worthy contestants.
I also can't quite put any of the above ahead of Lou Williams at this juncture.
Something tells me Harden will be a more popular choice among the masses, given how critical he is to the Thunder's success and his career-best production in terms of scoring average (16.8 points per game), field goal percentage (.469) and 3-point percentage (.373). Yet for once I'm going to give the edge to the righty, rewarding Williams for quietly playing a more efficient game than Harden statistically.
Playing roughly five fewer minutes per game -- and without scorers like Durant and Westbrook flanking him to divert attention -- Williams is shooting the ball better from 3-point range (even though he's not thought of as a shooter) while leading his team in scoring and ranking No. 3 in the NBA in assist-to-turnover ratio. He's the closest thing Philly has to a go-to guy, averaging nearly six points in fourth quarters, which has helped put Williams in position to possibly become the league's first player since Charlotte's Dell Curry in 1993-94 to lead his team in scoring (total points) without starting a single game.
Harden is obviously the better overall player, but I'd argue that Lou Will is no less important to his team. He's clearly the captain of the most productive bench (averaging 43.9 points nightly) in the NBA.
---
Defensive Player of the First Half
Iguodala
Andre Iguodala, Philadelphia 76ers
You should by no means discount Dwight Howard's chances of winning another DPOY trophy. Even though Orlando was only 13th in the league in defensive efficiency entering Friday's play, don't forget that Howard remains largely surrounded by non-defenders. He remains an undeniable game-changer on that side of the floor, even amid all the uncertainty surrounding Howard's future and the all-over-the-map play we've seen from the Magic as a result.
However ...
The inevitable fatigue that stems from voting for Dwight year after year for this award and the rise to prominence for a handful of previously under-the-radar defenders raises the real possibility that there will be a new DPOY at season's end.
The list of possible Dwight successors is certainly a long one. You could make a passionate case for pretty much all of these havoc-wreakers: Dallas' Shawn Marion, New York's Tyson Chandler, Chicago's Luol Deng, Memphis' Tony Allen, Atlanta's Josh Smith, Boston's Kevin Garnett, Oklahoma City's Serge Ibaka, and, yes, James.
But great, standout D is what earned Iguodala his first-ever invite to the All-Star Game ... and it's why he'll start the season's second half with a slight DPOY lead over Marion and Co. As Professor Hollinger likes to remind me, Philly ranks No. 1 in the NBA in defensive efficiency with a makeshift cast of bigs behind him thanks to Spencer Hawes' ongoing injury woes. Iguodala thus gets the early DPOTFH nod.
---
Most Improved Player of the First Half
Lin
Jeremy Lin, New York Knicks
If it bothers you that a player could land in a spot of such prestige after all of seven good games, I understand.
But I'm not changing my vote, either.
The seven games in question have been that eye-popping. The comparisons to Steve Nash are ridiculously premature, but the Nash-like manner in which Lin can keep his dribble until he makes something good happen has undeniably helped spawn a run so historically special (See Box 7) that the Harvard grad, without hesitation on this scorecard, goes straight to the front of a queue that's amazingly even longer than the lines forming in the battle for COY and MIP honors.
Detroit's Greg Monroe, Sacramento's DeMarcus Cousins, Atlanta's Jeff Teague, Houston's Kyle Lowry, Minnesota's Nikola Pekovic, Indiana's Paul George, Denver's Al Harrington, Phoenix's Marcin Gortat and Orlando's Anderson are just nine of the names you could comfortably nominate in this category.
Yet only Lin can say he's resurrected his glamour team's lost season, triggered an unforeseen national media frenzy reminiscent of Fernandomania in 1981 and somehow managed to shift the leaguewide focus away from all the talk about injuries ... and the craziness of the compacted schedule ... and the bad basketball we've been frequently seeing as a result.
All in the space of seven glorious games.


ESPN.com senior writer Marc Stein
• On Twitter @ESPNSteinLine | On TrueHoop | On ESPN.com | On email
• Follow ESPN's NBA coverage on Twitter | On Facebook | On Google+
2. Western Conference

New Orleans center Chris Kaman, who front-office sources say is a near lock to be moved before the March 15 trading deadline, is not the only big man to be had out West.
Sources close to the situation told ESPN.com this week that Nuggets center Chris Andersen is also available, with Denver having just signed Kosta Koufos to an unexpected three-year contract extension worth $9 million to lock him into a frontcourt rotation headlined by Nene and Timofey Mozgov.
Injuries to Nene and Mozgov have enabled Andersen to get more court time recently, but sources say that the Nuggets are open to moving Andersen prior to the deadline, as much as they'd love to have an extra big man in the playoffs.
Trading for Andersen, though, means taking on a 33-year-old with two more years left on his contract after this season at close to $9.5 million ... and with the glory of his contributions to Denver's 2009 playoff run nearly three years in the past.
---
Some numbers of note in the West this week:
30: Wednesday night was a big night for three Kevins out West. While Kevin Durant was outscoring Kevin Martin 33-32 in the Thunder's one-point loss at Houston, Kevin Love was scoring 30 points in Minnesota's home win over Charlotte. The most career games with 30 points or more by players named Kevin in NBA history, according to the Elias Sports Bureau, thus reads: Kevin Durant 115; Kevin Garnett 84; Kevin Johnson 70; Kevin Martin 68; Kevin McHale 65; Kevin Loughery 35; Kevin Willis 32; Kevin Love 19.
4: For the fourth time in his seven NBA seasons, Golden State's David Lee is averaging a double-double: 19 points and 10.1 rebounds. That makes Lee one of just four players this season averaging 18 and 10 along with Dwight Howard, Blake Griffin and Kevin Love.
16: Kobe Bryant's dagger from the baseline Sunday in Toronto was his 16th game winner in the final five seconds of the fourth quarter or overtime since his arrival in the NBA in 1996-97. He's 16-for-55 in those situations lifetime, with Carmelo Anthony (14), Ray Allen (12) and Vince Carter (11) next in line in terms of game-winning makes in the final five seconds.
8: Chris Kaman's 27 points and 13 points Monday night, leading New Orleans to a home win over Utah that halted an eight-game losing streak, made him the first Hornet not named David West to score that many points and grab that many rebounds in one game since Jamaal Magloire rumbled for 27 and 14 at Golden State on Nov. 23, 2004.
6: Houston's Chase Budinger only has six dunks this season, as tallied by my man Michael Lee from The Washington Post, but there he is in next week's dunk contest at All-Star Weekend alongside Indiana's Paul George (20), Minnesota's Derrick Williams (19) and New York's Iman Shumpert (10). Not exactly the foursome I'd have recruited to commemorate the 20th anniversary of Cedric Ceballos' unforgettable blindfold dunk in Orlando to win the 1992 contest and send my favorite gym on earth (Titan Gym!) into hysterics because Ced's coronation was taking place during Cal State Fullerton's home romp against George's alma mater (Fresno State) that night.
---
It's hard to see how the Clippers' Chauncey Billups, even with a fully healthy left Achilles, would have made this summer's Olympic team with the likes of Chris Paul, Derrick Rose, Deron Williams and Russell Westbrook vying for roster spots at his position.
Yet rumblings persist that Billups had been quietly earmarked for a spot on the squad bound for London as its veteran sage in the Jason Kidd-in-Beijing mold -- some would even some say promised -- as a reward for agreeing to play on the highly inexperienced 2010 FIBA World Championship team that conquered Turkey.
The respect Billups has from coaches and teammates surely would have established the 35-year-old as a very strong contender, at the very least, to snag one of the 12 roster spots for London despite Team USA's depth at the point. But now you know why Team USA officials -- fearful of what 66 NBA games in 123 days before we even get to the playoffs might do to some of their stars -- named a roster of 20 finalists for 12 Olympic spots.
3. Eastern Conference

J.R. Smith will be playing for a pro-rated share of the $2.5 million mini-mid-level exception in New York after choosing the Knicks over good buddy Chris Paul's Clippers, which as of Friday computed to $2,382,353.
But Smith's actual salary for the 2011-12 season is 66/82 of that figure, because of the lockout-shortened schedule, meaning his pre-tax earnings with the Knicks for the rest of the season will come out to $1,917,504.
---
Some numbers of note in the East this week NOT involving Jeremy Lin:
2: Only two teams in NBA history have registered double-digit road wins on three straight nights: Milwaukee in November 1970 and Miami this past Sunday, Monday and Tuesday. The Heat's double-digit victories in Atlanta, Milwaukee and Indiana, according to the Elias Sports Bureau, were the first three road wins in a span of three nights for any team in the league since Phoenix reeled off three in a row on the road from Dec. 21-23, 1979.
30.1: LeBron James has averaged 30.1 points in 17 career games at Milwaukee's Bradley Center, which is the third-highest average for any visiting player (minimum 10 games played) in the 24-season history of the building, behind only Michael Jordan (32.9 ppg) and Allen Iverson (30.4 ppg). LeBron's favorite arena? He's averaging 31.2 points per game lifetime at Chicago's United Center.
14: Kevin Garnett's streak of 14 consecutive trips to the All-Star Game, which will be snapped next weekend, ties him for third all-time in All-Star selections with Kobe Bryant, Michael Jordan, Karl Malone and Jerry West. Kareem Abdul-Jabbar holds the record with 19, followed by Shaquille O'Neal's 15.
116: Garnett's 116 games with at least 20 points, 10 rebounds and five assists since LeBron James' rookie season in 2003-04 is still No. 1 in the league in that span. But LeBron is up to 106 for his career, cutting that gap to 10. Dallas' Dirk Nowitzki (48) and San Antonio's Tim Duncan (46) are next in line starting in '03-04.
.103: No team can be happier than Michael Jordan's Bobcats that this is a 66-game season as opposed to the usual 82. Charlotte's anemic .103 winning percentage is lower than the .110 success rate generated by the 9-73 Philadelphia 76ers of 1972-73, meaning the Bobs would be on pace to post the worst record in the league if the lockout hadn't shrunk the schedule.
---
There's been no indication yet that the Bucks are prepared to trade Brandon Jennings in the wake of his "doing my homework on big-market teams" comment to ESPN The Magazine's Chris Broussard last week.
The word for now, at least, is that Milwaukee isn't letting the fact that Jennings has made public his reluctance to commit long-term to an unglamorous market alter his cornerstone status.
Jennings' decision to say what he said struck many observers as an ill-conceived frustration rant after he was snubbed for the Eastern Conference All-Star squad. Yet you still had to wonder, even if that's true, what was in the water in Cleveland last week.
That's where Jennings was with the Bucks when he made his feelings known to Broussard, which happened not long after Clippers guard Mo Williams made an even harder-to-fathom pitch to T.J. Simers of the Los Angeles Times. In an interview conducted in Cleveland, Williams told Simers that he thinks he should have received a contract extension from the Clippers by now ... even though the 29-year-old has another year left on his contract at $8.5 million in 2012-13.
Collison
Five questions with Thunder forward Nick Collison:
Q: Give us a progress report on your team.
A: I think we've been really good some nights … and we've definitely had a couple nights where we played really poorly. There are a lot of phases of the game where we can get better.
Our execution is always an issue. We're capable of really scoring the ball and we're capable of trying to do things in the most difficult way possible. So that's always a big issue for us. And defensively we've been pretty good, but we've been terrible rebounding the ball, so that's another thing for us to improve.
The record is great and hopefully we can keep it going. But we also know that, to go far in the playoffs and do what we want to do, there's a lot of things we've got to get better at.
Q: Has this team pretty much adopted the approach that a championship is the only acceptable outcome this season?
A: We don't ever talk about it, but I think in everybody's minds that's the goal. What we've done a really good job of here is concentrating on each day. It's very cliché, I understand, but it's really how we got here, improving from one of the worst teams to one of the best. So we don't like to talk about big-picture stuff. We'd rather focus on where we are right now. I think that's been a good formula for us, so we focus on that.
Q: How much does the outside chatter about this team -- like how well (Kevin) Durant and (Russell) Westbrook fit together -- make it all the way to the players?
A: I think people are aware of it, but the good thing about it is that we're starting to get experience with it. We know what's really going on and we know what's real in this locker room and we've seen it enough now where I think it affects us less and less. That's the good part about growing up and playing in bigger games and playing deeper in the playoffs. You get experience dealing with the outside stuff, expectations and all those things. That's part of the experience we're all getting for the first time.
Q: How about Westbrook in particular? From what you see from up close, how much notice does he pay to what the media is saying?
A: I really don't think a lot. Russ is a guy that's extremely emotional at times and has a chip on his shoulder a lot, but I think that's really why he's good. He's had to experience more of that outside stuff than anyone else on our team, but the experience is helping him. He's getting better all the time at handling what goes on off the court.
Q: Another frequent Thunder topic is the relative lack of vets on the squad. Would you personally like seeing a few more players on the roster from your age bracket?
A: Socially it'd be nice to have more guys to hang out with, but I like who we've got. I understand there's a lot of guys around the league who could probably help us, but I really like our guys. We're getting better at all those small things and that's the stuff we need to get better at.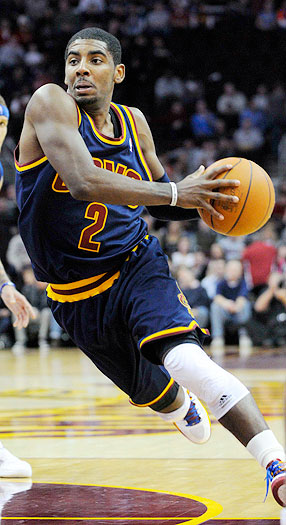 David Richard-US PRESSWIRE
Even Ricky Rubio fanatics have to concede that Cavs point guard Kyrie Irving is making a strong case for Rookie of the Year honors. (See Box 1)
Paul
"It ain't about not liking it. I think it's something that's great for the fans. But I think it gets misconstrued."
Clippers guard Chris Paul, rejecting the notion that his new team doesn't like its "Lob City" nickname.
It's a tag, of course, that Blake Griffin hatched himself with that giddy parking-lot reaction caught on camera after he and teammate DeAndre Jordan found out that the Clips were indeed acquiring the All-Star point guard from New Orleans.
Yet less than two weeks into the season, Griffin described the incessant Lob City references as "unfortunate" in a chat with my ESPNLosAngeles.com colleague Arash Markazi, insisting that he and his teammates only ever use the term in-house as a means of "making fun of the whole thing."
Paul, though, wanted to add some context Monday night after L.A. posted a winning record on a six games-or-longer road trip for just the third time in 34 tries since the franchise moved north from San Diego for the 1984-85 season. (The Clips went 5-3 on an eight-game trip in 1989-90 and 4-2 on a six-game journey in 2005-06.)
Said CP3: "People think that we just go out in games thinking, 'We gotta get lobs.' It's not like that."
We would be remiss, though, if we didn't note that the Clips do lead the league in alley-oops. These were the NBA's top five lob teams entering the Clippers' Thursday night TNT date at Portland:
Most Alley-Oop Dunks, 2011-12
| Team | No. |
| --- | --- |
| Clippers | 46 |
| Knicks | 39 |
| Lakers | 32 |
| Heat | 29 |
| Wizards | 29 |
Lin
Are eight different tables enough?
Eight tables full of numbers to try to quantify the unprecedented 13-day ride Jeremy Lin has taken us on?
We could have stacked up even more here … but the Stein Line HQ hype machine does have limits.
Jeremy Lin's Knicks Career
Cat.
1st 23 Games*
Last 7 Games
W-L
8-15
7-0
MPG
6.1
37.6
PPG
3.6
24.4
APG
1.9
9.1
*Did not appear in 13 games
Most points in first six starts since 1976-77*
Name
Points
Shaquille O'Neal
158
Jay Vincent
152
Dominique Wilkins
149
Terry Cummings
148
Jeremy Lin
146
*1976-77 marks the season of the NBA/ABA merger

Source: Elias Sports Bureau
Most consecutive games with 20-plus points, seven-plus assists in Knicks history
Year
Player
Gms
2011-12
Jeremy Lin
6*
1980-81
Micheal Ray Richardson
6
1969-70
Walt Frazier
6
1968-69
Walt Frazier
6
*Streak halted when Lin had 10 points and 13 assists in Wednesday's rout of Sacramento

Source: Elias Sports Bureau
Most turnovers in first six starts since '77-78
Name
TOs
Jeremy Lin
36
Glenn Robinson
32
Scott Skiles
31
Jerry Stackhouse
30
John Wall
30
Editor's note: 1977-78 was the first season that the NBA recorded turnovers for individuals
Points by quarter: Jeremy Lin during Knicks' seven-game winning streak
| Quarter | Pts. |
| --- | --- |
| First | 32 |
| Second | 39 |
| Third | 46 |
| Fourth | 54 |
Knicks' margins of victories during current seven-game win streak
| Date | Margin |
| --- | --- |
| Wed. vs. Kings | 15 |
| Feb. 8 at Wizards | 14 |
| Feb. 6 vs. Jazz | 11 |
| Feb. 10 vs. Lakers | 7 |
| Feb. 4 vs. Nets | 7 |
| Feb. 14 at Raptors | 3 |
| Feb. 11 at Wolves | 2 |
Highest fourth-quarter PER this season
PLAYER
PER
Chris Paul (Clippers)
35.79
Sundiata Gaines (Nets)
33.49
Jeremy Lin (Knicks)
33.04
Carmelo Anthony (Knicks)
33.00
LeBron James Heat)
32.68
Note: Minimum 100 fourth-quarter minutes
Jeremy Lin Odds in Las Vegas*
Knicks Win NBA Title
Odds
Before Lin's First Game
40-1
Today
18-1
Knicks Win Eastern Conf.
Odds
Before Lin's First Game
22-1
Today
10-1
Win Atlantic Division
Odds
Philadelphia 76ers
2/5
Boston Celtics
5/2
New York Knicks
6/1
New Jersey Nets
200/1
Toronto Raptors
200/1
Will Knicks Make Playoffs?
Odds
Yes
1/5
No
3/1
Knicks' Season Win Total
No.
Over/Under
36.5
Will Lin win NBA's MVP award?
Odds
Yes
40/1
Will Lin hit game-winning buzzer beater from Feb. 15 through end of regular season?
Odds
Yes
3/1
Courtesy of Bovada (www.Bovada.lv)
Marc Stein drops in on SportsCenter to talk about (what else?) Jeremy Lin's rise to Linternational fame in the span of two weeks with Sage Steele.
10.

Alternative Listening
The Clippers' past, present and future and Blake Griffin's free-throw woes are the prime topics of discussion when Marc Stein joins Kevin Arnovitz and Jordan Heimer on the latest episode of The Clippers Podcast.
Click here to listen to the podcast »