1. Will Bulls Regret Not Dealing For Dwight?
By Matt McHale
TrueHoop Network
Do the Chicago Bulls need Dwight Howard?
It's hard to say. Before their 99-94 home loss to the Orlando Magic on Thursday night, the Bulls had the league's best record despite a season-long plague of injuries to key players.
Yet that loss illustrated the dangers of Chicago's one-star system. Derrick Rose was flat broke (6-for-22). Ditto for Joakim Noah (3-for-7) and Luol Deng (1-for-9). Carlos Boozer picked up some slack by scoring 26 points on 12-for-20 shooting, but he has always been the kind of player who provides numbers without controlling tempo or dictating outcome.
It was enough to conjure visions of last season's Eastern Conference finals loss to the Miami Heat. When Rose couldn't convert down the stretch in that series, the Bulls were helpless. And, despite their impressive knack for compiling regular-season wins, there's nothing to suggest the outcome will be any different if the Bulls have another postseason showdown with the Heat.
But look! There's Howard, like a mirage in the desert, seemingly available if the price is right. Whether it happens by this season's trade deadline or during the offseason, it seems likely that Howard's time in Orlando is coming to an end.
So I ask again: Do the Bulls need Dwight Howard?
It's a "What if" game.
What if the Bulls don't try to acquire Howard and end up getting eliminated from the playoffs by the Heat again? What if the Bulls do acquire Howard, but it compromises their depth and ruins the team chemistry that makes them so great? Or what if they get him and they still aren't good enough to beat Miami? What then?
Therein lies the problem with true championship contenders. When a championship is the only outcome that will suffice, almost every "What if" leads to possible disappointment.
Whether the Bulls need Howard or not, it seems highly unlikely he will ever end up in Chicago -- Howard hasn't shown any interest in taking his talents to the Windy City and management appears satisfied with the roster as is -- which means the Bulls will have to hope their current roster will be enough to win a title. If it isn't and Howard does end up leaving Orlando, the Bulls may spend most of the next decade wondering why they didn't do everything they possibly could to make the Howard-Rose combination happen.
Matt McHale covers the Bulls for By The Horns, part of the TrueHoop Network.
Dimes past: Feb. 28 | 29 | March 1 | 2-3 | 4 | 5 | 6 | 7
2. Around The Association
That was … unbelievable: The Suns took a five-point lead in the fourth quarter and handed it to Sebastian Telfair and Shannon Brown, who hit a 3-pointer and slammed home a vicious dunk on back-to-back possessions. Phoenix never looked back after that.
MVP: Jared Dudley. Dudley equaled the scoring efforts of Dirk Nowitzki and Vince Carter, finishing with 18 points. But he also snagged eight rebounds, had a career-high three blocks and anchored the Suns' defense when Grant Hill checked out.
X factor: Brendan Haywood's ankle. With Haywood out, the Suns were able to use a variety of smaller lineups with Channing Frye (five points) at center and Hakim Warrick (nine points) at power forward.
MVP: Dwight Howard had game highs in points (29), rebounds (18), blocks (3) and plus-minus (+13). He even went 7-for-10 from the line. His presence dictated the flow of the game.
LVP: Derrick Rose went 6-for-22 from the field and missed a free throw that would have cut Orlando's lead to three with 38 seconds left. He couldn't impose his will on this game.
Defining moment: Orlando scored 37 points in the first quarter, the most points the Bulls have given up in a single quarter this season. The Bulls were playing catchup for the rest of the game.
4. Thursday's Best
Howard
Dwight Howard, Magic: Against the second-worst defense in the NBA on Tuesday, Howard had "just" 15 points (on 6-for-13 shooting) and 17 rebounds. Against the second-best defense in the NBA on Thursday, Howard had 29 points (on 11-for-19 shooting) and 18 rebounds. Go figure.
5. Thursday's Worst
Deng
Luol Deng, Bulls: Deng isn't known as a player who can really fill it up, but there's no glass-half-full perspective for his 1-for-9 shooting night against the Magic.
6. Still Hanging In There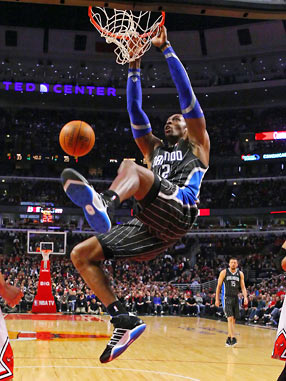 Geoff Burke/US Presswire
A week away from the March 15 trade deadline, Dwight Howard is still making magic happen with Orlando.
Chad Ford: Trade Watch »
7. Quote Of The Night
"It's definitely getting old where I'm sick and tired of hearing it. Like I've said, this city speaks for itself. Chicago, marketing-wise, is a great city. If someone chooses to come here, they definitely could, but I'm cool with the teammates that I have."
-- Derrick Rose, on talk of Dwight Howard possibly ending up in Chicago.