1. Latest Trade Deadline Chatter

By Marc Stein
ESPN.com
Archive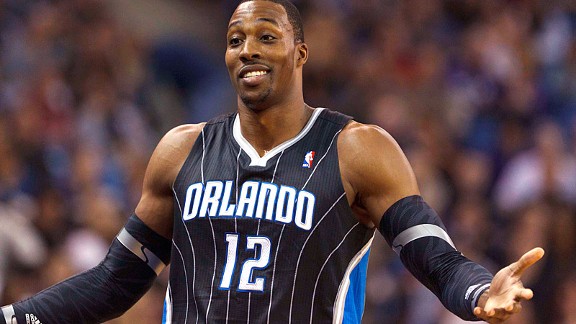 Jason O. Watson/US PresswireThe focus on Dwight Howard will only intensify in the days leading up to Thursday's trade deadline.
I've heard all the theories.
Dwight Howard is the trade domino that has to fall first. Teams are hesitant to pull triggers because the new collective bargaining agreement will soon phase in a far more stringent luxury-tax scale. Teams also value salary-cap space and draft picks more than ever because of the looming penalties for big spending.
There are further justifications in circulation, if you want them, to account for the fact that (A) we haven't seen a trade in the NBA since the Memphis Grizzlies acquired Marreese Speights as a seriously underrated Zach Randolph stand-in on Jan. 4 and (B) lots of folks around the league are forecasting a modest week of business between now and Thursday's 3 p.m. trade deadline.
But I know what you really want, as always at this time of year, is actual trades. You don't want to hear that the 2012 trade deadline, which is the latest in NBA history thanks to the lockout, is harder than ever to manage because it falls right in the heart of March Madness and the height of NBA teams' college scouting season. Or that the lockout-shortened schedule and corresponding lack of practice time has made it hard for some teams to get a true read on where they stand for the playoffs and thus makes some skittish about making in-season changes.
The good news, if you're desperate for some trade action, is that such pessimism at the one-week-to-go stage is nothing new. We've heard similar caution expressed in past years before flurries of deals. Things change fast in this league, so I'd still plan on plenty of movement, knowing that GMs are attending conference tournaments all over the map and not just talking about Cal State Fullerton's unfathomable early exit at the Honda Center.
Presented here, then, is our latest and freshest assemblage of pertinent trade-deadline chatter as collected from conversations with various team officials, coaches, players, agents and other insiders plugged into the NBA grapevine:
---

What will the next six days look like for the Magic?
Numerous rival clubs are convinced that Magic officials, as they have for some time now, will continue to tell teams that they're prepared to keep Howard past the deadline and risk losing him for nothing if it means giving themselves three more months to convince him to change his mind about staying in central Florida.
Sources say that Orlando will also keep trying to make a move -- any move -- it thinks might get Dwight re-energized about his future in the shadows of Disney World again.
And what happens if the Magic get to Thursday morning without having imported any quality fresh blood for Howard's supporting cast?
"They might, at the last minute, give in," said one Western Conference observer. "But I don't think they'll even consider it before Thursday morning. And I still think at the end of the day that they'll call his bluff and keep him."
One exec from the East added: "I'd bet big money, if I were a betting man, that they don't trade him."
I would likewise be willing to (not so boldly) wager -- if I partook in such activities -- that the Magic have zero chance of completing the fantasy acquisition of a backcourt stud that can wow Howard. You've surely heard by now that the players they're chasing are Phoenix's Steve Nash and Golden State's Monta Ellis. Orlando, though, has nowhere close to the trade assets to acquire either one.
Hedo Turkoglu, sources say, is the first name Orlando has been throwing out in trade discussions over the past week or so. Yet it's one thing to try to foist Turkoglu on a team that's trading for Howard and quite another to try to move Turkoglu, or any other vet in Howard's supporting cast, when Dwight himself isn't part of the deal.
Said another front-office source of the $18 million that Turkoglu is guaranteed over the next two seasons after this one: "They'd have to be willing to throw in at least two [future] first-round picks to get someone to take him."


---
Howard
As risky as it sounds for the Magic to be taking such a monumental decision down to the very last minute, that's realistically not the case now that they've taken it this far.
Team officials have had so many Dwight-related discussions since the NBA reopened for basketball business in December that it wouldn't take as long as you might think to assemble an 11th-hour blockbuster.
"They've been at it for a while," one source close to the situation said. "They know all the options."
The vibe coming from most teams at this late stage, mind you, is that the three biggest names at the heart of trade speculation during the 2011-12 season -- Howard, Boston's Rajon Rondo and the Los Angeles Lakers' Pau Gasol -- aren't going anywhere after all the talk.
There's still time for the landscape to change, but the Celts and Lakers want a lot to part with Rondo or Gasol ... and Orlando just wants more time to sell Dwight on a new future. No matter what the risks are.


---
Nash
Williams
I'm sure you'd prefer actual active trade scenarios to dissect. Yet there is, if nothing else, an interesting trend to analyze.
That would be a growing group of teams apparently willing to ignore the well-worn maxim about trading a determined-to-leave superstar before he gets to free agency to prevent losing him for nothing.
Just look at the Magic, Nets and Suns. They all suddenly seem poised to turn down all trade inquiries this month for their respective stars and settle for mere salary-cap space as a consolation prize if Howard, Deron Williams or Steve Nash bolts without compensation in the summertime. The Dallas Mavericks, meanwhile, could find themselves confronted by the same fate if the cap-clearing decisions not to re-sign free agents from their championship squad like Tyson Chandler, J.J. Barea and Caron Butler don't bring them Williams or Howard in July ... or both in the Mavs' wildest dreams.
But that's how much teams out there dread absorbing long-term contracts these days, even more so than they used to, knowing that the league's new and far stricter luxury-tax scale will be implemented leading into the 2013-14 season. The growing consensus seems to be that it's better to start over from scratch after a doomsday departure in the NBA's brave new world as opposed to trying to make the best salvage trade you can find.


---
Something else teams treasure in the post-lockout NBA: first-round draft picks.
Teams love them more than ever thanks, again, to the new collective bargaining agreement and the new luxury-tax scale on the way. That's especially true in 2012 with a pool of draftees in June that draftniks will tell you is d-e-e-p.
It's that sort of thinking, sources said, that has prevented Indiana from doing a deal so far this month and isn't likely to change between now and next Thursday.
The Pacers are the only team in the league with the available salary-cap space to absorb Chris Kaman's contract without sending a player back to New Orleans. They also could benefit hugely from the arrival of a sage like Nash and were an offseason contender to sign Portland's Jamal Crawford, who is already available again via trade. In all those cases, though, sources say Indy is reluctant in the extreme to surrender future first-round picks.
It might be different if the Pacers thought they had a good chance of re-signing Nash. But the payoff in the cases of Kaman and Crawford apparently isn't robust enough to get the Pacers (and other teams, for that matter) to part with a pick that has the potential to quickly transform into a quality contributor playing on a favorable rookie contract.


---

The challenges involved in getting teams to surrender first-rounders also explain why the Cavaliers haven't moved Ramon Sessions yet. Interest in Sessions from the Lakers has been an open secret for weeks, but Cleveland has yet to be offered the future first-rounder it wants in exchange for a point guard made expendable by the rapid rise of rookie Kyrie Irving. There is a sense, however, that the Lakers will be more inclined to meet Cleveland's asking price on deadline day if they haven't made a bigger deal by that point.
Cavs vet Antawn Jamison, meanwhile, is heating up just in time to generate some interest, but Jamison -- not unlike Kaman -- has an expiring contract with a big salary-cap number ($15.1 million) attached. And that makes it way harder to assemble a trade.


---

Heat
Kaman
There are strong rumblings in New Orleans that Miami would be the clear favorite to sign Kaman as a free agent if the Hornets can't trade the 2010 All-Star and consent to buy him out before the March 23 deadline, which would keep Kaman eligible to play in the playoffs with another team this season.
Only one problem there for longtime Kaman fan Pat Riley.
Sources say that the league-owned Hornets remain adamantly against buying Kaman out if they can't trade the 7-footer and that Kaman has been warned not to expect a buyout if no trade is consummated.
Teams issue those threats all the time, of course, only to grant the buyout in the end. Remember, however, that we're talking about the league-owned Hornets here. The sense is that NBA commissioner David Stern, who will continue to serve as New Orleans' ultimate decision-maker until the team is sold, would have no interest in setting Kaman free to join the contender of his choosing. If he did, with Eric Gordon still sidelined after knee surgery, Al-Farouq Aminu would be the only player New Orleans received in the Chris Paul trade who's actually playing for the Hornets.


---
Odom
Kaman
A trade scenario involving Kaman that is making the rounds in Dallas -- which would call for the Mavs to send Lamar Odom (plus at least one more small piece) to New Orleans in a deal for the burly center -- is feasible mathematically.
Just don't expect it to actually happen.
Sources say that Mavs owner Mark Cuban is adamant about wanting Odom to finish the season in Dallas despite Odom's well-chronicled struggles to adapt to post-Laker life. The Mavericks also don't have the spare first-round pick the Hornets would want for Kaman after using their 2012 first-rounder in the swap with the Lakers to get Odom.


---
Beasley
Given the leaguewide skepticism about Howard, Rondo or Gasol getting dealt -- ditto for Nash and Josh Smith, too -- Minnesota's Michael Beasley might well rank as the player of prominence most likely to be moved at this stage.
And that's only if Beasley's status as the No. 2 overall pick from the 2008 draft can still enable us to get away with calling him prominent.
Yet there's another big man from the Class of '08 to keep an eye on: Washington's JaVale McGee.
The Wiz have been shopping Andray Blatche for months with no luck in hopes of truly changing the team culture around prized youngsters John Wall and Jan Vesely. But sources say the Wiz are now weighing whether it's time to finally surrender McGee -- who for all his potential still routinely finds himself at the heart of Washington's ongoing turbulence -- on the condition that his new team take Blatche as well.


Dimes past: Feb. 28 | 29 | March 1 | 2-3 | 4 | 5 | 6 | 7


ESPN.com senior writer Marc Stein
• On Twitter @ESPNSteinLine | On TrueHoop | On ESPN.com | On email
• Follow ESPN's NBA coverage on Twitter | On Facebook | On Google+
2. Bogut No Longer Untouchable
NBA front-office sources say that the Bucks, who have always swatted away trade inquiries for Andrew Bogut in the past, are for the first time listening to pitches for the 7-foot Australian, who is said to be intrigued by the prospect of a fresh start elsewhere after more than two years of injury misfortune and teamwide tension under coach Scott Skiles over the past two disappointing seasons.
This development, though, comes with a crucial caveat:
Sources say that the Bucks, at least for the moment, are insisting that any team that trades for Bogut take on the disgruntled Stephen Jackson as part of the trade.
And that's what is bound to keep Bogut in Milwaukee past Thursday's 3 p.m. trade deadline more than his latest health setback, after he suffered a fractured left ankle against Houston on Jan. 25 after landing on the Rockets' Samuel Dalembert in the lane.
Jackson's feelings about Skiles and desire to leave Brewtown are known worldwide, but finding a team willing to take on the outspoken 33-year-old when he's guaranteed just over $10 million next season is problematic to say the least.
"The price (for Bogut) is high," one interested suitor told ESPN.com this week.
To read the whole TrueHoop entry, click here.
3. Eastern Conference

Some numbers of note in the East this week:
3: When Derrick Rose's 20-footer at the buzzer beat Milwaukee on Wednesday night, it marked the third time this season that D-Rose launched a potential go-ahead shot within the final 10 seconds of the fourth quarter or overtime. And Rose has drained all three. According to the Elias Sports Bureau, no other player has made more than two such shots this season; Rose also sank game winners in the season opener against the Lakers and Jan. 3 against Atlanta.
47: Chris Bosh leads the Heat with 47 points this season in the final five minutes of the fourth quarter or overtime when the game is within five points. LeBron James is next on Miami's list with 38, followed by Dwyane Wade (27) and Mario Chalmers (25).
2: When Bismack Biyombo totaled 15 rebounds and seven blocks in Charlotte's surprising win Tuesday night over Orlando, he became just the second rookie over the last 10 seasons to hit both of those benchmarks in the same game. The only other rook to do so in that span started opposite Biyombo on Tuesday: Dwight Howard had 15 boards and seven swats as a rookie in an OT game against the Bulls in April 2005.
28: Chicago's 60-32 rebounding edge in Monday night's rout of Indiana marked its biggest margin on the boards since April 7, 1997, when the Bulls pulled down 34 more rebounds (66-32) than Philly.
3: LeBron James has played in eight All-Star Games before turning 28, something only two other players in NBA history have achieved: Kobe Bryant (eight) and Isiah Thomas (eight).
4. Marc's Quote
Durant
"It's cool. Don't get me wrong: I'd like to see 'em there. But it's not going to make me play better."
Thunder forward Kevin Durant, addressing the standard lack of visible celebrities in attendance at OKC home games.
Durant brought up the subject on his own when we chatted recently, volunteering that illustration of the Thunder's limited glamour as part of his insistence that the low-wattage nature of daily life with a tiny-market team that happens to top the Western Conference is just how he likes it.
As part of the discussion, when asked if he could remember the biggest entertainer ever seated courtside at Chesapeake Energy Arena, Durant said: "Xzibit came to a game once."
(I, for the record, did not disclose to KD that I would have to go back to my laptop after the interview to look up who Xzibit was ... and learn how the apparently well-known rapper spells it.)
But maybe, just maybe, OKC is gathering some shreds of street cred as it marches toward the West's regular-season crown.
Exhibit A: James Harden's girlfriend is the rapper Trina.
Exhibit B: Sports Illustrated swimsuit sensation Kate Upton was on hand Wednesday night for the Thunder's come-from-behind victory over Phoenix -- in advance of shooting a "Funny Or Die" commercial Thursday for Skullcandy headphones with Durant and Harden -- and was spotted sitting with the team's ownership group.
I'm sure all those Clay Bennett fans in Seattle will love reading that.
Stoudemire
Five questions with Knicks forward Amare Stoudemire:
Q: We're getting close to the final 20 games of the regular season. Is there still time for you guys to put it together and be a factor in the East?
A: We gotta get it going now. In order to compete for a championship, we need to be hitting our stride sometime soon. We gotta start now.
Q: So how will it happen? How can all these parts come together on the fly?
A: It's really not hard. It's a matter of everyone being willing to buy into what the system is. Once we get that agreement, we can move forward. But if we don't all agree on the same terms, then it's going to be difficult. You've got to stick to the system every night for 48 minutes. If you don't, then you see what happens.
Q: You know that, on the outside, there's still a lot of doubters wondering if there's enough to go around in the same offense for you and Melo [Carmelo Anthony] and now with [the emergence of] Jeremy Lin.
A: You guys never say there's not enough to go around for LeBron and Dwayne Wade. You never say there's not enough to go around for Paul Pierce, Ray Allen and Kevin Garnett ... and [Rajon] Rondo. We can make it happen, man.
Q: People have been wondering about where you are physically compared to last season. How are you coping with the compressed season?
A: I feel great about where I am now. Feel phenomenal. I've tightened things up a little bit [by shedding some extra muscle that he added during the offseason] and my body feels great. Top shape.
Q: And personally? In a lot of ways I imagine this has been as tough a season as you've ever gone through.
A: Very tough. It's been a roller-coaster ride, to be honest with you. But I'm the captain. We're into March and this is a pivotal month for us. It's my job to talk to the guys and get us going. We gotta ramp it up now.

Some numbers of note in the West this week:
72: The Clippers are a mere 7-8 without Chauncey Billups, but don't blame Chris Paul. CP3 has 72 steals this season against just 73 turnovers. He also happens to be fourth in the league in assists at 8.4 per game.
1: The Elias Sports Bureau says Wolves forward Kevin Love is the first player ever to record at least 25 points, 10 rebounds and three 3-pointers in three consecutive games.
4: Monday marked the 20th time in their careers that both Kevin Durant and Russell Westbrook shot worse than 33 percent from the field in the same game ... and just the fourth time in those 20 games that the Thunder won anyway. The Thunder, facing their 2011 playoff conquerors from Dallas, beat the Mavs for the third time this season despite Durant's 6-for-18 from the floor and Westbrook's 6-for-20.
4: When Al Jefferson totaled 25 points, 13 rebounds and seven assists in Monday night's victory at Cleveland, he became just the fourth player in Jazz history to lead both teams outright in all three categories in the same game. According to Elias: Karl Malone did it twice, Pete Maravich did it twice when the franchise was in New Orleans, and Andrei Kirilenko did it once.
13,812: Kobe Bryant is up to 13,812 career regular-season points at Staples Center, giving him an NBA record for the most points at one arena. Bryant recently passed Hakeem Olajuwon, who scored 13,783 points lifetime at Houston's former Compaq Center home. Dream held the record for nearly 14 years, having wrested it in March 1998 from Kareem Abdul-Jabbar, who scored 12,529 at the Lakers' former Great Western Forum home.
Rounding out the top five: Dominique Wilkins is fourth with 12,271 points at Atlanta's old Omni, and Patrick Ewing is fifth with 11,897 career points at Madison Square Garden. Kobe, interestingly, passed Olajuwon last Friday on the 50th anniversary of Wilt Chamberlain's 100-point game. This is one NBA scoring record that Wilt never held; Joe Fulks, George Mikan, Dolph Schayes, Bob Pettit, Oscar Robertson and John Havlicek were the record holders before Abdul-Jabbar.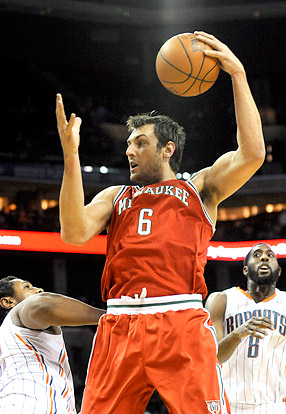 Sam Sharpe-US PRESSWIRE
Bucks center Andrew Bogut has managed to avoid surgery on his fractured left ankle and is generating trade speculation even while he's away from the team rehabbing. (See Box 2.)
8.

Of Kobe, Messi ... and D-Will
The debate started Wednesday afternoon when Barcelona wizard Lionel Messi became the first player in footballing history to score five goals in a Champions League game.
That prompted my man Benjamin Hochman of the Denver Post to pose the question on Twitter about what would represent the NBA equivalent of a five-goal game, which promoted me to follow up on Twitter by equating Messi's magic to scoring 70-something points ... or a cut below Kobe Bryant's 81-point eruption against the Toronto Raptors in 2006.
Otherworldly as Messi is, scoring five goals in a top-level soccer match has been proven to be more do-able than what Kobe did six years ago. We've seen Andy Cole, Alan Shearer, Jermain Defoe and Dimitar Berbatov produce five-goal games in the Premier League ... and I personally covered Oleg Salenko's five-goal salvo from oblivion for Russia against Cameroon in the 1994 World Cup while working for the Los Angeles Daily News.
Without trying to diminish the achievement, there's something else not to be overlooked: Messi's five-star performance came in the second leg of a Champions League tie against Bayer Leverkusen that was basically over as soon as he scored his first goal in the second leg. And that tends to dilute the notion, at least to me, that this five spot should be graded higher because it happened in what is regarded as the sport's highest level of competition. As my man Eran Soroka of the Ma'aariv newspaper in Israel beautifully summarized in a tweet (@sorokman) of his own: "Messi was beating a dead horse over and over. He did it brilliantly, but there was no fight (from Leverkusen) whatsoever."
You can say as much as you want, meanwhile, about how poor those 2005-06 Raptors were defensively -- or even attribute a good bit of Kobe's success that night to then-Raps coach Sam Mitchell's stubborn (and inexplicable) refusal to send five guys at Bryant -- but scoring 81 points against a bad team in a modern-day NBA game is still unquestionably monumental.
Don't forget that teams averaged nearly 108 shots and almost 122 possessions per game back in 1962 back when Wilt Chamberlain uncorked his historic 100-point game. This season? Teams have plummeted all the way down to a mere 80-ish shots and 93 possessions per game.
Also: If it's so easy to score on bad teams, then why has no one hit the Charlotte Bobcats for more than the 57 points that Deron Williams hung on Michael Jordan's team Sunday?
To commemorate D-Will's big moment, which eclipsed his previous NBA career high by a whopping 15 points, here are some tables via ESPN Stats & Info to put the highest single-game scoring total of the season so far into better context:
ONE MAN SHOW: NETS vs. CHARLOTTE
| | D-Will | Rest of Team |
| --- | --- | --- |
| Points | 57 | 47 |
| FG | 16-29 | 17-39 |
| 3-pt FG | 4-11 | 1-6 |
| FG PCT. | 55.2 | 43.6 |
| FT | 21-21 | 12-23 |
57 POINTS/7 ASSISTS, ONE GAME, LAST 25 SEASONS
| DATE | PLAYER | POINTS/ASSISTS |
| --- | --- | --- |
| Sunday | Deron Williams | 57-7 |
| Dec. 17, 2006 | Gilbert Arenas | 60-8 |
| Dec. 23, 1992 | Michael Jordan | 57-10 |
| Nov. 28, 1992 | Reggie Miller | 57-8 |
50-POINT GAMES, DERON WILLIAMS' CAREER
| | Nov. 22, 2011 | SUNDAY |
| --- | --- | --- |
| Team | Besiktas (Turkey) | Nets |
| Points | 50 | 57 |
| FG | 17-23 | 16-29 |
| FT | 9-11 | 21-21 |
| Assists | 1 | 7 |
MOST POINTS IN A HALF, LAST 15 SEASONS
| | Points | Date | Half |
| --- | --- | --- | --- |
| Kobe Bryant | 55 | Jan. 2006 | 2nd |
| Brandon Jennings | 45 | Nov. 2009 | 2nd |
| Michael Redd | 42 | Nov. 2006 | 2nd |
| Kobe Bryant | 42 | March 2003 | 1st |
| Deron Williams | 40 | Sunday | 2nd |
| Kobe Bryant | 40 | Jan. 2006 | 2nd |
10.

Trade Deadline Fact Or Faction
Fact or Fiction? Orlando will move Dwight before the deadline.
Fiction. I'm sure some of the "Magic resolve" chatter that's been gaining traction in recent days about how increasingly determined they are to keep him beyond the deadline is at least partly designed as a means of trying to improve the offers that come in before the deadline. Yet it seems evident that the stronger belief in the Magic Kingdom is that it's better to keep Dwight and face the worst-case-scenario consequences of losing him for nothing if there's so much as a 10 percent chance that he'll change his mind.
The vibe coming from the Magic is that owner Rich DeVos prefers that scenario, frightening as it is, to anything Orlando can get for Dwight in a trade today. Fortunately we have only about a week more to wait to find out whether Orlando's bravery has staying power ... or whether the claim that it'll take its chances with mere salary-cap space if Dwight bolts was just posturing.
To read the entire 5-on-5 piece, click here.