Terry
"Everybody thought he was nuts. At the end of the day, he wasn't nuts."
Suns coach Alvin Gentry, reflecting on Jason Terry's willingness to publicly challenge LeBron James during the 2011 NBA Finals.
The Mavericks' regular-season return to Miami on Thursday night, coming at the end of a month filled with more than the usual share of provocative proclamations from Terry, naturally invoked memories of what happened last June. That's when Terry responded to his bumpy Finals start against James' fourth-quarter D by taking the unprecedented step of calling out the bigger, stronger and longer superstar checking him, openly questioning whether LeBron "can do it for seven games."
Terry went on to shock the world and back up his big talk with a huge fourth quarter in Game 4 and a combined 48 points in Games 5 and 6 to help Dallas clinch the first championship in franchise history.
And he really hasn't stopped talking since.
The 34-year-old came into camp publicly complaining for a contract extension that was never going to be offered and has only grown more outspoken as the season has progressed. In a nod to the Mavs' well-chronicled attempt to focus on amassing significant salary-cap space for the first time in Mark Cuban's 12-season reign as Dallas' owner, Terry went so far as to tell local reporters two weeks ago that he's playing for "29 teams" in addition to the Mavs and that "every night I'm on the floor I'm on a job interview" because he knows the Mavs aren't planning to re-sign him in free agency in July.
"Every minute of every day," Terry recently told my ESPN Dallas 103.3 FM colleague Ben Rogers when asked how much he's thinking about his contractual status.
Although it remains to be seen how much goodwill erodes locally after the popular Terry's latest comments to Fox Sports Florida's Chris Tomasson about possibly signing with Miami in the offseason, Dallas has taken the general position so far to let Terry go and shrug when he sounds off. Dirk Nowitzki has joked for years about instituting a "no-interview policy" for his longest-tenured teammate in hopes of limiting the bulletin-board material Terry routinely generates, but team officials haven't been trying to muzzle him. "Jet being Jet" is how Cuban brushes it off, which reflects the Mavs' in-house belief that Terry says the things he says to fuel his game more than anything else.
It certainly didn't work this week, when the NBA's 2009 Sixth Man Award winner busted out his all-gold Reeboks -- modeled after the championship trophy that Terry just helped the Mavs win -- and managed just three points in 31 minutes as Dallas got pounded in Miami by 21.
Yet you can count Gentry among those around the league who think Terry can still get past his obvious dismay with the organization about potentially being cast aside in July to light up another top defender or two in the postseason.
Nowitzki continues to call Terry "one of the best closers in the game" when he's locked ... and the Suns' coach took it a step further.
"He's of the most underrated guys in the whole league," Gentry said.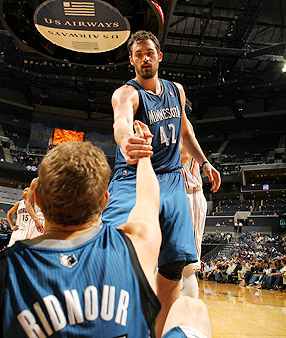 Kent Smith/Contributor/NBAE via Getty Images
Minnesota's Kevin Love is averaging 31.3 points per game in March, more than any player in a single month since LeBron James averaged 32.6 points per game for Cleveland in February 2010. For more on Love's big numbers lately, see Box 2.
The full impact of the NBA's new/escalating/suffocating luxury tax system won't start to be felt before the 2013-14 season, when the revamped and ramped-up scale of penalties for teams that stray into tax territory agreed to in December by the league's owners and players will finally be phased in.
However ...
Teams are clearly already making decisions with an eye toward lowering their payrolls sooner rather than later, thanks to the looming implementation of that more punitive system, which will charge clubs a progressive penalty for every $5 million they go beyond the tax threshold and cost repeat taxpayers even more.
The proof?
In this first season of the new labor agreement in which teams are still only being charged $1 for every $1 over the tax line they sit, we're already down to six teams on course to wind up as tax teams. And only one of those six teams -- Kobe Bryant's Los Angeles Lakers -- is looking at a tax bill that strays beyond the $10 million mark.
You'll recall that as recently as last season, Orlando, Dallas and the Lakers finished the season with payrolls in the range of $20 million past the tax line.
The following are the estimated dollar-for-dollar tax amounts, after all of this month's trade business, for the six teams over the $70.3 million tax threshold in effect in 2011-12:
• L.A. Lakers: $15.1 million after donating Lamar Odom's $8.9 million contract before the season started to gets their payroll down.
• Boston: $9.1 million
• Miami: $7.6 million
• Dallas: $5.6 million
• San Antonio: $2.9 million
• Atlanta: $1.2 million
Ps. The total pot of paid taxes is thus poised to land in the $41.5 million range at season's end, but sources say that money will not be distributed to the 24 non-taxpaying teams after this season as in past seasons. The tax money, sources say, is earmarked for the league's new revenue-sharing system.
Which team would be most likely to upset the Bulls in the first round?

A. Sixers; B. Pacers; C. Hawks; D. Celtics; E. Knicks; F. Bucks
Marc Stein: D. Celtics. Assuming that the Old Three and their moody point guard get to the playoffs -- as I definitely do assume -- Round 1 is when Paul, KG, Ray and Rondo figure to be at their freshest and thus most dangerous. Factor in D-Rose's iffy health, and you can almost start to picture another Bulls/Celts first-round classic that goes longer than it's supposed to. Almost.
To read more from this 5-on-5 looking at the East's biggest threats to a Bulls-Heat showdown in the conference finals, click here.
Marc Stein and John Hollinger join a host of ESPN.com staffers to debate some of the discrepancies regarding where teams fall in the latest editions of
Stein's
and
Hollinger's
respective Power Rankings.