1. Heat-Thunder: Until We Meet Again ...
By Brian Windhorst
ESPN.com
MIAMI -- Amid a season in the rough with tired legs, choppy play and injuries galore, the Miami Heat and Oklahoma City Thunder provided a diamond Wednesday night.
It was a game that quenched the appetite for the competitors and fans alike. LeBron James and Kevin Durant glaring in each other's eyes and impressing, outdoing and challenging each other for entire quarters on end. Hard fouls and rough language. Technicals and flagrants. Pressure-stuffed moments in the final minute.
It left everyone wanting more, especially the players themselves as the beginning roots of a rivalry began to sprout. All that's needed is a meeting in the playoffs.
For that, all will have to wait and see. For the regular season, the Heat evened the series at 1-1 with a high-energy 98-93 win. It was their 17th straight home victory, but no win this season, in fact no game, has had quite the same intensity.
"This was a competitive warrior game where our guys can go in the locker room and look each other in the eyes," said Heat coach Erik Spoelstra as part of an adrenaline-fueled rant after the game in which he started referring to imagined enemies and looked as if he were ready to stand and beat his chest at one point. "Our guys showed up with a real warrior-tough mentality."
The warrior references and his players' postgame chest-bowing -- a perfect yin to the Thunder's yang of bitterness at the outcome -- about how they aren't to be pushed could be excused to a degree. It just wasn't your average Wednesday at the office.
It was channeled through James and Durant, whose individual battle was as entertaining as it was impressive. James steal, Durant block, James pull-up jumper, Durant dunk, James drive and foul, Durant laser-beam 3-pointer, James steal again.
This is how it was for swaths of the game, the audience drinking it in as the two Most Valuable Player candidates slugged it out. What it means for the actual award was secondary; that was not in their minds at all. It was the type of back-and-forth fans yearn for in these sorts of games.
After Durant struck a deep blow to James 10 days earlier in Oklahoma City when the Thunder whipped the Heat and Durant nearly posted a triple-double, James struck back. He had 34 points, 7 rebounds, 10 assists and 4 steals for perhaps his finest all-around performance of the season.
It came with a toll: James twisted his left ankle, rejammed his left ring finger and took a nasty fall off a foul from Russell Westbrook that might've been the turning point in the game.
"I need to find the best damn masseuse in Miami," James groaned after the game.
Durant's counter was not insignificant; he had 30 points. including nine in the fourth quarter. But James got the best of him this time, helping force most of Durant's career-high nine turnovers with his activity on defense.
But just stopping with the Durant-James interplay would not be appropriate -- there was so much more happening. From Dwyane Wade returning from a minor knee injury to engage in a rugged battle of offensive attrition with Westbrook -- the two of them combined to miss 28 shots -- to Chris Bosh recovering from a woeful shooting performance to make a clutch jumper in the final minute.
More intriguing, though, was the sense of dislike between the teams that seemed to grow throughout the game. Understand this has been festering for a while, seeds getting dropped over the past year.
Last season, it was Durant who objected to some of Bosh's trash talk, prompting Durant to say: "There's a lot of fake tough guys in this league and [Bosh] is one of them."
Earlier this season Kendrick Perkins took offense to a James tweet congratulating Blake Griffin for a dunk over him. He told Yahoo! Sports: "I just feel [James] is always looking for attention and he wants the world to like him."
All that talk got real Wednesday when Perkins was given a technical for hitting Wade in the head on a drive to the basket. Then moments later, Westbrook was hit with a flagrant foul when he caught James from behind on a breakaway, pulling him off balance and sending him sprawling to the floor.
After the Westbrook foul, which happened with the Heat down seven points, Wade gathered his team together and started barking. It ended up kicking off a run that enabled the Heat to take the lead by halftime and changed the nature of the game.
"I said, 'Look what they're doing to us, look at what they're doing to our guys,'" Wade said. "When it's time for these kind of games, we have guys who can step up and do it. We're not fake tough guys, we're not TV thugs. We go out and play basketball. When it's time to get into the fight, we have a lot of guys who can get into it."
James, meanwhile, stopped just short of calling Westbrook's play dirty.
"I don't know, I'm not one to say it was a dirty play or not a dirty play, I'll let you guys decide," James said. "It's a dangerous play. Just look at the other end, Russ being as athletic as he is going down the lane and someone tries that. It's a fine line."
The talking didn't just take place in the locker room. Durant and Westbrook were in a constant conversation with the Heat bench, glaring over after made baskets. When it was over, there were no handshakes, just a small Durant wave to James, his offseason training partner.
It was unspoken, but it had an "until we meet again" vibe.
Not possible, of course, unless it's in the Finals. After a great start, recently the Heat haven't looked like they were ready for such a run. But this victory left them again thinking anything was possible and tied them with the Thunder in the loss column and pulled them to within two games of the Bulls for the best overall record. And it had them talking big again.
"There's certain games in the season and certain matchups that you want to play well," James said. "And if it sends a message then so be it."


NBA Writer Brian Windhorst
• On Twitter @WindhorstESPN | On ESPN.com
• Follow ESPN's NBA coverage on Twitter | On Facebook | On Google+
Dimes past: March 21 | 22 | 23-24 | 25 | 26 | 27 | 28 | 29 | 30-31 | April 1 | 2| 3
2. Around The Association
3. Wednesday's Best
James
LeBron James, Heat: How do he follow up a season-high 41-point effort? Merely with 34 points, 10 assists and 7 rebounds while enduring a gauntlet of pushes, pulls and grabs in the 98-93 win over what could become the Heat's archrival on the plains.
4. Wednesday's Worst
Brewer
Corey Brewer, Nuggets: With his team teetering on the edge of playoff qualification, Brewer put a goose egg in the local gumbo. Brewer spent 25 minutes on the court, missing all seven shots in a 94-92 loss in New Orleans.
5. Clash of MVP Candidates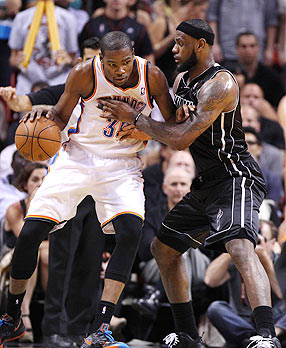 Robert Mayer-US PRESSWIRE
Kevin Durant and LeBron James dueled again, with LeBron and the Heat holding the edge this time. Will we see them together again come June?
6. Quote Of The Night
"We deserved every boo we got."
-- Kevin Love, whose Timberwolves squandered a 20-point lead en route to a 97-94 loss to Golden State.
By Elias Sports Bureau
Bynum
Andrew Bynum scored 36 points on 13-of-20 shooting and Kobe Bryant scored 31 while making 13 of 19 shots. Since 1990, the only other pair of Lakers teammates to each score 30 or more points while making at least 65 percent of their shots in one game were Bryant (35 pts, 11-for-16) and Shaquille O'Neal (31 pts, 15-for-23) against Golden State on Feb. 18, 2004.
Wednesday's game between the Clippers (32-22) and Lakers (35-20) was the 192nd meeting of the two franchises, dating back to the Clippers' inception as the Buffalo Braves in 1970. But it was the first tilt between these clubs in which both teams entered the game with a season record at least nine games over the .500 mark.
Bargnani's Best
MVP: Andrea Bargnani catches a lot of flak, most of it deserved, for being a genuinely dreadful basketball player. Against Philadelphia though, he looked like the guy he was originally billed to be. He hit three 3-pointers and was perfect from the line on the way to a game-high 24 points.
X factor: Philadelphia shot 58 percent from the floor in the first 24 minutes. It went on to score 22 points the rest of the night, including just seven in the final quarter.
That Was ... microcosmic: Philly's bizarre effort on Wednesday, and maybe even its bizarre season, was crystalized by the performance of its young point guard: Jrue Holiday played a near-perfect first half -- he posted 17 points on 8-of-8 shooting, dished out four assists against nary a turnover and chipped in four steals -- and followed that with a 1-of-6 dud of a second half. And after starting the year the darlings of the Association, the Sixers are 9-16 in their past 25.
Aldridge Still Soaring
MVP: LaMarcus Aldridge. The Nets had no answer for Aldridge, who dropped 24 efficient, diverse points -- five field goals in the paint and five from midrange. Aldridge added 9 rebounds, 3 assists and 2 blocks for Portland, and though Kris Humphries made him work, he couldn't make him miss.
X factor: Runs. A two-point game at the half ballooned quickly into a 16-point lead for Portland, as the Trail Blazers put on a dunk showcase to extend the lead. The Nets staged two comebacks, even taking a lead in the fourth, but the Blazers went on a 19-3 burst to close the game.
That was ... unorthodox: With the most exciting playmaker on either roster (Deron Williams) out with a stomach virus, both teams needed to rely on strange strategy. Luke Babbitt played some center, including some time in the middle of a 2-3 zone, and Gerald Wallace played extended minutes at point guard for the Nets.
Good Monta
MVP: Monta Ellis. Ellis has been up and down, to put it nicely, since joining the Bucks, but he shredded the Cavs' awful defense, going off for 30 points and 8 assists. One concern would be that Ellis didn't shoot a single free throw all game, but he didn't even need to get to the line to completely decimate the Cavaliers.
LVP: Lester Hudson. The Cavs can't be expecting too much out of Hudson, but 9 points on 3-for-13 shooting from the field is a bad game for anybody wearing an NBA uniform.
'That was ... bad: With Rookie of the Year favorite Kyrie Irving out with a shoulder injury, Daniel Gibson out with an ankle injury and Ramon Sessions on the Lakers, Donald Sloan and Lester Hudson played all the minutes at point guard for the Cavaliers on Wednesday. As you can imagine, things went poorly -- the two combined to shoot 8-for-25 from the floor. This Cavs team is now officially looking toward the lottery.
10. Dunk Of The Night, Part 1
Dunk Of The Night, Part 2