Nets Exit New Jersey In Fitting Fashion
By Devin Kharpertian
TrueHoop Network
NEWARK, N.J. -- The Nets made it close, but their final game in New Jersey ended up being the Philadelphia 76ers' night.
Andre Iguodala and Elton Brand wreaked havoc on both ends of the floor, stifling attempts at the rim and creating out of multiple offensive sets to lead the Sixers to a 105-87 victory, spoiling the Nets' final game in the Prudential Center.
"We don't have to trap as much [with Deron Williams out]," Brand said. "The defense won the game for us. Offensively, we shot the ball well, but we try to keep them out of the paint. Especially with [Deron] out, we wanted to make them play more one-on-one, and that's what we did."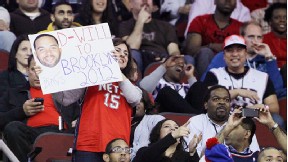 AP Photo/Julio Cortez
MarShon Brooks and Kris Humphries led New Jersey's isolationist attack, scoring 18 and 16 points respectively. But a full Sixers' rotation was too much for the Nets to handle, allowing eight players to score between eight and 15 points in their Newark farewell.
The victory guarantees a playoff spot for the struggling 76ers, who have been freefalling since their red-hot 20-9 start. "It's a huge sigh of relief," Brand added.
The Nets' former stars -- er, players -- were out in full force, as the farewell prompted visits from players of Nets' seasons past. Honored players included Derrick Coleman, Kenny Anderson, Otis Birdsong, Albert King and Darryl Dawkins, whose pink suit came straight from the Craig Sager School of Wardrobe. Video tributes from former Nets, such as Buck Williams, Vince Carter, Kerry Kittles, Kenyon Martin and "Mr. Captain" himself, Jason Kidd, played throughout the evening.
Even Chris Morris, who once famously wrote "Trade Me" on his sneakers, was honored at the fireworks-and-flash festivities.
"It's an emotional time for the fans," Nets guard Anthony Morrow added. "It's exciting, but at the same time it's bittersweet."
Brook Lopez, the Nets' big man who'd played 246 consecutive games before this season's injuries limited him to just five, kicked off the ceremonies. "We would like to thank you this season or all of your support. You guys are a huge part of what we do," Lopez said. "We can't wait to see you next season."
Lopez will be a restricted free agent on July 1.
A sellout crowd by Newark standards -- the game was technically sold out, but there were open seats in nearly every section -- made more noise than the city has heard for a Nets game in two seasons. Fans booed the opponents, cheered big plays, expressed dismay at blunders, and most notably chanted "M-V-P!" when Kris Humphries -- yes, Kris Humphries -- shot free throws.
"I think they've been great," Humphries said of the fans. "We kind of wish we had a little more support, more numbers at least, but the people that came were great."
Brand and Iguodala did their damage in the first half in pick-and-pop sets, piling up a 10-point lead at halftime. When the Nets threatened in the second half, cutting the lead to one, Evan Turner and Thaddeus Young created in transition and converted midrange jumpers to widen the gap. The Nets made two late pushes, riding Brooks and Gerald Wallace, but the Sixers' tough interior defense and calmness helped Philadelphia emerge victorious.
"We slowed down a little bit, got our sets together, got some stops, and guys got their confidence," Iguodala noted. "It was a group effort."
The evening was a fitting end to 35 years of New Jersey basketball: an early deficit, a frantic late comeback and a final collapse, handing their opponents a valuable victory.
Devin Kharpertian writes about the Nets and the NBA at Nets Are Scorching
Dimes past: April 8 | 9 | 10 | 11 | 12 | 13-14 | 15 | 16 | 17 | 18 | 19 | 20-21 | 22
3. Monday's Best
George
Paul George, Pacers: With the East's No. 3 seed sewn up and several starters resting, George scored 12 of his 27 points in the fourth to help Indiana beat the Pistons 103-97. He made 13 of 15 free throws and grabbed 10 boards.
4. Monday's Worst

The Bobcats: This looked like it could be the one. Then the Bobcats absorbed a 21st straight loss, 101-73, to the Wizards. If Charlotte (7-57) loses its final two games, it will finish with the worst winning percentage in NBA history. Suit up, MJ!
6. Tweet Of The Night
Big moment in Bucks-Raptors: Udoh, Uzoh, Udrih all on court at same time to end 1st quarter. Only 3 U--h players in NBA history.

— John Hollinger @johnhollingerApril 23, 2012
7. Quote Of The Night
"We don't want to be the worst team in NBA history. We know that in the back of our minds going into these next two games."
-- D.J. Augustin, on his 7-57 Bobcats, which needs one win to avoid earning the worst winning percentage in NBA history.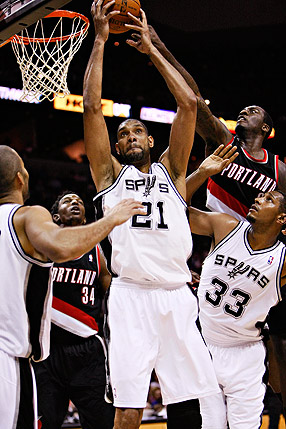 Soobum Im-US PRESSWIRE
Spurs forward Tim Duncan had 18 points and eight rebounds in the 124-89 win over the Portland Trail Blazers. The win clinched the West's No. 1 seed.
By Elias Sports Bureau

The Grizzlies' Tony Allen had eight steals against the Cavaliers on Monday night, tying the NBA season-high, one day after Chris Paul also had eight steals. It's the first time in 23 years that on each of back-to-back days an NBA player recorded eight-or-more steals in a game. That had last happened in April 1989, with John Stockton and the Kings' Danny Ainge turning the trick.
---

Elton Brand, Thaddeus Young and Jrue Holiday shared team-high honors with 15 points apiece in the 76ers' 105-87 triumph against the Nets. It's the fifth time this season that Philadelphia won a game in which none of its players scored more than 15 points, the most such victories for any NBA team.