1. What Title Could Mean For Erik Spoelstra
By J.A. Adande
ESPN.com
MIAMI -- We're so entangled in all things LeBron James that we've neglected to consider what winning the NBA Finals would mean for Erik Spoelstra. It's not that the Miami Heat coach has as much impact on the series as LeBron. But he does have more to gain.
For LeBron a championship would mean relief. Shed baggage. A whole list of questions he'll no longer face. But he still would be ashamed to get into a ring-counting contest with the likes of Michael Jordan, Magic Johnson or Kobe Bryant. LeBron would be in the club, just not in the VIP section.
[+] Enlarge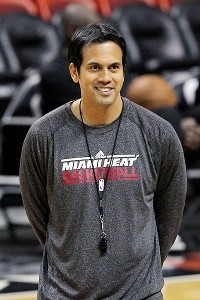 Derick E. Hingle/US PresswireHeat coach Erik Spoelstra has a lot riding on these finals, too.
Spoelstra, meanwhile, has a chance to join one of the most exclusive groups around: active coaches who have won an NBA championship. Gregg Popovich, Doc Rivers, Rick Carlisle. That's it. That's the list.
Winning championships doesn't necessarily help a player improve. However, it can help a coach be more effective. When a coach diagrams a play his players might pay a little more attention, if they see the light reflecting off his gaudy championship ring. When he discusses his concepts they're a little more likely to take if he can prove that they've worked in the past.
Merely winning three consecutive NBA Finals games has made a difference.
One day into the series I wrote about the sense of disconnect I felt about the Heat, because Spoelstra's message wasn't being echoed by the players in the manner I'd heard on previous championship teams. That's gone now. It's as if they've become computers, cycling through the data input by Spoelstra.
"I'm sure Spo has said it 100,000 times, is staying in the moment," Chris Bosh said after Game 4. "That's what you always have to do. You have to stay in the moment, put everything in the past behind you, don't worry about the future."
Looking ahead to Game 5, James said: "We've got to prepare like we've prepared all series and all season. You know, Coach Spo and the coaching staff [have] given us a great game plan."
If that's what winning a few games will do, imagine winning it all.
"I think the last couple games we've been more consistent to our identity, but it still comes down to making those winning plays," Spoelstra said. "These are months of habits, of building it, and you can't overthink it. At that point, in the moment of truth, you've got to trust your instincts and just make it happen."
The instincts and abilities of LeBron and Dwyane Wade still have the greatest relevance to this Heat team. Identity comes from the coaching staff. I know this because I have heard Spoelstra use the word "identity," as in "play to our identity," about 537 times since the Finals started. I feel like it has started to become part of my identity. I'm a guy who listens to Spoelstra talk about identity. At some point all of those reps kick in and actually work for a team. It's happening for the Heat.
In this series, Spoelstra hasn't been revolutionary, just sensible. He moved Bosh back into the starting lineup for Game 2. It was time. He has anchored Joel Anthony to the bench. While the Heat could use a shot-blocking deterrent at the rim, they also can't afford to let any Thunder defender roam off Anthony when the Heat have the ball.
Spoelstra showed just the right touch with his handling of the point guards in Game 4. Mario Chalmers began by missing his first three shots, so Spoelstra sent in rookie Norris Cole. Cole scored five points in three first-quarter minutes, bonus baskets from a player who had given the Heat only two points in the first three games. When Spoelstra reinserted his starter, Chalmers unleased the fury, scoring 25 points in the final three quarters of the game, including 12 points in the fourth.
While Oklahoma City's Scott Brooks had Kevin Durant guard LeBron James from the outset of the first three games of the series, Spoelstra tried to wait until the fourth quarter to put James on Durant full-time. Two games' worth of foul trouble for Durant caused Brooks to come around to Spoelstra's way of thinking and put Durant on Mario Chalmers to start Game 4.
You don't want to make drastic moves late in the series. It's a sign that things are going awry. Ask Spoelstra, who chose Game 6 in the 2011 NBA Finals to sit Mike Bibby after starting him the first five games. It was more panic than prescience.
No such tactical delays for Spoelstra this year. If we're going to say his players learned from last year's experience, so has he. This team would be an extraordinary burden for any coach, let alone someone as relatively unaccomplished as Spoelstra.
He's already joined a select group that has led teams to the NBA Finals in back-to-back seasons over the past 25 years: Phil Jackson, Pat Riley, Larry Brown, Byron Scott, Rudy Tomjanovich, Jerry Sloan and Chuck Daly. That trivia tidbit was tweeted by none other than Heat owner Micky Arison, a sign of the regard with which Spoelstra is held in the organization.
Then there's Riley, who Tuesday night said of his protégé: "He does a great job. He has a great relationship with our whole team, and he's not fearful of the moment in any way, shape or form. I watch him every single day, and I'm not amazed by what he's done."
Just imagine what they'll be saying about Spoelstra if he actually brings home the title.


ESPN senior writer J.A. Adande
• On Twitter @jadande | On ESPN.com | On TrueHoop | On e-mail
• Follow ESPN's NBA coverage on Twitter | On Facebook | On Google+
Dimes past: June 1 | 2 | 3 | 4 | 5 | 6 | 7 | 8 | 10 | 12 | 13 | 14 | 15 | 16 | 17 | 18 | 19
2. Riley Survey: Six Sides To Miami Mentor
By Brian Windhorst
ESPN.com

Pat Riley is known for many things, his long-range vision being one of the most well-known. Just as he spent three years plotting to assemble the greatest free-agent class in history, he also has been planning his own exit from the game.
The question is when to put his plan into action.
Several times this season, the 67-year-old Riley has dodged questions about his tenure with the Miami Heat, joking, "Where am I going to go?"
On Tuesday night, as he received a lifetime achievement award, he said he's "still got a lot of bite left in my bark."
But someday, and perhaps it is sooner than later, Riley will be exiting. After one last championship, his eighth ring in all? It's not clear, and perhaps he wants it that way.
Still, he remains prepared. Riley received one of the greatest compensation packages for a league executive in sports history when Heat owner Micky Arison lured him away from the New York Knicks, giving Riley a contract that promised him a 10 percent stake in the team. It was a part of a series of long-term contracts Riley had with enormous payouts that the billionaire owner believed he was worth.
But after the Heat won the title in 2006, Riley began to prepare an exit. He sold his stake for millions to the team's current CEO, Nick Arison. Then he gave up coaching in 2008. After insisting for years that he should have a contract -- a formality that Arison didn't always think was necessary -- Riley no longer has a contract. He's going year-to-year on a handshake agreement. Last summer, Nick Arison was promoted over Riley in the organizational chart, giving Riley a new boss for the first time in years.
Read the rest of the Riley survey »
3. Subject Of Corrections On Winning Course
By Israel Gutierrez
ESPN.com
Chalmers
MIAMI -- The most entertaining on-court arguments involving Mario Chalmers -- and in the past two seasons of basketball there are almost more of those than there have been LeBron James dunks -- are the ones in which Chalmers is clearly correct.
Like during the first round in Madison Square Garden when James passed the ball directly to his bench for a turnover while Chalmers was spotted up, wide open, about 10 feet to the left of where the ball ended up.
Somehow, James figured that was Chalmers' fault, and he let him hear about it.
Chalmers, quite used to standing up for himself against James, fired back, essentially telling the best player in the world, "No, no. This one's on you, pal."
Those are the best to watch closely, because somehow Chalmers will still look like the guilty party. Even an open-and-shut case like that is impossible to win when you're debating basketball with James or Dwyane Wade.
By Tom Haberstroh
ESPN.com
James
It's like we're watching a different person now.
There weren't many things that LeBron James hadn't done on a basketball court. But coming up big in the NBA Finals? That was one of them.
A giant one.
But he's washing away almost all those doubts one game at a time and one clutch shot at a time here against the Oklahoma City Thunder. In Game 4, James came up with a 3-point dagger to break a 94-94 tie with 2:54 left on the clock -- on one leg, no less. And the Heat are one win away from winning it all.
Would he have made that shot in the 2011 Finals? Put it this way, James never made a shot in the 2011 Finals during clutch time. And by clutch time, we define it as the game being within five points in the last five minutes of the game. He didn't hit one.
5. Quote Of The Night
"I feel a lot better than I did last night, that's clear. I'm still a little sore because of the muscles being at an intense level -- very tight. … I should be fine."

-- Heat forward LeBron James, on how he felt Wednesday at practice after cramps stopped him late in Game 4.
By Robert Mays
Grantland.com

Kendrick Perkins probably said it best, even if he didn't really mean to. Following Tuesday night's Game 4 loss, the Oklahoma City Thunder center posed a similar question to the one I was asking after OKC's 33-point first quarter:
"I just don't understand why we start out the first quarter the way we did, with the lineup that we had, and all of a sudden we change and adjust to what they had going on."
I can only assume that the slight difference in our concerns is that while Perk was worried about why he didn't play after that first quarter, I was worried about how the rest of his guys did play.
In the first three clashes of these NBA Finals, one of the Thunder's major issues was in the way they started. Miami jumped out to a lead in each game, and it was on OKC to climb its way out of a hole. That's what made the first quarter of Game 4 so encouraging. From the opening tip, the Thunder were playing at a pace beyond what the Miami Heat were comfortable with. After each defensive rebound, Russell Westbrook pushed the ball down the floor looking to attack, and the result was a collection of easy baskets and a 17-point lead.
If LeBron played in Oscar's era with ~ 120 possessions per game, LeBron may have averaged 40-15-10 … and 10 cramps.

— Tom Haberstroh @tomhaberstrohJune 20, 2012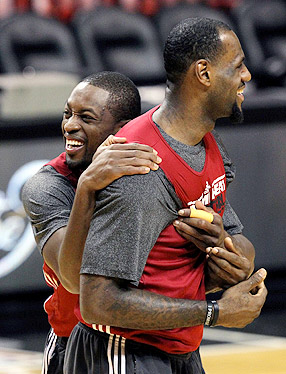 Derick E. Hingle-US PRESSWIRE
Dwyane Wade and LeBron James yukked it up at practice on Wednesday, preparing for Thursday's Game 5 against the Thunder, which starts at 9 p.m. ET on ABC and WatchESPN. Miami leads 3-1.