1. Why LeBron Isn't A Perfect 10

By Marc Stein
ESPN.com
Archive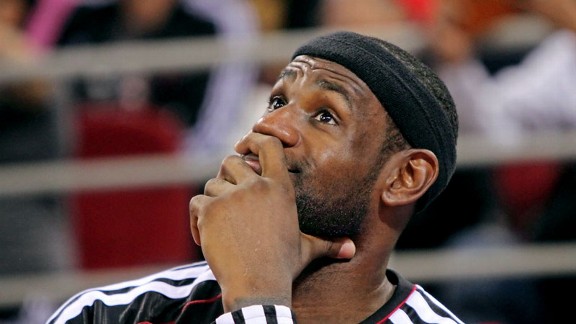 Xiao Yingying/Getty ImagesLeBron James received 10s from 103 voters in #NBArank. Guess who gave him his only 9.
Confession time.
It was me.
No need to go blaming Skip Bayless for this one.
I'm the solitary idiot, from a panel of 104 voters, who didn't see fit to award LeBron James a gleaming 10 in ESPN's recent #NBArank extravaganza.
I'm the lone, unremorseful idiot.
And here's why: I am generally opposed to the idea of perfect 10s and couldn't be swayed, after one championship in a row, that even LeBron should get one. I'm stingy with the notion of perfection, particularly when it comes to grading basketball players, so no one was going to get a 10 from me when our bosses asked us in August to size up every single name on the NBA map. Not even LeBron after an unquestionably storybook season in which he won two MVP trophies and assumed the role of dominance from Kobe Bryant on the American squad that won a gold medal in London just a few weeks after James broke through with the Miami Heat in his first NBA title run.
Not quite yet.
Flawless as so much of the above sounds, it's only one season. I'd have said the same thing about Michael Jordan after the Bulls' first title in 1991 -- going to have to see that sort of brilliance sustained over at least two seasons to give it all away. So LeBron was one of only five players to receive a 9 from yours truly, along with Kevin Durant, Chris Paul, Dwight Howard and Derrick Rose, who just happened to finish Nos. 2 through 5, in that order, in #NBArank.
In retrospect?
With a month of hindsight since LeBron landed at the top of the #NBArank heap?
No regrets.
In a perfect world, with more flexible scoring options, I'd have loved to list LeBron as a 9.5 or perhaps even a 9.7, with Durant at, say, 9.3 and maybe CP3 at 9.1. I suspect many other voters would have followed suit and withheld their 10 from James in those circumstances until #NBArank 2013. That option, though, wasn't available. So 9 felt more right than 10 to me, given the absolute nature of the 0-to-10 scoring dictated by the current rules of #NBArank.
If I were to go back and change anything, I suppose I could downgrade Howard and Rose to 8s, thanks to the serious injuries that derailed both last season and the questions that persist about how long it'll take D12 and D-Rose to return to their fearsome best. You can sell me on the idea that perhaps I should be handing out even fewer 9s if there aren't going to be any 10s.
Otherwise?
I look at LeBron's final score of 9.99 and have to say I'm glad it worked out this way. My purported stupidity, if nothing else, might in some small way help reinforce the notion that LeBron still has some things to accomplish after Ring No. 1. (Which is something LeBron himself, incidentally, freely admits.)
After a month of season-preview blather about how he suddenly has the six-ringed MJ in his crosshairs, I can't shake the feeling that a lot of us -- after utterly savaging LeBron throughout Year 1 in Miami and the Heat's 2011 Finals flameout -- are overcompensating now and going way overboard with our fawning to try to make up for it. You probably didn't need too many guesses to predict whose name would be revealed at the end of the #NBArank procession, since we all can agree this is the first time King James has begun a season as the sport's undisputed monarch. But the dreaded narrative has gone too far the other way lately with all this LeBron versus Jordan stuff.
I know I'm in that minority that never felt the need to worship at the altar of His Airness, but even I'm here to say: C'mon. Talking about LeBron in these terms, even after the Jordanesque heights he clearly grazed with that Game 6 destruction of the Celtics in Boston with the Heat on the brink of elimination in the Eastern Conference finals, is preposterous at this point.
Can we wait to see what happens in 2012-13? Can we resist the increasing urge to go on and on about James as if he's one of the Invincibles when, counting Game 4 of the Finals and Tuesday night's opener against Boston, he's actually been felled by crunch-time cramping in two of Miami's past four games that counted? I long ago learned my lesson about doubting Pat Riley and fully subscribe to Riley's post-Finals contention that the real fun starts now for LeBron and the Heaters after they so swiftly exorcized their Dallas demons. But we've got to see some of that fun first.
Doesn't James have to have at least two seminal seasons in a row before we all lose our minds and drown in superlatives?
Even the annoyingly stingiest of scorers will be forced to rethink matters if LeBron, working as he does these days so powerfully from the post, delivers a second successive championship with anything close to last season's style. I'm man enough to say standards can change and belief systems evolve, and that a 10 from me is in play if LeBron continues to lord over us all.
Or you can just call me crazy and click back here next Friday for a saner Weekend Dime. Your prerogative.
Think about it, though. Can't imagine that, deep down, we're too far removed from a consensus that LeBron still has plenty to play for, plenty to accomplish, as he starts to dig into the 100 or so games to go in his 10th NBA season.
No matter how (in)significant my approval really is.
Dimes past: Oct. 30 | 31 | Nov. 1


ESPN.com senior writer Marc Stein
• On Twitter @ESPNSteinLine | On TrueHoop | On ESPN.com | On email
• Follow ESPN's NBA coverage on Twitter | On Facebook | On Google+
2. LeBron By The Numbers
A 10-chart statistical ode to LeBron James as he begins his 10th season ... with an assist to Ernest Tolden from ESPN Stats & Info and the Elias Sports Bureau:
Highest Career PPG Among Active Players
| Player | PPG |
| --- | --- |
| LeBron James | 27.6 |
| Kevin Durant | 26.3 |
| Kobe Bryant | 25.4 |
| Dwyane Wade | 25.2 |
Most Seasons Averaging 25-plus PPG Among Active Players
| Player | Seasons with 25+ PPG |
| --- | --- |
| Kobe Bryant | 11 |
| LeBron James | 8 |
| Carmelo Anthony | 5 |
| Dirk Nowitzki | 5 |
| Tracy McGrady | 5 |
Most Seasons With 30-plus PER In NBA History
| Player | Seasons with 30+ PER |
| --- | --- |
| Michael Jordan | 4 |
| LeBron James | 3* |
| Wilt Chamberlain | 3 |
| Shaquille O'Neal | 3 |
* NBA-high PER of 30.8 last season
Most Seasons with 27 PPG, 7 RPG, 6 APG In NBA History
| Player | Seasons with 27, 7, 6 |
| --- | --- |
| LeBron James | 6 |
| Oscar Robertson | 6 |
| Larry Bird | 3 |
| John Havlicek | 2 |
| Michael Jordan | 1 |
| Jerry West | 1 |
Most 30-point Games In Past Five Seasons
| Player | 30-point games |
| --- | --- |
| LeBron James | 160 |
| Kobe Bryant | 139 |
| Kevin Durant | 129 |
Most Fast-Break PPG In 2011-12 Season
| Player | Fast-break points |
| --- | --- |
| LeBron James | 5.9 |
| John Wall | 5.7 |
| Russell Westbrook | 5.1 |
Most Triple-Doubles Since 2003-04 Season
| Player | Triple-doubles since '03-04 |
| --- | --- |
| Jason Kidd | 57 |
| LeBron James | 34* |
| Rajon Rondo | 13 |
* James was a rookie in 2003-04; Rondo entered the league in 2006-07
Most PPG at Madison Square Garden Since 1967*
| Player | PPG at MSG |
| --- | --- |
| Michael Jordan | 31.8 |
| Kobe Bryant | 30.7 |
| LeBron James | 29.9 |
| Dwyane Wade | 27.3 |
* Min. 10 games
Youngest to Reach 10,000 Career Points In NBA History
| Player | Age |
| --- | --- |
| LeBron James | 23 years, 59 days |
| Kevin Durant | 24 years, 33 days* |
| Kobe Bryant | 24 years, 194 days |
| Carmelo Anthony | 24 years, 251 days |
| Tracy McGrady | 24 years, 272 days |
* Durant reached this milestone Thursday night at San Antonio
Highest Points Per Play Last Season (Min. 1,000 plays)
| Player | PPG | FG% |
| --- | --- | --- |
| Kevin Durant | 1.059 | 49.6 |
| LeBron James | 1.052 | 53.1 |
| Chris Paul | 1.049 | 47.7 |
3. Western Conference

Phoenix's Wesley Johnson, New Orleans' Al-Farouq Aminu and Houston's Cole Aldrich are among the 2010 first-round picks who will be unrestricted free agents in July after their fourth-year team options were declined before the Halloween deadline.
What else do they have in common?
Johnson (No. 4 by Minnesota), Aminu (No. 8 by the L.A. Clippers) and Aldrich (No. 11 by Oklahoma City) were all lottery picks.
---
Some numbers of note in the West this week:
6: Only six teams have started a season 0-2 and went on to win the championship, with the Lakers (most recently in 1984-85) accounting for three of those six titles. The 1990-91 Bulls are the only team to win it all after starting 0-3.
3: This is the only the third time in Tim Duncan's 15-season career that he's scored at least 20 points in San Antonio's first two games of the season.
86: Just how out of sync offensively were the Thunder in their first game without James Harden? The 86 points San Antonio scored Thursday night to beat them, according to the Elias Sports Bureau, is the lowest point total to deliver a win over the Thunder since Memphis' 86-84 home win over OKC on Jan. 22, 2010.
29: Jamal Crawford's 29 points off the bench in the Clippers' season-opening win over Memphis accounted for the highest opening night total for a reserve since Leandro Barbosa had a 30-point game in the Phoenix Suns' 2006-07 opener.
29: Minnesota's Rick Adelman began the season 29 wins shy of becoming the eighth coach in NBA history with 1,000 career wins. He trails only Don Nelson (1,335), Lenny Wilkens (1,332), Jerry Sloan (1,221), Pat Riley (1,210), Phil Jackson (1,155), Larry Brown (1,098) and George Karl (1,074).
---
One of the factors that quietly contributed to Oklahoma City's decision to trade James Harden: OKC might be one of the league's bottom three markets in terms of size, but the Thunder are projected to be a revenue-sharing payer under the terms of the league's new revenue-sharing model. … The Clippers waived guard Travis Leslie earlier this week despite the $250,000 of guaranteed money on Leslie's contract this season.
4. Eastern Conference

Atlanta's Josh Smith has an expiring contract and an apparent fan in Magic Johnson, who playfully suggested during a Fantasy GM segment on Friday night's "NBA Countdown" show that he'd love to see the Lakers trade for Smith -- even if it meant surrendering Pau Gasol -- because L.A. so badly needs athletes.
Dwight Howard would surely learn to live with such a swap, too, given how close he and Smith are off the court, but there's currently zero evidence in circulation to suggest it's anything other than a fun discussion for entertainment purposes.
The distinct vibe you get when you ask around is that Smith will most likely finish the season in Atlanta, flashing onto your screens in adidas commercials when he's not trying to sneak the Hawks into the playoffs and then proceeding to free agency in search of a new long-term deal. There's a benefit to holding off, since the longest in-season extension Smith could get with the Hawks is a three-year deal. The Hawks also appear intent on preserving as much cap flexibility as they can for a busy offseason.
So those concerned about the state of the Lakers, like Magic, will likely have to look elsewhere for saviors.
---
Some numbers of note in the East this week:
23: Anderson Varejao's career-best 23 rebounds for Cleveland on opening night were the most in any NBA opener since Sidney Wicks pulled in 23 boards for the then-San Diego Clippers in 1980. Varejao also ranks as the first player with at least 9 points, 23 boards and 9 assists in a season opener since Wilt Chamberlain in 1967. The last player with at least 9 points, 23 boards and 9 assists in any regular-season game was Charles Barkley in 1987.
2: A double-double for Jonas Valanciunas in his Raptors debut (12 points and 10 boards) will go down as just the second double-double in franchise history for a new Raptor (Damon Stoudemire had the first, in 1995).
1: Philly's Spencer Hawes became the first player to amass at least 16 points and 12 rebounds as a sub in his team's season opener since Nov. 1, 1991, when two players hit those levels: A.C. Green (28 points and 16 rebounds for the Lakers) and Anthony Bonner (17 points and 14 rebounds for Sacramento).
120: The 120 points Boston surrendered in their season-starting loss at Miami marked the second-highest point total the Celts have surrendered with Kevin Garnett in the lineup, falling just two buckets short of the 124 points allowed to Denver on Feb. 19, 2008, in KG's first season in green.
31.6: The Knicks, based on opening night rosters, have the league's oldest team, with an average age of 31.6 years. Next in line are the Los Angeles Clippers (29.8) and Miami (29.6). The only current Knick younger than 26 is Iman Shumpert, who, at 22, is recovering from ACL surgery.
5.

One On One ... To Five
Davis
Five questions with Hornets rookie center Anthony Davis:
Q: How much rest did you get after the Olympics?
A: I got a couple days. I had to get right back into it with the team. Just trying to keep working. The team wanted me to come down and start working out with them, so I got right to it.
Q: How much respect do you think you've earned from some of the best players in this league because of how you did with Team USA?
A: I don't know. I'm not sure. All I know is they helped me a lot with my game, helped me a bunch, and I think I got a lot better.
Q: What do you want to get out of this first season?
A: Learning. Learning a lot. Learning how others players play. Get my feet wet. I wanna see what this league is all about and have fun with it.
Q: How much pressure does it put onto your shoulders to be a heavy Rookie of the Year favorite?
A: Nothing right now. I'm still just trying to get better and figure out the league. That's not even on my mind right now. If I win it, I win it. If not, congratulations to whoever does. I'm not going to go out trying to shoot 100 shots to win Rookie of the Year.
Q: How worried are you that expectations are too high sometimes?
A: I think about it sometimes. I listen to what people say. That's just who I am. I try not to, but it's hard. ... Social media networks, people just talking. If they mention me (on Twitter), I go through my mentions, so I'm going to see it. I've just got to stay humble, keep working and block out all the negativity. And when I do see (something negative), I try to use it as motivation.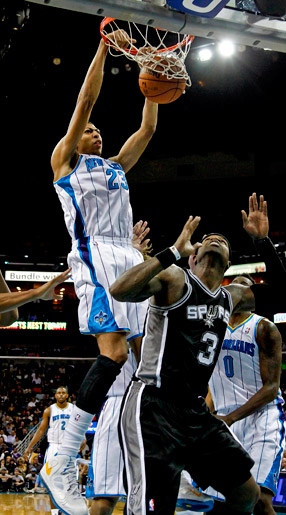 Derick E. Hingle/US PRESSWIRE
Anthony Davis is already asserting himself in the NBA, but his main goal? Learning. (See Box 4.)
"I don't do predictions. I don't give suggestions. We're going to play hard, stay positive and have a good attitude."
Henderson
Charlotte's Gerald Henderson, declining an invitation from ESPN.com to help forecast how many wins last season's 7-59 Bobcats are capable of this season.
Attitude, of course, has been a newsy topic with the Bobcats this week, after owner Michael Jordan sat down for a rare interview with five writers and editors from the Charlotte Observer and acknowledged that he made it clear to his players that rookie coach Mike Dunlap's penchant for incredibly long practices has his full backing.
In addition to practice sessions that have lasted in excess of three hours, Dunlap has been known to demand that his guys get in some extra shooting work on the road when the team arrives on an off night in a new city.
But Jordan, along with his vow to the Observer that he plans to own the Bobcats for the "long haul" despite the team's infamous plummet to the lowest single-season winning percentage (.106) of all time, revealed that he addressed the players earlier this week to leave no doubt that Dunlap's overemphasis on fundamentals is exactly what he wants.
"This is what championship teams do," Jordan said he told them. "If we did it in Chicago and we became a championship team, why wouldn't we want to do that here? If you turn your nose up to it, then maybe you need to look in the mirror and see that you're a part of the problem.
"Unfortunately we had some guys who were not receiving it that way," Jordan continued. "... (So) I felt the need to step in and say: 'Look, this is how we're going to do this. The culture of what's happening in Charlotte is going to be this. Either you buy in or you're not going to be here.'"
P.S. -- My runner-up contender for the season's maiden Marc's Quote, falling short only because it came in so late, were these amusing words uttered by Oklahoma City's Kevin Durant upon learning Thursday night that he had just become the second-youngest player in league history to pass the 10,000-point plateau: "Uh ... it's cool. I don't know what else to say."
Some important notes about the NBA schedule that you need to register in whatever you're using in 2012 for desktop diary purposes:
NOTABLE RETURN GAMES THIS SEASON
| Player | Current team | Former team | Date |
| --- | --- | --- | --- |
| Jason Kidd | Knicks | Mavericks | Nov. 21 |
| Brandon Roy | Wolves | Blazers | Nov. 23 |
| James Harden | Rockets | Thunder | Nov. 28 |
| Jeremy Lin | Rockets | Knicks | Dec. 17 |
| Andrew Bynum | Sixers | Lakers | Jan. 1 |
| Andrei Kirilenko | Wolves | Jazz | Jan. 2 |
| Joe Johnson | Nets | Hawks | Jan. 16 |
| Ray Allen | Heat | Celtics | Jan. 27 (ABC) |
| Steve Nash | Lakers | Suns | Jan. 30 (ESPN) |
| Dwight Howard | Lakers | Magic | March 12 |
| Carmelo Anthony | Knicks | Nuggets | March 13 (ESPN)* |
*Dealt to the Knicks in February 2011, Anthony has still yet to play a game in Denver thanks to the lockout-shortened season in 2011-12.
ALL GAMES vs. FORMER TEAM
Ray Allen
vs. Celtics
Oct. 30
at Celtics
Jan. 27
vs. Celtics
April 12
at Celtics
March 18
Dwight Howard
vs. Magic
Dec. 2
at Magic
March 12
James Harden
at Thunder
Nov. 28
vs. Thunder
Dec. 29
vs. Thunder
Feb. 20
Andrei Kirilenko
at Jazz
Jan. 2
vs. Jazz
Feb. 13
at Jazz
Apri 12
vs. Jazz
April 15
Steve Nash
vs. Suns
Nov. 16
at Suns
Jan. 30
vs. Suns
Feb. 12
at Suns
March 18
Brandon Roy
at Blazers
Nov. 23
vs. Blazers
Jan. 5
vs. Blazers
Feb. 4
at Blazers
March 2
Jeremy Lin
vs. Knicks
Nov. 23
at Knicks
Dec. 17
ADDITIONAL SCHEDULE TIDBITS
This non-shortened season features the standard 82-game schedule, with each team visiting every city at least once and no team playing a back-to-back-to-back set. The season started almost two months earlier than it did in 2011-12 and will end nine days earlier than last season.
| | 2011-12 | 2012-13 |
| --- | --- | --- |
| Length: | 66 games | 82 games |
| First day: | Dec. 25 | Oct. 30 |
| Final day: | April 26 | April 17 |
| Visit every city? | No | Yes |
| Back-to-back-to-backs: | 42 | None |
Houston's headline-making James Harden, New York's ailing Amare Stoudemire, Chicago's rehabbing Derrick Rose and retiring NBA commissioner David Stern are the prime topics of discussion when Marc Stein joins Marc Kestecher on the season's first edition of the NBA on ESPN Radio studio show.
• Click here to listen to the podcast

Three quick slams and dunks from the deepest recesses of Weekend Dimedom:

Brown
1. There are seven coaches left in their final year of their contract after Utah picked up Tyrone Corbin's 2013-14 option earlier this week. They are: Atlanta's Larry Drew, Brooklyn's Avery Johnson, Indiana's Frank Vogel (team option for 2013-14), the Los Angeles Clippers' Vinny Del Negro, Memphis' Lionel Hollins, Milwaukee's Scott Skiles and Phoenix's Alvin Gentry. Yet it's obvious by now -- or at least it should be -- that this season's list of Coaches on the Hot Seat can only start with Del Negro's Staples Center neighbor Mike Brown. Give Brown this, though: Instead of complaining about the ridiculously early nature of job-security questions, he's facing the withering scrutiny head-on ... even with able replacements like Mike D'Antoni (and, yes, Phil Jackson) available for hire. My man Bill Plaschke of "Around The Horn" fame catches the spirit of this thing neatly here.
2. Thank you, Thunder. Thank you, Rockets. OKC residents increasingly freaked out about how good James Harden has looked since he left town are exempt here, but the majority of you have to concede that the speedier-than-expected conclusion to the Harden Saga should do a lot for our collective sanity. Instead of months' worth of suffocating trade speculation had the Thunder kept Harden without extending his contract, like what happened the last two seasons from Day 1 of training camp up through the trading deadline courtesy of the Melodrama and then the Dwightmare, OKC and Houston swiftly consummated their megadeal before the first ball was tossed up for real. Mercifully.
3. Now that I finally have my own iPhone and my own iTunes account, I can't stop nostalgically playing the music (Calvin Harris' "Feel So Close," instrumental version) they played during starting-lineup intros before games at the Olympics, presumably because I had that good a time at London 2012. Or it might just be senility setting in. (Didn't realize this until my oldest son Alexander The Greatest asked me to do the math the other day, but this is season No. 20 for yours truly covering the greatest league on Earth. Blessed! But also old.)