1. Nash, D'Antoni Get A Second Chance

By Marc Stein
ESPN.com
Archive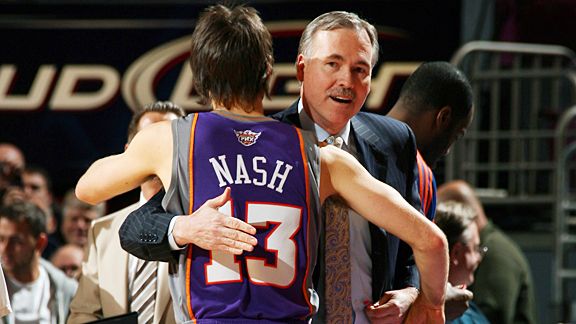 Nathaniel S. Butler/NBAE/Getty ImagesAfter a four-year break, Steve Nash and Mike D'Antoni are back on the title chase together in L.A.
You can hear it in his voice. You can see it in his smile. You can sense it even in the wake of reconstructive knee surgery and in the face of Phil Jackson's smothering shadow.
The same Mike D'Antoni who couldn't make it to the microphone Thursday for his first news conference in Lakerland without the help of a crutch to take the weight off of his new left knee used the next 45 minutes trying to make sure everyone understands that he considers himself to be the luckiest coach on the face of the Earth.
"Not too many people in this game have a chance to coach a Steve Nash," D'Antoni told ESPN.com later that evening. "And I'm getting a second chance.
"Unbelievable."
Nash is bound to gush the same way as soon as his blasted left leg heals. This isn't the best time to ask him to gauge how fortunate he's feeling when he knows, as a voracious student of body mechanics ever since he and D'Antoni first united in the desert in summer 2004, that he'd have probably been back on the floor by now if the impact of his Halloween night collision with Portland rookie Damian Lillard was an inch or two away from the unfortunate spot where he took the hit and hobbled off with a fractured fibula.
"I can't remember the last time I had a broken bone," Nash says. "I probably haven't missed this much time for 10 years. But I'm generally an optimist. I'm a little bit consumed with my health right now, but it's going to be amazing to get a chance to play for Mike again. I'm excited for the opportunity to play for a great team and to try to build a great team."
The 38-year-old has stopped trying to forecast how much longer he'll be sidelined after two-plus long weeks as a spectator. He's likewise a full-fledged Canadian diplomat, as you'd expect, when asked to reflect on what it was like to try to run Mike Brown's ill-fated Princeton offense. In stark contrast to the unforgettable way Grant Hill co-opted how our own Kevin Arnovitz once described Nash's transition from D'Antoni to Terry Porter -- like "a hummingbird trapped in a sandwich bag" -- Nash says now of the Princeton: "I bought in and I tried to make it work."
The relief in his voice is clear, though, when the subject shifts to projecting what sort of strategic impact D'Antoni's arrival will have on the Lakers' title-or-bust prospects. For all of the legit questions and criticisms about the manner and timing of the Lakers' decision to fire Brown and then hire D'Antoni when the whole basketball world -- D'Antoni included -- was bracing for Jackson's return, Nash has plenty to say about what used to be known as Seven Seconds Or Less and how it'll look in Los Angeles in place of Jackson's championship-tested Triangle.
Here's Nash on D'Antoni's offense in general and whether it can do for Dwight Howard as a roll man to the rim what it did for Amar'e Stoudemire: "I think it's going to be great for him. Dwight's had a rough year physically, not playing for a long time. He's not himself yet, but offensively Mike will (help us) figure it out. In Phoenix, we didn't throw the ball into the post and I'm sure we're going to do that more now. Sometimes it'll look like Phoenix and other times it'll look like something new. Things will evolve, which takes time."
On fears that the Lakers don't have enough perimeter shooters to properly space the floor like D'Antoni's Suns team did: "I think on all of Mike's teams, guys emerge as 3-point shooters that were never considered 3-point shooters before. Hopefully with the freedom we'll have (playing in this system) and guys getting better looks, we'll make some shots we haven't been making."
On the theory that Pau Gasol, for all of the talk about how well he functioned in the Triangle, just might find a Boris Diaw-esque niche at the elbow in this offense: "I think there's definitely some similarities. Maybe Pau doesn't go all the way out to the 3-point line as much as Boris did, but getting the ball out of pick-and-rolls and being a playmaker, I can see that as a weapon for us."
On the difference Howard can make to hush those who contend that the D'Antoni approach, heavy on offense and fun, will never come with enough defense discipline to win it all: "In Phoenix, I think what kept us from winning -- more than bad breaks or anything else -- is that we never had a defensive center. You look at the teams that win and pretty much every year they've got a great defensive center with length. Miami was an exception, but they've got great defenders like LeBron (James) and (Shane) Battier and were such a good defensive team. But that's the bottom line. Sometimes it's just the little things like giving up one too many offensive rebounds or losing on free throws because you're small and you had to foul inside."
And finally on concerns that Kobe Bryant won't be able to accept an offense that revolves around anyone else: "I just don't see that being an issue. Kobe's a natural scorer. He can score in any system. If we had Kobe in Phoenix, it would have been a two-guard-centric offense. Kobe's going to run plenty of pick-and-rolls. Kobe and I can run pick-and-rolls together. I think he looks at Mike like he's also been one of his coaches for the last four, five years (thanks to their time together with Team USA). He feels very familiar with all of this. There's going to be plenty of ways for Kobe to score."
It's Nash's contention, furthermore, that the burden that the various stars on this Hollywood set carry will help D'Antoni cope with the daily reminders that he's not Phil. Or that he hasn't won a playoff series since 2007. Or that he's the first Lakers coach without so much as a trip to the NBA Finals on his résumé since Randy Pfund in 1992-93.
"There's going to be a microscope, sure," Nash said, "but I'm sure you (media) guys will be putting pressure on all of us."
Given that Nash and Howard are both chasing their first rings, with Kobe still one shy of Michael Jordan's six, D'Antoni's QB certainly has a point.
Just as Nash, health aside, has ample cause to pinch himself. The Suns certainly didn't have to agree to sign-and-trade him in July to the team they loath more than any other. Nor were the Lakers obligated to reunite him with his favorite boss sooner than anyone could have forecasted.
"It is amazing," Nash said. "It's like my friend Simone says: 'If I had put 10 dollars down on July 1 that you'd be a Laker and D'Antoni would be coaching you, I'd be a millionaire.' "
Maybe nothing can ever fully settle things up after the run of misfortune Phoenix suffered at the height of the D'Antoni-and-Nash tag team, starting with Joe Johnson's broken orbital bone in the 2005 playoffs, deepening with the suspensions to Stoudemire and Diaw after Robert Horry body-checked Nash in the 2007 playoffs and persisting all the way into 2008 when Tim Duncan's dagger 3-pointer from the wing launched the unraveling of the partnership. Yet it's hard to listen to the coach on crutches now, so soon after that messy parting with the Knicks and a superstar in Carmelo Anthony who didn't want to play the D'Antoni way, without thinking that his luck, and Nash's, sure seems to be changing.
Dimes past: Nov. 1 | 2-3 | 4 | 5 | 6 | 7 | 8 | 9-10 | 11 | 12 | 13 | 14 | 15


ESPN.com senior writer Marc Stein
• On Twitter @ESPNSteinLine | On TrueHoop | On ESPN.com | On email
• Follow ESPN's NBA coverage on Twitter | On Facebook | On Google+
2. Western Conference

The Hornets made a deal they didn't need to make this week, consenting to trade surplus-to-requirements forward Hakim Warrick to Charlotte to give Warrick an opportunity to hook on somewhere he'd have a chance to earn minutes.
In a swap with almost no effect on team finances, because Warrick was not on course to have his $4 million option for 2013-14 picked up, New Orleans agreed to take back shooting guard Matt Carroll and his expiring $3.5 million contract in the deal.
Sources close to the situation told ESPN.com that buyout discussions with Carroll commenced immediately, but no resolution is expected before next week. Although a buyout is regarded as the mostly likely scenario, which would send the former Bobcats co-captain to the open market as a free agent, one source said Friday that the prospect of the 32-year-old veteran staying with the Hornets hasn't been completely ruled out.
---
Some numbers of note in the West this week:
6: The Grizzlies are the first team in six years to beat both teams that played in the previous season's NBA Finals within the first seven games of the new season. Memphis already has wins over Miami (at home) and Oklahoma City (on the road) to match what Houston did early in the 2006-07 season with wins over Dallas and Miami.
5: The Clippers' Jamal Crawford has five 20-point games off the bench already.
4: Houston's Omer Asik has four double-doubles after just one double-double in two seasons in Chicago.
1: Al Jefferson was 1-for-25 lifetime on 3-pointers before draining a triple with 2.2 seconds left in the fourth quarter Monday night at Toronto in what eventually would be a 140-133 win for the Jazz in triple overtime.
1: Rewinding to last weekend, New Orleans' Anthony Davis became the first player in league history to register at least 20 points, 10 rebounds and 5 blocks in one game before his 20th birthday with 23 points, 11 rebounds and 5 blocks Nov. 9 against Charlotte.
---
Turns out that James Harden didn't exactly leave Oklahoma City for Houston for a difference of nearly $25 million as originally presumed.
Not yet.
It emerged this week, courtesy of Mark Deeks of ShamSports.com, that the last year of Harden's five-year, $79 million contract with the Rockets is only 50 percent guaranteed. That means Harden, who passed on a four-year offer from the Thunder that topped out at $55 million, is guaranteed to earn $69.7 million from Houston during the next five seasons.
However ...
The distinction is also wrapped in semantics because Harden almost certainly will hit one of the benchmarks specified in the contract to guarantee the rest of his 2017-18 salary and collect the full $79 million. All he has to do is make one All-Star team in a four-season span from 2013-14 through 2016-17 to double his take in Year 5.
There are other incentive clauses in the contract, based on postseason advancement and statistical benchmarks, that also can make Harden's $17.8 million salary in 2017-18 fully guaranteed.
So, yeah, Harden will eventually be getting the full five-year max, even though it doesn't look that way on paper today.
3. Marc's Quote
"The Chicago Bulls are seen as elite team in the NBA this season ... with or without Derrick Rose."
Rose
Kevin Bradley, Sportsbook manager at Bovada.lv, responding to my questions about why the Bulls came into the season rated so highly by oddsmakers in Vegas.
If you like to pay attention to these things as we do -- for recreational purposes only, of course -- you'll undoubtedly have noticed that the Bulls were rated as an upper-echelon team by the experts in Nevada despite the fact that Rose could be sidelined all the way into February after suffering his catastrophic knee injury in last spring's playoffs.
I, for one, initially found it somewhat surprising that Bovada rated the Bulls as the NBA's sixth-best title hopeful at 18-to-1 heading into opening night, behind only the Heat (9-to-4), Lakers (11-to-4), Thunder (9-to-2), Spurs (12-to-1) and Celtics (14-to-1). RJ Bell of Pregame.com, among others, had the Bulls even higher, ranking Chicago as his No. 5 title contender.
What I've come to understand, with time and a little more perspective, is that this is all a very high compliment to the rehabbing D-Rose. It's not that Vegas expects the Bulls -- who've uncharacteristically dropped three of their first six home games -- to post one of the league's top five or six regular-season records. The respect for Rose is such that the sportsbooks presumably don't want to expose themselves with odds that are too long on the Bulls, just in case Chicago gets hot in the 2013 playoffs and makes a deep postseason run once the 2010-11 MVP returns to the lineup.
4. Old And Wise

The Knicks take the NBA's only unblemished record to Memphis on Friday night in a showdown of the league's two hottest teams.
Know what else 6-0 New York has?
Four of the league's six oldest players on their roster.
Surrounding Carmelo Anthony with veteran know-how is certainly working so far for New York. And carrying a deep roster, with Raymond Felton easing Jason Kidd's load compared to everything Kidd was responsible for in Dallas and all the frontcourt vets splitting time next to the ever-energetic Tyson Chandler, appears to be helping keep the Knicks' various thirtysomethings reasonably fresh.
Every win, of course, is punctuated by questions about Amar'e Stoudemire and his willingness to embrace a sixth-man role that, with each passing day, seems to be the only sensible place for the untradeable Stoudemire in a Knicks rotation that hasn't flowed like this since their late-1990s glory days.
If Amar'e does embrace that role, though, he'll clearly have no shortage of playoff-hardened mentors.
NBA's Oldest Active Players
| Name | Team | Years-Days |
| --- | --- | --- |
| Kurt Thomas | Knicks | 40-44 |
| Grant Hill | Clippers | 40-43 |
| Jason Kidd | Knicks | 39-239 |
| Steve Nash | Lakers | 38-284 |
| Marcus Camby | Knicks | 38-242 |
| Rasheed Wallace | Knicks | 38-66 |

Chatter about a Pau Gasol-to-Atlanta trade simply won't go away. It won't go away mostly because my ESPN colleague Bill Simmons, after hearing Magic Johnson suggest it on the set of "NBA Countdown," keeps throwing it out there like he did in this week's "BS Report" podcast with former Suns general manager Steve Kerr.
Only one problem.
Sources say that the Hawks, at present, have no interest in parting with Josh Smith and Kyle Korver even if the Lakers were willing to surrender Gasol. Or Smith and lesser parts for Gasol.
Positions can obviously change between now and the Feb. 21 trade deadline, but sources maintain that Atlanta has not been enticed in the least by the prospect of parting with the 26-year-old Smith -- even as he heads into unrestricted free agency -- for the 32-year-old Gasol. The Hawks, for the record, have also been telling interested teams that they value Smith and what he offers as a hybrid forward in an Eastern Conference that's generally been getting smaller.
It's undeniably true that the Lakers, if they're missing anything to make Mike D'Antoni's offense flow, could use an extra shooter or two to float to the corners. It's likewise true, sources said, that the Lakers have had internal discussions for months about pursuing Smith, not only for his athletic gifts but also knowing that J-Smoove is one of free agent-to-be Dwight Howard's closest friends in the game. But if that's really who L.A. wants, there will have to be another team or two recruited into the deal to satisfy Atlanta's demands.
Also: The Lakers surely want to take a break from big moves for a while if they can. Just since July they've traded for Steve Nash and Dwight Howard, fired Mike Brown after five games and hired D'Antoni after flirting first with Phil Jackson. Trading Gasol would amount to yet another huge change, so this sure feels like the right time time to ride with what you've got at this point apart from scouring the free-agent marketplace for a bargain shooter like, say, Mickael Pietrus. Or, better yet, Raja Bell if Utah ever consents to buy Bell out.
---
Some numbers of note in the East this week:
3: The Knicks' 5-0 start -- stretched to 6-0 with an impressive comeback Thursday night in San Antonio -- was just the third in NBA history in which all five wins came by at least 10 points. That matched the league record shared by the 1957-58 Boston Celtics and 1985-86 Denver Nuggets.
15: When Detroit's Greg Monroe totaled 19 points, 18 boards and six assists in Wednesday's home win over Philly, it made him Detroit's first player to reach those levels in the same game in more than 15 years, dating to Grant Hill's 35 points, 18 rebounds and six assists against Dallas on April 1, 1997.
74: The 74 points posted by Toronto on Tuesday night in Indiana is the lowest total in history for a winning team that also featured a player with a triple-double. Jose Calderon had 13 points, 10 rebounds and 10 assists in a 74-72 victory that, according to the Elias Sports Bureau, also enabled the Raptors to become the first team in the shot-clock era to win despite scoring five points or fewer in the final period.
6: All five of the Celtics' wins this season have come by six points or less. That's a first in team history.
26.8: New York's Carmelo Anthony entered the San Antonio game as the league's top scorer at 26.8 points per game. The last Knick to lead the league in scoring at least five games into the season was Stein Line favorite Bernard King in 1984-85, when Bernard won the scoring title at 32.9 ppg.
---
The word in coaching circles is that Detroit's Lawrence Frank would not have faced any immediate danger even if the Pistons hadn't halted the worst start in franchise history, at 0-8, by finally beating Philadelphia at home Wednesday night.
Although it's the third rough launch in a row for Frank -- who was dismissed in New Jersey in 2010 after an 0-16 nightmare and had to dig out of a 4-20 hole last season in his Detroit debut -- he's said to have the support of his bosses. Especially at a time when A) Greg Monroe is the only Piston who looks like a front-line NBA player and B) Detroit had to open the season with seven of its first nine games on the road.
The reality is that the Pistons are essentially looking at a developmental season for their young players like Monroe and rookie Andre Drummond before coming into some salary-cap space in July. And player development is regarded as one of Frank's strengths.
You have to presume patience, by now, is another one after those three straight stumbles out of the gate.
Long-term prospects for the combatants in Friday night's New York-at-Memphis showdown on ESPN and how Mike D'Antoni's offense will really suit the Lakers are the prime topics of discussion in the latest Weekend Stein edition of TrueHoop TV.
7.

One-On-One ... To Five
Aldridge
Five questions with Blazers forward LaMarcus Aldridge:
Q: What's the general state of things with the new Blazers in the eyes of the old man around here?
A: Exactly.
Q: Obviously I'm kidding ... you're not really that old.
A: I'm not, but to this team I am. It's kind of funny.
Q: And so far?
A: We're lookin' up. We brought in some young talent with Dame (Lillard) and Meyers (Leonard) and (Joel) Freeland. Our future looks bright going forward. (Blazers fans) love young talent that's what we have. We're actually full of young talent.
Q: I know it's early and you're coming back from an injury and you're all adjusting to a new coach, but based on what we've seen so far from (Damian) Lillard, how realistic is to look at Aldridge, Lillard and Nic Batum as a core that the Blazers can build around?
A: I think we have a bunch of guys that can definitely be good together in the next few years. ... Dame, as he gets older and as he learns the game and goes through this season, hopefully our pick-and-roll becomes a definite force for us down the stretch. With Coach (Terry) Stotts here, hopefully he can put myself and Dame in the same kind of pick-and-rolls he did (as an assistant in Dallas) with Dirk (Nowitzki) and JT (Jason Terry).
Q: But how hard is it to be patient now that the Blazers are kind of starting over again?
A: I'm fine. It's early. We're all trying to get better. This is my first time being on a team this young and being the main guy. So I'm working on being that guy. Tryin' to get better every day.
Soccer-loving NBA fans know exactly what it means when you hear soccer folks talking about an "international break."
NBA fans who aren't familiar with the term will start to hear it more and more as we inch toward 2017.
FIBA announced this week that its quadrennial world championship, which starting in 2014 will be known as the FIBA Basketball World Cup, will skip its 2018 turn and move to 2019 to take the event "out of the shadow" of soccer's World Cup. As part of the shift, FIBA says the World Cup field is expanding from 24 teams to a record 32 countries and that seven of the 12 nations in the 2020 Olympics will qualify -- along with the host nation of the 2020 Games -- based on World Cup results.
Read the rest at TrueHoop, ESPN's NBA blog »
9.

Big Changes Coming Abroad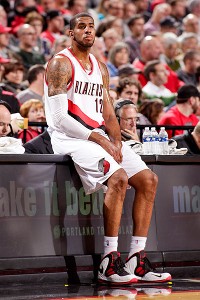 Cameron Browne/Getty Images
LaMarcus Aldridge is being patient in Portland as the Blazers reboot with Damian Lillard. (See Box 7.)
Three quick slams and dunks from the deepest recesses of Weekend Dimedom:
Harden
1. James Harden never imagined that Thunder management, after everything OKC's core group has been through in Harden's first three seasons, would only give him one hour to accept its final offer before trading him to Houston four days before the Halloween deadline for Beardsanity's contract extension. Phil Jackson, meanwhile, never dreamed that the Lakers would give their coaching job to Mike D'Antoni (or anyone else for that matter) on the night before Phil's agent was poised to fly to L.A. to negotiate the finer, final points of Jackson's third stint on L.A.'s bench. So we're wondering over here at Corner 3, knowing these tend to happen in threes, who will be the NBA's next big name to be absolutely floored by getting his bluff called?
2. Name another center in the Eastern Conference better than Cleveland's Anderson Varejao right now. Go ahead. Take your time.
3. As noted earlier this week on Twitter, Phil's name isn't exactly going away even with the Lakers' and Knicks' jobs highly unavailable. You can expect to read about a zillion times between now and the end of the playoffs how he's going to wind up coaching the Clippers someday to take Jerry and Jim Buss head-on for spurning him. Ditto for the notion that Brooklyn's megarubles owner Mikhail Prokhorov will inevitably court the Zen Master in the best Knicks-tweaking move he could possibly muster.