1. Lakers Squeak By In D'Antoni's Debut
By J.A. Adande
ESPN.com
LOS ANGELES -- In Mike D'Antoni's first game on the bench, the Los Angeles Lakers looked a little bit like their new coach as he dragged his surgically repaired knee up and down the sideline. "Peg-legged," to use his own description.
There weren't the offensive fireworks his teams are known for, or that the Lakers themselves produced while scoring a combined 233 points against the Phoenix Suns and Houston Rockets over the weekend. To be fair, there weren't the Suns and Rockets out there either. The Lakers faced a balanced Brooklyn Nets squad that controlled the tempo throughout much of the game and was even willing to foul Dwight Howard away from the ball to bring things to a halt.
The 95-90 final against the Nets wasn't the type of score the Lakers envisioned when they brought in D'Antoni. The victory was, though. Those are pretty much mandatory around these parts. Just ask Mike Brown.
So the ongoing question is whether this coach and offense will win often enough in the regular season and 16 times in the playoffs. Leave it to the Lakers to provide ample evidence and sufficient doubt all at once.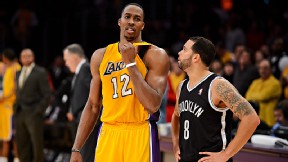 Noah Graham/Getty ImagesThe Lakers got past the Nets Tuesday night despite Dwight Howard's free-throw woes.
The case for D'Antoni? Well, they did win this game. And they prevailed in a game that turned into a defensive battle in the fourth quarter, which produced only 10 field goals in 32 attempts for the two teams.
The Lakers are getting better at protecting the basketball. One of the most-turnover-prone teams in the league, averaging 17 per game coming into Tuesday night, Los Angeles committed only 11 against Brooklyn. The Lakers did that despite the presence of Gerald Wallace, who was jumping into the passing lane for one of his five steals when he wasn't hanging out at the rim, collecting one of his three blocked shots.
"He was a one-man wrecking crew defensively," Kobe Bryant said.
In previous games, "Some of the turnovers were kind of freak -- offensive foul, dribbling off a guy's foot or something like that," Bryant said. "But for the most part we're doing a better job of taking care of the ball, being more in-synch with each other."
The Lakers are functioning better because they don't have to think as much now that they've jettisoned the Princeton offense.
"We know what we're doing out there and that helps," Pau Gasol said. "There's not much hesitation and that contributes to limiting the mistakes. That's the main key.
"Even though it's a new system, we're playing out of pick-and-rolls, pistol actions, pindowns, post-ups. Very familiar, basic stuff that, thanks to our personnel, we get so much out of."
Yeah, it helps to have an All-Star guard dropping a pass to an All-Star power forward, who throws a lob to an All-Star center for a dunk, as the Lakers did in one Bryant-to-Gasol-to-Howard sequence. And imagine when they get their All-Star point guard, the guy who won two MVPs while running this offense in Phoenix.
"A lot of this will change when Steve [Nash] comes back," D'Antoni said of the guard who will remain sidelined for at least the rest of the week while he recuperates from a broken fibula in his left leg.
D'Antoni believes the Lakers will be able to dictate tempo no matter what the opposition does. Well, it didn't happen, not when Deron Williams had 22 points, 10 assists and zero turnovers. D'Antoni believes Metta World Peace will continue to make four 3-pointers in nine or 10 attempts if he's left as open as he was against the Nets. (After one made 3-pointer, World Peace repaid Nets coach Avery Johnson for the defensive strategy by rubbing Johnson's head on the way back downcourt.)
But the larger question is whether Howard will continue to be a 50-50 proposition -- at best -- at the free-throw line? His career free-throw percentage of .586 and his 7-for-19 effort at the line Tuesday suggest so. It bears repeating that this was an element D'Antoni never had to deal with in Phoenix, where the Suns shot 80 percent from the line and even their worst foul shooter among the regulars, Amar'e Stoudemire, made more than 73 percent of his attempts.
The Nets fouled Howard to stop him from scoring inside, and they even fouled him away from the ball to stop the Lakers from getting any offensive rhythm. Howard had just enough one-out-of-two trips to the line to get the Lakers to the finish line. This time.
D'Antoni claimed that if teams want to foul Howard, "That's great. I've got no problem."
Shaquille O'Neal's poor free-throw shooting didn't keep the Lakers from winning three championships with him. But those were teams that were better defensively, not as dependent on simply outscoring their opponents.
Howard smiled and said, "It didn't work tonight. We won." He insisted that he can't let it affect the other aspects of his game. Nothing's wrong with his 23 points, 15 rebounds and 4 blocks in this one. But his free-throw shooting will loom as a major issue for this team.
The Lakers won five out of six on this homestand, although they lost to the best team they played, the San Antonio Spurs. They have yet to prove that they warrant a ranking commensurate with their talent. We don't quite know what to make of them yet.
But at least D'Antoni finally knows what it's like to coach them.
"They are a good group that wants to win," D'Antoni said. "And when you do that, it's very good."
Around these parts, it's demanded.


ESPN senior writer J.A. Adande
• On Twitter @jadande | On ESPN.com | On TrueHoop | On e-mail
• Follow ESPN's NBA coverage on Twitter | On Facebook | On Google+
Dimes past: Nov. 1 | 2-3 | 4 | 5 | 6 | 7 | 8 | 9-10 | 11 | 12 | 13 | 14 | 15 | 16-17 | 18 | 16-17 | 19
2. Around The Association
Most valuable player: Kobe Bryant. While Dwight Howard was following in the footsteps of Shaquille O'Neal with a 7-for-19 outing from the free-throw line, Bryant busted out a baby sky hook like Magic Johnson and iced the game down the stretch.
X factor: Deron Williams cooling off. Williams had a killer first half, but he just couldn't get a jumper to fall in the second half and finished 6-for-18 against the Lakers' swinging doors they call point guards.
That was … Venn diagram basketball: Kobe saved himself for late, so Pau Gasol distributed early (seven assists). Gasol couldn't defend, so Howard backed him up. Howard couldn't finish, so Kobe did it for him. The Lakers' overlapping talents paid dividends.
MVP: Carmelo Anthony. Melo put up 23 points, 5 rebounds and 4 assists in the first half, including 19 points on his first nine shots. During a stretch midway through the first quarter, Anthony got the rock nearly every possession and converted.
Defining moment: On several possessions, the Knicks moved the ball around the perimeter in two seconds and three passes to get open-corner looks for good shooters. Hard to lose to the Anthony Davis-less Hornets when you can do that.
That was … amazing: New York's formidable offense featured immaculate spacing on fast breaks, unselfish passing around the perimeter, dominant post play by Anthony, and Felton and Kidd's preternatural sense for the game.
MVP: Nick Young, a favorite target of the NBA's efficiency obsessives, offered a pointed rejoinder on Tuesday. The one they call "Swaggy P" dropped 23 points on 14 shots -- 10 points in the decisive final period -- hit a trio of 3-pointers and didn't miss a free throw or commit a turnover.
X factor: Kyle Lowry, seeing his first action since Nov. 6, joined forces with Jose Calderon to give the Raptors a formidable one-two punch at the point. Though they disappeared in the fourth when the wheels fell off for Toronto, the pair combined for 26 points, 12 rebounds and 19 assists.
Defining moment: Jason Richardson was well on his way to his best performance as a Sixer until midway through the third period when Kyle Lowry stepped on his head. From there: Richardson left, Toronto went on a 12-0 run, Richardson returned, and Philadelphia went on a 20-6 tear to close it. J-Rich, ultimately diagnosed with a head contusion, finished with 21 points on 14 shots, including six big points down the stretch.
3. Tuesday's Best
Anthony
Carmelo Anthony, Knicks: Melo powered the Knicks' rout of the Hornets with 19 points -- in the first quarter. He finished with 29 points and six rebounds as the Knicks improved to 8-1 for only the third time in franchise history.
4. Tuesday's Worst
Williams
Deron Williams, Nets: Williams finished his night with 22 points and 10 assists, but managed only six points in the second half. The Nets had a chance to tie the Lakers with four seconds remaining, but Williams tossed up an ill-advised 3-pointer under duress, a miss that all but sealed an L.A. win.
6. Tweet Of The Night
Jack Taylor you deserve a shot of Jack Daniels after that performance lol...wow

—Kevin Durant (KDTrey5) November 20, 2012
7. Quote Of The Night
"That's all part of the Swaggy P movement."
-- Sixers guard Nick Young, on his 23 points off the bench in Philadelphia's comeback win over Toronto.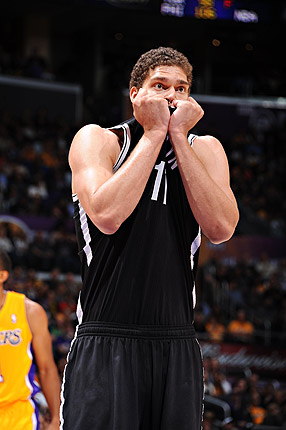 Andrew D. Bernstein/Getty Images
Brook Lopez must not like the look of the Lakers' new offense under Mike D'Antoni.
By Elias Sports Bureau

Howard
The Los Angeles Lakers survived a back-and-forth final period to post a 95-90 victory over the Brooklyn Nets in a game in which Dwight Howard made only 7 of 19 free throws.
It was the fourth game of Howard's NBA career in which he missed at least a dozen foul shots. His career high is 18 misses from the line. The only other players with as many such games are Wilt Chamberlain (45) and Shaquille O'Neal (20).