1. What The Scouts Are Saying

By Marc Stein
ESPN.com
Archive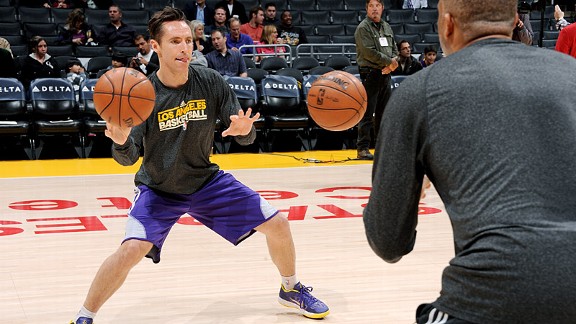 Andrew D. Bernstein/NBAE/Getty ImagesIs a healthy Steve Nash all the Lakers need to balance all the balls up in the air in Los Angeles?
Suspect you know the drill by now.
One lockout-delayed season couldn't have thrown you too far off track, so surely you haven't forgotten what happens at Stein Line HQ when teams start passing the 20-game threshold.
That's when the calls go out to the guys who rack up the most air miles and hotel loyalty points in basketball -- thus winning my full admiration -- to gather insights into some of the league's most pertinent topics from the scouts lining press row for three to four games weekly to chart every play their rivals run.
The following observations come from six scouts, three in each conference, all of whom were granted anonymity so they could speak as candidly as possible:
Eastern Conference scout on Steve Nash's chances of "fixing" the Lakers:
Nash
"I think he can. It's a Peyton Manning situation to me. (Manning is) 36, is still carving up the league and is someone you're always going to put your poker chips on. That's how I feel about Nash. There's some uncertainty there because of (Nash's) health, but if he can give them a good 25 minutes a game, it's going to make a big difference because he gets people into the positions they need to be in.
"They made each other. Nash made (Mike) D'Antoni and D'Antoni's system helped Nash win two MVPs. But schematically they're still going to have issues because D'Antoni's system needs certain pieces to fuel it. He needs a point guard who can run three or four pick-and-rolls in a 24-second clock. He needs a great roller to the basket. And he needs a stretch-4. And that's why everyone is talking about (Pau) Gasol as the odd man out. They obviously have the point guard in Nash, they have the roller in (Dwight) Howard, but Gasol is not a deep shooter.
"Then the issue becomes, 'Do you tweak the system to bend to the talent?' The answer is probably not. That's his baby. I think we saw in New York that D'Antoni is not going to bend the system. When I've watched the Lakers lately, it's almost like they'll run a post play or two (for Gasol) at the beginning to try to get him going, but then it's 'let's go back to what we really want to do.'
"So if you're asking me are the Lakers going to trade Gasol, I think that's where it's headed. He changed that franchise. He put them over the top. He helped them win two championships and from what I've seen he's a special guy. But do I think that's what they have to do? Yeah."
---
Eastern Conference scout on the James Harden-less Thunder:

"They've got two guys that can close games out. (Kevin) Durant and (Russell) Westbrook -- especially Durant -- are getting very confident. You can tell when you watch them that their success from last (season) has carried over. You watch them play and look at the other team and say, 'How many guys do they have that can really close games?' The Thunder still always have the edge, even without Harden.
"Kevin Martin is working out (as Harden's replacement) just like they thought it would. He's not a high-maintenance guy and he's thriving in that No. 3 role. We won't really know until the playoffs if he can draw some (defensive) attention away from Durant and Westbrook like Harden did, but I can understand why the Thunder kept (Serge) Ibaka (instead).
"You talk about Dwight Howard bailing people out defensively, but you can make the case that Ibaka is close to his equal. As good as Harden is, maybe their thinking was, 'There are more available 6-foot-4 scorers out there than there are defensively dynamic and athletic 6-9 power forwards.'
"I see a real close horse race in the West, but if you make me choose one (favorite), I'm going back to the Closer Rule and I have to go with the Thunder right now."
---
Western Conference scout on the Jeremy Lin we see in Houston:
Lin
"He's kind of settling into what he really is. On an average team, he can be a starter. On a good team, he's going to have to be a backup.
"He's still not a great shooter and I don't know if that will ever change. He'll absolutely work at it, but he's got a flawed jump shot that's ingrained in him. And he's still a right-hand dominant player who has a tough time going left and finishing to his left and makes questionable decisions going left.
"My other concern would be (James) Harden. There's no question Harden takes the (burden of the) spotlight off Jeremy, but that means Jeremy has to play off the ball when they're out there together. That's not his strength."
---
Western Conference scout on the new Celtics:

"Have the Knicks and Nets passed them up? I'll buy that. But I don't think they're going to fade away just yet. They were on a track (last season) like they were fading, but they've added ... I don't want to say younger legs but some quicker legs.
"People say there's no fear factor any more with the Celtics, but I'm still a huge (Kevin) Garnett fan. Say what you want about him slowing down and all the huffin' and puffin' he does, but he covers up so many mistakes. All that little stuff he does. If he can stay healthy, they'll be heard from (in the playoffs).
"The little passes to Rondo, the little drop-offs, illegal screens he sets that don't get called for. And then defensively he covers up so many mistakes with his length, his ability to stop guards on pick-and-rolls, zoning up in the middle of the paint. It doesn't surprise me that they drop off (defensively) so much when KG's not out on the floor, because Jeff Green isn't doing those things. Nobody (else) is.
"I don't know if Paul Pierce can do it every night anymore, either, but when I see him I still think every shot is going in. All his misses feel like in-and-outs to me."
---
Eastern Conference scout on the best team in New York:


"As of today, for me personally as an old-school guy, I'm going to have to go with the Nets. I think, in a grind-it-out tough playoff series, Brooklyn has the edge if they're healthy. The only thing you wonder about is their depth at times.
"With the Knicks, they can say anything they want about the defense being better, but they're so dependent on the 3-point shot. They're very talented offensively and they're better defensively than they were under D'Antoni, but you don't fear the Knicks' D. You fear the Knicks' 3-point shooting.
"The Nets, to me, have pieces that make sense. (Deron Williams) is going to get shots and direct the offense, Brook (Lopez) demands a double-team when he's in the post and they have a hierarchy. With the Knicks, you still have some questions because they have so many guys and there's so much publicity in New York. Nobody ever said Carmelo (Anthony) wasn't a good shooter or good scorer, but the (real) issues that haven't come up yet. How's Melo going to play when he and Amar'e (Stoudemire) have to co-exist? We haven't seen that yet."
---
Eastern Conference scout on the West-leading Grizzlies:

"The benefit they have over a lot of the contending teams, except for the Spurs, is that they really haven't changed their roster or their style of play. They've got the two great big guys (Zach Randolph and Marc Gasol), one great individual defender -- I love Tony Allen -- another guy who can score you 30 (Rudy Gay) and a very, very underrated Mike Conley.
"But they really haven't improved their perimeter shooting enough if they want to challenge for a championship. They also still need a point guard who can back up Conley; (Jerryd) Bayless looks for his own shot a lot.
"I think there's something that's not there, if you know what I mean, something intangible that I can't put my finger on (completely). So I guess I'm saying I don't trust them as a title contender. I think they're one of the better teams, one of the top six in the league, but I'm not sold they can go all the way. They're going to be a really good team all year and have a good record, but it just feels to me like something is intrinsically missing."
---
Western Conference scout on his favorite team to watch:

"The Clippers. They're really the powder-keg team of the league. They're athletic. They're so erratic, though. They can cause so much defensive havoc when they want to, but they can be very unpredictable.
"You see Blake Griffin becoming incrementally more of a threat as a shooter. You see DeAndre Jordan trying to show that he has some semblance of a post game. They might have issues with role definement along with the way because they're so deep, but they're probably going to need all those players to get through the season.
"Memphis is the team I like to watch most in person. They play really well together. You know what you're going to get: A traditional team. They've got a true 5 (Gasol). They've got a true 4 (Randolph). They've got a true 3 (Gay). They've got a true 1 (Conley). And then they kind of do (shooting guard) by committee and they defend every night.
"There's something to be said for just letting the paint dry and letting players get better together. That's why I like Memphis. But when I'm at home and I just want to flip on a game, gotta go with the Clippers. Just for the curiosity value.
"And, to be honest, I really like watching Ralph (Lawler) call their games."
---
Western Conference scout on the surprising Charlotte Bobcats:

"I'll tell you one thing -- and I didn't think it would be the case -- Mike Dunlap gets those guys to play their butts off. They're getting taught and they are listening. I don't know if it can last long term, but the stuff he's getting some of those guys to do ... Brendan Haywood wasn't diving on the floor and taking charges when he was on a championship team in Dallas.
"When I saw them in the preseason, I thought they're the same group, same bad players, new gimmicky college coach. I heard all the stuff about guys [complaining] about how long the practices were, but it's like anything. If you start to see a positive outcome, you're less likely to [complain] about it.
"Michael Kidd-Gilchrist is better than I thought. Early on, I thought that just playing hard isn't going to get it done -- I thought his lack of shooting would stand out -- but it really hasn't. Kemba Walker ... if he keeps it simple in pick-and-rolls he's an explosive guard in the league as there is. If you do a bad job in pick-and-roll coverage, he's going to hurt you because he's getting clean looks. And (defensively) it's not a full-out press, press, press like (Rick) Pitino used to do. Their pressing has some validity to it.
"(Offensively) they don't have 50 sets. It's more like they have 10 and they're going to make sure that they run those 10 pretty well, which is half the battle. It's a full fundamental rebuild, but Dunlap is getting them through it."
---
Eastern Conference scout on the surprising Orlando Magic:

"Jacque Vaughn is already a good coach. His guys play hard all the time and he should get a lot of credit. Everyone is surprised because of their roster and their injuries, but this guy is a leader.
"There are some technical things you can question, but that's to be expected because this is the first time he's going through it. He really wasn't even on the front row of the Spurs' bench (before Orlando hired him), but you see a lot of Pop (Gregg Popovich) in him. I haven't seen him rip into players like Pop does, but his presence and calm ... having been with Pop and Jerry Sloan (before that) was great schooling for him.
"Managing players and personnel is No. 1 for a coach today. Xs and Os is No. 2. And he's a leader."
---

Eastern Conference scout on the defending champs' so-so start:
"They are chillin' 'til it matters. Not Erik Spoelstra, but the players are not (intense like) Spo. Ask me about their 'issues' after the All-Star break."
Dimes past: Nov. 20 | 21 | 22 | 23-24 | 25 | 26 | 27 | 28 | 29 | 30-Dec. 1 | 3 | 4 | 5 | 6


ESPN.com senior writer Marc Stein
• On Twitter @ESPNSteinLine | On TrueHoop | On ESPN.com | On email
• Follow ESPN's NBA coverage on Twitter | On Facebook | On Google+
2. Eastern Conference

Is someone finally in the lead when it comes to winning the Dwight Howard trade? We're exaggerating for effect, obviously, but you can suddenly argue that Orlando is the only team of the four involved in August's Howard blockbuster that can claim to feel any sort of satisfaction with its current state of affairs.
The Magic appear to have a gem of a coaching prospect in Jacque Vaughn, center Nikola Vucevic is producing more consistently than he ever did in Philadelphia .... and last Sunday's stirring fourth-quarter mauling of Howard's Lakers should at least keep Central Floridians glowing until Christmas arrives.
With Howard's hellacious free-throw funk contributing to the league's daily drama in Lakerland, Andrew Bynum out who knows who long in Philly with two ailing knees and Andre Iguodala just trying to survive Denver's brutal early schedule while Ty Lawson and JaVale McGee continue to be up and down, Orlando is unexpectedly enjoying the most hospitable winter of them all compared to what's happening with the other trade participants.
Just like none of us know-it-alls predicted.
---
Some numbers of note in the East this week:
2: Two late misses by LeBron James in the fourth quarter of Miami's stunning loss Tuesday night in Washington left him at 3-for-13 over the past three seasons on game-tying or go-ahead field goals with less than 24 seconds remaining in the fourth quarter or overtime. Ray Allen, by contrast, is 3-for-3 in those situations this season.
33: After going without one last season, LeBron is up to 33 lifetime triple-doubles thanks to his 26 points, 13 rebounds and 11 assists against the Wiz. That ranks him second among active players, well behind Jason Kidd's 107 but ahead of Grant Hill (29) and Kobe Bryant (18).
10: Anderson Varejao's streak of games with at least 10 points, 15 rebounds overall and five offensive rebounds is up to 10 games. Since offensive rebounds became an official NBA stat in the 1973-94 season, only one other player has compiled a streak that long: Moses Malone for 12 straight games in 1978-79.
7: When the Jazz edged the visiting Magic on Wednesday night, Orlando shot 1-for-15 from 3-point range while Utah went 1-for-10. It was only the seventh game, since the NBA introduced the 3-point line in 1979, in which both teams attempted at least 10 3s and had a success rate below 10 percent.
6: Charlotte's Ben Gordon passed the 10,000-point plateau this week, giving UConn six former Huskies -- all of whom played under Jim Calhoun -- to crack the five-figure mark in career scoring. They are: Ray Allen, Caron Butler, Rip Hamilton, Donyell Marshall, Clifford Robinson and Gordon. The only other school to send at least six 10,000-point scorers to the NBA over the past 25 years, according to the Elias Sports Bureau, is Arizona.
---
Mickael Pietrus' rest-of-the-season salary after signing with Toronto last week is $1,005,097, although his salary-cap number is a mere $698,589. ... If the Raptors -- or anyone else -- ultimately convince the Lakers to part with Pau Gasol between now and the Feb. 21 trading deadline, don't forget that Gasol's $19 million salary comes with a 15-percent trade kicker. The Raps' Jose Calderon also has a 10-percent trade kicker in his $10.6 million expiring deal.
3. One-On-One ... To Five
We present, in a slightly different format than usual, five thoughts from USA Basketball chairman Jerry Colangelo on national-team matters separate from the latest on Colangelo's search for his next head coach documented in this cyberspace last week:

Colangelo
On the concept of a year-round home for the program:
"We do have some possibilities of (establishing) a campus in Arizona for USA Basketball. I should have more news on that front in mid-January. We'd love to see a major campus (for USAB) where literally all of amateur basketball in this country can flow through it."
On the need for a permanent USAB home:
"I have bigger hopes and aspirations for USA Basketball, more so than just the representation in world competition. We were working on a deal a few years ago, but when the economy fell out, that deal (collapsed). This is a new group (of investors) and a different location (in Arizona), but that is still on my horizon. We're hopeful that, for the next quad (after the 2016 Olympics in Brazil), we'll have a campus with six courts, medical facilities, conference center, hotel ... a real campus.
On the physical demands of the Olympic basketball tournament on Team USA's NBA stars and FIBA's hopes of eventually expanding the field from 12 to 16:
"I'm all for more teams competing in the Olympics, but the tournament is already long. The only two sports that are (contested) for the entirety of the Olympics are basketball and track and field. There has to be a solution to that."
On whether we should expect another full U.S. roster of national-team newcomers for the 2014 FIBA World Cup in Spain -- no matter who the coach is -- like we saw at the 2010 FIBA World Championship in Turkey ... or perhaps a mixture that includes a few returnees from the 2012 Olympic team:
"With the World Cup being in Spain, you know that Spain is going to have everyone plus the kitchen sink playing in the tournament. That's just the way it is. The question is how do we deal with that? That decision has not been made, but I will be having conversations with a number of our key players about everything, not just 2014."
On the next time we see a group of players together in Team USA colors given that the United States is not required to play official games of any kind in 2013:
"We're going to have a camp in Las Vegas in July with our Select Team (that scrimmaged against Team USA in preparation for the London Games) and start working toward 2014. We're gonna work. It's all part of it. We're doing a lot of planning for the future."

There's no disputing that trading Pau Gasol to Toronto for a package headlined by Andrea Bargnani and Jose Calderon, unwilling as the Lakers are to do that sort of deal today, does makes some basketball sense.
Bargnani is a power forward with 3-point range and a longstanding desire to play for former Italian League legend Mike D'Antoni. Calderon's presence would help the Lakers lessen Nash's load when he returns from that fractured fibula and give them a top-shelf backup to replace Steve Blake, with Blake out up to two months after abdominal surgery. Since the Lakers' dream targets are unavailable -- guys like Minnesota's Kevin Love and New Orleans' Ryan Anderson -- Bargnani and Calderon would help address two clear L.A. deficiencies.
It's not that simple, of course.
Is it ever?
Bargnani needs a fresh start after proving for the past six-plus seasons in Toronto that he's not a franchise player. It likewise appears that he'd be a better fit next to Howard than Gasol in D'Antoni's system, which is built to accommodate one primary power player and surround him with shooters as opposed to revolve around two top centers like the Lakers have. The Phoenix Suns, you'll recall, flowed far more smoothly with only one such power source to accommodate (Amar'e Stoudemire) rather than two (Amar'e and Shaquille O'Neal).
But Bargnani's contract extends one year past Gasol's, thanks to a player option worth $11.5 million in 2014-15. Which is no small wrinkle.
This is no small wrinkle. The Lakers have no one under contract beyond the 2013-14 season apart from Nash, leading to the belief in some precincts around the league that the NBA's most glamorous franchise wants to make sure it has the flexibility in the summer of 2014 to pursue LeBron James in free agency after first re-signing Howard this coming July. With Bargnani on the payroll, that fantasy scenario presumably vanishes.
Something else to consider: Bargnani's (unproven) ability to deliver in the spotlight. Perhaps the move to Hollywood, where he could blend in amid all the Kobes, Dwights and Nashes, would be hugely liberating for 2006's No. 1 overall pick and change the course of his career. Yet it's just as feasible that the pressures of Lakerland, where the glare is far brighter than anything Bargnani has ever seen in Canada, would be withering in their own right.
The worst-case scenario for the Lakers would be trading Gasol during the season and discovering in the summer that Howard doesn't want to stay for the long term. But if re-signing Howard is Priority No. 1, L.A. has to do everything it can make him comfortable and, preferably, win the championship in June. And it's getting harder to see what means the Lakers have to address the holes in their roster and chase those objectives without trading Gasol away.
Unless Nash's return, at some point before Christmas, really can make all of the Lakers' offensive flow woes disappear.
---
Some numbers of note in the West this week:
112: Dwight Howard enters the weekend having missed 112 of his 211 free throw attempts this season. Only five other players have attempted as many free throws as Howard has missed this season: Kevin Durant, Kobe Bryant, James Harden, Carmelo Anthony and Paul Pierce.
42: An eye-popping 42 of Howard's 112 missed free throws have come in the fourth quarter. Next in line in fourth-quarter misses is Detroit rookie Andre Drummond with a mere 13.
2: The Mavericks haven't been under .500 this late the season since 1999-2000, which was Dirk Nowitzki's second season in the NBA.
9: The Clippers' Jamal Crawford is up to nine 20-point games off the bench this season. Charlotte's Ramon Sessions is second in the league in that category with five 20-point games.
1.5: The Lakers, entering Tuesday night's collapse in Houston, were a whopping 597-9 in games they led by 10 points or more entering the final eight minutes of the fourth quarter dating to Kobe Bryant's rookie season in 1996-97. According to the Elias Sports Bureau, Houston had a 1.5 percent chance of coming back to win from that stage. That 1.5 percent shot wound up coming in, though, with the Rockets ultimately claiming a 107-105 victory.
---
Name to keep an eye on: Eric Miller.
I keep hearing, with greater frequency from rival execs and agents, that the sharp Miller -- named at the start of the season as the Clippers' new director of basketball administration -- is being groomed for a larger role in the Clips' decision-making hierarchy.
How large? Miller is the son-in-law of Clippers owner Donald Sterling and is increasingly regarded as the likely eventual successor to Sterling, who bought the franchise in 1981 before its fourth of six seasons in San Diego before relocating to Los Angeles in 1984.
In the latest Weekend Stein Edition offering from TrueHoop TV, host Henry Abbott talks with Marc Stein about all things Pau Gasol and the likelihood of the Lakers keeping the Spaniard beyond the Feb. 21 trade deadline.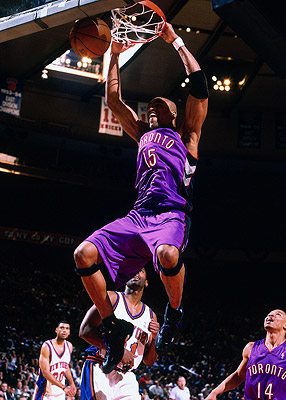 Kyle Terada/US Presswire
Could we see Vince Carter finish his career north of the border? Yeah, about that ... (See Box 10.)
"One thing I think that would surprise most people is that when Rick and I were (Don Nelson's) assistants in Milwaukee, one of his jobs was to work out new players we signed up or to work out players who were not getting enough playing time to keep them ready. Oftentimes, he would have an odd number, such as three or five players, and he would fill in to even up the game for two-on-two or three-on-three. He would start the offense and then go set a 'double screen' all by himself to free another player up and go from there. If they took him for granted and decided to play way off and dare him to shoot, he would make most of them. He rarely lost a game. Seriously. I stopped asking after a while."

Harris
Former Rockets, Bucks and Lakers coach Del Harris sharing a fond memory about Rick Majerus, who spent one season of his long coaching career in the NBA, working as an assistant with Harris to Nelson with his hometown Bucks in 1986-87.
One of Majerus' closest friends in the NBA, along with Nelson and Denver Nuggets coach George Karl, Harris has been telling these tales nonstop for days in the wake of Majerus' death at 64, eager to make sure there's a well-rounded picture of the basketball lifer that goes beyond his well-chronicled passions for the game and, of course, food.
Majerus lost an estimated 165 pounds in hopes of qualifying for a heart transplant, but friends believe that the resulting weakness from such a drop is what ultimately left him unable to fight against heart failure over the weekend, which prompted this touching tribute from ESPN.com's Gene Wojciechowski.
Fact or Fiction: The Spurs are a PR problem for the NBA.

Marc Stein: Fiction. Quite possibly the funniest question I've ever been asked in any 5-on-5. The drama-free Spurs might be a PR challenge in terms of marketing, given how low some of the TV ratings have been when they've made it to the Finals. They might be a PR frustration on some levels because Pop, with that spy background of his, has always tried so hard to keep everything meaningful San Antonio does out of media view. But we're talking about the NBA's model franchise here. Small-market teams, big-market teams -- so many of them want to be like the Spurs. Problem? Imagine that I just said that in Jim Mora's "Playoffs?" voice.
To read the entire 5-on-5 roundtable on the aftermath of David Stern hitting the San Antonio Spurs with a $250,000 fine, click here.
Kobe Bryant's place in history after cracking 30,000 points and the Knicks' long-term prospects after such a promising start are among the prime topics on the table when Marc Stein joins host Marc Kestecher on the NBA on ESPN Radio studio show.
• Listen to the interview

Three quick slams and dunks from the deepest recesses of Weekend Dimedom:

1. I tried. I really did. I wanted so badly to say something smarter about the New Orleans Hornets' proposed adoption of the nickname Pelicans than former Orlando Magic beat man Jerry Brewer's glorious zinger. But Brewer's tweet this week was perfect: "Who the hell thought Pelicans was a good name for an NBA team? It's not even a good name for a pelican." I'm well aware that pelicans are the state bird of Louisiana, but ... c'mon. It has no flow. It has no cachet. It seems safe to assume that this whole New Orleans Pelicans concept stems from the fact that new Hornets owner Tom Benson owns the rights to the nickname Pelicans and thus might have something to gain financially from the switch. The nicest thing you can say about the whole plan is that the Hornets, according to league sources, have continued to beg the Utah Jazz to relinquish the nickname they kept when the New Orleans Jazz relocated to Salt Lake City in 1979. Utah, though, won't budge.
2. My reaction to the photo that emerged this week of Tim Duncan and Tony Parker attempting to look menacing in their costumes at a Halloween party while appearing to threaten a fake Joey Crawford at the same party with serious physical violence? A) Someone with the citizenship record of Duncan, unknowingly snapped at a private party, probably deserves a free pass as much as any player you could name. B) Anyone remember the last time San Antonio was embroiled in two separate NBA scandals -- or something approximating NBA scandals -- in back-to-back weeks? Has to be a Spurs first. Or as Sixers coach Doug Collins memorably said in April: "The only team that doesn't deal with drama in the NBA is the San Antonio Spurs. They're drama-free. Every other team has drama. It just depends what level."
3. One of the underrated storylines last month that had no hope of getting much attention with all the NBA craziness November delivered was the recent disclosure by Vince Carter that he's open to finishing his career in Toronto. I'm rooting for it now and vowing to tune out anyone who tries to tell me that Raps fans, still wounded by the contentious manner of Carter's exit in December 2004, will not accept Vinsanity's return to put a fitting bow on a career that scraped its greatest highs north of the border. Stop it, Canada. No one believes that.