1. LeBron James Stays The Course For Title Shot
MIAMI -- Wearing a fresh 2007 championship T-shirt and cradling the just-presented Larry O'Brien Trophy, Tim Duncan ran into a 21-year-old LeBron James in the hallway after Game 4 of that season's Finals.
Duncan and his San Antonio Spurs teammates had eviscerated James and the Cleveland Cavaliers in that series sweep, handing him by far his most humbling moment to that point in his career. When Duncan saw James he quickly handed the trophy off to a Spurs staffer, the gold passing James like a tease, and hugged the young star.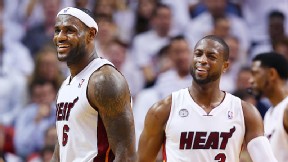 Mike Ehrmann/Getty ImagesLeBron James and Dwyane Wade led the way back to the Finals for Miami.
"I love how you are with your teammates. Stay that way man, stay that way," Duncan whispered into James' ear. "This is going to be your league in a little while. I appreciate you giving us this year."
The league, indeed, now belongs to James and he's stayed that course with his teammates. If he isn't at the peak of his powers then he's certainly close. His ability to control big games and, eventually, to control a series is now unmatched.
It is now James who is handing out the lessons and squelching the upstarts. There is no more someday, and Duncan will now have to deal with his own prophecy in a Finals what will most assuredly play out quite differently.
James did not play one for the ages in the Miami Heat's 99-76 Game 7 victory over the Indiana Pacers Monday. But the way he dominated with bridled force left the impression he could have if he needed to.
He played a game of sustained and regulated greatness, taking a huge stage and commanding it with the aplomb of a Broadway star executing a Shakespeare matinee. He had 32 points, eight rebounds and four assists and took down Pacers star Paul George with a crippling defensive performance that was fittingly akin to what the Spurs did to James six years ago.
George and the Pacers will probably be back and they will be better. But this moment was James giving another reminder of the full bloom of his game. He's now at the point where delivering under pressure feels like him punching a time card.
He still struggles to sleep in the playoffs, insomnia arriving like the change of seasons. He still has to play little tricks on himself to stop from thinking about the pressure, shutting down his phone and avoiding the TV. But the results, well the results continue to put him on the right side of history.
"He's the best player in the world," Pacers coach Frank Vogel said. "Maybe the best defensive player in the world."
After listening to pleas from teammate Dwyane Wade and Chris Bosh to give them more chances despite them wheezing through the last week, James did so. He took just one shot in the game's first eight minutes, letting Wade and Bosh feel the ball and get some confidence. They did their part by responding and they did their part by coming through, especially Wade as he scored 21 points for his best game of the postseason.
Then in the second quarter, James grasped the reins with the Pacers teetering and dropped 12 points and two assists, a blow from which the Pacers never recovered.
"LeBron was like a coach on the floor," Wade said. "To call sets, to put us in situations where he felt like I would succeed early on was pretty good … he understood, as all of us [did], we weren't going to win this game with just LeBron being amazing."
Maybe it wasn't true but watching James execute, it felt like he could've gotten 45 points had it been required. He attacked the Pacers' interior and earned 16 free throws. He led a group rebounding charge that saw the Heat outwork the much bigger Pacers. He had two of the team's 11 steals, which contributed to the Pacers' undercutting 21 turnovers.
If the demands of doing it all in an elimination game bothered James it barely showed. He was in a lighthearted mood from the time he got to the arena, basking in the tempest. It hasn't always been this way, obviously. It took James a long time to get here and he was poked the entire way as he went throw his growing pains in public. But he's surely arrived now, even if it's with a few scars.
"There's a notion that high-caliber players need to step up and play at the highest levels in Game 7s," James said. "I've been blessed to be pretty good in Game 7s in my career."
When James last saw the Spurs in June, he was at the opposite end of this journey. Knowing he didn't have a trustworthy jump shot or tested teammates, the Spurs applied a cruel series of clamps to expose that. About to win their fourth title, they shut him down because they could.
James was more than just upset that he lost, he was embarrassed that he shot 36 percent. He could not make a 17-footer, even if the Spurs left him wide open. Yet it turned into such a transformative moment, convincing him how much he would have to work on his game to reach the level of mastery that Duncan and star teammates Tony Parker and Manu Ginobili had achieved as they savored their primes.
The work James subsequently poured in was so evident in these conference finals. He took over Game 3 by operating out of the post, tossing up left-handed hooks and spin moves honed after work with Hakeem Olajuwon. He took over Game 5 with a series of midrange jumpers, honed after a complete revamping of his jumper over a two-year period with former workout coach Chris Jent. In Game 7, James appeared to get into George's head a little on defense, honed after years of dedicating himself to both ends of the floor.
George, who had a brilliant series on top of a breakout season, managed just seven points and fouled out. Like James back in '07, his potential is staggering. But he wasn't ready for this sort of moment and this sort of challenge. He needs what James needed then.
But school for James is now out. He's put in that work already and paired it with championship failure and championship success that's turned him into the total package that he once promised.
After that embrace with Duncan that night in 2007, James looked out into cameras and gave a sobering statement.
"I definitely need to get better," James said at the time. "I have to be 10 times better."
That was an ambitious goal. And it was apparently aiming too low.
"I'm a much better player," James said Monday, thinking back to the last time he saw the Spurs. "I'm 20, 40, 50 times better than I was in '07."
Dimes past: May 15 | 16 | 18 | 19 | 21 | 22 | 24 | 25 | 26 | 27 | 26 | 28 | 30 | June 1
ESPN Senior Writer
ESPN.com NBA writer since 2010
Covered Cleveland Cavs for seven years
Author of two books
2. Around The Association
| | | | | |
| --- | --- | --- | --- | --- |
| Indiana Pacers | 76 | FINAL | 99 | Miami Heat |
---
MVP: LeBron James. A hat tip goes to Dwyane Wade for rediscovering his bounce offensively, but it was James who had Game 7 in a stranglehold. LeBron erased Paul George entirely, attacked the rim relentlessly, and established his teammates without ever seeming passive. This was dominance.
X factor: Defense. Miami embraced pressure by trapping and swarming all night, flustering Indiana's non-decision makers into brutal mistakes. Indiana ended up with more turnovers than made field goals in the first half, essentially digging a hole that LeBron & Co. wouldn't let them out of.
Well that was ... flipped: Indiana was a nightmare matchup for Miami all series with its length and defense, but Miami flipped the switch and the table around in Game 7 by owning the offensive glass (15) and forcing turnovers (21). To the aggressors go the spoils.
3. Monday's Best
James
LeBron James, Heat:
By getting everybody involved, LeBron delivered a winner. He grabbed 32 points, grabbed eight rebounds and locked down Paul George as the Heat ran away from the Indiana Pacers 99-76 in Game 7 of the East finals.
4. Monday's Worst
George
Paul George, Pacers: After going 11-for-18 in the last two games, George fouled out after being held to single-digits for only the second time in this year's playoffs with a 2-for-7 effort in the Game 7 loss.
7. Quote Of The Night
"He understood, as all of us [did], we weren't going to win this game with just LeBron being amazing."
-- Heat guard Dwyane Wade, on LeBron James using a facilitating approach in Game 7.
8. Great Season Ends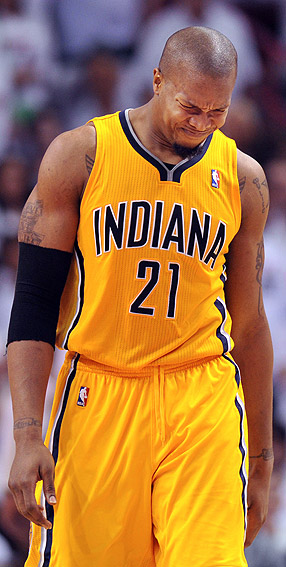 Steve Mitchell-/USA TODAY SportsWhen it became clear the Heat would repeat as East champs, Pacers forward David West showed his frustration in a Game 7 loss.
9. Stat Check
The Heat outrebounded the Pacers 43-36 in Game 7 -- the first time in the series that Miami won the battle of the boards. Even with that advantage in Monday night's game, Indiana outrebounded Miami 298-244 over the seven games. In the NBA's shot-clock era, only two other teams won a playoff series despite being outrebounded by such a large margin. The 76ers defeated the Celtics in the 1982 Eastern Conference finals even though Boston outrebounded Philadelphia 367-297, and the Suns defeated the Clippers in a second-round series in 2006 despite getting outrebounded 335-253.