4. First Look: Shabazz Muhammad

Muhammad
Like a lot of Shabazz Muhammad's box scores, Tuesday's line against the Phoenix Suns featured a conspicuous number of zeroes. Muhammad did not record an assist, steal or block. We've seen little indication in two games in Las Vegas of Muhammad broadening his game beyond scoring. He's struggled with his shot, too, going 6-of-16 in two games. Muhammad does work well away from the ball and shows the ability to catch and shoot coming off screens. He contests shots defensively but must do a better job of locking and trailing to stay close to opponents using the same screens he loves at the other end.
Kevin Pelton is an NBA Insider for ESPN.com.
6. Monday's Best
Goudelock
Andrew Goudelock, Bulls: A crowd-pleasing performance to cap Day 4. Goudelock went 10-for-13 overall and 5-for-6 from 3-point range en route to 31 points in Chicago's 93-81 win over Denver. Could he be a shooter Chicago could use when games get real?
• Vegas Summer League: Schedule/Results
7. Monday's Worst

McLemore
Ben McLemore, Kings: He went 4-of-23 in his debut, then followed it up with a 4-for-12 performance Monday in the loss to the Warriors. He had back-to-back air balls and finished 1-for-7 from 3-point range.
8. Watching And Waiting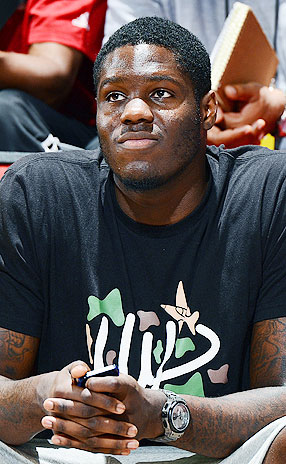 Garrett W. Ellwood/NBAE/Getty ImagesAnthony Bennett, the No. 1 pick of the Cavs, watches his team take on the Pelicans on the floor on which he starred at UNLV. Bennett is still recovering from shoulder surgery in May.
9. Tweet Of The Night
I love Summer League because players wear jerseys of cities they might never even visit.

— Ethan Sherwood Strauss (@SherwoodStrauss) July 15, 2013
10. Quote Of The Night
"The thing was y'all know I like to be adventurous. I have no filter and I have no filter in my creativity. Very bold. I changed my name. So the thing with the Arena Football League was really appealing to me. That was something I mentioned to everybody. And I'm pushing kids to play multiple sports, like Bo Jackson did back in the days."
--Metta World Peace, being his irrepressible self during his first news conference as a Knick