1. Vegas Roundtable: Midway Highs And Lows
LAS VEGAS -- The Las Vegas Summer League has officially crept past the halfway point, as teams transitioned to tournament play Wednesday. Which players have made their marks thus far? We ask five media members in Sin City.
1. Who's the MVP of Las Vegas Summer League thus far?
Kevin Arnovitz, ESPN.com: Jonas Valanciunas. While Andrew Goudelock has been lights-out, I'll opt for the Raps' big man, who arrived in Vegas bulked up and on the attack down low. He's been unstoppable from the left block and has deked more unsuspecting defenders with his shot fake and blow-by. He's also found his way to the line, where he's 24-for-27 in three games.
Las Vegas Summer League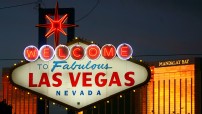 • Summer Report Cards, Day 6
• Summer Report Cards, Day 5
• Summer Report Cards, Day 4
• Summer Report Cards, Day 3
• Summer Report Cards, Day 2
• Summer Report Cards, Day 1
• Summer league schedule | Rosters
• Vegas primers: East | West
• Summer League Index: All the action
Danny Chau, Hardwood Paroxysm: Valanciunas. In Lithuania, he resembled a praying mantis on caffeine, a spindly player who got by with aggression and pure effort. It's impossible to ignore how much his physique has improved. He's looked and played the part of a physically imposing player in the NBA. It shouldn't come as a surprise that he's dominated the competition in Las Vegas.
Bradford Doolittle, ESPN Insider: Andrew Goudelock leads the event in scoring, shooting 56 percent from the floor, and the Bulls have gone 3-0. It seems lame to give the MVP to the high scorer, but no one else really stands out. Kent Bazemore is a consideration, with solid numbers and two eye-popping defensive showings against high-profile rookies in Ben McLemore and Otto Porter.
D.J. Foster, ClipperBlog: I'm always skeptical when a player supposedly gains "10 pounds of muscle," but Jonas Valanciunas definitely looks bigger and much stronger. His post game has been a nice vehicle for the added size, and you won't find a better screen-and-roll man in Las Vegas.
Ethan Sherwood Strauss, ESPN Insider: Valanciunas showed up with increased bulk and a violent playing style. The once-skinny big man now uses his shoulders to bludgeon, and he seems to have retained, if not enhanced, his quickness. The combination has been too much for these summer league rosters. Look for him to make a run at Most Improved in 2014.
---
2. Who's been the biggest disappointment of summer league thus far?
Arnovitz: Shabazz Muhammad. It's tempting to go with McLemore and his dreadful shooting from the field, but he's been successful finding shots, which is more important than percentage at summer league. Muhammad, in contrast, has been invisible. It's hard to identify anything on the floor he does reasonably well.
Chau: Otto Porter. Fair or not, certain things are expected of the third overall pick in an NBA draft -- like playing, for instance. Porter has been limited to seven minutes the past two games because of a hamstring injury, but he shot a dismal 7-for-26 from the field in the Wizards' first two games. It's too early to sound the alarm, but "disappointing" is definitely the descriptor here.
Doolittle: I'll give a pass to the 2013 lottery picks who have struggled -- McLemore, Otto Porter and Shabazz Muhammad. I'll go with Michael Kidd-Gilchrist. The second season of a player's career is the one when he's most likely to take a big step forward, especially for someone as young as the 19-year-old Kidd-Gilchrist. He doesn't look improved, with a still-ugly jumper. Worse, he's been very passive.
Foster: Ben McLemore. Defenders can smell the blood in the water. McLemore is dribbling with his head down and looks out of control on his drives, and his inability to find open teammates has been troubling. Kent Bazemore's shutting a guy down is nothing new, but Othyus Jeffers probably shouldn't be doing the same thing. The shots should start to fall, but there's cause for concern elsewhere.
Strauss: Otto Porter has looked terrible before bowing out with a hamstring injury. The problem where he's not elite at any one skill is, well, a problem. In fairness to the Wizards rookie, Evan Fournier was grabbing hold of his jersey throughout one of the games.
---
3. Who's been the most pleasant surprise of summer league thus far?
Arnovitz: League folks on site in Las Vegas have been impressed with Ray McCallum, the Kings' second-round pick who has been running the show for the first team. McCallum has been showing strong instincts at the point, challenging defenses with selective attacks and getting to the line at will. The Kings have a ton of bodies in the backcourt -- all of them flawed -- but the consensus is that McCallum is making a strong case to stick around.
Chau: Goudelock's being able to score in bunches isn't exactly a surprise, but I'll credit him for taking and making the most incredible shot of the summer league so far: a one-legged, off-balance 3-pointer to beat the shot clock against the Portland Trail Blazers on Tuesday night.
Doolittle: He's going into his third season, so you would expect Jan Vesely to have an edge on most summer leaguers, but he looks like he's starting to figure out how to translate his athleticism into production. He's been efficient on offense and has done a little bit of everything on defense. Frankly, I'd written the guy off. Maybe there's hope after all.
Foster: Stefhon Hannah. The D-League's two-time Defensive Player of the Year has been harassing point guards as well as anyone not named Dennis Schroeder, and his aggressiveness offensively and creative scoring have made him look plenty capable of performing as a change-of-pace point guard in the league. Not bad for a guy who was on no one's mind coming in.
Strauss: Dare I say Jan Vesely? He might have been the worst player in the NBA last season, but Vesely has certainly showed out this summer. The bouncy Wizards forward has looked more active than erratic and more decisive than confused.
Kevin Arnovitz covers the NBA for ESPN.com. Bradford Doolittle and Ethan Sherwood Strauss write for ESPN Insider. Danny Chau and D.J. Foster are part of the TrueHoop Network.
2. Reggie Bullock Has Good Feel For Game
By
D.J. Foster
| TrueHoop Network

Bullock
LAS VEGAS -- Rattle off the traits of your typical prospect and you'll hear all the usual buzzwords: Wingspan. Vertical. Length.
Those things matter, but rarely do you hear "self-awareness" uttered in the same breath. For Los Angeles Clippers rookie Reggie Bullock, however, that might be his best and most important attribute.
When you watch Bullock play, you get the sense that he knows exactly what he is capable of and what he isn't. Reaching that point takes some players years, and for other guys, it never happens at all.
Bullock might already be there. For as impressive as his shooting stroke and ability to curl around screens like a 10-year veteran is, it's the stuff Bullock doesn't do that should have the Clippers excited. When the driving lane is closed or his defender manages not to get manipulated into a screen, nothing is forced. The ball simply moves on to the next man.
The term "role player" often comes with a negative connotation. It seems to imply that a player can't reach his potential and that he'll have to settle for less because he's not good enough.
But teams with championship aspirations don't need good role players -- they need great ones. With Doc Rivers, Chris Paul and Blake Griffin in tow, the Clippers are one of those teams, and Bullock has showed the signs of being one of those players.
While other rookies have struggled to acclimate to their temporary surroundings, Bullock looks every bit as advertised. That's what happens when you know who you are.
D.J. Foster writes for the TrueHoop Network. Follow him @fosterdj
3. Dennis Schroeder A Refreshing Summer Find
By
Danny Nowell
| TrueHoop Network

Schroeder
LAS VEGAS -- There is a certain player type that tends to make waves at summer league. Let's put it plainly: gunners.
Whether fringe veterans relishing the opportunity to let fly at will or young lottery picks showcasing their ability to light it up, players who have the ball in their hands the most tend to garner the most highlights in Vegas. All of which makes Atlanta's Dennis Schroeder something of a surprise.
Most viewers wouldn't begrudge a 19-year-old first-round point guard his green light; the willingness to miss shots a player might be counted on to hit during the season can be a developmental positive. But if Schroeder has the go-ahead, he's choosing instead to showcase his prudence and ability to control a game on relatively few shots.
On Wednesday, the German guard was the best player on the floor during the Hawks' overtime loss to the Blazers, but he shot 4-for-11 from the field. It's the way he pins defenders to his hips, the way he pulls fellow rookie Lucas Nogueira by the waistband during timeouts and his insistence on setting up his teammates that set Schroeder apart. Where others see a need to prove they belong as scorers, Schroeder is building his reputation by filling in the gaps.
Don't let the steals-and-assists-heavy stat lines fool you, though. While Schroeder might not seek to punish the rim out of every pick-and-roll, he possesses jets and a handle that will make him a tough cover for years. On the final play of regulation Wednesday, Schroeder juked C.J. McCollum so viciously that the audience stood and gasped as Schroeder threaded a pass to a wide-open John Jenkins. Jenkins missed the shot, but the point was made: He might not look like what you would expect, but Dennis Schroeder does not blend into a crowd.
Danny Nowell writes for the TrueHoop Network. Follow him @dmnowell
4. First Look: Lucas Nogueira

Nogueira
The second thing you notice about Lucas Nogueira, after his hair, is his long arms. Nogueira's 7-foot-6 wingspan is the centerpiece for nearly everything positive he does. Because he's so long, Nogueira can simply reach over opposing players to secure offensive rebounds and putbacks. Defensively, his arms give him immense shot-blocking potential, though he still must determine when to challenge shots and when to hang back and box out. His aggressiveness is a big reason Nogueira struggles on the defensive glass. He's also gotten pushed around at times in Vegas and will have to add strength to compete against NBA opponents, which is to be expected from a player who doesn't turn 21 until next week.
Kevin Pelton is an NBA Insider for ESPN.com.
6. Wednesday's Best
Akognon
Josh Akognon, Mavs: Goes for 24 points in less than 25 minutes on the court, helping the Mavs to an 95-89 win over the Clippers. He sank 4 of 7 3-pointers and all eight free throws. Quite efficient.
• Las Vegas Summer League: Schedule/Results
7. Wednesday's Worst
The Sacramento Kings: It takes some work to lose a summer league game by 38 points, but the Kings managed a 92-54 thrashing at the hands of the Wolves. The winless Kings shot 29.9 percent. If not for Will Clyburn dropping an efficient 15 points, the beating could have reached the half-century mark.
8. Baltic Buildup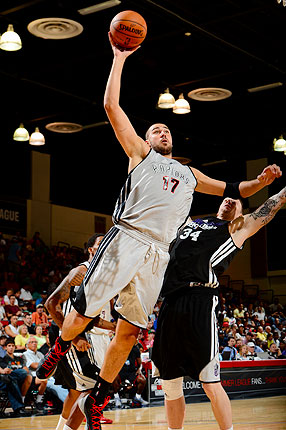 Garrett W. Ellwood/NBAE/Getty ImagesToronto big man Jonas Valanciunas of Lithuania has shown off his improved game and strength in the Las Vegas Summer League.
9. Tweet Of The Night
Maybe there is someone in Las Vegas who has not yet fallen in love with Dennis Schroder's game. I have yet to meet them.

— Kevin Pelton (@kpelton) July 17, 2013
10. Quote Of The Night
"I think we've put ourselves in a spot where we're in a better spot than we were at if we got just the one max-out deal. I think it'd be better shorter and longer-term. I don't want to make that sound the wrong way. I think we'll be better this year because we added five good players or more."
-- Mark Cuban, telling ESPN Dallas at the Las Vegas Summer League about the upside of not getting Dwight Howard