1. Here's How To Spice Up Summer League
LAS VEGAS -- If the NBA is going to do summer league, they should actually do summer league. That would mean no Carrick Felix, Jermaine Taylor, Matthew Dellavedova, Josh Heytvelt and Justin Harper in the starting lineup for Cleveland. The Cavs are packing it in early, but such a weak lineup isn't indicative of tanking; it's indicative of apathy. And apathy, in all arenas, should be resisted.
These games in Las Vegas are sold as entertainment, broadcast on NBA TV and mined for highlights. But since the games don't count for anything, it's difficult to compel teams toward making the games compelling. So the challenge is to keep fans invested while allowing teams opportunities to develop and assess these players on the fringes. The following suggestions are meant to thread that needle, while maintaining Las Vegas summer league's goofy mix of part competition, part learning experience, part schmooze-fest and part basketball lab.
A soccer-style tournament
The points system used in Orlando's summer league was a start. Competing teams should be awarded points based on whether they win (plus-3) or tie (plus-1), with no points going to losers. This keeps squads invested in their relative status for longer. The elimination tournament in Las Vegas tells a large contingent of teams "time to go home" at the beginning. Not only does this depress interest among observers of those teams, but it signals "vacation" to the teams still in it. Sure, the fringe players will still go hard, but exciting young ones like Jonas Valanciunas are more inclined to rest.
A speedier tournament
Ten days might qualify as the shortest of all NBA contracts, but it's way too long for a stay in Vegas -- and two teams will be staying 11 days this year. There's a reason your average Las Vegas visitor opts to stay for just a weekend. Between the 100-plus-degree weather, late-night festivities and omnipresent slot machine noise, it's difficult for anyone to sustain focus out there. Not every player is Ricky Davis. Have the exhibition start on a Tuesday and build until a Sunday climax.
Las Vegas Summer League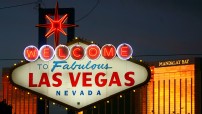 • TrueHoop: Final word on top rookies
• Summer Report Cards, Day 9
• Summer Report Cards, Day 8
• Summer Report Cards, Day 7
• Summer Report Cards, Day 6
• Summer Report Cards, Day 5
• Summer Report Cards, Day 4
• Summer Report Cards, Day 3
• Summer Report Cards, Day 2
• Summer Report Cards, Day 1
• Summer league schedule | Rosters
• Vegas primers: East | West
• Summer League Index: All the action
Smaller rosters
No, the 12th man on a summer league roster will not make an NBA squad. If that's the case, then what's the point of carrying that player? Just because the NBA drags extra bodies along for an extended season doesn't mean we need them for the sports equivalent of a Vegas shotgun wedding.
A do-over play
Perhaps both teams should be afforded a mulligan to be used in the final minute of each half. Regardless of what happens on an offensive or defensive possession, a coach gets to deploy a flag, much like the one football coaches use to challenge plays. Not only does the do-over help teams practice key sequences, but it differentiates summer league from what you'd see in an NBA setting.
The four-point play
The idea isn't to make summer league farcical; it's to see who can really shoot from range. An ability to demand a closeout from 27 feet is no small feat. Not only could the 4-pointer improve sluggish summer league offense, but it could help us uncover the next Gary Neal.
Legalize offensive goaltending
The NBA has experimented with a FIBA-style rule in the D-League already, so why not take it to the summer league setting? Again, summer league offense needs a boost.
Coach of July award
Las Vegas basketball presents an opportunity for sidekicks to try their hand at the big job. Increasing the prestige of the understudy could result in more buy-in at this event.
Trades are allowed
Why not encourage an exchange between two consenting franchises? The turnover could add to fan interest. It could also allow teams to test out certain schemes and systems with the right personnel.
Rookies vs. vets game
Summer league rookies have a disproportionate share of the talent. When a high lottery pick shows out in his rookie year, he rarely returns to the Vegas games. What they lack, of course, is experience. It's quite conceivable that a team of guys like Chris Johnson and Coby Karl could beat the next Anthony Davis or John Wall. Even if the veterans can't pull it off, I'd love to see them try.
• Vegas Dimes Past: July 12 | 13 | 14 | 15 | 16 | 17 | 18 | 19
Ethan Sherwood Strauss writes about the NBA for TrueHoop and ESPN Insider. Follow him @SherwoodStrauss .
2. Thorpe's Thoughts On Summer League
ESPN.com's head coach, David Thorpe, gives his take on summer league action.
• As we discussed in a TrueHoop TV episode, NBA defenses are easier to install than offenses, and as a result, the scoring in these games is often painful to watch. Teams are too slow to get into their ball-screen actions, thus enabling defenses to only have to help and recover/rotate once or twice before the shot clock forces a shot. So the clock becomes the ninth defender on the court, as defenses are trying to force ball handlers to the side or the baseline. Five-on-nine (five defenders, two sidelines, one baseline, and the clock) basketball produces the kinds of horrible shooting games we've seen.
• Teams that spent more time practicing looked sharper than teams that didn't. And Miami's experience in Orlando gave it a huge advantage this week.
• Washington's Sam Cassell impressed me as a coach, giving great advice possession after possession ("no middle!!") and developing rapport with his players.
• I've always thought Toronto's Quincy Acy had a place in this league, if he ever learned to shoot the ball. His 28-point performance Saturday suggests he's on his way.
• I think it would be great to open up some of the practices and scrimmages that these teams conduct on off days to the fans. It would help fans see behind the curtain, something that will help them understand the game better down the road.
• Someone needs to explain to me how Archie Goodwin of Phoenix dropped so far in the draft. How can someone that young, that quick, that long, and that energetic fall that far? GMs will have some explaining to do, as will lots of scouts.
• Maybe someone can also explain to me why teams continue to trot out rostered players or other veterans who have played in three, four or five summer leagues. What did the Pelicans learn from playing the 27-year-old Brian Roberts? Or better yet, what did he learn? Better to give new players the opportunity.
David Thorpe writes for ESPN Insider. Follow him @coachthorpe.
ESPN Staff Writer
NBA Analyst for ESPN.com
Executive director of Pro Training Center
Started coaching career in 1987
3. Kent Bazemore's Ready For Action
Bazemore
LAS VEGAS -- Kent Bazemore, Golden State's gangly second-year guard, is trying to go from standing out to fitting in.
Bazemore's outlandish sideline celebrations made him a cult celebrity last season. Rarely are fans introduced to a player's style before getting introduced to his style of play, but Bazemore's off-court moves were elite, liable to trump an announcer's call in hyping a Stephen Curry 3-pointer.
The bench can be a frustrating, even depressing purgatory, but the kid's telegenic smile conveyed no misery or anxiety -- only charisma. This Warrior is a "Happy Warrior," a man impervious to the dread and drudgery of the NBA fringe. Even though he didn't fit into a rotation role last season, Bazemore is optimistic that his distinctive frame and manner can mesh with what Golden State needs.
Not getting drafted in 2012 coming out of Old Dominion was a blessing, because "I ended up on the Warriors." Not playing as a rookie was even better, because he got to watch and learn first. Otherwise, as he puts it, "I might have played myself out of the league."
The Warriors designated him as a small forward before his rookie season. Right now, he's handling point guard duties for Golden State's summer league squad, running high pick-and-rolls like a Stephen Curry understudy. In between then and now, there's been a lot of time on the bench, a lot of time to think. At the moment, as he drapes his arms nearly all the way across a perforated table at Starbucks in the Mandalay Bay Shoppes, Bazemore muses on the downside of his own freakish wingspan. He could carve a Greek amphitheater when making a snow angel, but such reach isn't so helpful for making a jumper.
4. Second Look: Jonas Valanciunas

Valanciunas
Jonas Valanciunas would have stood out as a breakout candidate had he simply shown up in Vegas and taken off his shirt. Valanciunas was considered the rare physical European big man before joining the Raptors, but his frame looked less impressive next to more mature NBA bigs than it did overseas. Since the 2012-13 season ended, Valanciunas has added bulk, muscle and confidence. He was a man among wanna-be-men in Vegas, showing a high motor, willingness to bang and animation on the court. The skill part of his game is coming along nicely, as evidenced by a 29-for-33 showing from the foul line, and the 8-plus free throw attempts per game was more than double his NBA rate last season. Translating this aggression to the regular season is next on the developmental to-do list for an emerging center.
Bradford Doolittle is an NBA Insider for ESPN.com.
6. Saturday's Best
The Phoenix Suns: Good to see the 6-0 Suns getting in some wins while they can. The Morris twins (Markieff and Marcus) are playing like the kids who are two grades older than everyone else. The youngest pup in Vegas, Archie Goodwin, didn't miss a shot from the field en route to 20 points.
7. Saturday's Worst
Broken-hearted D-League Select team fans: The best of the minors came into their game with the Bobcats on an undefeated roll. But the D-League's Dozen fell to Charlotte 85-75 in the quarterfinals, leaving Stefhon Hannah & Co. without a chance to claim the Vegas throne. Wait 'til next year, D-League diehards.
8. Beard Appears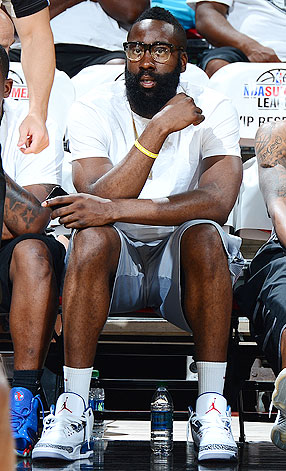 Garrett W. Ellwood/NBAE via Getty ImagesWith his team's fortunes rising, Rockets guard James Harden checks out the summer league action, taking in some Suns-Raptors.
9. Tweet Of The Night
NYC wow!!! It's just sinking in!!!! Am I really a knick??? Or was I dreaming???

— Metta World Peace (@MettaWorldPeace) July 20, 2013
10. Quote Of The Night
"I might have played myself out of the league."
-- Kent Bazemore, the Golden State Warriors swingman who touts the benefits of watching and learning as a rookie instead of playing extended minutes.