1. Clippers Know The Score, As Do Their Foes
LOS ANGELES -- It's not unusual in an NBA game for a scorer to get so hot that his coach and teammates back away and give him the green light to shoot, no questions asked. The 2013-14 season isn't a week old, but we've already witnessed Kevin Durant, Stephen Curry and Klay Thompson get carte blanche.
There are less frequent occasions when an entire unit claims full license, when an offense is humming so effortlessly that quality shot attempts seem to materialize out of thin air.
Then there are those rare instances when this condition coincides for both teams. All resistance is futile and there's absolutely no friction on the floor. NBA basketball becomes a runaway current, and there's nothing either defense can do to slow the flow.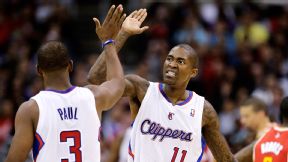 AP Photo/Jae C. HongChris Paul and Jamal Crawford had plenty of points for celebration in the win over Houston.
That's what went down at Staples Center in the first half of the Los Angeles Clippers' 137-118 win over the Houston Rockets on Monday night.
"We were making everything," Clippers coach Doc Rivers said. "A lot of things went right."
When the halftime horn blew, the Clippers' top-ranked offense had dropped 78 points on 56 possessions and each team had logged a 40-point quarter. Chris Paul, J.J. Redick and Blake Griffin got whatever they wanted -- no surprise -- but so did Omri Casspi, Chandler Parsons and Greg Smith.
It was a night when Lawler's Law was merely an injunction, as the Clippers crossed the 100 mark with 1:21 to go in the third quarter. By midway through the fourth quarter, Rockets coach Kevin McHale had that fatalistic look of defeat (a face nobody wore better than McHale's fellow Golden Gopher, the late Bill Musselman).
For the Clippers, this world of red, white and blue basketballs cuts two ways. On the offensive side of the ledger, things couldn't be better. Four games in, the Clippers are averaging a gaudy 116.6 points per 100 possessions. For a frame of reference, Houston ranks second at 109.9 -- a full 6.7 points per 100 possessions behind the Clips.
"I think we can score," Rivers said. "The floor is spaced, and when you have athletes like Blake [Griffin] and [DeAndre Jordan] rolling after they set picks, that creates an action unto itself."
Thats a good approximation of what the Clippers are doing on the floor. The high scores might suggest a full-on, open-court improv show -- and they rank fifth in pace factor -- but the Clippers are finding a slew of open looks within the framework of their set offense.
The Clippers will come down the floor and run through their "floppy action" -- Redick and Jared Dudley fanning out to opposite sides of the perimeter courtesy of screens from Griffin and Jordan. From there, it looks not unlike some of the schemes from the halcyon days of Rivers' Celtics teams. The Clippers run lots of inversions, with the ball swinging to the weak side out of the primary pick-and-roll. We see slice cuts by Redick, 3-man actions that work to get Griffin a touch down low and all kinds of second side action.
And its working like gangbusters.
"They've got a really potent offense," Rockets forward Chandler Parsons said. "They can hurt you inside. They can hurt you outside. And it's tough to stop both, especially when they're making shots like that."
Redick led all scorers with 26 points on 8-of-15 shooting from the floor and 8-for-8 from the stripe. Griffin shot efficiently -- 18 points on 8-for-13 shooting from the field. Paul kept the wheels greased, dishing out 17 assists to accompany 23 points. He's been the league's best player seven days into the season.
Per usual, Paul refused to bask in a statistical achievement. Asked to comment on the Clippers' 78 first-half points -- a record for the team since arriving in Los Angeles -- Paul demurred.
"We gave up 66," he said.
This is the rub for the Clippers, who pair their high-octane offense with the league's most porous defense. They're hemorrhaging points to the opposition, and things didn't get any better on Monday.
"It's something our team talks about all day long," Paul said. "In an 82-game season, we're not going to make shots and score like this every night."
The Clippers readily admit they've got a long way to go defensively. A familiar talking point on Monday both before and after the game was the notion that while much of the damage is being exacted in transition, on their opponents' offensive glass and on live ball turnovers, the Clippers are a decent team when they can get their defense set.
Don't buy it, at least not yet. According to Synergy Sports, the Clippers rank 29th in the league in half-court defense (only Washington is worse), and there's clearly more to do than just clean up the peripherals. Big-to-big rotations are still a work in progress, and the second unit is struggling to contain penetration.
After the game, Rivers said something interesting after being asked to appraise how Jordan performed on Dwight Howard during Howard's limited time on the floor.
"We told [Jordan] before the game, 'Youre on an island,'" Rivers said.
Rivers conceded that playing Howard straight up without defensive help might not have been his preferred strategy had the stakes been greater, but the early portion of a season often serves as an extended clinic. Single coverage down low strengthens the principles of a team's base defense -- even if it takes a few lumps on a single night in November.
Asked to cite other examples of tactics he'd employed while giving up 118 points to Houston, he quickly pointed to the team's approach to James Harden, who finished with 15 points in 33 minutes. The Clippers opted to deny Harden in elbow pick-and-roll calls, realizing that a few rollers would squirt through the defense and hurt them. Again, not necessarily a plan the Clippers would pursue in Game 1 of a playoff series, but something Rivers wanted to toy with Monday.
The rollers hurt the Clippers, particularly in the first half, and at a certain point, Clippers assistant Tyronn Lue wanted to switch up the coverage. But Rivers chose to stick with it, even though his team was absorbing blows.
For now on the defensive end, the Clippers will settle for process over results. Viewers take note!
Dimes past: October 29 | 30 | 31 | November 3
ESPN Staff Writer
NBA writer for ESPN.com since 2008
Former contributor and editor at NPR
2. Around The Association
3.Monday's Best
Iguodala
Andre Iguodala, Warriors:
Greeted with boos by the Philly faithful, he departed while leaving jaws dropped. Iggy made a career-high seven 3-pointers and scored 32 points during a 110-90 rout of the Cinderella 76ers. Boo the guy traded for a center who ended up never playing a minute?
4. Monday's Worst
The Boston Celtics: Off to an 0-4 start, things are going poorly in the winning department, but great on the Tankapalooza floor. The C's squandered a six-point lead with nine minutes to play, hinting at a growing ability to snatch defeat from the jaws of victory. Winless Utah comes to Boston next.
7. Quote Of The Night
"It's very tough to keep doing it each and every night. Tonight, it actually caught up with us."
-- Thaddeus Young, the veteran Sixers forward who was held to six points in the loss to Golden State.
8. Return Of Other AI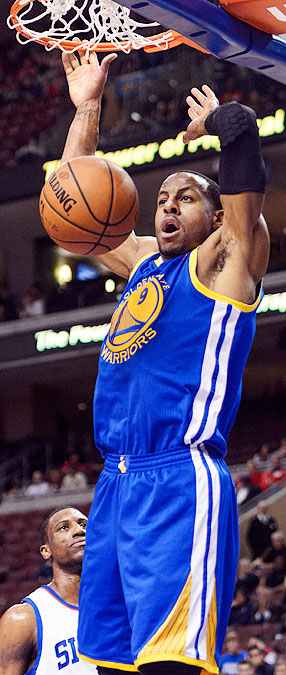 Howard Smith/USA TODAY SportsWarriors guard Andre Iguodala returned to Philadelphia and dropped in 32 points in 33 minutes of action of a 110-90 win. Last week, Allen Iverson came to Philly to officially retire.
9. Stat Check
Curry
Stephen Curry had a triple-double (18 points, 12 assists, 10 rebounds) and five steals in the Warriors win in Philadelphia on Monday -- all while playing only 29 minutes. Curry is the second player to have a triple-double and five steals while playing less than a half-hour since the NBA began tracking steals in the early 1970s. The other player to do that was Denvers Fat Lever, who had two such games, both in November 1987.