1. A Night Full Of Woe For The New York Knicks
By
Jim Cavan
| TrueHoop Network
There are few for whom the storied hardwood of Madison Square Garden has served as a more incendiary stage than Kemba Walker -- UConn hero, Bronx native, bona fide Big East legend.
He just never thought he'd be playing the role of World's Greatest Villain.
Buoyed by Walker's 25 points, six assists, and five rebounds, the Bobcats outlasted the Knicks -- and overcame their own late-game snafus -- to eke out a 102-97 win Tuesday night, bringing Charlotte's record to 2-2 and sending Knick Knation into full-blown early-season panic.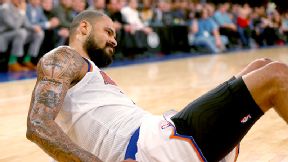 Elsa/Getty ImagesThe Knicks lost Tyson Chandler, their defensive anchor, during the loss to Charlotte.
After buying the game's first bucket -- a baseline jumper by Carmelo Anthony that found a friendly rim soon to disappear -- the Knicks would play catch-up the rest of the night, pulling to within a basket multiple times but never so much as knotting the score through the final 47 minutes.
For New York, the third loss in a row and second straight at home was frightening enough. But it pales in comparison to the blow the Bockers were dealt late in the first quarter, when a freak collision between a stumbling Walker and the rotating Tyson Chandler sent the Knick linchpin limping to the locker room.
Initial reports from New York's medical staff stated Chandler suffered a right leg injury. And while the resulting X-rays were deemed inconclusive, Chandler's belabored limp suggests the potential for sour news later Wednesday, when the veteran center will undergo further evaluation.
Absent their interior anchor and leading rebounder, the Knicks failed to keep the Bobcats off the glass, surrendering 16 offensive rebounds and a slew of second-chance points, many of them in the midst of would-be Knick runs. While no Charlotte player finished with double-digit rebounds, seven Bobcats registered at least five boards, with nine grabbing at least one on the offensive end.
Meanwhile, the Knick offense -- a paltry 23rd in efficiency through four games, and producer of 100 points only once -- continued to sputter and stagnate. Without Chandler's pick-and-roll presence, New York turned to the struggling Anthony, who finished with 32 points on 28 shots, most of them contested, many of them off-balance.
Metta World Peace, conscripted to heavy minutes in Chandler's absence, chipped in 18 points and six rebouds (on 7-for-13 shooting) in 32 minutes of mixed relief, while Iman Shumpert and Raymond Felton tallied 14 apiece.
Entering the contest, the prevailing knock on Mike Woodson concerned the Knick skipper's insistence on pairing Anthony with Andrea Bargnani in the frontcourt. This despite mounting evidence pointing to units featuring two point guards (Felton and Pablo Prigioni especially) as New York's most effective -- and most efficient.
But big once again won out in Bockerland, and the Bobcats -- without Al Jefferson, and starting Josh McRoberts and Bismack Biyombo up front -- became the latest benefactors of the Knicks' flat-footed attack.
Ironically, it was only after Chandler's departure that the Knicks were forced into the very lineup configurations their coach has seemed hell-bent on resisting. Owing in part to limited minutes for Kenyon Martin and Amar'e Stoudemire -- who looked a washed-up shell in 11 turnover-heavy minutes -- New York played its best two-way ball going small down the stretch.
But as with their previous pair of losses, it was too little, too late for the suddenly hot-seated Knicks. Following a Sunday night defeat to the Timberwolves in which New York surrendered a MSG record 42 points in the opening frame, the Knicks -- who struggled throughout to contain Charlotte's cadre of darting guards -- were once again on their heels early, falling behind by 10 at the half.
Even when they appeared poised to make a run, it was the little things -- a late rotation here, a silly foul there, botched boards -- that wound up unwinding the team in white.
Trading Bargnani, drafting the quick-triggered Tim Hardaway Jr., bringing on World Peace: These were supposed to be stopgaps. Instead, it's looking more and more like a spiraling drain, and a far cry from where the Knicks began last season: 6-0, spirits high, and with a clicking chemistry owing to a bevy of veteran voices.
The Knicks will have 72 hours to recoup and regroup ahead of Friday night's rematch in Charlotte. Two weeks ago, the game would've signified one thing and one thing only for most fans of the orange and blue: the final tilt minus J.R. Smith, currently serving a five-game suspension for violating the league's substance-abuse policy.
Now, with Chandler's status uncertain and the team's direction in doubt, the Knicks find themselves staring down a familiar barrel, albeit six months ahead of schedule: a must-win game.
Jim Cavan's work appears regularly on Knickerblogger
Dimes past: October 29 | 30 | 31 | November 3 | 4
2. Around The Association
3.Tuesday's Best
James
LeBron James, Heat:
James scored a season-high 35 points as the Miami Heat beat the Toronto Raptors 104-95 without Chris Bosh. With a putback dunk at 2:31 of the first quarter, James became the fifth player in NBA history to score 10 points or more in 500 consecutive games. He also had eight rebounds and eight assists.
4. Tuesday's Worst
The New York Knicks: When you're counting on J.R. Smith's return to right the ship, the good ship Knickerbocker just might be heading toward some shoals. After a 102-97 loss the Bobcats, the Knicks are off to a 1-3 start. Get well, Tyson Chandler.
6. Tweet Of The Night
With Tyson Chandler on the court, the #Knicks have allowed 92.2 points per 100 possessions. With Chandler on the bench, that number is 105.6

— Ian Begley (@IanBegley) November 6, 2013
7. Quote Of The Night
"David and I have banged heads a couple times, [but] the truth be told, David Stern made me. Nobody knew who Mark Cuban was until he started fining the hell out of me and sent me to work at Dairy Queen. So he made my job of selling tickets a lot easier."
-- Mark Cuban, the oft-fined Dallas Mavericks owner, now appreciating the David Stern era as it approaches its end.
8. Last Of The Unbeatens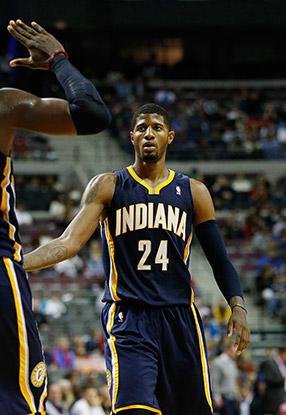 Gregory Shamus/Getty ImagesPaul George celebrates during the second half with Roy Hibbert during Indiana's road win in Detroit 99-91. George had 31 points, and Indy remained the NBA's only unbeaten team.
9. Stat Check
Ellis
Monta Ellis scored 30 points, made 11 of 14 shots from the field (.786) and handed out nine assists in the Mavericks' victory over the Lakers. The last player with that many points and assists while shooting that high a percentage from the field in a game against the Lakers was Wilt Chamberlain on March 18, 1968. Wilt scored 53 points, handed out 14 assists and shot 24-for-29 from the field (.828) for the 76ers in a 158-128 victory.