1. Blake Griffin Keeps The Spurs Guessing
LOS ANGELES -- Everyone has commentary on Blake Griffin.
Studio guys kill him as soft, while a vocal segment of fans kvetch that he's a one-dimensional dunking exhibitionist. Some think his arms are too short. Others complain his face is too pouty. His on-court style? Too confrontational. Not confrontational enough.
The informed have opinions, too. Early in the season, Los Angeles Clippers coach Doc Rivers said he wanted Griffin to forego most of his back-to-the-basket game and work defenders off the dribble. There's near unanimity that Griffin needs to be able to drill a 17-footer, but opinions vary on exactly how often he should take that open look. Griffin takes pride in his playmaking ability, but lately has been hearing that he's too unselfish with the pass.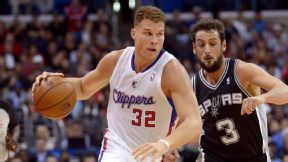 Kirby Lee/USA TODAY SportsBlake Griffin scored 27 points, hitting 11 of 15 free throws, in the 115-92 win over the Spurs.
So when Griffin turns in a multifaceted performance like his 27-point outing in the Clippers' 115-92 rout of the San Antonio Spurs on Monday, it comes with a certain satisfaction. Griffin worked every facet of his game, like a starting pitcher with a full repertoire.
"I thought he mixed it up really well," Spurs coach Gregg Popovich said. "He looked confident trying to shoot a jumper. Then he'd drive. Then he'd go to the post. He varied his game more than usual, and I think that's great for him."
For all the fanfare about Griffin's athleticism, diversity has always been his game's strongest attribute. Defenses hate mysteries, and Griffin is a player who can keep them guessing. As Pop described, Griffin was an any-pitch-on-any-count hurler on Monday. He was a beast down on the block, took a handful of open jumpers, worked with Paul on the pick-and-roll, launched a one-man break off San Antonio misses, passed out against help and, most promising of all, faced up then drove. And in every case, Griffin identified the defense's vulnerability in that instant, then attacked mercilessly.
"I love when [Griffin] demands the ball," Clippers guard Chris Paul said. We're going to keep playing through him until he tells us otherwise."
Of those 27 points -- all of them scored in the first three quarters -- 11 came at the foul line on 15 attempts, good for a solid 73.3 percent. After the game, Griffin explained that a newfound comfort at the stripe was helping his floor game.
"Going up there and feeling like you're going to hit every single one, and not being worried about getting fouled at any point in the game, I think that's the biggest difference for me really this year as opposed to past [seasons]," Griffin said.
The Clippers took the court against the Spurs coming off an uneven 4-3 road trip against mostly Eastern Conference opponents. The Clippers sputtered without shooting guard J.J. Redick, who's recovering from a bone fracture in his right hand. With the sharpshooter on the floor, the offense resembled a well-choreographed ballet. Without him, it has been like watching a security line at LAX. Griffin in particular has struggled, as defenses normally charged with responding to Redick's constant motion turn their attention to the interior, where Griffin make most of his living.
When Redick is healthy, the Clippers run a more holistic offense not so preoccupied with one-on-one matchups, but sometimes injuries necessitate contingencies. The Clippers simply can't run the same stuff they can when Redick is on the floor, and Griffin in isolation is often their best course of action.
Though that wasn't always the case on the road trip, the Clippers finally unleashed Griffin against San Antonio. Griffin agrees with the Rivers' preseason mandate to face up defenders and attack, but has also said that consideration of the one-on-one matchup should also govern his play. Some guys are easier to burn off the dribble, while others can be overpowered in the post. Some defenders will play for the drive and give him space at midrange, others will bite. When Griffin is at his best, he's generally seeing the game in those terms, something Rivers has come to appreciate.
"Offensively, for us to be able to stop every run with a post play is something we havent done a lot," Rivers said. "We like to match up down there. We gave [Griffin] great space and he came through for us."
That space Rivers referenced has increased since he installed supersub Jamal Crawford as the starting shooting guard alongside Paul. Defenses have to account for Crawford on the perimeter and in motion sets, which has stretched the floor for Paul, Griffin and everyone else.
The Clippers caught a couple of breaks against an uncharacteristically sloppy Spurs team that turned the ball over 22 times. Of greater long-term concern, Tony Parker left the game midway through the third quarter with a left shin contusion. Following the game, he exited the Spurs' locker room in good spirits, but with a pronounced limp. As of late Monday night, there was no prognosis yet from the team.
Oddities aside, the Clippers played their best game in nearly a month, and did so against a team that usually torments them with a finely tailored defensive game plan. Nobody likes to perform guesswork against an aggressor, not even the vaunted Spurs. But with Griffin exploring the full breadth of his game, the Spurs had to perform their surgery in the dark.
Dimes past: November 26 | 27 | 28 | December 1 | 2 | 3 | 4 | 5 | 8 | 9 | 10 | 11 | 12 | 15
ESPN Staff Writer
NBA writer for ESPN.com since 2008
Former contributor and editor at NPR
2. Around The Association
3. Monday's Best
Johnson
Joe Johnson, Nets: Johnson crew, what you gonna do? How about make 10 3-pointers, most in the NBA this season, and score a season-high 37 points to lead the Nets to a 130-94 rout of the Sixers. Johnson scored 29 points in the third alone.
4. Monday's Worst
New York Knicks:
With three timeouts at their disposal and a chance at a game-winning hoop, the Knicks decided to just wing it. Melo's hasty 3-pointer bounced off the rim as time expired, allowing the Wizards to escape with a 102-101 win.
7. Quote Of The Night
"I should have reacted a lot sooner once the ball went through the bucket. So, that's on me."
-- Knicks coach Mike Woodson, on not using one of his team's three remaining timeouts to set up a final shot.
8. Mamba's No. 5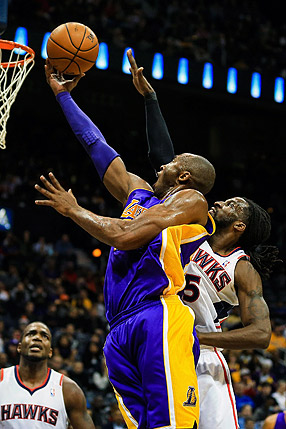 Daniel Shirey/USA TODAY SportsIn Kobe Bryant's fifth game since returning from a torn left Achilles tendon, he made only 4 of 14 shots for eight points in a loss to Atlanta.
9. Stat Check
LeBron James, Dwyane Wade and Chris Bosh each scored at least 20 points and made at least 60 percent of their field-goal attempts in the Miami Heat's win over the Utah Jazz on Monday. The only other game in which the Big Three each scored at least 20 points and made 60 percent of their shots was a win over Toronto on March 30, 2012.
Around the Association
---
MVP: Scoring was at a premium in Chicago, and Arron Afflalo took charge in the third quarter. He finished with 23 points on 14 field goal attempts and grabbed eight rebounds as well.
LVP: With Chicago in need of help at point guard, Marquis Teague got the start. He had three shots in 11 minutes and missed them all. Otherwise, he had zeros across the board in the box score: points, assists, fouls, everything.
That was ... defensive: Both teams were well aware of their opponent's potential offensive struggles, so they packed the paint and dared players to shoot. It worked, with neither Chicago nor Orlando breaking 40 percent from the field.
---
MVP: It was the Blake Griffin and Chris Paul show. Griffin (27 points) and Paul (23 points) were the engines that made the Clippers go offensively, and the Spurs were unable to stop either of them.
Defining moment: After trailing 31-21 early in the second quarter, Los Angeles went on a 19-0 run to turn the tide of the game in their favor. San Antonio played from behind the rest of the way.
X factor: Turnovers short-circuited the Spurs' offense in the second quarter during the Clippers 19-0 run. San Antonio committed six turnovers in a span of five minutes. Looking back on it, that proved to be their undoing.