1. LeBron, Kobe: Two Historic Paths Diverge
LOS ANGELES -- LeBron James didn't like having his defending champion Miami Heat playing on the road for Christmas, and he wasn't thrilled about facing the depleted and struggling Los Angeles Lakers.
But before James could launch deeply into his disagreement with the NBA's holiday scheduling Wednesday, a bit of perspective settled in when he realized the resident superstar in Staples Center didn't have anywhere close to the luxury of complaining about Christmas Day work duty.
As James wrapped up his pregame session with reporters before the Heat's 101-95 victory against the Lakers, Kobe Bryant entered a room a few doors down the hall and somberly explained how much playing against Miami on Wednesday had meant to him before his latest injury setback.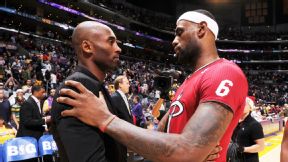 Andrew D. Bernstein/NBAE via Getty ImagesKobe Bryant and LeBron James greeted each other before the first Christmas Day without Kobe suiting up for the Lakers since 1998.
Bryant had earmarked the game against the Heat as a test to see how far he had progressed in his comeback from summer Achilles' tendon surgery that forced him to miss the first month of the season. But those plans were foiled when Bryant fractured his knee a week ago and is now out for another month or so.
"I was really looking forward to this game, to be able to measure where I was physically; especially in the time frame in which I came back," Bryant said of gauging himself against James and the Heat. "This was really a big measuring stick in terms of their activity, their speed, their size. I was really looking at this game as the game I would really be in rhythm, being able to measure what I can do and can't do."
What Bryant couldn't do Wednesday was play and offer any counter on an afternoon when James, Dwyane Wade and Chris Bosh combined for 65 points, 25 rebounds and 13 assists as the Heat toyed with the depleted-yet-feisty Lakers for their sixth straight victory to open a four-game trip.
While James and Bryant were forced to view Wednesday's game from completely different perspectives, it's becoming increasingly clear that, despite the league's best intentions, that there may no longer be a legitimate reason to look forward to these LeBron-Kobe marquee matchups.
When James entered the league 10 years ago, it seemed like a virtual lock that the two biggest and brightest stars in the league would meet to determine multiple championships. Individually, they've done their jobs to deliver titles to their respective teams, with Bryant winning five with the Lakers and James claiming the Past two with the Heat.
They've accounted for seven of the NBA's Past 14 championships. But timing and circumstances have prevented them from facing one another with everything at stake. History typically doesn't rob NBA fans of the ultimate satisfaction of seeing two contemporary legends meet at some point. LeBron and Kobe never matched the annual Bird-Magic showdowns or even the Magic-Jordan torch passing.
The Heat moved to 8-2 on Christmas, including a 5-0 mark against the Lakers. And James has won 13 of the 19 head-to-head meetings when he has faced Bryant with either Cleveland or Miami over the years. But James agreed it's a shame he and Kobe could never get on the same schedule when it matters most.
"It definitely would have been great," James said. "I think I wanted it. I think he wanted it. I didn't do my part one year. We [Cleveland] lost to Orlando in the [2009] conference finals. So I didn't do my part to meet him there in the [NBA] Finals. I'm not quite sure what happened in 2007 with the Lakers. I ended up facing San Antonio. But it definitely would have been great to go up against him in the Finals. We all know what happened. I don't know if it will happen or if it won't. We'll see."
Odds are heavily against it at this point. Father Time, via injuries, is catching up with Kobe at age 35 as he toils through his 18th season. James, meanwhile, is at the peak of his prime with the Heat, who are trying to become the first team since Kobe's Lakers to win three consecutive titles.
It's sort of ironic how times and roles have reversed. James entered the league in 2003 idolizing Michael Jordan, but Kobe was the game's standard bearer among perimeter players at the time. He was the measuring stick. Now, it's Kobe who is trying to gauge what he has left against where LeBron and his team currently stand in the league.
"We are one group; we are brothers in this industry," Bryant said Wednesday when asked how it felt to receive encouraging messages from James and other players in the league after his latest injury setback. "We all look out for each other. It certainly feels good to have that support from your peers."
Still, Bryant said it felt "strange to be coming in on Christmas and not" being able to play. Bryant called it a foreign feeling. With the exception of a handful of games this season, Bryant has been on the outside looking in on a game he has dominated for the better part of two decades. Now, he can barely watch Lakers games without flipping the channel in frustration because he can't do anything to help.
He wasn't on the court to offer any sort of response to the two highlight dunks James threw down on lob passes from Wade that brought the Lakers' star-studded crowd out of their seats. Eventually, the game catches up to everyone -- although Bryant recently signed a $48 million extension for two years.
In light of Bryant's injury issues, James was asked if he had contemplated his own NBA mortality.
"Me? Nah," James said. "For me, I just try to live now and live in the moment. The man above knows how much time he's going to give me in this game. And once he decides I don't have any more time to give, then I'll have to call it quits. We all gotta go sometimes. We can't play forever."
But James also anticipated where the line of questions were headed.
And he wanted no part of contributing to a premature narrative on Bryant's gradual demise.
"There are few guys in this league who came come back from anything," James said. "And obviously, he's one. All I know is he's a great competitor and one of the best to ever play this game. He has five championships to show that. His résumé, a lot of people would love to have that."
James would also love to have a few more matchups with Bryant under the bright lights.
The Lakers visit Miami in four weeks, but there's a good chance Bryant might not be back yet.
And that's exactly the kind of doubt that still drives him to prove otherwise.
"I feel like I'm more locked in than I've been in my entire career because of it," Bryant said of any outside notion he won't get back to his typical elite level of play. "Spirits are fine. Focus is great. We'll just have to see what happens when I come back."
If that happens to be in time for the Jan. 23 game in Miami, James will be waiting in anticipating and appreciation. James made sure to walk across the court to share a few private words with Bryant as the teams left the court following Wednesday's game.
"It's just two guys that have much respect for one another," James said. "I told him to have a speedy recovery."
Dimes past: December 3 | 4 | 5 | 8 | 9 | 10 | 11 | 12 | 15 | 16 | 17 | 18 | 19 | 21 | 22 | 23
ESPN Staff Writer
ESPN.com NBA reporter
Blogs regularly on the Miami Heat
14 years covering the ACC, SEC, NFL and NBA
2. Around The Association
3. Wednesday's Best
Durant
Kevin Durant, Thunder: His 29 points, seven rebounds and six assists paced OKC to a 123-94 road win over the Knicks. Though creatures were stirring, only booing was heard through this house. "I was like, 'Man, it feels like nobody's in here,'" Durant said.
4. Wednesday's Worst
New York Knicks:
Playing without Carmelo Anthony, the Knicks were run out of the Garden 123-94 by the Oklahoma City Thunder. The 29-point victory was the largest for a road team on Christmas. And the Knicks are now 0-7 in orange uniforms. Maybe caution-tape yellow should be in their next color scheme.
7. Quote Of The Night
"I'm even surprised with this season, how it's played out. It's like a nightmare."
-- Nets guard Deron Williams, whose team fell to 9-19 after a 95-78 loss to Chicago.
8. Harden's Way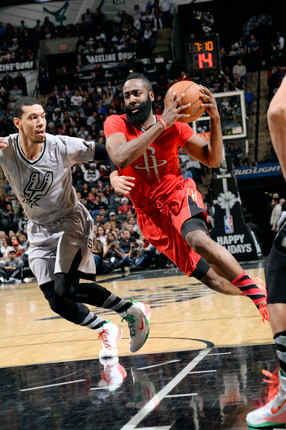 D. Clarke Evans/NBAE/Getty ImagesRockets guard James Harden was on target, hitting all three of his 3-point attempts en route to 28 points in a 111-98 win in San Antonio.
9. Stat Check
Bryant
Kobe Bryant played on Christmas each of the past 14 years (1999-2012), the longest such streak in NBA history, which ended Wednesday. LeBron James now has the longest active streak, playing on seven straight Christmas Days.
Around the Association
---
MVP: This game was close going into the fourth quarter, but James Harden took care of that, scoring 16 points in the final period. He finished the night with 28 points, six dimes and six rebounds.
X factor: Houston's frontline. Both Dwight Howard (15 and 20) and Terrance Jones (21 and 14) finished with point-rebound double-doubles. They also did a great job defensively on Tiago Splitter, limiting the Spurs' big man to six points and four boards.
That was ... a perfect game of Houston basketball: The Rockets shot 12-for-24 from 3-pointer territory, 60 percent at the rim and took only 15 2-pointers outside of the paint. Very efficient basketball from the Houston offense.