1. John Wall's Game Showing More Elevation
OAKLAND, Calif. -- The game began with a reminder of what John Wall is and what Stephen Curry, for all his brilliance, isn't. Curry managed to pry the ball loose from Wall's handle, and raced down the court in pursuit of a layup. This wasn't the differentiating moment, though. That play came when Wall wrenched Curry's layup attempt out of the sky in a display of athletic prowess the Golden State Warriors guard can only observe and never imitate. Over the course of Washington Wizards' 88-85 win over Golden State, the speed and force of Wall won out over Curry's coordination and deftness.
There's more than one way to be a star point guard, and Wall's star is rising. He's not much of a shooting threat, but his terrorizing defense is a threat to all shooters. If Curry dazzled playoff audiences with 3-pointers from all angles, Wall might loudly announce his playoff arrival with steals and swats that defy geometry.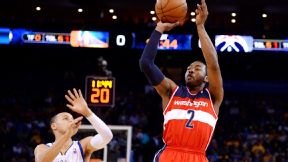 Kyle Terada/USA TODAY SportsJohn Wall hit the winning shot late for a Wizards team that reached the .500 mark.
Wall can also, on occasion, hit a necessary 3-pointer. He has already hit more than four times as many triples this season than he did all of last season. On Tuesday night, with the score tied 88-85, he sank one of his biggest off a Trevor Ariza offensive rebound.
When asked what it felt like to hit the big 3-pointer in a game that featured sharpshooters such as Curry, Klay Thompson and Bradley Beal, Wall demurred, "It feels good, but I ain't a definite 3-point shooter like those guys. That's what they do. I just try to expand my game."
For much of the game, Wall had been struggling, converting only 5 of 18 shots until his go-ahead jumper.
"I felt like I had some good looks, just like I did the other night and I just couldn't make them. But I stuck with it and kept playing defense, and didn't let it get me down."
Wall certainly wasn't alone in submitting a defensive effort in lieu of great offensive results. The game certainly wasn't pretty, with both teams shooting worse than 40 percent. Such a style suited a Wizards squad that boasts a better defense than its basic two-man offense. Washington got enough out of its perimeter defenders and perimeter 3-point shooting to survive some balky possessions on the other end.
Washington ultimately sealed the game when they prevented Curry from hitting a game-tying 3-pointer with less than 6 seconds left. Ariza did most of the dirty work after switching onto Curry. When asked about his defensive approach on the play, Ariza smiled and said, "Make him drive to the basket."
The UCLA journeyman did a bit more than that, managing to overcome a pump fake that has tricked many a defender. Ariza explained his process, "Just stay down, no matter what he does. Just stay down, get a hand up and contest, and whatever happens happens." What happened was a hopeful flail of a left-handed leaner that smacked the backboard and eluded the net.
It was Curry's toughest shot of the night, but it wasn't much easier than what Wall and Wizards' other defenders afforded the star shot-maker. Curry finished the night with 23 points on 8-of-23 shooting. The Wizards' guards jumped him from the tipoff, forcing three Curry turnovers if the first six minutes of action.
"We do a great job at contesting shots," Bradley Beal said. "We know he has a quick release. If we give him an inch of space, he's putting it up. I think we did a great job of going over the top on all of his screens, contesting on the side of him if we can't get all the way, just bothering him in any way possible."
Beal did his part offensively as well, pouring in 20 points and helping to fuel a 21-2 Washington run that allowed the Wizards some separation in the third quarter. Beal also had to overcome a shaky shooting start before finding a rhythm. When asked how he got on track, Beal replied, "I just kept shooting. I had amnesia."
Amnesia might be the cure for the Wizards, but this upstart band of roving athletes and their powerhouse point guard might just give us a playoff performance we won't soon forget.
Dimes past: Jan. 9 | 10 | 11 | 12 | 13 | 14 | 15 | 16 | 19 | 20 | 21 | 22 | 23 | 26 | 27
2. Around the Association
3. Tuesday's Best
Davis
Anthony Davis, Pelicans: Davis had 30 points with 8 blocks and 7 rebounds in the Pelicans' 100-89 win over the Cavaliers. With New Orleans hosting next month's All-Star Game, Davis looks like a good candidate when reserves are named Thursday.
4. Tuesday's Worst
Trail Blazers' bench: Six Portland reserves combined to shoot 2-for-16 from the field, good for six points in the 98-81 loss to Memphis. Mo Williams' 1-for-7 night set the tone.
6. Tweet Of The Night
I should've brought my Peyton Manning jersey with me to Denver!!!! And I mean my Peyton Manning Colts jersey.

— Cody Zeller (@CodyZeller) January 28, 2014
7. Quote Of The Night
"Individually, he can't be stopped by any one-on-one player. There's nobody that can guard him one-on-one."
-- LeBron James , noting the prowess of Kevin Durant, whom he faces on Wednesday.
8. Bennett Breakout?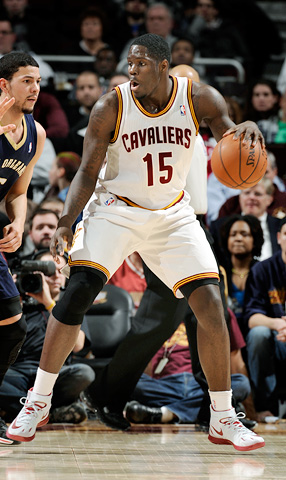 David Liam Kyle/Getty ImagesAnthony Bennett, the first pick in last year's draft, scored a season-high 15 points in Cleveland's loss to New Orleans. A major disappointment so far, the 6-foot-8 Canadian added eight rebounds and played 31 minutes -- his most action this season.
9. Stat Check
Zach Randolph scored 23 points and had 10 rebounds in the Memphis Grizzlies' win over the Portland Trail Blazers. It was the fifth time in his career that Randolph had a 20/10 game against his former team. He did it once for the New York Knicks, once for the Los Angeles Clippers and three times for the Grizzlies. That ties him with Maurice Lucas for the most 20/10 games against the Blazers by a former Portland player.
Around the Association
---
MVP: David West set the tone for Indiana, bullying Ryan Kelly right off the bat for seven first-quarter points. There wasn't a matchup the Lakers threw at West that he didn't make mincemeat out of, finishing with 19 points on 8-for-14 shooting. He also had eight boards.
LVP: Paul George was unlike himself Tuesday night, at least offensively. George never found his offensive flow, shooting just 4-21 from the field to finish with 14 points. This isn't a common occurrence, but nevertheless disappointing.
Defining moment: The Pacers got off to a 10-2 start in the third quarter, eventually taking the period 30-20 to head into the fourth leading by double digits. The Lakers never made a strong comeback, and Indiana rode their lead to the W.
-- David Vertsberger, TrueHoop Network