1. Messing With Success Tough For Suns
By
Kevin Zimmerman
| TrueHoop Network
PHOENIX -- Chicago Bulls fans arrived early, as if they had to fight cold weather and public transportation to arrive in time for tip. A good 30 minutes before the game began, they gathered around the visitors' tunnel to watch a Derrick Rose shootaround. They outnumbered Suns fans doing so.
Call U.S. Airways Center "Chicago West."
The Bulls haven't lost in Phoenix since Nov. 15, 2007, but like the Suns fans, coach Jeff Hornacek's team eventually showed up. It just wasn't soon enough. Phoenix fell 101-92 on Tuesday against a testy Chicago team playing for pride after taking body blows against the Sacramento Kings a day earlier.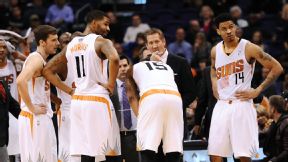 Jennifer Stewart/USA TODAY SportsWith playoff hopes growing, the Suns saw their five-game win streak snapped by Chicago.
At this point in the season, the 29-19 Suns will give opponents credit but won't accept a defeat, even with a roster that runs out a starting lineup including Gerald Green, P.J. Tucker and Miles Plumlee. Phoenix has evolved from proving doubters wrong to accepting what it appears to be -- a playoff team.
"If we're trying to be what we think we are and what we can be, we have to execute and go out there and do what the coaches ask," said Suns forward Channing Frye.
It might be telling that the Suns players take accountability by defending the coaching staff that relayed a message to them before the season began. After the team traded Marcin Gortat to the Washington Wizards, Hornacek reassured the Suns they weren't tanking, told them they had every intention of competing. It's easy to preach, but the preaching has led to some buy-in.
"We lose some game, they're hot, they're ticked off," Hornacek said of his team.
Ticked they were on Tuesday.
The Suns went under screens that allowed Bulls backup point guard D.J. Augustin to knock down two of his painful three 3-pointers. They committed 21 turnovers. They wilted on defense to start the game, and picked up three technical fouls, two of which were for arguing foul calls.
"We have to look in the mirror and say, 'OK, I did everything that I could,'" said Goran Dragic, who earned one of the Suns' technical fouls. "Tonight, even I cannot go there and see my face because I didn't do everything that it takes. That's on us, that's not coaching's fault."
The loss to a battle-tested Bulls squad might add to the elephant in the room: How far can a team of misfits go? If the postseason is in the cards, how can the Suns succeed once they're there? The trade talks involving Pau Gasol, as active or inactive as they might've been on Tuesday night, asked that very question. The Suns hit 39 percent of their shots against the Bulls, but they certainly had trouble getting off clean 3-pointers without a post threat.
Paint points have come easily this season when the guards are attacking, but in the half court, those points sometimes aren't there. The Suns finished with 30 points in the paint on Tuesday and would have been in worse shape if not for scoring 17 on fastbreak opportunities.
"They didn't let us run our action," Dragic said. "They were denying our big guys trying to pass to the guards. It was just hard to pass it, then cut."
Could Gasol help? Maybe, but this isn't a group that thinks it needs help. The Suns have not even used injured point guard Eric Bledsoe's absence as an excuse.
Dragic is one reason why it's come to this conversation. He came off a Western Conference Player of the Week honor, which he earned after he shot 63.9 percent and averaged 26.8 points by playing just 29.3 minutes in four Phoenix victories. Against the Bulls, he saw his first two shots miss the rim completely and started 1-for-6 from the floor, but he hit his next 8-of-9 to finish with 24 points.
There are no playoff standings posted in the Suns' locker room by design. The motivation is there. And until losses like those against the Bulls pile up, Hornacek believes his team can win, as is.
"Probably the way we started this season, I think the expectation was, 'Ah, they're going to tail off. They're going to come back down to earth.' And it really hasn't happened," Hornacek said before the game, then issuing the simple idea that's made this version of the Suns so dangerous to teams -- at least those other than the Bulls. "So why not?"
Kevin Zimmerman's work appears on Valley of the Suns, part of the TrueHoop Network.
Dimes past: Jan. 15 | 16 | 19 | 20 | 21 | 22 | 23 | 26 | 27 | 28 | 29 | 30 | Feb. 3
2. Around the Association
| | | | | |
| --- | --- | --- | --- | --- |
| Charlotte Bobcats | 91 | FINAL | 75 | Golden State Warriors |
---
MVP: Al Jefferson was, simply put, a monster tonight. Andrew Bogut, one of the better post defenders in the league, was helpless against Big Al, who scored 30 of Charlotte's 91 points. For good measure, he also added 11 rebounds.
LVP: David Lee. A key cog in Golden State's offense, Lee managed only eight points on 3-of-13 shooting. Lee is also normally a phenomenal rebounder, yet tonight he was held to just three rebounds.
That was ... defensive. The Bobcats are actually one of the better defensive teams in the NBA, and they showed it tonight against a top offensive squad. Charlotte limited Golden State to just 31 percent shooting, including a mere 4-for-20 from deep from the normally 3-happy squad.
| | | | | |
| --- | --- | --- | --- | --- |
| Indiana Pacers | 89 | FINAL | 85 | Atlanta Hawks |
---
MVP: David West powered the Indiana offense for most of the night with his midrange game. West finished with 22 points and 10 rebounds in only his second 20-10 game of the season.
LVP: All-Star Paul Millsap was solid defensively, but his offense was not what the Hawks needed out of their No. 1 option. Millsap was 2-for-11 from the field and finished with only seven points.
Defining moment: The Hawks were up four near the end of the half before West hit a buzzer-beating 3-pointer to cut it to one. The play seemed like a momentum shift, as Indy stormed out of the gates at the beginning of the third quarter.
| | | | | |
| --- | --- | --- | --- | --- |
| Los Angeles Lakers | 99 | FINAL | 109 | Minnesota Timberwolves |
---
MVP: Kevin Love was too much for the Lakers in the paint, as they had no answer for him on the defensive end. He posted yet another double-double, and his 31 points and 16 rebounds allowed the Wolves to control the contest and get the win on the road against a depleted Laker team.
X factor: Kevin Martin's offensive production allowed the Wolves to maintain the lead throughout the game, especially at times when the rest of the team was struggling to score. His 32 points provided a perfect complement to Love, and he added four assists as well.
That was ... one-sided: The Wolves controlled the entire game from jump to the final buzzer. The Lakers mounted a solid comeback effort in the second half, especially after being down more than 20 in the first half, but every time it looked like they may build some momentum, the Wolves had an answer.
-- Michael Kaskey-Blomain, TrueHoop Network
3. Tuesday's Best
Love
Kevin Love, Timberwolves: Love had 31 points and 17 rebounds in a 109-99 victory over the Lakers. The win put the Wolves at .500, a mark that might prove tough to maintain during a tough February schedule.
4. Tuesday's Worst
Golden State Warriors: These Warriors did not come out to play, setting the tone with a 13-point first quarter en route to a 91-75 home loss against Charlotte. The increasingly cold Warriors' shooters managed a season-low 31.2 percent shooting.
7. Quote Of The Night
"I feel a bit selfish in that we lost but it felt great just to play in the NBA again."
-- Lakers guard Steve Nash, who returned to action for the first time since early November
8. Return Of Steve Nash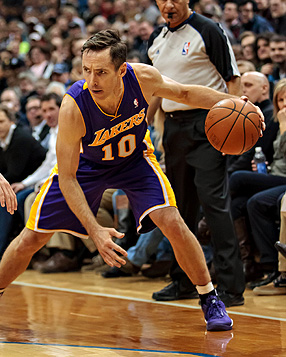 Brad Rempel/USA TODAY SportsSteve Nash returned to action in a 109-99 loss to the Wolves. Nash had been sidelined since Nov. 10 because of back problems. The soon-to-be-40-year-old had seven points and nine assists in 25 minutes, about 10 more than he was supposed to play.
9. Stat Check
Kevin Love and Kevin Martin both scored 30 points tonight against the Lakers -- the fifth time a Wolves duo has done that this season. That total leads the league, as the Kings are the only other team with as many as three. That's the most the Wolves have ever had in a season. Love has been involved in every such occurrence, joined by Martin three times and Nikola Pekovic twice.