What Clippers Gained On 11-Game Streak
By
Jordan White
| TrueHoop Network
DENVER -- It was bound to happen eventually.
The second game of a back-to-back, the high altitude, a tired, banged-up roster versus one that loves to run -- this was the perfect storm for the Clippers' winning streak to be snapped.
Yet while the streak is over, the lessons learned from it remain, and they'll serve a purpose come the postseason.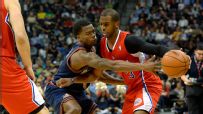 John Leyba/The Denver Post via Getty Images)Chris Paul and the Clippers saw their streak end in Denver.
"We found ways to win with a lot of guys out," Clippers coach Doc Rivers said. "And you may have to have a playoff game like that. Overall, I was just happy how tough we were mentally."
This is the tale you'll hear from the Clippers insofar as how the streak has changed them. More than anything -- more than Blake Griffin's ascendance into true superstar, more than DeAndre Jordan's transformation into a composed defender -- the team's newfound mental resolve is the most valuable gift granted to them by the streak.
The Next Man Up mentality is one every head coach tries to instill in his or her team. No excuses no matter the injury, no matter the situation. After the streak, this psychology now pervades the Clippers' locker room. That the team won so many consecutive games while missing the likes of J.J. Redick and Jamal Crawford at times only further instilled this mindset.
"I haven't heard one guy complain, 'Oh, we don't have this guy or this guy,'" Griffin said. "It doesn't really matter. We honestly believe that every night we go out, we have a chance to win, no matter who's playing, and that's a big mental step for our team."
Griffin, dominant during this stretch, was nothing short of gassed Monday night. Weary, sapped of energy, Griffin and his shot looked flat, devoid of lift or strength. Though he did manage 26 points, he did so on 25 shots, all of them needing just a bit more effort than usually required.
A coach might frown at such a performance, preferring his star to defer to those whose shots are falling on that night. Rivers, however, wasn't bothered by Griffin's attempts.
"I told Blake I don't care," Rivers said of Griffin's shooting. "I don't mind if he goes 7-for-40. Just keep shooting with confidence."
Confidence is key with any player, especially one still extending his range. Griffin's shot may not have fallen Monday night at the rate it did the past 12 games, but as Rivers said, that's no reason to lose faith.
It all goes back to the mental fortitude Rivers has been able to inculcate in his team over the past 12 games -- not just a "no excuses" approach, but a "never say die" one as well.
It would have been easy for this team to expect to lose, knowing the perils of playing 5,280 feet above sea level. The Clippers could have played hard for a half, then checked out as they prepared for their brief break. And while they still lost, they never hung their heads or even thought of an early surrender. They carried on the good fight until the final buzzer.
A true title contender is a team that doesn't rest on its laurels. Never content with its current lot, the team always strives to improve in every area, from strategy to attitude. So while the wins are nice, and the boosts in confidence and seeding it provides certainly are boons, it doesn't mean the Clippers are done getting better.
"Streaks are great, but you could win 25 in a row and still be out in the first round of the playoffs," Griffin said. "We didn't even talk about the streak or think about it. It wasn't a big thing. The biggest thing is how we're playing, and I think it was a sign of maturity."
Jordan White's work appears on Hardwood Paroxysm. Follow him @JordanSWhite
Dimes past: Feb. 24 | 25 | 26 | 27 | March 2 | 3 | 4 | 5 | 6 | 9 | 10 | 11 | 12 | 13 | 16
3. Monday's Best
Williams
Deron Williams, Nets: Stop the presses, er ... publishing tool! Williams dunked for the first time this season. He scored 28 points, leading the Nets to a 108-95 victory over the Suns. Williams shot 11-of-13 from the field as his season-long ankle woes appear at an end.
4. Monday's Worst
Philadelphia 76ers: Twenty-one down, six to go? With the 76ers taking a 99-90 loss to the Pacers on Monday night -- their 21st straight -- the franchise record of 20 straight losses was broken. Next record in sight: The Cleveland Cavaliers set the NBA record for consecutive losses with 26 in the 2010-11 season.
6. Tweet Of The Night
DEN is the best team in the league at their bigs runnin straight to the rim and sealing in transition. extremely tough to defend

— Kendall Marshall (@KButter5) March 18, 2014
7. Quote Of The Night
"He's the best player in the world right now."
-- Joakim Noah, on Kevin Durant, who led his Thunder team past Noah's Bulls 97-85.
8. Losing Streak Hits 21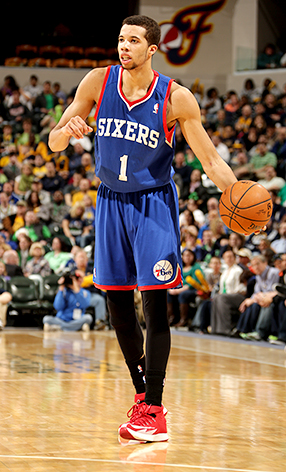 Ron Hoskins/Getty ImagesIn losing 99-90 to Indiana, Michael Carter-Williams and Philly eclipsed the Sixers' previous mark of 20 straight losses during the 1972-73 season, when they finished 9-73. Philly has tied the Pistons for the sixth-longest losing streak in NBA history.
9. Stat Check
In terms of streaks within a single season, Kevin Durant became only the fourth different player in NBA history to score 25-plus points in each of 32 consecutive games. Wilt Chamberlain had three such streaks (including a single-season record of 80 consecutive games of 25-plus points encompassing every game of his spectacular 1961-62 season); Oscar Robertson had a 46-game streak in the 1963-64 season; and Michael Jordan had a 40-game streak in the 1986-87 season.