Phil Jackson And Prototype Remodel Franchise
By
Jared Dubin
| TrueHoop Network
NEW YORK -- In the days leading up to the introduction of Phil Jackson as president on Tuesday, there was a lot of talk in recent days about how the New York Knicks are looking to "change the culture" of the organization. The Zen Master is coming to town, the story goes, to cure the disease that's infected James Dolan's franchise for the last 15 years.
Jackson, for his part, said during his introductory press conference, "The idea of developing a 'culture' is an overwrought word in the NBA right now, but that's the cachet, I think, that brought me here."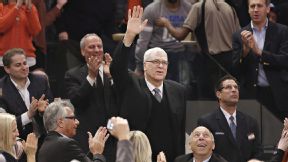 AP Photo/Seth WenigKnicks president Phil Jackson greets the Madison Square Garden faithful after his introduction.
While Jackson may be right that the idea of culture-building is overwrought these days, the Knicks need only have looked across the court at Wednesday night's opponent for a glimpse at the positive effects -- this particular game's result (Knicks 92, Pacers 86) notwithstanding -- such a process can bring. Not 10 years ago, the Indiana Pacers organization -- still ridden with lingering remnants of the infamous Malice at the Palace -- was considered a toxic one, and so management set about stripping the roster of all reminders of that era, planning to foster a newer, cleaner, brighter culture in the future.
Slowly but surely, Larry Bird dismantled a team that many considered a title contender entering that 2004-05 season. By the time Jermaine O'Neal, Jamaal Tinsley and David Harrison all left the team in the summer of 2008, every player who was active for the Pacers' game against the Detroit Pistons on Nov. 19, 2004, was gone, and the teardown was complete.
In the span of three years between the end of the post-Malice rebuild and Indiana's first-round loss to the top-seeded Chicago Bulls in 2011, the Pacers picked up some very important parts, and perhaps just as importantly, found those parts without bottoming out and tanking for more ping-pong ball combinations in the lottery. Sustained and purposeful losing, after all, can adversely affect a culture too. With a trade agreement in place, Toronto selected Roy Hibbert for Indiana in the middle of the first round (No. 17) in 2008, and then took Paul George in the back half of the lottery (No. 10) in 2010. It also managed to snag the wildly talented but supremely enigmatic Lance Stephenson in the second round (No. 40) of the 2010 draft.
A 2011 draft-day trade for George Hill and a signing of David West later, and the Pacers had been completely remade into a legitimate playoff contender, one with a clear identity perfectly suited to the temperament of the man building the team (Bird), the man tasked with coaching it (Frank Vogel), and the players in the locker room. The Pacers are a clean-cut bunch (the starting five of Hill, Stephenson, George, West, and Hibbert recently posed for GQ Magazine looking more than a little bit like a 1990s boy band), sure, but they are also tough as nails and have absolutely no problem letting opponents feel that every night. They play a brutal style of basketball, consistently imposing their will in the paint on both ends of the floor.
Vogel credits West with immediately setting a new standard upon his arrival. "Very few players have a presence like David West, where you come into the locker room and it's going to be pure, and you're going to care about the right things and that's just how it's going to be," Vogel said. "He doesn't even have to say anything. A lot of people say you need a guy that's going to come in and put people in place. But with David West, people don't get out of place. So he doesn't have to put people in place."
It took the Pacers a while to completely remake their culture, but Vogel doesn't necessarily think the same has to be the case with the Knicks.
"It can happen right away," Vogel said. "Whether it's a new coach; whether it's a new president like they have in Phil, or there's a change in personnel. Sometimes you need all those factors to come into play. Sometimes it takes a while. I don't think there's any hard-line rule as to how long it takes."
The Knicks have previously shown a nearly pathological degree of impetuosity when it comes to team building, but Jackson, in both his introductory news conference and in radio interviews on Tuesday and Wednesday, seemed willing to take a more patient approach. When asked how soon he thought the Knicks would contend, Jackson simply said, "We're not anticipating that. We're going to make one step at a time."
The Knicks entered the first official game of Jackson's reign riding high on a six-game winning streak, while the Pacers came in on a four-game run of their own. With both teams struggling early, the fans weren't exactly engaged, but when Jackson was introduced over the public address system in the middle of the first quarter, the Garden crowd roared to its collective feet.
As New York subsequently built and then slowly squandered a double-digit lead, it looked as though those fans were getting treated to more of the same old Knicks. In the end, though, the Knicks buckled down on defense, hit some big shots and hung on for the victory, getting the Jackson Era off to an auspicious start.
Maybe the change has already begun.
Jared Dubin's work appears regularly on Hardwood Paroxysm, part of the TrueHoop Network. Follow him @JADubin5
Dimes past: Feb. 24 | 25 | 26 | 27 | March 2 | 3 | 4 | 5 | 6 | 9 | 10 | 11 | 12 | 13 | 16 | 17
3. Wednesday's Best
Rubio
Ricky Rubio, Wolves: Earning a playoff spot looks unlikely, but winning a close game was big for Rubio and the Wolves. Rubio had 22 points, 15 assists and 10 rebounds for his third career triple-double in a 123-122 overtime victory over the Mavericks.
4. Wednesday's Worst
George
Paul George, Pacers: George missed all six first-quarter shots and finished 4-for-17 for his 17 points. Not to mention Carmelo Anthony did damage on the other end as the Knicks earned a 92-86 win over the East leaders.
6. Tweet Of The Night
Something about LeBron eating pregame McDonald's, plus McFlurry, with no tape on ankles and back wrap told me he might not play.

— Michael Wallace (@WallaceNBA_ESPN) March 19, 2014
7. Quote Of The Night
"It's good to hear that. I'm blessed and honored to hear that. I'm glad, I was hoping that I would be part of the future plans. I never once said that I wanted to leave New York or anything like that. The only thing I said was that I wanted to dabble in free agency that I could opt out and become a free agent. I'm excited about that. I'm excited about the opportunity to hopefully go forward with Phil."
-- Carmelo Anthony, on hearing that Phil Jackson has him in the team's future plans.
8. Split Decision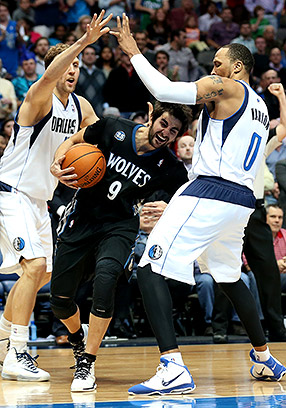 Matthew Emmons/USA TODAY SportsWolves guard Ricky Rubio finds a path between Mavericks forward Dirk Nowitzki and forward Shawn Marion during the Wolves' 123-122 in overtime win.
9. Stat Check
Ricky Rubio notched his third career triple-double and second this season. He joins Kevin Garnett and Micheal Williams as the only Timberwolves in franchise history with multiple triple-doubles in a season. Rubio is the first NBA player with 20 points, 10 rebounds and 15 assists in a game since Rajon Rondo on Feb. 12, 2012.