1. Last Team Out: Exiting Suns Keep Impressing
By
Michael Schwartz
| TrueHoop Network
PHOENIX -- The Phoenix Suns are headed for the lottery and the Memphis Grizzlies the playoffs, just as we all thought when the season began.
Yet while Memphis breathed a collective sigh of relief after clinching its fourth straight playoff berth with a 97-91 victory Monday in Phoenix, it's the Suns who celebrated a season that surpassed all preseason expectations before coming to a plodding end against a Grizzlies squad they could not beat all season.
"It's always fun to do opposite of what other people are saying," Suns guard Goran Dragic said. "It was really fun to prove them wrong."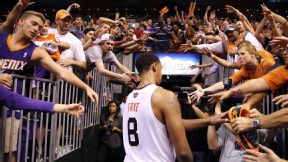 Christian Petersen/Getty Images
That the Suns were able to prove their critics wrong in a season that ended without a playoff berth speaks to how poor the Suns were expected to be. After a 2012-13 season in which Phoenix sputtered to the worst record in the Western Conference, the team traded veterans Marcin Gortat, Jared Dudley and Luis Scola and used the fifth overall pick in the draft on raw center Alex Len, who did not make an impact this season.
It's only fair that the Suns would be expected to be even worse with an unproven squad led by Steve Nash's former backup (Dragic), Chris Paul's former backup (Eric Bledsoe) and a cast of characters who had yet to get a chance to prove themselves in the NBA.
Starting in Summer League, when new head coach Jeff Hornacek's Summer Suns played harder than everybody else on their way to the championship game, a new attitude began to develop in Phoenix as the Suns sought to move past the Nash era by playing a similar fast-paced style predicated on outrunning their opposition.
They started a pair of point guards, Dragic and Bledsoe, who could push the ball and attack from any angle during a possession. Unconventional? Sure. Effective? Definitely.
Even when Bledsoe injured his knee on Dec. 30 and missed the next 33 games, different Suns continued to step up, as Gerald Green, Miles Plumlee, Markieff Morris, P.J. Tucker and both Dragic and Bledsoe can all make legitimate cases for the Most Improved Player Award.
"I think that's the biggest takeaway for our team is that these guys competed, coming in here and having a team that was only supposed to win 19 games," Hornacek said. "What we wanted to do is get them to play hard and play together as a team, and then we'll build from there. So we've accomplished that."
Of course, as the wins piled up, expectations came along with them. Entering the last week of the season, the Suns could sniff the playoffs, with a one-game lead on the Grizzlies with four to play, yet veteran teams like San Antonio, Dallas and finally Memphis taught the Suns a lesson in what essentially boiled down to a three-team tournament for two playoff spots that the Suns lost.
"Once we figured out we're a good team, we expected ourselves to make the playoffs," Channing Frye said. "We set the bar pretty high, and we just came up a little short this year. We just can't beat those seven or eight teams [ahead of us]. It's a tough conference."
Indeed the Suns went 1-6 against Dallas and Memphis this season, and that's why they will be the odd team out of a conference that deserved nine playoff teams. Still, with a win on Wednesday in Sacramento, the Suns will join the 2007-08 Golden State Warriors as the only teams to miss the playoffs with 48 wins since the league expanded to 16 playoff teams in 1983-84.
Yet they still got a taste of playoff basketball anyway. The Suns got swept in what amounted to a three-game playoff series against three different playoff teams, as they blew a 21-point lead to the vaunted Spurs on Friday, a 13-point lead behind a barrage of 3-pointers and a heavy dose of Monta Ellis on Saturday in Dallas, and on Monday they could not handle Zach Randolph.
First, Randolph nearly outscored the Suns in the first quarter with 13 points to Phoenix's 14. He proceeded to score 32 points, his most prolific output since torching the Suns for 38 in December 2012, with none bigger than his steal of an errant Dragic pass that he took coast to coast for a layup to put the Grizzlies up 95-91 with 47 seconds remaining.
"I think tonight he got off to a great start, and anytime guys like that get off to a great start, the rim seems like an ocean," Frye said.
So the Grizzlies will march on to the playoffs for a franchise-record fourth straight season while the Suns watch the action at home for a fourth straight campaign, the organization's longest playoff drought since missing five consecutive postseasons from 1970-75.
Yet unlike after their previous three playoff misses -- the first two with the franchise still hanging on to the Nash era, the last with a team lacking talent and cohesion -- this time it's not hard to envision a quick return to prominence in the desert, especially with six first-round picks coming Phoenix's way in the next two drafts.
"I think we're headed in the right direction," Dragic said. "When you're so close to the playoffs, you always want a little bit more. At the end, maybe we didn't have so much experience in some games. Overall it was a great season, fun year for us."
Michael Schwartz is founder of Valley of the Suns, part of the TrueHoop Network.
Dimes past: March 24 | 25 | 26 | 27 | 30 | 31 | April 1 | 2 | 3 | 6 | 7 | 8 | 9 | 10 | 13
2. Around the Association
3. Monday's Best
Evans
Tyreke Evans, Pelicans: What sore right knee? Evans scored a career-high 41 points to go with nine rebounds, eight assists and three steals, and the Pelicans snapped an eight-game skid by topping the playoff-bound Thunder 101-89. Evans made 14 of 26 shots.
4. Monday's Worst
Battier
Shane Battier, Heat: There wasn't 3 in Battier's 3-and-D game in this one. He missed all five of his shots from deep, helping ensure the Heat absorbed a 114-93 loss to the Wizards. That loss clinched the East No. 1 seed for Indiana.
6. Tweet Of The Night
They should give the Suns the No. 1 pick, just for being so un-tanky

— J.A. Adande (@jadande) April 15, 2014
7. Quote Of The Night
"When you want to put together a veteran team, you better pack a little more ice. You better have a few more people on the staff, because you're going to have a lot of guys in and out."
-- Dwyane Wade, on the need for healing expertise for his well-worn Heat teammates
8. Z-Bo, That's Who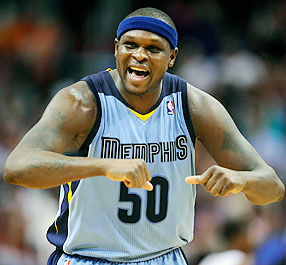 Joe Camporeale/USA TODAY SportsZach Randolph and the Grizzlies earned their playoff berth by beating the Suns in front of a raucous Phoenix crowd.
9. Stat Check
The Warriors defeated the Timberwolves, 130-120, for their 50th win of the season, the first time that they have reached that plateau since Don Nelson's 1993-94 team, led by Chris Webber, Chris Mullin and Latrell Sprewell, produced that total. That had been the second-longest current streak of seasons by an NBA team without a 50-win season; Washington last reached the half-century mark in 1978-79.
Stephen Curry led the Warriors effort on Monday night with 32 points and 15 assists. It was his third consecutive game scoring 30-or-more points, the first time as a pro that he has done that. Moreover, it was the fourth time this season that Curry has had a game with 30 points and 15 assists (all other NBA players combined have only four such games this season). The last NBA player with as many as four games of 30 points and 15 assists in one season was John Stockton, who had four such games with the Jazz in the 1989-90 season.