1. Rockets Using History As Comeback Guide
HOUSTON -- Playoffs have a short memory.
That was the message from former Houston Rockets guard Mario Elie when he surprised the Rockets players at practice on Tuesday and delivered an impassioned speech about the power of belief over doubt.
Elie would know. There have only been eight teams to rally from a 3-1 deficit to win a series, and Elie was a member of one of them -- the resilient 1994-95 Rockets squad that eventually won a championship after storming back against the Phoenix Suns in the conference semifinals.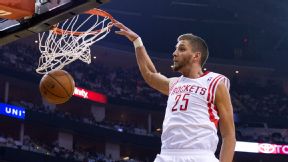 George Bridges/MCT/Getty ImagesChandler Parsons helped give the Rockets a boost, cutting Portland's lead to 3-2.
The team's veteran cast of Elie, Hakeem Olajuwon, Clyde Drexler, Robert Horry and Kenny Smith are now members of franchise lore after they fell behind 2-0, split the next two games to bring it to 3-1 and then took the final three games to move on. Two series later, they were champions.
On the flight home from Portland on Sunday night, Houston execs Daryl Morey and Gersson Rosas decided to call Elie, who won two rings in five seasons in Houston, and bring him in for a history lesson.
Can history repeat itself for the Rockets? So far, so good. Following a surprisingly anticlimactic 108-98 Game 5 win, the Rockets found truth in Elie's words. Momentum, indeed, is a fickle thing in the playoffs.
Remember when LaMarcus Aldridge looked like the second coming of Wilt Chamberlain in the first two games, scoring 89 points in two Blazers victories? He mustered just eight points in Game 5 and missed nine of his 12 shots from the floor.
Remember when James Harden looked like a shell of himself yet again in Game 5, scoring just nine points through three quarters on 3-for-11 shooting? He outscored the Blazers 8-6 over the final six minutes of the game.
Remember when Jeremy Lin was the goat of Game 4 after two foolish plays in the final minute? He carried the Rockets for much of the way in Game 5, putting up 21 points and draining two big buzzer-beaters at the end of the shot clock to deflate the Blazers late.
The NBA's postseason carries a certain illusion of permanence. In a what-have-you-done-for-me-lately world, the team that wins the most recent game seems like they'll never lose again. But if these playoffs have taught us anything, it's that there is little momentum from game to game, quarter to quarter, or possession to possession.
"One game at a time," Harden said. "We can't look back and dwell on the past. [Elie] just told us to believe."
So after three overtime games in the series, you might have been disappointed with the Rockets' convincing win down the stretch. There were no Lin turnovers, Harden miscues or Howard missed free throws. The Rockets finally executed their game plan down the stretch and finished the game on a decisive 8-0 run.
As for Aldridge crashing back down to Earth, you can credit an adjustment by Rockets coach Kevin McHale. After debating whether to start center Omer Asik for Game 1, McHale finally pulled the trigger in Game 3 and Aldridge has consequently regressed to the mean. His eight points on Wednesday were the second-fewest in a game this season.
"We're just trying to keep bigger bodies on him and try to make him shoot over the top," McHale said of Aldridge. "He didn't get as many shots."
Asik, who fouled out with 10 points and 15 rebounds, drew the assignment on Aldridge for the majority of the game and never let Aldridge get into rhythm, something that Howard and former starter Terrence Jones struggled with mightily in the first two games.
"He was huge," McHale said of Asik. "He's a real pro and does his job all the time. He's a very, very smart basketball player and if you're playing against a guy like Aldridge, you have to be smart."
The Rockets' Twin Towers had their best collective effort of the series on Wednesday. Howard finished with 22 points on 9-of-15 shooting, 14 rebounds and three blocks, which gives him a double-double in each game this series. While Harden looked out of sorts for the majority of the game, it was Howard who kept the Rockets' offense afloat with crisp moves in the paint and strong finishes on the move.
With Howard losing steam down the stretch, Harden picked it up from there with a trio of big plays: a reverse layup, a 3-pointer and a rare block on Damian Lillard's 3-pointer.
"Dwight carried us the entire game," Harden said. "I really hadn't done anything in the first two quarters so it was time to step up and make plays."
Harden has yet to deliver a strong game from start to finish. After missing 10 of his 15 shots on Wednesday and six of his seven from deep, he's now shooting 34.7 percent for the series and 25 percent from downtown. However, he made the big plays down the stretch and made up for his general lack of awareness on the defensive end with a big swat on Lillard. Harden got beat up for most of the game as his assignment, Wes Matthews, dropped 27 points on 9-for-18 shooting.
While the Toyota Center bears 30-foot high posters of Howard and Harden on its exterior, it was the Rockets' supporting cast that stepped up. Lin and Chandler Parsons combined for 41 points and five 3s, giving the Rockets a much-needed boost on the perimeter with Patrick Beverley ailing.
Beverley spent the two nights leading up to Game 5 in the hospital with the flu, getting fluids from IVs and treatment. He missed Tuesday's practice with a 103.8-degree fever and didn't participate in the team's shootaround on Wednesday morning as he registered a 101 on the thermometer. Beverley fought through it and finished with just five points in 21 minutes while receiving water from teammates at nearly every stoppage. He'll spend Wednesday night in the hospital again.
The Rockets still have plenty of work to do. After McHale stressed the need for top-notch perimeter defense ahead of Game 5, they hemorrhaged 78 points to Lillard, Matthews and Nic Batum. But limiting Aldridge to eight points, something that seemed almost impossible after Games 1 and 2, kept their playoff hopes alive.
We might look back and remember Game 5 as when the series shifted in Houston's favor. Or not at all. This is the playoffs, after all. The Blazers head back to Portland up 3-2 and have to start from scratch as Aldridge struggled to show the sort of dominance he displayed earlier in the series. But the Blazers will have a short memory, too. You can believe that.
Dimes past: April 14 | 15 | 16 | 19 | 20 | 21 | 22 | 23 | 24 | 25 | 26 | 27 | 28 | 29
ESPN Staff Writer
ESPN.com NBA analyst since 2010
ESPN.com Insider researcher in 2009
Developer of NBA DRAFT Initiative database
2. Around the Association
| | | | | |
| --- | --- | --- | --- | --- |
| Dallas Mavericks | 103 | FINAL | 109 | San Antonio Spurs |
---
MVP: Tiago Splitter. The big Brazilian continued to harass Dirk Nowitzki -- though Dirk had his best offensive game of the series -- and sparked the Spurs' offense in the second half with back-to-back and-1s and four second-half assists. Splitter finished with 17 points, 12 rebounds and five assists.
X factor: Ball movement. For the first time in the series, San Antonio's offense looked the part of the juggernaut we saw in the regular season. The Spurs moved the ball well, finding open space for cutters to the hoop and waiting for shooters on the perimeter.
That was ... by no means the end of this series: San Antonio had a solid grasp on this game throughout, playing as good as they have in the first round, but Dallas was still within four points late in the game. Anyone claiming this series is over is getting ahead of themselves.
| | | | | |
| --- | --- | --- | --- | --- |
| Brooklyn Nets | 113 | FINAL | 115 | Toronto Raptors |
---
MVP: None other than Kyle Lowry. Circus shots, crunch-time free throws, timely baskets, deep treys -- you name it -- all amounted to a 36-point, six-assist performance. Folks, we'll be calling this the Kyle Lowry Game for years.
X factor: Jonas Valanciunas. Boneheaded late-game plays aside, Valanciunas was a consistent force for the Raptors. The vast majority of the Nets' late-game run happened with Valanciunas planted on the bench.
That was... a close call. Down by 22 points at the end of three quarters, the Nets almost completed the biggest fourth-quarter playoff comeback of all time, outscoring the Raptors 44-24 in the final 12 minutes.
| | | | | |
| --- | --- | --- | --- | --- |
| Portland Trail Blazers | 98 | FINAL | 108 | Houston Rockets |
---
MVP: Dwight Howard's team-high 22 points were scored on a variety of impressive post moves, including an unstoppable left-handed hook shot. But just as important was his defense on LaMarcus Aldridge down the stretch. For good measure, he also grabbed 14 rebounds.
LVP: LaMarcus Aldridge had by far his worst game of the series, scoring just eight points on 3-of-12 shooting. There was no rhythm to Aldridge's offense, and he was unable to impact the game in any other areas.
X factor: With Patrick Beverley sick and limited, Jeremy Lin stepped up in a major way, scoring 21 points in 31 minutes of action. James Harden struggled again, but Lin's 9-of-15 shooting helped save Houston's season.
3. Wednesday's Best
Lowry
Kyle Lowry, Raptors: Lowry scored a career playoff-high 36 points, including the go-ahead 3-pointer after Toronto had blown a 26-point lead, as the Raptors beat the Brooklyn Nets 115-113 to take a 3-2 lead in their first-round series.
4. Wednesday's Worst
Aldridge
LaMarcus Aldridge, Trail Blazers: In the first two games played in Houston, LMA was otherwordly en route to a combined 89 points. In his return to Houston for Game 5, he went 3-for-12 from the floor en route to an eight-point, eight-rebound performance in the 108-98 loss.
6. Tweet Of The Night
Russell Westbrook is the 1st player in NBA history with 25 Pts, 15 Ast & 10 Reb in a Game 7. @EliasSports

— ESPN Stats & Info (@ESPNStatsInfo) May 4, 2014
7. Quote Of The Night
"If we need an answer, we call Kyle. Kyle will figure it out."
-- Raptors center Chuck Hayes, after Lowry led the Raptors to a Game 5 win over the Nets.
8. Little Bit Of Linsanity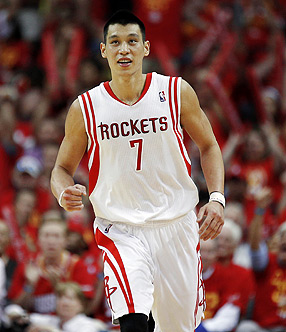 Andrew Richardson/USA TODAY SportsJeremy Lin came off the bench to score 21 points and help the Rockets beat the Trail Blazers 108-98 on Wednesday to avoid elimination. Lin had four points and three turnovers in Sunday's overtime loss.
9. Stat Check
Vince Carter scored 28 points and Dirk Nowitzki added 26, but the Spurs withstood those performances and defeated the Mavericks 109-103. Carter (age 37) and Nowitzki (age 35) are the first pair of NBA teammates age 35 or older to each score at least 25 points in a playoff game. The only other postseason game in league history in which two players past their 35th birthdays scored 25 or more points was a Lakers-Hawks matchup in 1970, in which Elgin Baylor scored 31 points for Los Angeles and Richie Guerin had 31 for Atlanta.