1. CP3's Aim Is True: Take Clippers Deep
OKLAHOMA CITY -- Chris Paul did something he'd never done before Monday, and it doesn't stop with the eight 3-pointers he made.
He won a second-round playoff game with the Los Angeles Clippers, something that might not seem that extraordinary if only it hadn't taken so long to happen after his celebrated arrival in December of 2011. He was swept by the San Antonio Spurs in the second round in 2012 and knocked out in the first by the Memphis Grizzlies in 2013.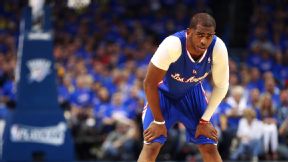 Ronald Martinez/Getty ImagesChris Paul takes a break from making eight of nine 3-point shots in the win over OKC.
Yes, the eight 3-pointers (on nine attempts) represented a career high for Paul. His 32 points and 10 assists on 85 percent shooting made him the first to hit all those standards in a playoff game since Michael Jordan in 1991.
It was the 1-0 series lead resulting from the Clippers' convincing 122-105 victory over the Oklahoma City Thunder that resonated with him. Winning -- and winning big -- took precedence, as did staying fresh for Game 2 here Wednesday night. That's why he didn't play in the fourth quarter, even though he was one 3-pointer shy of the NBA playoff record.
This moment was overdue. Maybe that explains Paul's impatience, whether it was heading to the arena about 45 minutes before the first team bus left or hoisting more 3-pointers in the first half (six) than he'd attempted in the entirety of each of the previous four games.
"I've never been past the second round, and this is my ninth season," Paul said.
"I remember that team I was on in '08," he said, thinking back to the New Orleans team that had a 3-2 lead over the Spurs in the second round, but wound up losing Game 7 at home.
"You feel like you're always going to be back there, and that's not the case. This team here, I think it's a special team. Not only do we have a good team, but it's fun to be around each other."
So maybe he's not content to let the Clippers' progression follow the usual course, year by year, round by round, slowly getting closer to a championship. Not only does their 1-0 lead and pilfering of home-court advantage put them closer to a ring than anyone but the surprising Washington Wizards at the moment, it provided the first glimpse of a championship-looking performance by this team.
"We're motivated, we're hungry, I think we're peaking at the right time," Jamal Crawford said.
Crawford and the second unit handled the Thunder while the starters rested in the second quarter, and Oklahoma City never challenged the Clippers again. It's not that the Thunder played abysmally. Kevin Durant and Russell Westbrook combined for 54 points and Oklahoma City outrebounded the Clippers 47-31. Paul was simply the best player on the court, a court that included the man who will receive the Most Valuable Player award before the next game.
"He came out more aggressive offensively than he usually does, and it really set the tone for us," Crawford said.
It wasn't going to happen in this series without winning a game in Oklahoma City, so why not get that over with in Game 1? No matter that this would seem the least opportune moment for the Clippers to strike, just two days after the conclusion of their emotionally draining seven-game series against the Golden State Warriors and one day after the Clippers flew across two time zones.
Paul fessed up to being one of the players that coach Doc Rivers said nodded off during their film session on Sunday. A midday nap did wonders for his energy Monday, while his troublesome hamstring responded to training staff's treatment enough for his movement to improve noticeably in Rivers' eyes.
No one knows where the eight 3-pointers came from. "It's what I do," he tried to insist, before quickly admitting, "That's a lie." He knows it won't happen again anytime soon. But it's not too much to expect him to play like an All-Star on a nightly basis, something he hadn't done in back-to-back games in these playoffs until now. The timing's right.
He can't predict the future. But he's so focused on it that he's having trouble with the past. He used to have pinpoint recollection of specifics, the way a professional golfer can take you through every club used for every swing in his round. Lately Paul has been hazy on the details, as if he's too busy thinking ahead to hit rewind. Not even wearing a Payne Stewart-style hat to the podium Monday night could help him bring out a golfer's recall when it came to the circumstances surrounding his hot start.
"I think the shot clock might've been running down on one of the first that I shot," he said.
Kinda vague. Blake Griffin wasn't much better when it came to providing a precise explanation for how he tried to capitalize on Paul's hot start.
"Really tried to just stay out of his way and let him do what he's doing," Griffin said.
Nor was there much by way of rationalization or explanation from the Thunder on their defensive approach.
"They hit shots and they kind of loosened our defense up," Durant said. "The effort was there. We had good intentions. They got hot."
This much Paul is well aware of: He's never been to the conference finals and he doesn't have a championship ring.
Back in the beginning, when Rivers was asked on media day whether the Clippers were championship material, he said he'd leave it up to others to say that.
That differed from the message he gave his team: "Success doesn't wait."
"We're chasing it just like everybody else that's alive," Rivers confessed Monday night. "And I think Chris understands that better than everybody."
Dimes past: April 19 | 20 | 21 | 22 | 23 | 24 | 25 | 26 | 27 | 28 | 29 | 30 | May 1 | 2 | 3 | 4
ESPN Senior Writer
ESPN.com senior writer since 2007
Around The Horn panelist
Formerly at Los Angeles Times
2. Around the Association
| | | | | |
| --- | --- | --- | --- | --- |
| Washington Wizards | 102 | FINAL | 96 | Indiana Pacers |
---
MVP: It's too close to call between Trevor Ariza (who was 6-for-6 from 3-point range with 22 points early) and Drew Gooden (who had 12 points and 13 rebounds in only 18 late-game minutes). They're just going to have to share this honor.
LVP: The slow yet comprehensive demolition of Roy Hibbert continues unabated. Zero points, zero rebounds, five personal fouls and two turnovers offset by just two blocks and an assist. And it wasn't all just numbers; he looked like a wreck on the court and plain dejected on the bench.
That was ... weirdly almost a game at the very end: After struggling all night to find any kind of offense, the Pacers went 4-for-5 on their final shots, all from downtown by George Hill and Chris Copeland. Could this augur a significant rethinking of lineups for Game 2?
| | | | | |
| --- | --- | --- | --- | --- |
| Los Angeles Clippers | 122 | FINAL | 105 | Oklahoma City Thunder |
---
MVP: Chris Paul went full "Point God" mode, scoring 32 points on a career-high 12-of-14 shooting (8-of-9 on 3-pointers) and dishing out 10 assists. The Thunder threw several different defenders and coverages at him, but nothing worked. He was unstoppable.
That was ... a thrashing: Don't let the final score fool you. The Clippers led by 20-plus points for most of the game, and would have maintained the lead had their starters played in the final frame. The Thunder will need to make considerable adjustments in Game 2.
LVP: The Thunder's supporting cast. Heading into the fourth, Kevin Durant (25 points) and Russell Westbrook (29) combined for 69 percent of the team's points and were essentially playing two-on-five. OKC's role players had plenty of open looks, but only made 39.3 percent of their shots over that time period.
3. Monday's Best
Paul
Chris Paul, Clippers: CP3 made a career-high eight 3-pointers and scored 32 points to help the Los Angeles Clippers beat the Oklahoma City Thunder 122-105 in Game 1 of their West semifinal. Paul, who had never made more than five 3-pointers in a game, sank 12 of 14 shots and had 10 assists.
4. Monday's Worst
Hibbert
Roy Hibbert, Pacers: The Pacers got no points and no rebounds from 7-foot-2 center Roy Hibbert in the 102-96 Game 1 loss to the Wizards. His big number was five fouls in 18 minutes of action.
6. Tweet Of The Night
Me and Roy Hibbert had the same amount of points and rebounds tonight.

— Tracy McGrady (@Real_T_Mac) May 6, 2014
7. Quote Of The Night
"We're at the point where we really need Roy and we need him now."
-- Paul George, on Pacers center Roy Hibbert's disappearing act in Game 1
8. Trevor's Sure Stroke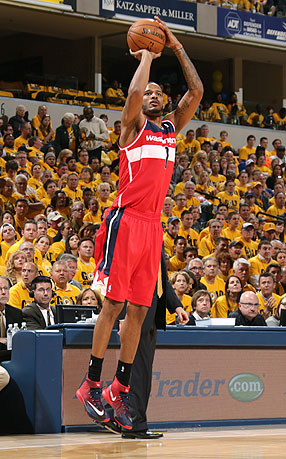 Ron Hoskins/NBAE via Getty ImagesTrevor Ariza is the third player in NBA playoff history to make at least six 3-point field goals without a miss, joining Robert Horry (1997) and Peja Stojakovic (2011).
9. Stat Check
Washington Wizards coach Randy Wittman is the third head coach to win his first four road playoff games, joining Mike Dunleavy (1991, Lakers) and Pat Riley (1982, Lakers), who both reached the Finals after doing so.