1. CP3 Takes On MVP In Stirring Comeback
LOS ANGELES -- We fixate on the crowning moments of comebacks: Kobe Bryant's alley-oop to Shaquille O'Neal that finished off the Portland Trail Blazers in 2000 or Ray Allen's drive down the middle that capped the Boston Celtics' triumph from a deficit of historic proportions in the 2008 NBA Finals. We really need to pay attention to the dirty defensive details, the moments that signal the change that can turn a game -- and a series -- around.
For the Los Angeles Clippers, who were down by 22 points shortly after the starting lineups were introduced Sunday and trailed the Oklahoma City Thunder by 16 with just more than nine minutes left in the fourth quarter, the roots of their 101-99 victory began with a defensive assignment switch in the second quarter. It was the precursor to the fourth-quarter turnaround. It was Chris Paul's announcement that he was ready to lead the Clippers back by playing defense, an indication that he was prepared for the greater task of guarding Kevin Durant that awaited him in the fourth quarter.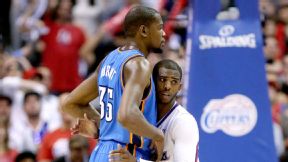 Stephen Dunn/Getty ImagesCovering Kevin Durant is a tall order for Chris Paul, but he made an impact in Game 4.
Oklahoma City's Caron Butler had just made a jumper and drawn two fouls on Jamal Crawford on three consecutive possessions. So Paul took on the task of guarding Butler.
Paul followed the first rule of contact sports: strike first. He bumped Butler. He bumped him again. Then he used his quick hands to knock the ball away as Butler went up to shoot. It led to a basket for Paul on the other end, when he got the rebound off a miss that Glen Davis kept alive and made a short bank shot.
A minute later, Paul fought off Russell Westbrook for a rebound -- the statistical category Westbrook had dominated the Clipper guards in this series -- and took the ball the length of the court for a layup and foul. It was part of a spurt that shrunk the Thunder lead from 13 points to four points.
Yet for so long the Clippers couldn't break the water's surface, sinking back 10 digits behind the Thunder by halftime and staying submerged there for most of the final two quarters. But it was Paul's ability to hold his own against Durant -- who stands almost a foot taller than him -- that allowed Doc Rivers to get away with the small lineup featuring Blake Griffin at center that brought the Clippers the victory.
Paul was only the third-leading scorer for the Clippers in their 38-point fourth quarter. Darren Collison had 12 points in the quarter, patiently eschewing 3-pointers on a night the Clippers were terrible at them (3-for-21) to take midrange jumpers or get to the hoop ... then on to the podium postgame. Griffin navigated around foul trouble to score 10 points. Crawford was one behind Paul with seven points, including the go-ahead 3-pointer.
"I like defense better than offense," Paul said later.
It's surprising to hear from a player who has the ball in his hands so frequently. In this game the rest of the team liked Paul on defense better than his offense, too. That's saying something when his stat line showed 23 points and 10 rebounds.
"Chris Paul ... just, just being our MVP," Davis said. "Going out there and guarding Kevin Durant, he did a wonderful job."
Rivers called the move "desperate coaching." The Clippers wanted to stop Durant from beating them off the dribble. And they learned from Paul's brief switch onto Durant in Game 3 -- which resulted in Durant knocking down a jumper over him -- that Paul would need plenty of defensive help.
So coming out of a timeout a minute into the third quarter, Paul was on Durant. The first opportunity Durant had to attack Paul, he brought the ball upcourt and tried to drive past him. He couldn't; Paul beat him to the spot. So Durant tried to change direction and Paul stole the ball from him and went the other way for a layup. Immediate dividends.
Another thing Rivers counted on was the officials' tendency to give smaller players more leeway when guarding bigger players. Paul stuck with Durant, dug his legs under him and kept his hands on him. The only time there was separation was when Paul showed off Durant screens, before quickly retreating to find him again.
Durant knocked down a question about what kind of challenge Paul presented: "He doesn't."
Stars hate giving credit to defenders. And Durant was correct that most of his problems came from the double-team, not Paul. But the Thunder failed to exploit the matchup by either posting Durant deeper on Paul or getting the ball to Durant coming off a screen. Durant's last two baskets against Paul were both off screens.
The Thunder also got 10 fourth-quarter points from Russell Westbrook who kept blowing by Collison. Their biggest problems came when they fed Durant at the elbow against Paul, and the Clippers sent double-teams.
At the 8:30 mark the help came from Griffin, and Durant threw the ball away for a Crawford steal and layup.
With just more than three minutes remaining in the game, Collison helped off Westbrook, Durant tried to throw a skip pass to Reggie Jackson, but Collison deflected it to Crawford, then raced downcourt and got the outlet for a layup.
The Clippers have new life in the series, when for much of the afternoon it appeared they were going to head back to Oklahoma City down 3-1. At the very least it guaranteed them another home game and an extended series. They have this game to deposit in their memory banks. They can put it next to their comeback from 24 points down with eight minutes to go in the playoff opener at Memphis two years ago. They are building up collective experiences to draw from down the, with a bonus opportunity for more this week.
Their best-case scenario is it's a springboard to a championship. Davis experienced one in Boston in 2008, and the turning point to him was a defensive effort as well.
"There was a loose ball," in Game 7 of the second round against the Cleveland Cavaliers, Davis recalled. "If Cleveland gets the loose ball, they have a chance to score. Paul [Pierce] dives on that loose ball, we win the game. We go to the conference finals.
"We sensed a new level of championship basketball, almost believing in the supernatural, that we can do all things when we stick together."
Rivers often recalls that play as well. The rest of us forget those type of moments. We're mesmerized by the ball going through the hoop. That's not always the story. It was neither the tale nor the takeaway for Chris Paul on Sunday.
"Just understanding that sometimes you just got to impose your will," Paul said. "Just play hard."
Dimes past: 27 | 28 | 29 | 30 | May 1 | 2 | 3 | 4 | 5 | 6 | 7 | 8 | 9 | 10
ESPN Senior Writer
ESPN.com senior writer since 2007
Around The Horn panelist
Formerly at Los Angeles Times
2. Around The Association
| | | | | |
| --- | --- | --- | --- | --- |
| Oklahoma City Thunder | 99 | FINAL | 101 | Los Angeles Clippers |
---
MVP: Chris Paul's impressive defense on Kevin Durant set him up, but Darren Collison seized the moment in the fourth quarter, scoring 12 of his 18 points in the final frame on 4-for-6 shooting while pulling down three rebounds along the way.
That was ... an epic collapse: Yes, the 22-point lead on the Clippers in the first quarter was staggering, but more impressive was the way the Thunder held them at bay for almost the whole game. Not impressive? That last little bit, where Oklahoma City couldn't put anything together.
X factor: CP3 on Durant. Although Durant was 4-for-5 in the fourth, putting Paul on him and bringing the quick double-team often got the ball out of his hands, and Durant turned the ball over three times in the final quarter. The Clippers offered tempting mismatches in the second half, baiting the Thunder into pressing as they struggled to take advantage without success.
| | | | | |
| --- | --- | --- | --- | --- |
| Indiana Pacers | 95 | FINAL | 92 | Washington Wizards |
---
MVP: Paul George became the first Pacer since 2006 to score more than 35 points in a playoff game. George scored 39 points on the night, seven of which came from downtown, leading Indiana's improbable 20-point comeback charge.
X factor: Roy Hibbert looked like his old, joyful self, scoring 17 points, snaring nine rebounds and playing the terrific defense we were so accustomed from early in the season. George may be the star, but the Pacers go as Hibbert goes.
That was ... an insane last few seconds: Bradley Beal gets a wide-open look to tie the game, and whiffs. Lance Stephenson throws the ball right into the hands of Beal, who gets fouled. Later, George Hill goes to the line to put this one away, but misses the last free throw, because, of course, this is the game that wouldn't end.
3. Sunday's Best
George
Paul George, Pacers: This is the guy people thought could be MVP. He poured in a career playoff-high 39 points and added 12 rebounds to lead the Pacers back from a 19-point deficit and past the Wizards 95-92. He scored 28 points after halftime, including making six of his franchise playoff-record-tying seven 3-pointers.
4. Sunday's Worst
OKC Thunder's lead surrender: With a golden opportunity to go up 3-1, the Thunder instead saw a 22-point lead vanish in a 101-99 loss to the Clippers. All this would have been mostly forgotten if Russell Westbrook's last-second 3-pointer found the mark.
7. Quote Of The Night
"They're seething right now. They had an opportunity to go up 3-1 and now it's an even series."
-- Clippers coach Doc Rivers, on the OKC Thunder.
8. Georgian Restoration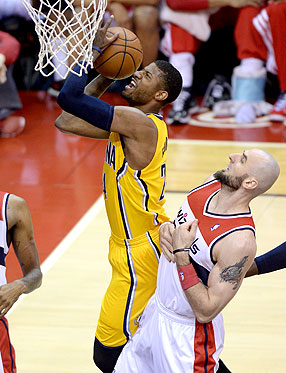 Chuck Myers/MCT via Getty ImagesPaul George could not be contained by Marcin Gortat or any of the other Wizards in taking charge of Game 4.
9. Stat Check
By
ESPN Stats & Information
Kevin Durant is averaging 30.2 points and 9.1 rebounds this postseason, somewhat overshadowing the remarkable numbers Russell Westbrook is putting up -- 26.2 points, 9.0 rebounds and 8.3 assists. The only player in NBA history to average at least 26.0 points, 9.0 rebounds and 8.0 assists in a single postseason was Oscar Robertson (over 4 games in 1962 and 12 games in 1963).