1. LeBron's Biggest Score Is One Smart Dish
NEW YORK -- Anyone who has spent any significant time with LeBron James knows that he's frequently the smartest person in the room.
The fact that he's one of the best athletes on the planet, ambidextrous and 6-foot-8 all contribute. But James isn't the dream package without perhaps his most underrated quality: his acute focus, memory and problem-solving skills that operate faster than even his fast-twitch muscle fibers.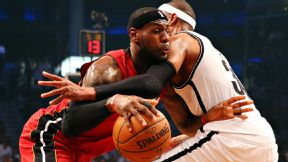 Anthony Gruppuso/USA TODAY Sports LeBron James dropped in 49 points as the Heat moved one win away from eliminating the Nets.
He can dunk on you, yes, but he also can figure out what you're going to do before you're going to do it because he's watched you do it before.
This is how James can score 49 points in a reasonably important playoff game, most of them coming as a result of total physical force, yet have his game-winning moment come because of a mental decision he made in roughly a second.
With one minute to play in a tie game, James caught the ball in the middle of the lane just a few feet from the basket. He was 11-of-12 shooting at the rim on this night, and he'd already made 19 trips to the foul line, his most in more than two years. No one would have blamed him if he'd dropped his head and went again, expecting to make a 12th hoop in there or at least get a whistle and a chance to go ahead at the line.
Instead he saw Kevin Garnett, the Brooklyn Nets' weather-beaten veteran who still remains one of the savviest interior defenders in the league, take a step in his direction and step away from James' teammate Chris Bosh.
"When KG came off of CB, I already knew what was about to happen, I knew [the ball] was going to find to CB," James said. "There's a lot that goes through my mind in a basketball game. Sometimes it gets me in trouble because there's so much that I'm reading and reacting, going through plays in my mind that haven't even happened yet."
It's not usually troublesome, and it wasn't in this moment either. James, knowing the double-team was there, spun and kicked the ball to the wing to Mario Chalmers, who habitually tossed it to Bosh in the corner. Wide-open and in his sweet spot, Bosh calmly knocked down the game-winning 3-pointer.
It ended up being a 102-96 final, but Bosh's shot to break a 94-94 tie won it for the Miami Heat and crushed the hopes of the Nets, who now trail 3-1 in this conference semifinal series. The Heat have now responded to a loss with a win 10 consecutive times in the playoffs, and this group is 6-0 over the past four years in Game 5s when they are up 3-1. In short, the Nets and their nine-figure payroll are virtually done.
James could have beaten them with a punishing basket at the rim, having done that to Paul Pierce and Garnett before. He could have beaten them with a dagger 3-pointer -- he's done that, too. He could have gotten a clutch defensive stop, which he actually did by successfully covering Joe Johnson on two possessions in the final moments.
At this point in his career, which might indeed be at its apex, James can do it so many different ways. But they all can be devastating, including a choice not to force a shot against a double-team and instead think about what is known as a hockey assist.
"People always talk about my basketball IQ, I don't really talk about it as much," James said. "But I see a lot going on in the game that I'm not sure if everyone sees."
There are much better examples of James' working it than this particular play. A good point guard knows how to set up a defense with a drive followed by two passes, and there are a lot of good point guards in the NBA. But none of them also can score 49 points on 24 shots and remember every move you made in the entire series to the point where he knows what you can do before you do it. Even if the series was from six years ago.
Lots of players have scored 40 points in a playoff game. James once scored 45 in a game and lost to Pierce and Garnett in 2008. He remembers how Garnett defended him in that game too, right down to the angles he takes when helping off his man. James does this without effort, it comes to him. It is both natural and developed, a combination of huge talent and numerous experiences.
This is where James widens the gap on his competition and why his value in pressure situations has become non-quantifiable.
"I'm able to calibrate what is going on throughout the game no matter what situation that I am in," James said. "To know who has it going on our team, what position they are all in, and if something will work again. I don't know where it came from. My coaches, even when I was younger, they'd say I could memorize a play from a few tournaments ago."
His current coaches say it now, too. Heat coach Erik Spoelstra has drawn up hundreds of plays in playoff games for James now, this being their 14th series working together. Needing a basket in that final minute, Spoelstra called a rather simple spread pick-and-roll play with James and Dwyane Wade as the centerpiece and shooters deployed around the perimeter. Spoelstra has worked a long time finding this formula; the play itself wasn't genius, but at least one of the guys running it is.
It could've worked out a different way. Wade could've kept the ball and tried a shot on his own and pulled off the heroics. But Wade is in the same place as Spoelstra, completely trusting James to work it out.
"He reads the game," Spoelstra said. "He reads the game as well as anybody that's played this game."
There were so many other things happening in Game 4. The Heat's supporting cast was not strong, with Wade scoring just one point in the fourth quarter, for example. On balance, they relied too heavily on James, something that could end up becoming an issue if it continues.
The Nets elected to go with isolation plays for Johnson against James in the clutch instead of running actions that might have freed other options. The Nets ended up going more than four minutes without a basket in the fourth, a vital failure at a crucial time. Johnson even accused James of flopping.
Cut through all that clutter, though, and you had James out-executing, outperforming and usually outthinking all of his peers. That's why the Heat are the two-time defending champs, and that's why they are on the cusp of slamming the door shut on another opponent.
The Nets were assembled at huge expense for the sole purpose of winning a game exactly like this one. And they failed because James figured out a way to turn them back.
"He just has a way," Spoelstra said, "of sensing what we need."
Dimes past: 27 | 28 | 29 | 30 | May 1 | 2 | 3 | 4 | 5 | 6 | 7 | 8 | 9 | 10 | 11
ESPN Senior Writer
ESPN.com NBA writer since 2010
Covered Cleveland Cavs for seven years
Author of two books
2. Around The Association
| | | | | |
| --- | --- | --- | --- | --- |
| Miami Heat | 102 | FINAL | 96 | Brooklyn Nets |
---
MVP: LeBron James was the very definition of MVP, as he was responsible for 49 of Miami's 102 points. Inside and out, the King dominated, while on defense he shut down Joe Johnson in two straight end-of-game possessions.
LVP: Dwyane Wade. The Heat may have won the game, but they almost lost it thanks to Wade. Displaying some uncharacteristically poor passing, Wade's turnover let the Nets back in the game just as the Heat tried to close them out.
Defining moment: Chris Bosh, relatively silent for most of the game, hit the biggest shot of the night, giving Miami the lead for good on a 3-pointer with just under a minute left in the fourth.
| | | | | |
| --- | --- | --- | --- | --- |
| San Antonio Spurs | 92 | FINAL | 103 | Portland Trail Blazers |
---
MVP: Nicolas Batum. Fourteen points on 5-of-11 shooting doesn't look like a lot, but when you throw in Batum's game-high 14 rebounds, eight assists and solid defense, he was the best player on the floor in Game 4.
That was ... a good performance from Portland: You wouldn't be surprised to see the Blazers drop that Game 4 after how handily they were beaten in Games 1 through 3. You might not have blamed them, either. But Portland competed in Game 4 and took a well-deserved win in front of its home crowd.
X factor: 3-point shooting. Neither team could separate itself from beyond the arc in the first half, but the Trail Blazers hit 4 of 6 3-pointers in the third quarter, giving them a 17-point lead heading into the fourth. The Spurs, meanwhile, finished 3-for-18 from 3 on the evening.
3. Monday's Best
James
LeBron James, Heat: LeBron tied his playoff career high with 49 points, as the Heat beat the Brooklyn Nets 102-96 for a 3-1 lead in the East semis. James was 16-of-24 from the field and 14-of-19 from the free throw line in matching the 49 points he scored for Cleveland against Orlando in the 2009 Eastern Conference finals.
4. Monday's Worst
Ginobili
Manu Ginobili, Spurs: In 20 minutes of action, the Spurs' spark plug went 1-for-6 from the field in the 103-92 loss to Portland. He missed all three of his 3-point attempts, helping ensure that the Blazers would be sweepless.
6. Tweet Of The Night
I'd rather be talking about these great NBA Playoffs than Donald Sterling's interview.

— Earvin Magic Johnson (@MagicJohnson) May 13, 2014
7. Quote Of The Night
"That's the first time I've been disappointed in myself in a win."
-- LeBron James, after missing a free throw that would have given him 50 points.
8. The Unexpected Will Barton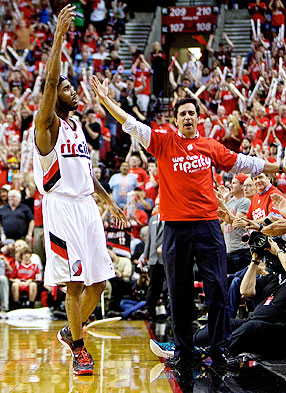 Craig Mitchelldyer/USA TODAY SportsPortland got just six points off the bench in Game 3, but Will Barton provided a spark with 17 points on Monday night.
9. Stat Check
LeBron James tied his playoff career high with 49 points Monday. It was his seventh playoff game with at least 45 points, tied for third most all time behind only Michael Jordan (23) and Wilt Chamberlain (eight).