1. Famous Last Words Could Be All Indiana's
MIAMI -- Forget Lance Stephenson's trash-talk sessions with LeBron James.
That proved to be nothing more than a sideshow -- a distraction. It was fun while it lasted. If the erratic Indiana Pacers haven't truly learned anything else by now in this series, they're well educated in the process of hoping for the best from Lance but also bracing for the worst in Lance.
It simply comes with the curse -- and blessings -- of Lance.
Sure, Stephenson's mouth has been running from the outset of this series against the Miami Heat, and the only thing it has accomplished so far in the Eastern Conference finals is to bring out more late-game determination from James, vintage efforts from Dwyane Wade and a breakthrough from Chris Bosh.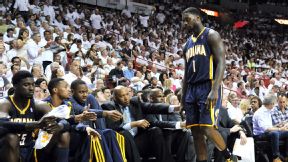 Steve Mitchell/USA TODAY SportsLance Stephenson hoped to get into LeBron's head with his pointed comments before Game 4.
The ledger now stands at a 3-1 series lead for the Heat after Monday's wire-to-wire destruction of the Pacers in a 102-90 victory. Miami moved one step closer to a fourth consecutive trip to the NBA Finals while Indiana retreats to Bankers Life Fieldhouse for Game 5 on Wednesday on the brink of elimination.
"I wasn't disappointed in the fight," Pacers coach Frank Vogel said. "I was disappointed in the result."
The only edge Indiana has in this series is when it comes to storylines and unnecessary narratives.
It started from the outset, when Stephenson entered the series joking that he wanted to do his part to make Wade's knees "flare up" after the Heat guard has spent most of the season battling soreness and biding time in order to be at or near the top of his game for the playoffs.
How's that working out?
The only thing flaring up has been Wade's production. Even after being off with his shot Monday in a pedestrian 15-point effort, Wade is still averaging 22 points and shooting 56.5 percent in four games.
And that sign of weakness Stephenson claims to have seen in his verbal combat with James?
The only thing weak about James in this series has been his attempt to pull the wool over our eyes as he stretches the limits of what's considered a standard-length headband to cover the receding hairline. Otherwise, there has been absolutely no backtracking from the Heat, who took control of this series in the final five minutes of Game 2 in Indiana and have since squeezed every bit of pride out of the Pacers.
The Heat have no shot to complete at least one task in this series.
They won't shut Stephenson up, nor will they break his will and confidence.
He's a cross between Mike Vick and Kevin Hart. Looks just like a mix of them, characteristically. And he performs like them under the bright lights. Like Vick in recent years, Stephenson teeters between dominant and disastrous, which was the case Monday when he went scoreless until late in the second half just two games after peaking with a 25-point output to keep his team in Game 2.
And like Hart, the comedic actor who sat courtside at AmericanAirlines Arena on Monday, Stephenson always has something funny to say and never seems to easily go away.
"I have no regrets," Stephenson said of targeting James after taking a shot at Wade.
But let's be real here. It's not Stephenson's posturing or prancing that has the Pacers on the verge of being pushed out of the postseason for the third consecutive season by Miami. A strong point can be made that he has been the most reliable player on this team. He has delivered Indiana from despair time and again and, alongside Paul George, was in the middle of what little fight Indiana showed in trying to make a late run at the Heat in the fourth quarter.
These Pacers don't have a Lance problem. What has become obvious is they have a mental toughness problem, a confidence problem and a stubbornness problem all wrapped into a Heat problem. And barring a miraculous turnaround in the next few days, neither this team, this coach nor its front office will solve the dilemma the Heat present anytime soon.
Two games into this series, Indiana forked over home-court advantage in a fourth-quarter collapse as easily as you drop keys and cell phones into those bowls before going through metal detectors.
Three games into this series, the Pacers were back to embracing an inferiority complex and referring to the Heat as their big brother in the East. File that under things you don't say during the championship rounds of the playoffs when considering yourselves a title contender.
Paul Pierce and Kevin Garnett, somewhere on vacation right now, still believe they could turn things around if they had just one more shot at Miami. And the last thing they'd call the Heat, who dumped them out of the playoffs each of the past three years, is some brotherly term of endearment.
Even Charlotte was more psychologically defiant on the way to being swept by Miami in the first round than Indiana has been since James and Wade hijacked the series in Game 2 last week. Over the course of the past two games in Miami, the Pacers have sunk from beaten to defeated.
"It's just demoralizing when a game is lopsided," George said when asked if he felt discouraged or disheartened at this point. "I mean, I'm sorry to say, but that was the case again."
Indiana is fighting losing battles on too many fronts right now.
It's one thing to have a legitimate gripe about Miami's 17-point edge in the free throw disparity in Game 4, similar to the 22-point advantage the Pacers held over the Heat at the line in Game 1. But it's a completely outlandish at this point in the season for teammates to nitpick one another over motivation.
"Sometimes, you've just got to watch what you say," George said of Stephenson's smack talk. "You're on the big stage. Everything we say is going to be bulletin-board material. It's really going to have a powerful meaning behind it. We've just got to be smarter with situations and just voicing our opinion."
Therein lies the difference between these teams.
"I'm motivated enough to try to get back to the Finals," said James, who had his best game of the series with 32 points, 10 rebounds, 5 assists and 2 steals in 36 minutes. "That's motivating enough, and being one of the leaders of this team, I have to do my job ... my part to help us win."
The Pacers' best player is too caught up in trying to get his teammates to respect their elders in the East. If the Pacers believe bulletin-board material factored in the game's outcome, they need a lesson in playoff basketball. Meanwhile, the Heat have reduced the Pacers to target practice.
Before Monday's game, Heat coach Erik Spoelstra pressed his team to reach a gear they've yet to show this postseason, despite posting an 11-2 playoff record. They responded by dismantling Indiana to the point that Roy Hibbert, who dominated the Heat in previous years, was held scoreless.
To the point David West spent stretches of the past two games slowed by Rashard Lewis.
To the point Miami didn't need the energy of center Chris Andersen, who sat with a thigh bruise.
To the point Stephenson didn't even make a point -- with his mouth or his moves -- for most of the game.
The Pacers came into this series with everything they wanted. They had home-court advantage. They were driven by the desire to finally overcome the team that ended their seasons two years in a row. They were supposedly deeper and more desperate.
Now, they're one game from being done, and possibly undone in the offseason.
This series was once dictated on their terms.
It didn't change because Stephenson spoke up.
The Pacers simply have yet to step up.
Dimes past: May 5 | 6 | 7 | 8 | 9 | 10 | 11 | 12 | 13 | 14 | 15 | 18 | 19 | 20 | 21 | 24 | 25
ESPN Staff Writer
ESPN.com NBA reporter
Blogs regularly on the Miami Heat
14 years covering the ACC, SEC, NFL and NBA
2. Around The Association
| | | | | |
| --- | --- | --- | --- | --- |
| Indiana Pacers | 90 | FINAL | 102 | Miami Heat |
---
MVP: Lance Stephenson, for all the wrong reasons. After engaging in a bit of ill-timed trash-talking about LeBron James, Stephenson went 0-for-3 for just a single point in the first three quarters while James put up 32 points (10-for-12 in the paint), including several highlight-reel dunks.
LVP: Roy Hibbert. For the sixth time in the past 21 games (and fourth time in the playoffs), Hibbert was held scoreless. With Hibbert and Stephenson shut out through three quarters, the scoring load fell heavily on Paul George, David West and George Hill, but they couldn't keep up.
X factor: Chris Bosh. After scoring in single digits in the past seven playoff games against the Pacers, Bosh exploded for 25 points, including 17 in the first half. That wasn't just a lot of points, it was more than Bosh had ever scored against Indiana as a member of the Heat in the playoffs or regular season.
3. Sunday's Best
James
LeBron James, Heat: Don't poke the King. After enduring Lance Stephenson's "weak" comments before Game 4, James' silencing performance of 32 points and 10 rebounds helped the Heat grab control of the Eastern Conference finals by topping the Pacers 102-90 in Game 4.
4. Sunday's Worst
hibbert
Roy Hibbert, Pacers: A major positive factor in the Pacers' first three games of the series, Hibbert sank in Game 4. He finished with zero points and five rebounds in 22 minutes of a game Indy could have used to turn around the series.
6. Tweet Of The Night
All that small talk lance doing he better just chill in hoop!! They didn't win back to back for nothing!!!

— Marreese Speights (@Mospeights16) May 27, 2014
7. Quote Of The Night
"I was trying to get into his head. I guess he stepped up and got the win. I can take the heat."
-- Lance Stephenson, who declared before Game 4 that LeBron James trash-talking to him on the court was a sign of weakness.
8. More Like A Bosh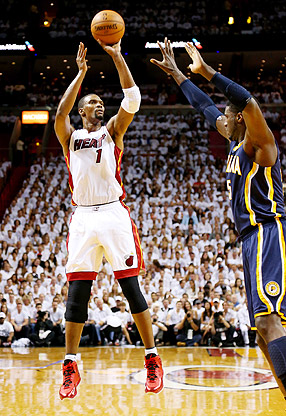 Mike Ehrmann/Getty ImagesAfter a spate of single-digit scoring performances, Chris Bosh started fast and finished with 25 points in the Game 4 win over the Pacers.
9. Stat Check
LeBron James finished with 32 points, 10 rebounds and five assists, breaking one of Michael Jordan's NBA records along the way, as the Miami Heat polished off the Indiana Pacers 102-90 to take a 3-1 lead in the Eastern Conference finals. It was the 74th playoff game in which James has generated at least 25 points, five rebounds and five assists, surpassing Jordan's previous record of 73 such games. (This was the 151st playoff game for James; Jordan played in 179 playoff games.) James also tied Kareem Abdul-Jabbar's NBA record of 31 playoff games with at least 25 points, 10 rebounds and five assists.
Chris Bosh, who had scored only nine points in each of the first three games of the series, scored 25 points, his highest total in any of his past 58 playoff games. He last scored that many points in a playoff game on May 22, 2011, when he dropped 34 points on the Chicago Bulls in Game 3 of the Eastern Conference finals.