1. Best Side Of Westbrook Helps OKC Get Even
OKLAHOMA CITY -- It seems there's a moment in every Oklahoma City Thunder game when you can tell if Russell Westbrook has it or he doesn't. The energy, the intensity, the ferocity -- they're always present.
But the question is always about which side he's going to come down on, which voice is going to win out on his shoulder. Will it be a night of Bad Russell, compounding every bad decision with another, trying to just play himself out of mistakes and questionable shots? Or will it be Good Russell, the relentless wrecking ball who is maybe the most exciting, breathtaking player in the league?
In Game 4 against the Spurs, it wasn't Good Russell. It was Great Russell.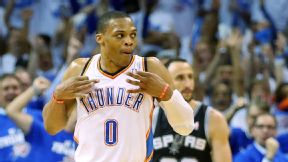 Ronald Martinez/Getty ImagesRussell Westbrook's dominating Game 4 performance showed OKC at its most dynamic.
"It's just fun to watch," said Kevin Durant of Westbrook. "Just his focus on every possession on the defensive end and his poise on the offensive end, I think that's what's fun to watch. People outside of our team don't really look at that type of stuff, but that's something that we can definitely build on as a group is watching him wreak havoc on the defensive end and offensively playing with such patience."
The Thunder's polarizing point guard put his name in a sentence with Michael Jordan, becoming the first player with 40 points, 10 assists and five steals in a playoff game since 1989 as the Thunder stomped the San Antonio Spurs 105-92 to even the series 2-2.
Westbrook has, and will continue to have, his critics -- those who are convinced he's not a point guard (as if positional categorization matters) and that he's the biggest obstacle Kevin Durant faces on a nightly basis. But what was on full display for the 45 minutes Westbrook marauded around the court was what makes him a straightup force of nature. His competitive spirit, his will, his determination perfectly mixed with control and poise. It's nights like Tuesday that can make Westbrook look like the best player on the court, which is saying something since he shares it with Durant.
Westbrook can bully opposing point guards with his superior size, strength and athleticism. Tony Parker often looked helpless in trying to both guard and attack Westbrook, like a fifth-grader playing against his older brother. Simple things such as dribbling and passing were a serious chore for Parker. Westbrook is almost always going to give you something offensively -- even if it contains a heavy dose of crazy -- but it's his defensive ability, while inconsistent, that can set him apart.
"Coach told us he needed maximum effort from us tonight, and it starts with me at the point guard position," Westbrook said. "And it's my job to play both sides of the ball. You know, if you want to win a championship, those are the things you have to do."
Here's how good Westbrook was: Durant started the game 9-of-11 from the floor, lighting the lamp from all over the floor with 22 in the first half. And he wasn't the story. After Westbrook splashed from distance to put the Thunder up 25 in the third, he went into a swagged-out strut, preening as he holstered his three fingers. It was obvious: This was his game.
Some would say that's where Westbrook steps on Durant's toes, taking the oxygen out of his fire. But in reality, it was just a passing of the torch. Durant slow-cooked the Spurs in the first half with his trademark ruthless efficiency. Then Westbrook followed with his trademark bottled madness. When it's good, it's really good. An ideal contrast of style, a perfect give-and-take between two stupidly good players.
"KD and Russell had a very difficult job leading an NBA franchise at 20 years old five or six years ago," Thunder coach Scott Brooks said. "They continued to stay steady and did their job every day, and that's what we talk about. I give them all the credit."
What has changed for the Thunder, though, since Games 1 and 2, in which they lost by a combined 52 points? The in-your-face answer is the re-addition of Serge Ibaka, who has completely changed the way the Spurs execute their offense. But within that, Westbrook and Durant have found their footing, going from a combined 30 points in Game 2 to 71 in Game 4. Westbrook himself outscored the Spurs' starting five 40-39 on Tuesday. Ibaka's offensive presence has created the necessary room Westbrook and Durant need to use their absurd skill sets to attack space in the San Antonio defense. There's a newfound rhythm, feel and confidence in the Thunder's offense, and it's pretty clear that while Westbrook and Durant finally functioned at full capacity in the series, Ibaka is the rope that binds it all together. With Ibaka in the lineup, the Thunder have now won 12 of their past 14 against the Spurs, including the past seven.
When Ibaka was initially ruled out for the remainder of the postseason, there was a feeling that the Thunder still had a puncher's chance because of Westbrook and Durant. The Thunder were going to miss Ibaka's paint-protecting ability, but behind two sun-sized stars, they might be able to survive. That connection seemed to be missed in San Antonio, but they've found it again. Game 4 was what the Thunder's death star looks like fully operational, with suffocating defense leading to explosive, fulminating offense.
But the Thunder merely held up their end of the deal. They protected home court and squared the series. This is the same place the series stood in 2012 when the Thunder roared to consecutive wins setting up a pivotal Game 5. The raw power of OKC's athleticism and length might've rattled the Spurs a bit and cast doubt into their ability to play their style. The third-quarter onslaught was devastating enough for Gregg Popovich to bench his starters with 5:33 left in the period. When the Thunder put it on you, it's something to behold.
And here's the scary thing for the Spurs, and everybody else for that matter:
"I don't know about the best game we've ever played [together]," Durant said of him and Westbrook Tuesday night. "I think we have another level we can go to."
Dimes past: May 8 | 9 | 10 | 11 | 12 | 13 | 14 | 15 | 18 | 19 | 20 | 21 | 24 | 25 | 26
ESPN Staff Writer
Covers the Oklahoma City Thunder for ESPN.com
2. Around The Association
| | | | | |
| --- | --- | --- | --- | --- |
| San Antonio Spurs | 92 | FINAL | 105 | Oklahoma City Thunder |
---
MVP: Russell Westbrook. Serge Ibaka continued to provide the emotional lift, but Westbrook played for 46 of the game's 48 minutes with the needle pegged, racking up 40 points and 10 assists plus five steals that made a difference early in getting the Thunder out ahead of the Spurs.
That was ... a momentum killer. Ibaka's heroic return gave Oklahoma City an undeniable jolt in Game 3, but anyone might have bet on San Antonio shrugging it off in Game 4. This felt much more like a tectonic shift, and now everyone's looking back to 2012 when the Thunder ended up destroying a Spurs team that looked dominant.
X factor: Fast-break points. The difference couldn't be more stark: Oklahoma City racked up 21 (17 in the first half alone) while San Antonio managed zero. None. Goose egg. It seemed at first like leaning so heavily on the starters and playing at such a speed might wear out the Thunder, but they never faltered.
3. Tuesday's Best
westbrook
Russell Westbrook, Thunder: That was a show. His 40 points and 10 assists led the Thunder past the Spurs 105-92 to tie the West finals at two games apiece. It matched the second-highest playoff point total of his career, falling short of the 43 he scored in the 2012 NBA Finals. He also had five rebounds and five steals.
4. Tuesday's Worst
Spurs' starters: At least they're not worn out from a great effort in Game 4. Tim Duncan, Tiago Splitter and Danny Green were among those posting single-digit scoring efforts. Russell Westbrook outscored the entire Spurs starting lineup 40-39.
6. Tweet Of The Night
Russell Westbrook is first player since MICHAEL JORDAN (1989) with 40 Pts, 10 Ast, 5 Stl in a playoff game.

— Numbers Never Lie (@ESPN_Numbers) May 28, 2014
7. Quote Of The Night
"Sometimes he's going to go off. He's capable of doing that. If he makes a lot of jumpers, it gets really tough."
-- Manu Ginobili, on Russell Westbrook
8. Fundamental Quest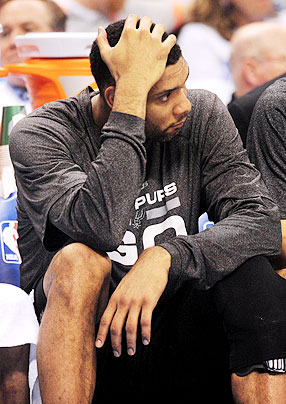 Mark D. Smith/USA TODAY SportsSpurs forward Tim Duncan spent 25 minutes on the court and the rest on the bench in a Game 4 loss, scoring nine points and hauling in six boards.
9. Stat Check
Russell Westbrook finished with 40 points, 10 assists, 5 rebounds and 5 steals. He's the second player to have a 40-point, 10-assist, 5-steal game in postseason play, the first since Michael Jordan in 1989.
This was Westbrook's third 30-point, 10-assist game this postseason. Only three players have had more such games in a single postseason -- Jordan with seven in 1989, Jerry West for the Los Angeles Lakers with six in 1970 and Oscar Robertson with five for the 1963 Cincinnati Royals.