Now what, LeBron?

Abbott

Adande

Broussard

Hollinger

Sheridan

Stein
What are the odds LeBron James
stays in Cleveland?
40%
36%
37%
15%
10%
60%
If not Cleveland,
where will LeBron
play next season?
1. How Will The LeBron Situation Play Out?
Henry Abbott, TrueHoop: I think he'll go wherever he thinks he can win the most championships as soon as possible. The two most important kinds of teammates he can have are a good big man and a good point guard.
Miami and New York have neither, but either could pair him with another free agent (or two). Chicago has Derrick Rose and Joakim Noah, and New Jersey might be able to provide John Wall and Brook Lopez, so those are interesting options.
But nobody can deliver a knockout roster immediately, so the Cavaliers stay in the hunt.
J.A. Adande, ESPN.com: He might take the tour around the league because he likes the attention, but it's hard to see a better situation for him than Chicago, where he could have a potential Hall of Fame sidekick in Derrick Rose and plenty of supporting cast members such as Joakim Noah.
At times in Chicago's first-round series versus the Cavaliers, the only thing keeping the Bulls from winning was LeBron. Imagine if he joined them.
Chris Broussard, ESPN The Magazine: LeBron will visit Chicago (45 percent chance he lands there), New York (18 percent chance) and possibly other places. He'll soul-search about whether he can win titles in Cleveland, where they don't have a ton of roster flexibility. He'll consult other free agents about playing in New York and Chicago. At end of the day, I think he chooses Chicago.
John Hollinger, ESPN.com: He'll soak up all the attention and do the full tour. But at the end of the day I think he's going to try to rig it so he, Wade and Bosh end up on same team, or at least two of them. Right now, that's most plausible in Miami.
Chris Sheridan, ESPN.com: Between now and July 1, the pendulum will swing hard in various directions, and it'll swing harder after that. But when it comes time for the sales pitches to begin, my money is on Mr. Smooth, Pat Riley.
I also wouldn't be shocked if LeBron, Wade and a third free agent all took four-year deals with three-year opt-outs, which means the next Summer of LeBron could come as soon as 2013.
Marc Stein, ESPN.com: I never would have imagined seeing the stay-in-Cleveland numbers so low in mid-May, but I still see staying with the Cavs as the most likely LeBron scenario. It's just not going to be that easy for him to walk away from Dan Gilbert's spare-no-expense ownership -- which might well result in the hiring of John Calipari before the Bulls get him -- and the latest episode of sports torture for the fans in LeBron's backyard … torture with his name on it.
But he's definitely going to take a long look at all the options, even with those Ohio ties, so allow me to spotlight one team in addition to the rising LeBron-to-Chicago speculation, Pat Riley/Dwyane Wade in Miami and the usual New York chatter: New Jersey. If the Nets get John Wall in the lottery to go with new owner Mikhail Prokhorov's riches, LeBron has to listen. Has to.
Free Agency Dimes past: Dwyane Wade | Chris Bosh | Playoffs | Coach Approach
2. Where Will LeBron Play?
3. King Doesn't Need New York
By Chris Broussard
ESPN The Magazine

The notion that every player -- or at least every star player -- in the NBA wants to play in New York tickles me.
In the early 2000s, while a Knicks beat writer for The New York Times, I remember being baffled because many of my colleagues and readers thought every skilled free agent was headed to New York -- even though all the Knicks could offer such max-salary talent was the midlevel exception. They thought Grant Hill would leave Detroit for the Knicks (for less coin) and Chris Webber would spurn Sacramento for the Big Apple (and chump change).
Now, New York assumes it's getting LeBron James. At least the Knicks actually have the salary-cap space to pull this off. But while New York has a decent shot at LeBron, the idea that LeBron -- or any other great player -- needs New York or harbors this intense desire to play there is a joke.
LeBron, an endorsement king, is already the face of the NBA, despite being ringless in tiny Cleveland. The Internet and globalization have largely made where a player plays irrelevant in regard to marketing and popularity. So to suggest LeBron needs New York is nuts.
The only thing that can make him bigger is a title, not a town.
4. Still Waiting For Kobe-LeBron
By Arash Markazi
ESPNLosAngeles.com
Kobe versus LeBron is dead -- again -- and, sadly, we may never see it.

James

Bryant
As the country searches to find the deeper meaning of LeBron James being humbled in the postseason -- another embarrassing playoff exit for a player who seems to be regressing in the clutch since being swept out of the NBA Finals three years ago -- I'm still coming to grips with the death of the Kobe Bryant-LeBron James Finals we've been promised for the past two years.
LeBron will be fine. I'm not worried about him or his legacy. He will re-sign with Cleveland or go to New York, continue to make millions of dollars and establish himself as one of the greatest basketball players ever. Whether or not he finishes his career with a handful of championship rings is inconsequential to me, and something I'm not going to lose any sleep over until he tearfully retires without a title. I'm sorry if I'm not ready to write the review of a play halfway through Act 1.
We still have at least 10 more years to shape and mold LeBron's legacy. I know we'd all love to gift-wrap and mail in the career of a 25-year-old player in a quick 30-second sound bite or a 30-inch column, but it can't be done and I won't do it.
LeBron's career will not be defined by one playoff series. He'll recover, but what we lost tonight and might never get again is Kobe versus LeBron in the NBA Finals, which is not only a huge loss for the NBA, but for both of their legacies.
• For more on Markazi's take on LeBron, visit ESPNLosAngeles.com.

James
"I want to win. That's my only thing, my only concern. I've always prided myself -- it's all about winning for me, and I think the Cavs are committed to doing that.
"But at the same time, I've given myself options to this point. Me and my team, we have a game plan that we'll execute and we'll see where we're at."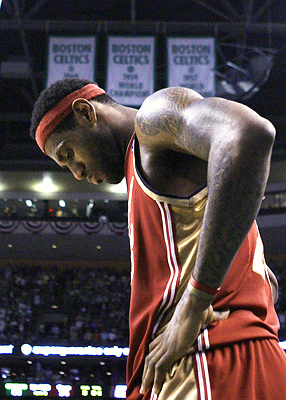 AP Photo/Charles Krupa
Falling short again, LeBron James will continue his quest to hang a few championship banners of his own one day. The question, of course, is where?
7.

The Buzz On Bron: Bulls?

Celtics fans were chanting "New York Knicks" tonight every time LeBron James went to the foul line. Maybe they should have been chanting "Chicago Bulls."
Within minutes of the Cleveland Cavaliers' Game 6 loss to the Boston Celtics, the speculation about LeBron James' next destination began in full force.
In the space of five minutes I heard from three NBA GMs via text, e-mail and phone. All three said based on the information they have, they believe LeBron will leave the Cavs.
More surprisingly, all of them said they believe the destination will be the Chicago Bulls. Two said they believe John Calipari will be the Bulls' new head coach.
One GM went a bit further in a phone call a few minutes later.
"I think the Bulls are really going to go for it. Look for them to offer the Cavs Luol Deng in a sign-and-trade for LeBron. That will allow them to retain most of their cap space.
"Then they'll go after Dwyane Wade or Chris Bosh as well."