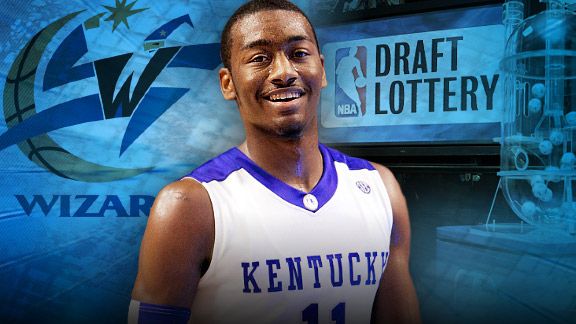 ESPN.com Illustration The results of the NBA draft lottery could have an impact on the free-agent landscape. Let's examine.
1. How Did The Lottery Affect LeBron?
Henry Abbott, TrueHoop: If your goal is to win a championship, you have to worry about your owner's commitment, the cap situation, the overall talent level of the roster, quality big man and point guard play, team defense, coaching, playoff experience and so much more. Where a rookie point guard is headed hasn't mattered to winning titles since the days of Magic Johnson.
So, though everybody adores the alleged John Wall/John Calipari/William Wesley/Jay-Z/LeBron James New Jersey lovefest, no one could sincerely advise James to put aside all those other concerns in favor of chasing Wall.
J.A. Adande, ESPN.com: Little to no impact. Even if the Nets had won the lottery, they'd still be playing in Newark for the next two years, and they wouldn't be ready to win for a while. If LeBron has an urgent need to win, he's not going to join forces with a rookie and wait for him to develop.
Kevin Arnovitz, TrueHoop: The timing of the NBA draft lottery -- only five days removed from the Cavaliers' postseason flameout -- was merely a coincidence. Despite James' relationship with John Wall, it's hard to imagine James making a decision as monumental as his free-agency destination based on where a teenager might be playing ball next season.
Chris Broussard, ESPN The Magazine: Chicago and Cleveland are the two front-runners for LeBron, but the Nets were a solid third -- before the lottery, that is. Now, the Nets, who have no hope of getting John Wall with the third pick, are in roughly the same spot as the Knicks. That is, far behind the Bulls and Cavs.
Chad Ford, ESPN.com: Not very much. Had the Nets landed the No. 1 pick, I think you could've made a case that LeBron would've had interest in playing with John Wall. But at No. 3, I think they lost their shot at Bron.
John Hollinger, ESPN.com: Only a little. The result certainly takes New Jersey from a low probability destination to a no-probability destination, but I doubt he was going there anyway. And the Wizards aren't going to be a player for him, either.
Chris Sheridan, ESPN.com: I don't believe John Wall's future destination was going to have any impact whatsoever on LBJ's chances of joining the Nets, which I would rate as less than 5 percent. Now, if Utah had won the lottery with the Knicks' pick, I could see that convincing LBJ that the Knicks are cursed -- but that didn't happen.
Marc Stein, ESPN.com: I'm inclined to say that it's a slightly bigger deal than most of my colleagues believe, because the Nets won't be nearly as appealing to LeBron without Wall's presence.
Don't forget that the prize attached to landing the No. 1 pick was not just drafting Wall but the Nets' ability to trade Devin Harris for another helpful piece or two to make their roster more appealing to LeBron or any other free agent. I'll concede, though, that LeBron has no shortage of good options with or without Wall winding up in a Nets uniform.
Free Agency Dimes past: Dwyane Wade | Chris Bosh | Playoffs | Coach Approach
2. In Terms Of Free Agency, Who Won Lottery?

Abbott: The Wizards have been considered nearly toxic to free agents, but now they can tell a story of playing next to John Wall, in front of Barack Obama and under new owner Ted Leonsis. That's a big win.
Runner-up: The Knicks. If somehow the pick they traded to Utah had resulted in the top overall pick, it would have been the latest (perhaps unfair) insult to their reputation. Bullet dodged.
Adande: 1. Wizards. Finally something goes right after a miserable season even by that woeful franchise's standards. It reduces the team's negative stigma and makes Washington look like a place on the rise ... with lots of cap space, to boot.
2. Rudy Gay. A chance for Memphis to get Wesley Johnson could have made Gay expendable. Now a sign-and-trade makes more sense for Memphis and dollars for Gay.
3. Minnesota Timberwolves. Spared from the decision to add yet another point guard or risk passing on the best player in the draft. They're young enough; now they can focus on signing veteran free agents.
Arnovitz: The Washington Wizards: They secured the rights to select point guard John Wall in a draft class deprived of playmakers.

The New Jersey Nets: They are no doubt disappointed with the No. 3 spot in the draft, but new Nets owner Mikhail Prokhorov won the news cycle with his charisma and confidence. His franchise has graduated from punch line to curiosity in no time flat.
The Philadelphia 76ers: The Sixers have been the undesirable no man's land between rebuilding for the future and playing for the present. The No. 2 pick, however they choose to use it, should finally push the franchise toward a full-fledged rebuilding strategy -- good news for long-suffering Sixers fans.
Broussard: 1. Washington, obviously. The Wizards get an exciting franchise point guard who could also attract free agents.
2. All the max-level guys because Washington, which has enough cap room to offer a max contract, becomes one more fairly attractive franchise for players to pit against one another.
Ford: Washington Wizards: After a nightmare year in which management gutted the entire roster, the Wizards caught a huge break. Now they have a superstar building block and a ton of cap room. Suddenly they are a much more attractive option for free agents.

New York Knicks: There were two worst-case scenarios for the Knicks and neither happened. First, the Jazz didn't win the lottery and the rights to John Wall with New York's pick. Had that happened, the whole city would've been in mourning. Second, the Nets didn't get the No. 1 pick. They would've been much more competitive in the Bron sweepstakes had they landed Wall.
Hollinger: Miami, New York and Chicago, because nobody put themselves into a position to usurp them as the top destinations and New Jersey pretty much fell out of the mix. Additionally, none of the lottery surprises put a team such as Toronto or Utah in better position to keep its own elite free agent.
Sheridan: I have said before that Washington is a plausible free-agency destination for Chris Bosh, who has a young daughter in the D.C. area he rarely gets to see. Now, the Wizards have grown that much more attractive to him, but they'll have to put a sign-and-trade package together that is equally or more attractive than what other teams can offer the Raptors.
Stein: We don't know yet if this is so much a free-agency thing -- because there have been lots of recent signals suggesting the Wizards will be conservative spenders this summer in spite of their cap space -- but it's obviously a huge win for the Wiz just landing a new face-of-the-franchise talent after such a nightmare season.
Perhaps scoring Wall will change Washington's free-agent plans this summer. If not, Wall's presence will help the Wiz greatly in future summers.
3. In Terms Of Free Agency, Who Lost Lottery?

Abbott: The Nets stole the headlines, but the Timberwolves were also historically bad last season. The fourth pick was nobody's idea of a great result, especially when they've targeted this summer as a key moment of rebuilding. Their position of need is shooting guard, and the class of the field is Evan Turner, but he has little chance of lasting to No. 4.
Lampooned last year for drafting so many point guards, the Wolves will now face tough decisions about overloading with big men. They have Al Jefferson and Kevin Love, with a rejuvenated Darko Milicic lurking as a free agent. Meanwhile, the best available player may prove to be Kentucky center DeMarcus Cousins; as the highest risk/highest reward player in the draft, he could make or break president David Kahn's front office.
Adande: 1. New Jersey Nets. They didn't get the No. 1 pick, but because of the rookie scale they'll spend the next three years paying someone 79 percent of the top pick's salary, money that could have been spent on a free agent's salary.
2. Sacramento Kings. The draft was their best chance to add talent, since players usually learn to like Sacramento rather than look to go there. At No. 5, they're in a spot where the sure shots are gone and uncertainty creeps in. And you never hear the Kings listed as destinations for the King or anyone else.

Bosh
3. Chris Bosh. If he wants to get back to Texas, the Rockets didn't come up with a way to make it easier by staying in their slot. The chance to move one spot down in the draft doesn't make a sign-and-trade with Houston more appealing for the Raptors.
Arnovitz: Gilbert Arenas: You can already hear both organization and fan base in Washington groaning, "What do we need him for?!"
The Sacramento Kings: Few franchises have been ill-served more by the lottery process in recent years than the Kings, who will once again be picking behind teams that finished the season with better records. Then again, if the Kings can land this year's Tyreke Evans, any sense of unfairness will long be forgotten.
The New York Knicks: The fact the Jazz will use the Knicks' pick at No. 9 is old news. But it still must be disheartening for the Knicks to see a quality size-to-skill big man like Greg Monroe penciled in next to the Jazz logo in mock drafts, when New York could desperately use an infusion of young talent.

Broussard: The Nets, obviously. Their hopes of landing LeBron James took a serious beating when they lost the first pick.
Hollinger: Finishing in the top three would have been a real game-changer for either Toronto or Utah, because the top three would have either given them a better shot at keeping Bosh/Carlos Boozer or let them sign-and-trade from a position of strength.
New Jersey also lost by landing third, since it would have been a more plausible free-agent destination with John Wall in tow.
Stein: The Nets lost a lot, as covered in my first answer, but 'Sota did, too. The Wolves really want that No. 2 pick so they can draft Evan Turner, which means they would have to part with a good asset or two that they might have preferred saving for summer business to have any shot at convincing Philly to surrender that pick and move down.
4.

Mock Draft: Picks 1-30

With the No. 1 pick in the NBA draft, the Washington Wizards select ...
John Wall from the University of Kentucky.
The Wizards were the big winners Tuesday night. While choosing Wall would create a jam because the Wizards already have Gilbert Arenas at play point guard, there are a couple of reasons they probably won't be deterred. First, many believe Arenas has always been more of a 2-guard. Second, the Wizards will shop Arenas around the league, especially after last season's gun incident.
Either way, winning the lottery provides some balm after a very tough season in Washington. The Wizards have already started to blow up the team and rebuild. Now, in Wall, they can have a great talent as a foundation.
• Chad Ford's Mock Draft: Picks 1-30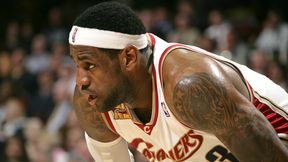 David Liam Kyle/Getty Images
COUNTDOWN TO FREE AGENCY
Where will LeBron land? We're keeping tabs on the King. Here's the latest. LeBron Tracker »

Some of ESPN Insider's brightest basketball minds break down LeBron James' offseason future from every angle.
May 17: Running Mates


John Hollinger ranks James' best potential teammates with his "LeBron Rating."
May 18: Building Around LeBron


David Thorpe outlines the system and types of players LeBron should have at his disposal.
May 19: Out Of His League


Ric Bucher argues that teams wants James The Player, but no team should want James The GM.
May 20: Cleveland Rocked


Peter Keating forecasts what would happen to the Cavs and Cleveland if LeBron left town.
May 21: The Right Fit For The King


Chris Broussard ranks LeBron's top five likeliest destinations in free agency.
Net Loss?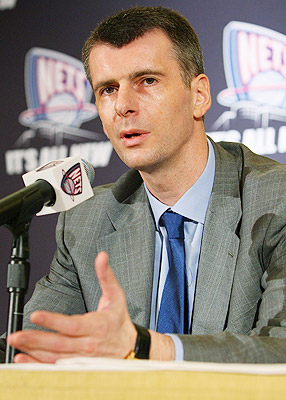 (Mike Stobe/Getty Images)
New Jersey's new owner, Mikhail Prokhorov, has big plans. But after failing to land the No. 1 pick in the draft, they may not include LeBron James.
9.

Complete 2010 Free-Agent List
10.

Top Available Free Agents

James
LeBron James, Dwyane Wade and Chris Bosh headline what on paper is the greatest free-agent class ever. And while in most years, big free agents don't change teams, this year could be different.
Why? LeBron's Cavs have, once again, come up short in the playoffs. Wade's Heat team hasn't gotten past the first round since winning the title in 2006. Bosh's Raptors failed to make the playoffs again this year. So if these three stars want to win a title, they may have to look elsewhere, or combine forces.
Given the number of high-profile teams -- including the Knicks, Heat, Bulls and soon-to-be Brooklyn Nets -- that can spend this summer, things have already become very interesting as speculation runs rampant.
The plotlines are both dramatic and, in many ways, intertwined. Can Cleveland hold on to its local star? Can the Knicks score a superstar or two in an effort to bring some honor back to the Garden? Can the Nets, now led by a Russian billionaire, remake the team into a premier destination? Will friends like James, Wade and Bosh decide to hook up together to create an NBA dream team?
Only time will tell. Until then, here's our latest sneak peek at who could be available in 2010:
• Chad Ford's top 15 free agents