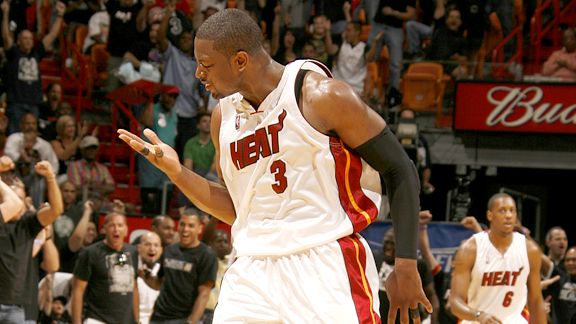 Issac Baldizon/Contributor/Icon SMI Talk to the hand? Dwyane Wade is not even tweeting his thoughts on free agency these days.
1. 10 Things To Know For Free Agency
When the clock strikes midnight on Sunday, it will be just 10 days until the date the NBA has had circled on its calendar for some time: July 1.
So now that the scintillating Celtics-Lakers series has ended, let's take a fresh look at the free-agency situation.
With 10 days to go, here are 10 things to know:
1. All about LeBron

Akron, Ohio, held a LeBron Appreciation Day rally on Saturday, and in a surprise move, LeBron James showed up after most had left.
Like his appearance, his statement was brief and noncommittal. "Akron is my home, it's my life," James told the remaining crowd. "Everything I do is for this city. I'm going to continue to do great things. I love every last one of you all. Akron is home."
A 19-year-old from Parma, Ohio, brought a homemade flag to the event bearing the word "Hope."
But so far, all the local fans are hearing is "Nope" -- as in, nope, LeBron's not ready to commit to staying with the Cleveland Cavaliers.
And if nothing changes, then when July 1 comes 10 days from midnight, LeBron will no longer be a Cav unless and until he decides that his future lies in the same place as his past.
What's next in the LeBron Watch? For one thing, the Cavs are moving ahead in their coaching search, with Byron Scott the leading candidate now that Tom Izzo has decided to stay in college.
2. More about LeBron

Starting Sunday, ESPN's "SportsCenter" will have a three-part series on LeBron's free agency:
Sunday: The Wooing of LeBron: How cities have made their case
Monday: Global Marketing: How LeBron's decision will impact global marketing
Tuesday: Worldwide Wes: How much influence does William Wesley have?

And to see Chad Ford's reports on how New York, New Jersey and Chicago plan to woo LeBron, click the following: Knicks | Nets | Bulls
Still to come in the next few days from Ford: How the Heat, Clippers, Wizards, Mavs and Cavs plan to win the LeBron sweepstakes.
See the LeBron Tracker for everything on Bron.
3. Actually, it's not all about LeBron

Although fellow free agent-to-be Chris Bosh reportedly is very interested in playing alongside LeBron, he also has sent mixed signals on that front. Late last week he talked to SNY about the chance to play for the Knicks with LeBron. "Any time you have the opportunity to play with certain guys, you have to take that into consideration," Bosh said. "When it all goes down, [LeBron is] gonna be one of the all-time greats. At the same time, I can't just sit around and wait. I have to be proactive with my choices and what's gonna make me happy. I have to make sure I take my time and make the right decision."
Interpret that as you will. From here, it looks about as clear as everything else in the murky world of free agency.
4. Silence is golden?

With all the ambiguity from James and Bosh, maybe Friday's pronouncement from Dwyane Wade on Twitter will come as welcome news to some ears: "I wanna thank all my fans 4 thr support thur everything. From ths moment on I'm on twttr hiatus until after Free agency is ova.."
But before that, Wade told ESPN.com's J.A. Adande on June 13 that he intends to bring other players to Miami rather than search for a better opportunity: "It's going to be fit with me first," Wade said. "I've made that very clear. Do I want to leave? Nope. Mmm-hmm. I want to be in Miami. That's where it starts."
5. The free-agent summit

Will it happen? Will LeBron, D-Wade and others get together to discuss their futures?
Since Wade's initial claim that he would be getting together with other superstars to discuss the future, the whole idea has been splashed with cold water by Wade's agent, David Stern and most recently Bosh and Carlos Boozer.
But as Wade has made clear, conversations have been and will be happening, summit or no summit.
6. Key dates

July 1: Free agents can have discussions with teams and declare their intentions, but they can't sign. Some think it will all be over quickly, as soon as LeBron declares his intentions. But others expect that during this time, the private jets will be soaring, the champagne will be flowing and dreams will be dreamed by front-office types and fans alike.
July 8: Free agents can officially sign. Will we know everything by then, or will we still be days or weeks away?
7. Where will they go?

You don't have to go to Vegas to play the slots, pal. Here's the best spot to see how our NBA experts think free agency could play out: Free Agent Slot Machine
8. Salary-cap space

The New York Knicks, New Jersey Nets, Miami Heat, Washington Wizards, Chicago Bulls, Los Angeles Clippers, Sacramento Kings and Minnesota Timberwolves all have significant room in the cap that was set at a relatively rosy $56.1 million on April 14. Here's how the chase shapes up, according to Kevin Arnovitz.
9. The buyer's guide

Chris Bosh, Carlos Boozer and Amare Stoudemire have been profiled so far.
Coming up: Dirk Nowitzki (Monday), David Lee (Tuesday), Dwyane Wade (Wednesday), Joe Johnson (Thursday), Rudy Gay (Friday), Ray Allen (Saturday), The bargain bin (June 28)
See buyer's guide to free agency
10. Three words: Iverson, the comeback

His agent says Iverson wants to help a team win a championship. We're not talking practice; we're talking title.
FA Dimes: Wade | Bosh | Playoffs | LeBron | Lottery | Sidekicks | King-King | Coaches
2. LeBron Appreciation Day
3. Stoudemire Out Of Suns Picture?

Stoudemire
Even in the midst of this tense and unpredictable NBA Finals between the Lakers and Celtics, I found myself yearning for the wide-open style and high scores of the Lakers-Suns Western Conference finals. Now I'm simply mourning the Suns.
The fun days are over; the feel-good is finished. The first indication is the departure of easygoing general manager Steve Kerr, and the sure sign will come when Amare Stoudemire leaves as a free agent.
The Suns' high-scoring offense couldn't beat the bigger and better teams in the Western Conference, and now it can't beat the accounting books, which remain the most formidable foe in the NBA. Kerr and Suns owner Robert Sarver clashed this month, and you can see the result.
"Kerr wanted a little raise; Sarver wanted him to take a pay cut," one source said. "There's no other way to spin it."
Well, a second source indicated it wasn't as simple as a money grab by Kerr. He wanted more money for the coaching staff, video crew, front-office secretaries -- all the people who helped produce this unexpected trip to the conference finals that yielded more than $10 million in extra revenue from eight home playoff games. But when Kerr went to bat with Sarver, "The guy just bludgeoned Steve," the second source said.
So Kerr's out. Stoudemire's next.
"Amare's done," according to the source. "He's gone."