---
Garnett On Game 2 Suspension
Hollinger's Game 2 Adjustments
By John Hollinger
ESPN.com
PHOENIX -- Four teams head into a Game 2 on Tuesday trailing 1-0 after losing their opener over the weekend, but all four can hang their hats on the fact that the games were close -- each went down by 10 points or less.
In other words, with a tweak here or an adjustment there, each team is thinking it can win Game 2 and turn its best-of-seven series into a best-of-five. And in a few cases, teams aren't staring at such long odds even though they dropped their opener. For instance, AccuScore's Playoff Predictor has the Suns as a 60-40 favorite to advance even though they lost the first game, providing a perfect opportunity for Portland to continue playing the No Respect card.
Miami (23 percent), Oklahoma City (12 percent) and Milwaukee (6 percent) face longer odds, according to AccuScore's tool, but each would dramatically increase its chances with a win Tuesday night.
Let's start in Phoenix, because that's what I did Tuesday.


After talking with both Phoenix and Portland on Monday, the expectation on both sides is that the Suns will do a few things differently in Game 2.
Expect the Suns to start Jarron Collins but replace him much earlier than they did in Game 1, when he played the first six minutes of each half. On Tuesday night, it might be more like three. My Suns spies compared it to starting a game with a middle reliever ... Phoenix is just trying to get the game to Channing Frye. During the regular season, Phoenix didn't like the idea of Frye and Amare Stoudemire playing extended minutes together because of their defensive shortcomings -- hence the use of Collins once Robin Lopez was sidelined with a back injury. But in this series, it's probably the best frontcourt combination. (Lopez could possibly return for the second round, if Phoenix gets there.)
"Just because of the spacing issue," said Suns coach Alvin Gentry. "Obviously, Channing gives us another shooter on the floor, especially with the help defense they had. So that's something we'll definitely consider."
Portland knows the Suns won't stand still on the matchups against its guards, either. Andre Miller scored 31 points in Game 1, and the Blazers seemed a little surprised that Jason Richardson guarded Miller rather than usual Suns ace Grant Hill. That matchup may change; in addition, what will certainly change is that Phoenix will defend Miller's post-ups and drives more aggressively.
Of course, Portland will make changes of its own. As Miller noted, if the Suns do use a bigger defender like Hill or Jared Dudley against him, "That's what pick-and-roll is for." Moreover, any move of pieces on the Phoenix side will cause an equal and opposite reaction from the Portland bench. Blazers coach Nate McMillan pointed out that much of the real chess will happen after tipoff, because that's when he and Alvin Gentry can respond to each other's maneuvers.
• John Hollinger breaks down adjustments for other Game 2 matchups

Phase II For Lakers: Stop Westbrook
By Dave McMenamin
ESPNLosAngeles.com

Westbrook
When the Oklahoma City Thunder locked into the No. 8 spot last Monday, the immediate challenge that came to the minds of the Los Angeles Lakers was league-leading scorer Kevin Durant and how to stop him.
As the series shifts to Tuesday's Game 2, so does the Lakers' defensive focus.
Russell Westbrook, the Thunder's second-leading scorer during the regular season, is suddenly looking like the No. 1 threat to the Lakers after Ron Artest was able to bottle up Durant in Game 1. With Artest limiting Durant to 7-for-24 shooting in the first game of the series, Westbrook, the second-year point guard out of UCLA, went for 23 points on 10-for-16 shooting.
"If Durant is struggling scoring, somebody else is going to figure it out," Derek Fisher said after Monday's practice. "[Westbrook] was able to attack us in transition in a lot of situations where we either turned the basketball over or misses from perimeter shots."
The Lakers sprinted out to a 17-point lead midway through the second quarter before Westbrook began to assert himself. Using his cut 6-foot-3, 187-pound frame and blazing speed to attack the rim again and again and again, he scored the Thunder's last eight points of the quarter to cut L.A.'s lead to eight at halftime.
"He got on fire for a little bit in the late second quarter and he just continued." Andrew Bynum said. "We have to focus on stopping his thrust coming down the lane."
It isn't the first time the Lakers have struggled with stopping a quick, paint-seeking guard in the playoffs. Houston's Aaron Brooks upped his scoring average from 11.2 in the regular season to 18.0 points per game in his second-round series against the Lakers last year, eluding L.A.'s perimeter defenders like they were stationary parking cones.
Westbrook averaged 16.1 points during the regular season but has averaged 18.6 points in his five games against Los Angeles this season. Besides his Game 1 showing, the point guard especially had success in the final regular-season meeting between the two teams, scoring 23 points on 10-for-13 shooting in a 16-point win by the Thunder on March 26. "The kid is tough," Pau Gasol said. "He penetrates. He's quick. He's got a lot of size, athleticism, so he has all the pluses --all the pluses to get in the lane and be effective."
Playoff Schedule: Tuesday, April 20
Round 2: Ron-Ron Vs. Durantula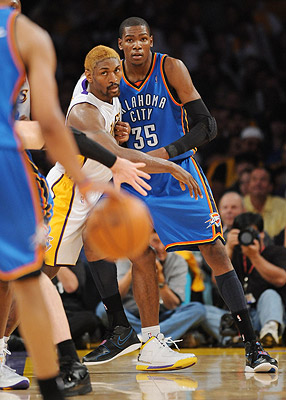 Noah Graham/Getty Images
Ron Artest held Kevin Durant to 7-of-24 shooting in Game 1. And don't expect things to get easier for the scoring champ. Ron-Ron's on a mission.
Scouting Bucks-Hawks
By John Carroll
Scouts Inc.


With the injuries to Andrew Bogut and Michael Redd, the Atlanta Hawks have too much talent for Milwaukee. The Hawks' game plan for Game 2 is very simple: execute on offense, attack all the mismatches, drive the ball to the basket, dominate the paint and do not settle for jump shots. The Bucks, unfortunately, cannot guard this team one-on-one because there is just too much of a talent differential. But the Hawks also need to improve their defensive effort on Brandon Jennings; it is a little embarrassing for a rookie to score at will in his first playoff game. They need Mike Bibby and Jamal Crawford -- with a lot of help from their teammates -- to contain this lighting-quick guard.
The one thing that the Bucks got out of the second half of this game is that they proved to themselves that they can defend and score against the Hawks. In Game 2, they need to get back to playing the defense that coach Scott Skiles has instilled in them. Secondly, the Bucks need to put as many shooters on the court as possible. They really struggle to make open shots. John Salmons needs to step up in Game 2. Salmons played better in the second half of Game 1 but he was nonexistent in the first half. The Bucks cannot expect Jennings to score 30-plus points in each game, so they must get help from other places.
Big Baby To Start
By Chris Forsberg
ESPNBoston.com

The fact that Celtics coach Doc Rivers was even debating the issue of who to start in place of suspended Kevin Garnett in Game 2 of Boston's Eastern Conference first-round playoff series with the Miami Heat is slightly condemning of Rasheed Wallace's play.
After all, Garnett sat out 11 games this season due to injury (two more for rest) and, as long as Wallace was healthy, the veteran got the call for the spot start at power forward.
But here Boston is in the postseason, when the games matter most, and Rivers, while not tipping his hand Monday, seemed to be leaning in favor of starting Glen Davis over Wallace in Tuesday's Game 2.
It's an inclination confirmed by center Kendrick Perkins, who told reporters Tuesday morning that Davis would start in Garnett's place.
While Davis has been a bit of a disappointment this season with his statistics (6.3 points and 3.8 rebounds per game) -- way off from the potential he showed in last year's postseason while filling in for an injured Garnett -- Wallace hasn't done much to distinguish himself with his own play.
On paper, Wallace's numbers are better (averaging 9 points and 4.1 rebounds), but Game 1 showed exactly why Rivers is choosing Davis. Wallace's stat line looks like a call to directory assistance as he logged 4 points, 1 rebound and 1 assist in 14 unremarkable minutes.
Davis, meanwhile, provided a burst of energy, particularly in the fourth quarter, when he scored five of his eight points to help Boston pull away from the Heat. Davis added eight rebounds and two steals in 24 high-intensity minutes.
For his part, Wallace said Monday that it doesn't matter who starts, as long as he's out there helping the team finish.
"It doesn't matter -- as long as I'm in there in the fourth quarter, I don't care if I start," said Wallace. "I don't care if Doc brings me off the bench. Like I said before, [Rivers is the] mad scientist, with the right formula he sees out on the floor. If he sees me starting, fine. If he doesn't see me starting, fine. I'm not going to sit up here and cry about it."