---
Bucks Pull Even With Hawks
Upside-Down West
By John Hollinger
ESPN.com

SALT LAKE CITY -- While some balls still need to bounce into place, there's no doubt that Jazz fans woke up this morning pondering the tantalizing prospect of facing the eighth-seeded Oklahoma City Thunder in the second round, rather than their longtime foils from Los Angeles. Jazz fans of a historical bent undoubtedly will note that their most recent run to the conference finals came in similar circumstances, when they knocked off Houston without home-court advantage in the first round before beating an eighth-seeded Golden State squad in the following series.
That Utah team was humbled by San Antonio in the conference finals, and the bracket makes it possible that we could see a rematch. But this time, the Jazz would have home-court advantage in that round too. In fact, with second-seeded Dallas on the ropes and third-seeded Phoenix struggling to squeeze past Portland, it's possible all four Western Conference underdogs could advance.
How possible? More than you might think.
• John Hollinger breaks down the chances the West's top four seeds all get upset

Schedule: Monday, April 26
Down And Out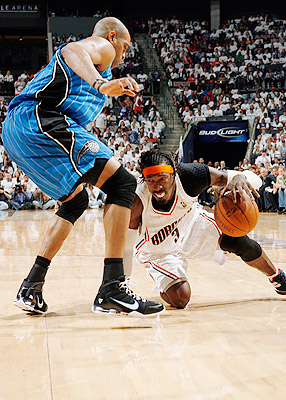 (Brock Williams-Smith/NBAE/Getty Images)
The Charlotte Bobcats lost Game 4 to the Orlando Magic, sending them home early in their first-ever playoff apperance.
Bucks Even Series
By John Carroll
Scouts Inc.


The Bucks are one of the worst shooting teams in the NBA. They do not have reliable perimeter shooters. However, because of the lack of defense and energy on the Hawks' part, the Bucks shot 51 percent from the field and 10-for-23 from the 3-point line in Game 3. They had been only 10-for-44 from 3 in the first two games.
The Hawks must come out in Game 4 and defend. They have all the tools, talent and athleticism to shut down the Bucks. If they don't, this series could be tied up Monday.
• John Carroll's Game 4 prediction