---
Wall Stands Tall In Debut
The Next Hornets Draft Steal?
By Kevin Arnovitz
TrueHoop

Brackins
New Orleans first-round draft pick Craig Brackins struggled Sunday, but the breadth of his game still holds appeal. He can do a little bit of everything, which, judging from his indecisiveness on the floor, might be the problem here in Las Vegas. Because he was dealt from Oklahoma City -- a deal that wasn't official until last week -- Brackins had only one practice before taking the floor for the Hornets squad.
"Craig has an NBA skill set as an offensive player: his ability to shoot the ball, his ability to face the basket and be effective, outstanding athletic ability, lateral mobility," Hornets general manager Jeff Bower said. "These are all traits we think will allow him to be successful. The thing with young players is, the quicker they can find a source of confidence in one aspect of their game, the quicker they become a factor."
According to Bower, scoring the ball from midrange and working the offensive glass are where Brackins can begin to build that confidence. "In these first experiences, focus on your strengths, get them established, feel good about them, understand your environment, then we'll address areas of the game we feel can be expanded."
• Read the rest from Arnovitz on Day 3 at Las Vegas Summer League.
---
VEGAS SUMMER LEAGUE


Knicks 71, Lakers 63


Kings 97, Pistons 68


Spurs 85, Timberwolves 61


Mavericks 73, Bucks 72


Suns 96, D-League 88


Wizards 89, Clippers 64


Grizzlies 89, Hawks 85
Cats Call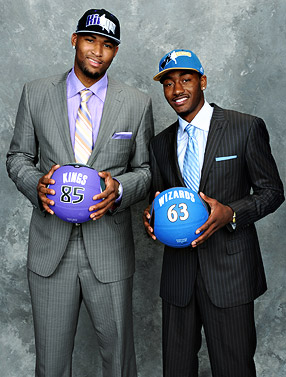 (Photo by Jennifer Pottheiser/NBAE/Getty Images)
Former Kentucky teammates DeMarcus Cousins and John Wall hit the court Monday in Day 4 of the Las Vegas Summer League.
Before Gilbert, There Was Cuban

James
When Cleveland Cavaliers owner Dan Gilbert went gonzo Thursday night and unleashed a harshly worded open letter directed at the departing LeBron James and intended to rally jilted Cavs fans, no one in the league backed Gilbert's over-the-top reaction louder than his friend Mark Cuban.
Scoffing at media criticism of Gilbert for a highly personal attack against James that was posted on the Cavs' website soon after James' announcement, Cuban wrote in an email to ESPNDallas.com:
"I like what Dan did. He showed the emotion that comes with owning a team. He showed the fans that he is just getting started.