---
What To Watch For: Angola vs. USA
By Chris Sheridan
ESPN.com


You never know quite what you are going to see from the Americans on any given night -- other than the offensive brilliance of Kevin Durant, the NBA's leading scorer last season. They are still adjusting their rotations and roles, and one has to wonder whether coach Mike Krzyzewski is holding back Kevin Love as his secret weapon.
This is the biggest mismatch of the round of 16 (the Americans are 35.5-point favorites), and it'll only be a matter of how long the Angolans can keep things close -- although Tunisia, probably the worst team in the tournament, managed to be within four early in the third period before the Americans pulled away.
What other teams will be watching is how well the Americans shoot against the zone, because that has been the key factor in almost all of their international losses over the past eight years -- to Greece in 2006, to Puerto Rico, Lithuania and Argentina in 2004, and to Argentina, Yugoslavia and Spain in 2002.
Angola features the oldest player in the tournament, 39-year-old guard Miguel Lutonda. It advanced from Group A by defeating Jordan and Germany.
What To Watch For: New Zealand vs. Russia
By Chris Sheridan
ESPN.com


When you draw up a list of all the great players who are sitting out this tournament, Russia's Andrei Kirilenko -- the MVP of the 2007 EuroBasket -- has to be included. But American/Israeli coach David Blatt's squad has fared well without him, losing only once -- to Turkey -- and defeating Greece on Thursday night to end up on the better side of the bracket.
All of Russia's games have been close, none decided by double-digit margins, and incoming New York Knicks rookie center Timofey Mozgov has shot 63 percent from the field, second best in the tournament. Russia also is getting efficient production from center Sasha Kaun (61 percent shooting, 12.6 ppg) and small forward and ex-NBAer Sergey Monya (14-for-28 on 3-pointers).
New Zealand is more of a one-man show, as guard Kirk Penney (25.4 ppg) was leading the tournament in scoring over the first several days before Argentina's Luis Scola overtook him. The Tall Blacks enter with a three-game winning streak, having defeated Lebanon, Canada and France (by 12) after losing to Lithuania and Spain. Old favorite Pero Cameron, king of Indianapolis in 2002, is still with them. But NBAer Sean Marks has retired from international competition.
---
Starting Lineup: FIBA Worlds

Here's Team USA's schedule for the 2010 FIBA World Championship slated for Aug. 28 to Sept. 12 in Istanbul.
Join ESPN and Daily Dime Live for each game:
QUARTERFINALS
• Sept. 9: Team USA vs. Russia, time TBA

ROUND OF 16
• Sept. 6: Team USA 121, Angola 66

PRELIMINARY RESULTS
• Aug. 28: Team USA 106, Croatia 78

• Aug. 29: Team USA 99, Slovenia 77
• Aug. 30: Team USA 70, Brazil 68
• Sept. 1: Team USA 88, Iran 51
• Sept. 2: Team USA 92, Tunisia 57
Big Love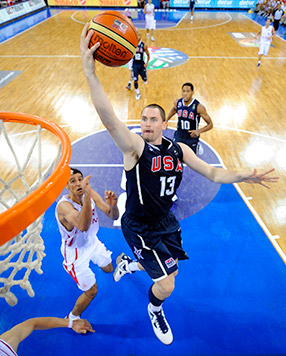 (AP Photo/Mark J. Terrill)
Despite averaging 10.4 minutes per game in pool play, Kevin Love leads Team USA in rebounds (6.6 per game) and is seventh in scoring (7.4).
Team USA's New Outlook
By Chris Sheridan
ESPN.com

Durant
ISTANBUL -- Against Angola, the only thing Team USA has to fear is … traffic.
That, and the pursuit of perfection.
The first problem can be solved by the Americans leaving extra early from their hotel on the eastern side of this bustling metropolis, where rush-hour traffic can turn what would ordinarily be a 30-minute ride into a two-hour crawl.
The second problem can be solved with lowered expectations, looser attitudes and a general understanding that focusing on one game at a time and winning one game at a time is enough to get the job done.