---
Temperature Gauge: Bosh Taking Backseat
By Tom Haberstroh
ESPN.com

Bosh
When LeBron James, Dwayne Wade, and Chris Bosh joined forces this summer, it came with the understanding that their roles on offense would have to evolve in their new confines. The biggest adjustment? Learning to share the ball after shouldering most of the scoring burden in their previous basketball lives.
And after two games, it's Bosh who has had to scale back the most.
How can we tell? Let's look at some numbers. Last season in Toronto, Bosh used 28.7 percent of his team's total possessions while on the floor, which in advanced stats circles is referred to as a player's usage rate (USG%). Any time a player uses a possession, either by shooting the ball or turning it over, he adds to his usage rate. You know a high-usage player when you see one, even if you don't necessarily refer to them as such. They're the ball-hogs.
The average player has a 20 percent usage rate which should make plenty sense given that a team's possessions are divvied up amongst five teammates. Some players, like Joel Anthony who sported a miniscule 8.7 usage rate in 2010, will fall far below the 20 percent benchmark while other ball-dominant wings, like Dwyane Wade who lead the league with a 34.9 percent usage rate, will check out much higher. Each player's figure largely depends on their individual appetite for scoring as well as their role within the offense. It's a blend of nature and nurture.
•
Click here to the rest from Haberstroh at ESPN.com's "Heat Index."
The Mastermind: Riley Sits Down With Magic
Brown Elevating His Game
By Dave McMenamin
ESPNLos Angeles.com

Brown
LOS ANGELES -- Shannon Brown could have been in a Toronto hotel room on Tuesday night.
That's where the New York Knicks were, a team that sought to secure Brown''s services this summer once the dynamic guard opted out of his deal with the Los Angeles Lakers.
Instead, Brown was a key link in the Lakers'' full-circle ring ceremony -- accepting a warm introduction from playing-time competitor Sasha Vujacic and then delivering an intro for Derek Fisher worthy of what "El Presidente" means to the team -- and later dominating the fourth quarter to push Los Angeles over the top in a 112-110 season-opening win over the Houston Rockets.
Brown had 16 points and four steals for the game, with 14 of the points and three of the steals coming in the final quarter, when the Lakers erased a five-point deficit and Brown played all 12 minutes.
•
Click here to read the rest of the story at ESPNLosAngeles.com.
Starting Lineup: Oct. 29
FRIDAY CHAT LINEUP
3 ET: Kyle Weidie, Truth About It
4 ET: Chris Sheridan, ESPN.com
5 ET: Peter D. Newmann, ESPN
6 ET: Joe Gerrity, Hornets 24/7

---


Nets 106, Kings 100
Box score | Conversation


Hawks 104, Sixers 101
Box score | Conversation


Raptors 101, Cavs 81
Box score | Conversation


Pacers 104, Bobcats 101
Box score | Conversation


Celtics 105, Knicks 101
Box score | Conversation


Hornets 101, Nuggets 95
Box score | Conversation


Thunder 105, Pistons 104
Box score | Conversation


Heat 96, Magic 70
Box score | Conversation


Wolves 96, Bucks 84
Box score | Conversation


Grizzlies 91, Mavs 90
Box score | Conversation


Warriors 108, Clips 91
Box score | Conversation


Lakers 114, Suns 106
Box score | Conversation
Defense Never Rests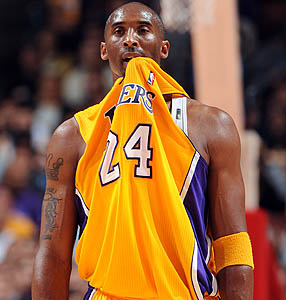 (NBAE/Getty)
Kobe Bryant and the Lakers, who are taking on the Suns on Friday, have begun their quest for another three-peat.
Expert Predictions: Magic
By ESPN.com

John Hollinger, ESPN.com: The Magic are the East's wild card because of Dwight Howard, the only player for whom the Heat have no answer. Unfortunately, the Magic still have no answer for opponents that single-cover Howard successfully, an Achilles heel that's keeping them from a title.
Marc Stein, ESPN.com: Really want to believe Dwight Howard made offensive strides in the offseason and that the Magic can make the new East even more fascinating by rebounding from the absolute punking they took in the East finals. Instinct, however, has me expecting nothing more than a better record than Boston's.
Brian Windhorst, ESPN.com: This team is so good and so deep, and it has the assets to make an impact trade. When the Magic play their best, they are also one of the best defensive teams. But to win it all they need Dwight Howard to play at an MVP level at both ends. We've not seen him become the player he can be -- yet.