Owners, Players Still Split On BRI
A League Of Their Own?
By Peter Keating
ESPN The Magazine
IS THERE ANYTHING MORE BORING than a lockout? One gray-haired, grimly smiling guy steps from a fleet of SUVs to a battery of microphones and says he wishes the two sides weren't so far apart. Another gray-haired, grimly smiling guy steps from the next line of SUVs to the same microphones and says his side's resolve is stronger than ever. Instead of highlight reels, we get a dull, corporate scorpion mating dance.
But a footnote in history says our sports don't have to be held hostage by negotiations. In 1890, a group of baseball stars formed the Players League, which shared profits among athletes and investors. Greed and mismanagement doomed the league after only one year, but its concept of solidarity still applies. Now that the NBA lockout has already brought, as of press time, the cancellation of at least two weeks of games, the sport's stars have even more incentive to take control of basketball's most valuable resource -- their talent -- and start a league of their own.
"I've discussed forming our own league with LeBron," Carmelo Anthony told The Mag in mid-October after playing in the South Florida All-Star Classic, a packed-house charity game that also included King James, Kevin Durant, Chris Paul and Dwyane Wade. "You can see the fan reaction here. They need it, we need it. I can tell you that I'm working on something. We'll see what happens."
• Read the full game plan for a players' league from Keating

Monday's marathon chat schedule (all times ET):
10 a.m.: John Hollinger, ESPN.com
11 a.m.: Henry Abbott, TrueHoop
12:30 p.m.: Brian Windhorst, Heat Index
1 p.m. David Thorpe, Scouts Inc.
2 p.m.: Michael Wallace, Heat Index
3 p.m.: Larry Coon, ESPN.com
4 p.m.: Kevin Arnovitz, ESPN.com/TrueHoop
4:30 p.m.: Tom Haberstroh, Heat Index
5 p.m.: Marc Stein, ESPN.com
5:30 p.m.: J.A. Adande, ESPN.com
6 p.m.: Zach Harper, Daily Dime Live
Big Stage Again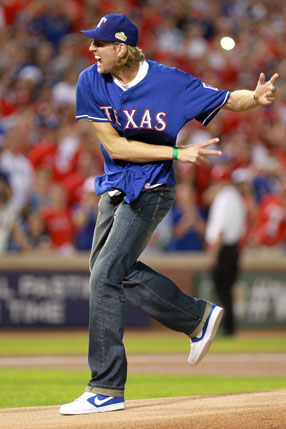 Ronald Martinez/Getty Images
Dirk Nowitzki hit 67 mph on the radar gun when throwing out the ceremonial first pitch prior to Game 3 of the World Series between the St. Louis Cardinals and the Texas Rangers.
Jalen Rose: 10/21
Jalen Rose, with David Jacoby, details what it was like playing for Larry Bird and playing against Michael Jordan. Plus, Rose explains why NBA players don't add to their game in the offseason.
#NBArank: Who's The Best Baller?