1. Second Trimester Awards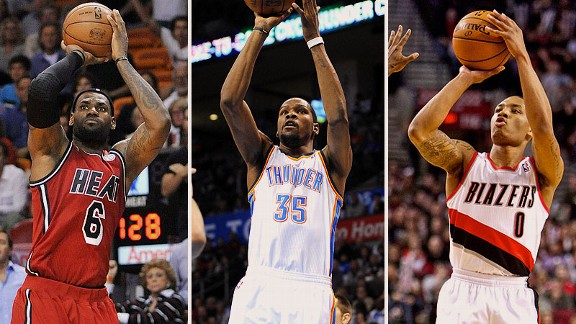 USA TODAY SportsAnd the winners are ...
The month of March has arrived. As has the first Friday after the NBA's annual trade deadline week.
You don't have to be a Hollinger to do the math here.
The first Friday after deadline week means it's time, as always in a lockout-free season, to trot out ESPN.com's annual Second Trimester Report.
With every team in the league having reached the 55-game range entering the weekend, let's take stock of the season so far, as the final third of it looms, through the prism of the various individual-award races.
---
James
Eastern Conference MVP of the Second Trimester
LeBron James, Miami Heat
Let's be real: It would be a waste of everyone's time to spend more than a paragraph attempting to "justify" the notion that No. 6 is all alone in this category. Especially when he's assembling the best individual season statistically since Michael Jordan in 1988-89 or 1989-90 … and after he just became the first player since Kareem Abdul-Jabbar, way back in March 1983, to take more than 200 shots in a calendar month and make at least 64 percent of them. LeBron Raymone James isn't merely playing chess to everyone else's checkers; he's an "NBA Jam" joystick in a league with 400-something walking board games. So let's move on.
---
Durant
Western Conference MVP of the Second Trimester
Kevin Durant, Oklahoma City Thunder
Had you asked me to surrender my actual MVP vote at the end of January, as opposed to the real-life deadline of April 18, Durant would have been the recipient.
Yes. Even over LeBron.
Then February arrived and rendered that stance horribly out of date. For all of Durant's undeniable improvement as a rebounder, defender, passer and leader, all of which has insulated OKC from slippage in the post-James Harden era, LeBron has been playing in another stratosphere since the calendar flipped … as his 72.6 true shooting percentage for the month would suggest.
That said …
Durant remains otherworldly in his own right, which certainly helps in a conference that houses most of the other names vying for the 3-through-5 slots on the official league-issued MVP ballots that will go out to voters: Chris Paul, Tony Parker, Kobe Bryant and Harden. New York's Carmelo Anthony, whose MVP hopes have faded over the past couple of months thanks to the Knicks' 16-15 rut since their 18-5 start, is really the only other nominee you ever hear in this discussion.
Yet KD lords over all of them apart from LeBron. He's leading the league in scoring -- which will net his fourth straight scoring title if he hangs on -- while shooting 51.3 percent from the floor, 42.6 percent from 3-point range and 91 percent from the line. No scoring champ ever has qualified for the storied 50/40/90 club in the same season.
It just happens to be Durant's misfortune, in strictly MVP terms, that LeBron also happens to be shooting a career-best 56.8 percent from the field and a career-best 41.1 on 3s while surrounded by less top-shelf help than Durant has on a nightly basis. KD is clearly doing something right in terms of gap-closing, because my kids are besieging me for a fresh pair of his signature socks every time we go to the mall these days, but his insane stat line doesn't quite rise to the level of crazy-insane because of what his Miami counterpart is doing.
Fun factoid that separates the two of them from the rest of the field even further: Both LeBron and Durant are on course to go down as the first two players to average at least 25 points per game, while shooting at least 50 percent from the floor and 40 percent from deep, since Seattle's Dale Ellis (27.5 PPG, .501, .478) in 1988-89.
---

Vogel
Coach of the Second Trimester
Frank Vogel, Indiana
The regression from Cinderella status that we've witnessed in recent weeks by the Knicks and Bulls and Warriors has completely reshuffled a typically thick deck of COY contenders. Mike Woodson, Tom Thibodeau and Mark Jackson have all descended from front-runner territory, giving way to the game's consensus top coach … and one of the best young ones.
Gregg Popovich has to be a serious threat to win his second straight COY trophy given how San Antonio has edged out to a two-game lead over second-seeded Oklahoma City despite the fact that Tim Duncan (10 games), Manu Ginobili (13) and Kawhi Leonard (20) have all missed significant time.
At this intermediate juncture, though, I'm going with Frank Vogel heading into the stretch run, because I don't remember too many folks touting the Pacers to emerge as the consensus top threat to Miami after a 4-7 start and with Danny Granger missing the season's first 55 games.
Under Vogel, Indy has fashioned the league's No. 1 team D in terms of defensive efficiency and watched Paul George morph into an All-Star who has supplanted Granger as the new face of the franchise. Oklahoma City's Scotty Brooks also merits consideration for his role in the Thunder's post-Harden success, but Vogel has the narrow lead heading into the final turn.
---
Lillard
Rookie of the Second Trimester
Damian Lillard, Portland Trail Blazers
The Blazers have predictably (and some would say willingly) slipped from playoff contention, but they're pretty much guaranteed to win something at season's end. Because Lillard, even when you factor in his 41.5 percent shooting in February and defensive deficiencies we all tend to overlook, hasn't slipped at all here.
You can't slip if there's no sustained pressure coming from the chasing pack, which remains the case. New Orleans' Anthony Davis, Washington's Bradley Beal and Detroit's Andre Drummond have all flashed wow potential when healthy -- especially Beal with his prowess from behind the 3-point line since the calendar flipped to 2013 -- but we'd be fudging to suggest that Lillard is hearing any footsteps.
The same Lillard who's bidding to become only the sixth rookie to average 18 points and six assists for a full season, which would put him in an exclusive club with Oscar Robertson, Magic Johnson, Damon Stoudamire, Allen Iverson and Steve Francis.
As stated in Trimester 1, no one could begrudge long-suffering, injury-tortured Blazermaniacs if they over-the-top-celebrate the fact that durability, heaped onto all the Year 1 production and poise coming from Lillard while operating from the toughest position in the game, clinches the actual ROY trophy for the pride of Weber State. I suppose you have to allow for the possibility that something could change during the next 20-odd games, but there has been no such evidence yet.
(And maybe I'll eventually give up and stop mentioning how the rudderless Kings drafted Thomas Robinson one spot ahead of Lillard, then shamefully traded Robinson after 51 games in a Sacramento uniform. But not yet.)
Dimes past: Feb. 6 | 7 | 8-9 | 10 | 11 | 12 | 13 | 14 | 17 | 20 | 21 | 24 | 25 | 26 | 27 | 28
ESPN Senior Writer
• Senior NBA writer for ESPN.com
• Began covering the NBA in 1993-94
• Also covered soccer, tennis and the Olympics
2. Second Trimester Awards, Part Deux
Jack
Sixth Man Award of the Second Trimester
Jarrett Jack, Golden State Warriors
The campaign to get Golden State's team spokesman/conscience in contention for what looks like this season's deepest individual award actually has a name: Jack Of All Trades.
That's the pitch coming from the Warriors to make Jack's case in comparison to those flammable scorers who've hogged most of the sixth-man attention so far, whether that's Jamal Crawford or Kevin Martin or J.R. Smith.
And you know what? The Dubs make a strong case. Jack's combination of timely scoring and handy playmaking have established him as a serious impact player, integral to everything happening in the Bay Area except on those nights when Steph Curry turns flamethrower and decides to heave in 11 3s.
Example: Jack recently became the first NBA reserve with back-to-back games of at least 23 points and eight assists since … Clyde Drexler all the way back in 1985. Another example: Jack has five 15-and-10 games this season, more than all other NBA reserves combined.
The reality, though, is that this race can go in any number of directions now that we've moved into Trimester 3. Crawford (captain of a ridiculously deep bench in Clipperland alongside the underappreciated Matt Barnes) and Martin (still fitting in seamlessly on offense and coping far better defensively than he'll ever get credit for) are still right there playing significant roles for powerhouse teams. Sixth Man Extraordinaire Manu Ginobili (see Box 3) is gradually starting to look more Manu-esque as the playoffs approach. And Vince Carter has been strangely ignored despite consistently looking like the best Maverick not named Dirk Nowitzki or Shawn Marion for a team still clinging to playoff life. (Also gotta mention Utah's blossoming Gordon Hayward, who surely gets the least attention of all the worthy sixth men.)
What's clear is that Jack -- even if you want to tune out the campaign motto -- is a serious threat. It has been argued that the presence of Carl Landry as a studly seventh man somehow diminishes Jack's claim to the sixth man lead, but he's the one Warrior, above all, whom Coach Jack turns to when the Dubs really need someone to make a play.
(Editor's note: "Jack" really was and is Mark Jackson's go-to nickname. Not Jax. Not M-Jax. It's been Jack for years, which might even help explain why the blossoming second-year coach and the 29-year-old point guard have been so good together.)
---
Noah
Defensive Player of the Second Trimester
Joakim Noah, Chicago Bulls
Dwight Howard used to make this one so easy. He was a near-automatic DPOY choice, year after year, which probably explains why you're tempted to vote for about 20 different guys now that this race is so up for grabs.
San Antonio's Tim Duncan. Memphis' Marc Gasol. Atlanta's Al Horford. Oklahoma City's Serge Ibaka. Milwaukee's Larry Sanders. Indiana's Roy Hibbert or, yes, Paul George. The Clippers' Chris Paul … as well as that sturdy, linebacker-ish fellow named James in Miami. Give me the time and space and I can submit a passionate, well-reasoned argument to convince you that any one of those gents has to rank as the best defender we've seen so far this season.
The problem?
I can't talk myself out of Chicago's Joakim Noah here.
And I did try, given that Noah was my First Trimester selection and because we've been known on occasion at Trimester Central to try to spread some of this (mythical) hardware around before the real-deal ballots have to be turned back into the league office.
The issue is that I simply can't come up with an anchor from one of the league's top-10 defensive clubs who has to do more on a nightly basis than Noah, especially with Chicago letting defensive specialist Omer Asik walk and still waiting for Derrick Rose's return. For all the justified talk about Thibodeau's unrelenting emphasis on D and the success of his well-worn schemes, Noah is the point man who makes it all work, involved in virtually every possession with his ability to make his presence felt on the perimeter as a helper harassing smaller guys and, of course, with those speedy recoveries to the rim to relentlessly rebound and challenge shots.
Complicating matters further is the fact that so many of the top defensive teams have top defenders inside and outside. Gasol is flanked by Tony Allen and the oft-overlooked Mike Conley. Horford has Josh Smith at his side, Ibaka partners with Thabo Sefolosha (and now Ronnie Brewer) … while Hibbert and George have formed quite the stifling tag team.
In other words? Check back in about seven weeks, because we're going to need that much extra time to truly sort this one out.
(For the record: Noah's selection, for those of you wondering, was indeed made and submitted to ESPN.com's team of NBA editors before he decided to rumble for 23 points, 21 boards and ELEVEN blocks Thursday night against Philly.)
---
George
Most Improved Player of the Second Trimester
Paul George, Indiana Pacers
You know me. Normally this is where you'd read a lecture about how George, as a former lottery pick selected 10th overall in 2010, was drafted too high to get front-of-the-line MIP consideration from me, because lottery picks -- as we always say -- are supposed to keep developing until they are fully fledged franchise cornerstones.
But George is a different case. The season started inauspiciously for the Danny Granger-less Pacers, only for George to gradually assert himself as a two-way impact player so noticeable on both ends that (A) he got selected by East coaches to go the All-Star Game and (B) Granger is now widely regarded as a near-certain candidate to be traded in the offseason to accommodate George's growing stature in Indy.
That's improvement.
Now I can't deny that, at season's end, I'm apt to revert to form and cast my MIP vote for more of a we-never-saw-it-coming type. Someone like Portland's J.J. Hickson, New Orleans' Greivis Vasquez, Orlando's Nikola Vucevic or Milwaukee's Sanders.
Or it might well be Philly's Jrue Holiday, who was taken 17th overall in 2009 -- as the fifth point guard in the draft after Ricky Rubio, Jonny Flynn, Steph Curry and Brandon Jennings -- and made himself an All-Star alongside George after actually taking a step back last season. (OKC's Serge Ibaka, inching closer to All-Star status thanks to the offensive refinements he has made to complement his superlative D, is another quality option.)
Two trimesters in, though, it's George. With a lot of mulling until next time.
3. Western Conference

When San Antonio, after months of trying, couldn't find a workable DeJuan Blair deal before last week's trade deadline, sources close to the situation say that Blair had interest in negotiating a buyout before Friday's deadline for playoff eligibility, since it's clear that neither Blair nor the Spurs have any interest in continuing the relationship beyond next season.
The Spurs, though, don't want to let Blair go now, since he'd surely be snapped up immediately by another playoff team. League rules stipulate that waivers had to be officially requested before 11:59 p.m. Friday night for any player to be eligible to play in the playoffs for another team.
San Antonio originally hoped to acquire a future first-round pick for Blair but quickly discovered, as numerous teams around the league did this trade season, that no one wants to surrender future first-round picks these days unless they're getting a top-shelf player in return. Productive players on rookie-scale contracts have never been more in demand than they are now in this new NBA gripped with fear about the far more punitive luxury-tax scale to be implemented after the 2013-14 season.
---
Some numbers of note in the West this week:
3: The 54 points at Madison Square Garden were jaw-dropping -- with those 11 3-pointers to fall just one short of the NBA single-game record shared by Kobe Bryant and Donyell Marshall -- but Golden State's Steph Curry also ranks as one of only three players this season averaging at least 20 points, 6 assists and 4 rebounds. LeBron James and Russell Westbrook are the other two.
22: The Clippers' Jamal Crawford has a league-high 22 games off the bench this season with at least 20 points.
11: San Antonio's Tim Duncan this week became the 11th player in NBA history to ring up 20,000 points and 13,000 rebounds, joining Kareem Abdul-Jabbar, Walt Bellamy, Wilt Chamberlain, Kevin Garnett, Elvin Hayes, Karl Malone, Moses Malone, Hakeem Olajuwon, Shaquille O'Neal and Robert Parish.
1: Manu Ginobili is averaging 12.3 points, 3.7 rebounds and 4.3 assists in 23.3 minutes per game. The only player in NBA history to hit those levels in the same season while averaging fewer than 24 minutes is … Ginobili last season.
7: With 18 points, 11 rebounds and 10 assists in Wednesday night's rout of New Orleans, Oklahoma City's Kevin Durant became the seventh player in history to register a triple-double in a win by 45 or more points. Durant's predecessors, according to the Elias Sports Bureau, are: Boston's Bill Russell (March 9, 1969), Boston's John Havlicek (Nov. 27, 1970), San Antonio's Johnny Moore (Jan. 8, 1985), Denver's Fat Lever (Nov. 6, 1987), Golden State's Chris Webber (Dec. 23, 1993) and Denver's Marcus Camby (March 16, 2008).
---
Why was it so easy for the Kings to make Thomas Robinson only the fifth top-five pick in the lottery era (since 1985) to be traded during his rookie season?
When NBA franchises are in the process of being sold, industry standard dictates that the incoming owners seeking to buy the team can typically place only two or three players on an off-limits list, which insulates those two or three players from being dealt while the sale transaction is pending.
Because Robinson clearly didn't crack that DeMarcus Cousins/Tyreke Evans upper echelon with the Kings, Sacramento's Maloof brothers essentially didn't need clearance to surrender Robinson in a deal with Houston that sliced more than $2 million off of this season's payroll and also netted a $1 million cash sweetener from the Rockets.
And if you're wondering about the other top-five picks, since 1985, who were dealt as rookies, they are: No. 3 pick Derrick Favors in 2010 in the Nets' blockbuster deal for Deron Williams; No. 4 pick Drew Gooden in 2002 when Memphis sent Gooden to Orlando for Mike Miller; No. 3 pick Chauncey Billups in 1997 in a move from Boston to Toronto in a trade that brought Kenny Anderson to the Celtics; No. 4 pick Donyell Marshall in 1994 to help Minnesota acquire Tom Gugliotta from Golden State.
4. Marc's Quote
"Amnesty that s---. Amnesty that 38."
Lakers guard Chris Duhon blurted out those words Sunday in the visitors' quarters in Dallas in the wake of Kobe Bryant's 38-point eruption with Mavs owner Mark Cuban courtside.
Bryant, of course, went on to tweet a similar sentiment later Sunday evening. He was trumpeting a narrow road win that the Lakers had to have just a couple of days after Cuban hypothetically suggested on ESPN Radio in Dallas that L.A. might have to consider releasing its face of the franchise via the NBA's amnesty clause to counter the looming threat of luxury-tax bills in the mega-millions.
You're surely well aware by now that Bryant's clever response drew tweeted kudos from Cuban himself. But Duhon seemingly deserved a mention, too, because it was just as funny hearing him shout it out a few times in the postgame chaos of a crowded locker room before Kobe took a long history of prominent Lakers' publicly jousting with Cuban into the social media space.
5. Eastern Conference
It's probably too close to call this far out, but the early sense from those in the USA Basketball know give Celtics coach Doc Rivers some legit hope of edging out Spurs counterpart Gregg Popovich if, as it increasingly appears, USAB executive director Jerry Colangelo is forced to look for a successor to Mike Krzyzewski this summer.
I continue to believe that Popovich, if you polled USAB's stars, would be as popular or maybe even more popular than Rivers, who is generally regarded as the game's ultimate players' coach. Pop really should be the favorite, too, if we're going to talk about résumés. Yet skepticism around the league persists about Colangelo and Popovich forming the sort of tight-knit tag team in charge that Colangelo and Coach K formed. That would appear to give Rivers -- whose own résumé and respect level within USAB circles stand out plenty -- an opening.
ESPN.com reported in early February that USAB officials were privately hopeful Krzyzewski could be talked into one more run in charge of the NBA stars who'll represent the United States in the 2014 FIBA World Cup in Spain as well as the 2016 Olympics in Brazil. But optimism has been fading in the wake of a string of pessimistic radio interviews on the subject from Krzyzewski, who is expected to serve as a USAB consultant even if he does step down as coach.
Colangelo, meanwhile, hasn't budged from the plan laid out in the Feb. 6 story, preferring to wait until after the college season to hear directly from Krzyzewski that he wants to walk away after coaching Team USA in its last four major tournaments. Only then, sources close to the situation say, is Colangelo expected to formally start the search for Coach K's successor.
And, truth be told, Colangelo has little incentive to rush, with Team USA not scheduled to play a game that counts again until 2014. The only USAB event on the 2013 calendar for the men's senior national team is a minicamp in Las Vegas in late July that isn't expected to include the starry likes of LeBron James, Kevin Durant and Chris Paul.
---
Some numbers of note in the East this week:
8: Because the NBA didn't start recognizing blocked shots as an official stat until the 1973-74 season, there have been only eight 20-point, 20-rebound, 10-block games in recorded league history. Joakim Noah's Thursday night against Philly was the first recorded by anyone since Shawn Bradley did so with Dallas on April 7, 1998, which played out with your humble Weekend Dime correspondent in the house as Mavs beat writer for the Dallas Morning News. The other known 20-20-10 games belong to Hakeem Olajuwon (two), Kareem Abdul-Jabbar (two), Shaquille O'Neal and Elvin Hayes … since who knows how many dozens more Bill Russell and Wilt Chamberlain churned out?
3: Three players have recorded points/rebounds/blocks triple-doubles this season and all three reside in the East. They are Indy's Roy Hibbert, Milwaukee's Larry Sanders and Noah.
50/25: Before Tyson Chandler countered Steph Curry's 54 points with 28 rebounds Wednesday night at Madison Square Garden, you had to rewind to our senior year of high school for the last time that the NBA witnessed a regulation game to feature one player with at least 50 points and another with at least 25 boards. It last happened on March 24, 1987, when Michael Jordan's 56 points trumped Charles Barkley's 25 boards in a 93-91 home win for the Bulls.
2: In Tuesday's wild double-overtime win over Sacramento, Miami's LeBron James and Dwyane Wade became the first pair of teammates to each amass at least 39 points, 7 rebounds and 7 assists since Kiki Vandeweghe (51/9/8) and Alex English (47/12/7) did it in Denver's famed 186-184 loss to Detroit in triple overtime in December 1983. LeBron finished with 40 points, 8 rebounds and 16 assists; D-Wade added 39, 8 and 7.
.641: The final tally for LeBron's ridiculously accurate shooting in the month of February was 139 makes in 217 attempts from the field for a success rate of 64.1 percent. According to the Elias Sports Bureau, it's the highest field goal percentage by a player in a calendar month featuring at least 200 shots since Kareem Abdul-Jabbar shot 158-for-243 (.650) for the Lakers in March 1983.
---
The Hawks wanted to trade Josh Smith to Milwaukee on deadline day. They fully expected to, frankly.
But Atlanta, from the start, wanted Monta Ellis back from Milwaukee. The only Buck with long-term money they were willing to take back instead, according to sources close to the process, was Ersan Ilyasova.
Sources say Milwaukee, however, was not willing to put Ellis or Ilyasova into the deal. Which left the Hawks with two choices: Trade Smith to Milwaukee for a package featuring Beno Udrih's expiring contract paired with forward Luc Richard Mbah a Moute … or keep Smith beyond the deadline and risk seeing him walk away from Atlanta in the summertime without compensation.
The Hawks opted for the latter, figuring that the options they'll still have with Smith -- whether that means re-signing him, working with him on a sign-and-trade or even losing him outright -- all trump the idea of cutting into future salary-cap space by acquiring Mbah a Moute and the nearly $9 million left on his contract over the next two seasons.
6. Raining 3s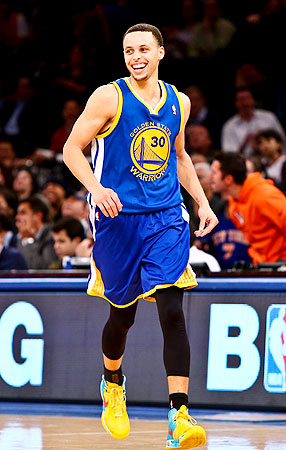 Debby Wong/USA TODAY SportsDespite his 11 3s and 54 points, Steph Curry and the Warriors fell to the Knicks. (See Box 3)
7. College History Lesson
After Nerlens Noel suffered a torn left ACL on Feb. 13 against Florida, Kentucky's freshman big man only dropped from No. 1 to No. 3 on Chad Ford's projected top five for the 2013 NBA Draft.
And history backs that up.
Before getting hurt, Noel was averaging 10.5 points, 9.5 rebounds and 4.4 blocks per game for John Calipari's Wildcats, levels reached by only four previous Division I freshmen over the past 40 seasons. All four of Noel's predecessors, furthermore, wound up being top-10 picks in the draft:
Board Scores: 10 Points, 9 Rebounds, 4 Blocks Per Game Division I Freshmen Past 40 Seasons
| | | |
| --- | --- | --- |
| NAME | SEASON | DRAFTED |
| Anthony Davis (Kentucky) | 2011-12 | No. 1 overall by Hornets |
| Eddie Griffin (Seton Hall) | 2000-01 | No. 7 overall by Nets in 2001 |
| Adonal Foyle (Colgate) | 1994-95 | No. 8 overall by Warriors in 1997 |
| Ralph Sampson (Virginia) | 1979-80 | No. 1 overall by Rockets in 1983 |
P.S. -- Noel is also the first collegiate player since a certain Navy cadet named David Robinson in 1986-87 to average at least 10 points, 9 rebounds, 4 blocks and 2 steals per game.
---
In the event Noel manages to be selected No. 1 overall in spite of the injury, as originally projected before the ACL tear, he'd hardly be the first big name to suffer a bad injury in his final collegiate season and then rise to the top of the draft anyway. It seems unlikely he could still go No. 1 given the way Portland's gamble in drafting the oft-injured Greg Oden over Kevin Durant in 2007 played out and unnerved so many teams, but check out these three potential role models for Noel:
Bob Lanier (1970)
*Injured knee in 1970 NCAA tournament regional final
*St. Bonaventure lost in Final Four to Jacksonville without Lanier
*Lanier drafted No. 1 by Pistons
Kenyon Martin (2000)
*Broke leg in 2000 Conference USA tournament
*No. 2 seed Cincinnati lost to No. 7 seed Tulsa in round of 32
*Martin drafted No. 1 by Nets
Kyrie Irving (2011)
*Injured right big toe in Duke's ninth game of season
*Irving missed rest of regular season but returned for the 2011 NCAA tournament in which Duke lost in Sweet 16
*Irving drafted No. 1 by Cavaliers
8. One-On-One ... To Five
Redick
Five questions with Bucks newly acquired sharpshooter J.J. Redick:
Q: What has this last month has been like for you with your name showing up in trade speculation on pretty much a daily basis?
A: I'm a basketball junkie. I don't like attention on myself, to be honest with you, but I like reading ESPN. I like reading HoopsHype. I like checking box scores. But it was tough because it was all hypotheticals. And I don't like dealing with hypotheticals and uncertainty and all that stuff. To me it was almost a sense of relief when the deadline (arrived). Regardless of where I was after the deadline, I felt like I could make the most of it.
Q: So, as a basketball junkie, did you read everything or …
A: I stopped reading. My agent, Arn Tellem, he kept me updated if there was anything serious going on. [On deadline day], I got a call at about 2:15 Eastern -- we were actually here [in Dallas] at the airport [after a game against the Mavericks] -- and Arn said, "It looks like something will go down with Milwaukee." And 45 minutes later, at 2:59, I got the call from [Magic GM] Rob Hennigan. It was a long few weeks.
Q: A lot of us on the outside were expecting you to get moved. But how did you see it going into that last day?
A: I really thought, up until 2:59, I thought I was going to stay. I really did. I said to a lot of people close to me that I'll be more surprised if I'm traded than if I'm still here. So in that sense, I was surprised.
Q: I imagine this whole season has been an adjustment with Orlando in rebuilding mode. What's life been like even before the trade stuff got hot?
A: It was very tough, but I definitely felt like I learned a lot about myself that I wouldn't have learned otherwise if I hadn't gone through that and been a part of a team that was struggling to get wins. I've never been through something where you go 3-27 in 30 games. That, to me, is unheard of.
Q: Do you remember off the top of your head how many games you lost in college [at Duke]?
A: Less than 20. And I've always made the playoffs in the NBA, always been on winning teams, so in that sense it was tough. But it also gave me the chance to lead, take some guys under my wing, grow my game on the court and kind of grow as a person off the court. So I'm still grateful for everything that happened in Orlando.
9. Chatter Box
Marc Stein, ESPN.com
Marc Stein joined Marc Kestecher and talked about Steph Curry's historic MSG performance, the Pacers' dominant play of late as well as how the Grizzlies have fared post-Rudy Gay.
10. Corner 3
Three quick slams and dunks from the deepest recesses of Weekend Dimedom:


1. I will say the same thing every time this happens as long as the current variables are in place: Suspensions and fines have to be stiffer whenever players get anywhere near the fans … no matter how or why they got there. I understand no one got hurt in this latest Warriors-Pacers altercation. I know it's asking a lot for players, in the heat of the moment, to suddenly think about backing off just because they've spilled past the baseline. But I firmly believe harsher penalties after incidents like Tuesday night's tiff increase the likelihood that players leaguewide are going to have it in their minds somewhere that you gottaknock it off immediately as soon as the scrum winds up out of bounds.
2. Maybe I have unrealistic unexpectations given the realities of human nature. Maybe the real debate we should be having is whether NBA teams need to stop letting fans sit so close to the court because -- for all the big money attached to selling courtside seats -- it's just too dangerous. Fans are unfortunately part of the court in the modern NBA, which is a recipe for disaster. Until that changes, though, I'm never going to buy into the idea that players should be sanctioned on a case-by-case basis depending on how ugly the altercation actually turns out. We've somehow got to condition everyone on the floor to treat the lines like some sort of razor-wire fence to avoid at all costs. It's the only way to ensure we don't witness a catastrophe reminiscent of the Malice of Auburn Hills disaster that set the Pacers back years not so long ago.
3. So, yes, what I'm essentially saying is that Steph Curry's 54-point MSG masterpiece shouldn't have happened. As one of the many escalators who inserted themselves into a dispute between Roy Hibbert and David Lee and helped turn it into something far bigger and more dangerous, Curry -- one of my faves, for the record -- really shouldn't have even been playing Wednesday night.