5. Western Conference

The question has nagged at a lot of us all week: How on Earth did Serge Ibaka avoid a one-game suspension for swinging down into Blake Griffin's crotch on national TV?
I can't remember a disciplinary decision from the league office that triggered so much commentary from active players on Twitter -- most notably from LeBron James, Dwyane Wade and Blake Griffin himself -- but we now have an answer.
Some checking with the league office this week revealed that Stu Jackson & Co. deemed Ibaka's contact with Griffin's, uh, groin area to be unintentional. The league view, I'm told, is that Ibaka was slapping at an arm that Griffin unexpectedly pulled away, leading to the painful connection and thus distinguishing the play from the "groin altercations" that earned Wade and DeMarcus Cousins suspensions earlier this season.
My view is that Ibaka unequivocally should have been suspended for a game anyway, because when you swing that hard -- no matter what you are aiming at -- you have to be accountable for the final outcome. When a defender tries to make a hard play on the ball and winds up connecting with a driver's head, there are consequences. Same thing here.
Yet you can, when armed with the league's logic in this case, at least understand how it arrived at the notion that what Ibaka did -- as part of multiple attempts to move Griffin's arm -- differs from Cousins' infamous swipe at O.J. Mayo's crotch or Wade's kick at Ramon Sessions' crotch. As hard as it will always be in any sport to try to judge intent, Cousins and Wade can't really suggest they were doing anything but trying to dole out a shot to the groin. Neither quite wound up as wildly as Nicolas Batum on Juan Carlos Navarro at the Olympics, but it's pretty clear where they were aiming.
(An aside: Imagine what sort of player tweets would have been flying around if Twitter was this popular in 2007 when Amar'e Stoudemire bolted off the Phoenix bench in that fateful series against San Antonio.)
---
Some numbers of note in the West this week:
51: Entering Wednesday's play, San Antonio and Miami were both shooting nearly 51 percent from the field in first quarters for the season, giving further credence to the theory that good teams take the first quarter in NBA games more seriously than we've been led to believe.
3: San Antonio's Tony Parker went to the sideline with that unfortunate ankle injury as one of only three players this season averaging better than 20 points and seven assists. The others are Miami's LeBron James and Oklahoma City's Russell Westbrook.
34: At 34 years, 195 days old, Kobe Bryant became the second-oldest player in NBA history to total at least 40 points and 10 assists in a game with his 42-and-12 eruption Wednesday night in New Orleans. Larry Bird was 35 years, 99 days old when he pulled it off for Boston in March 1992. Gary Payton and Elgin Baylor also had 40-and-10 games when they were 34.
118: Bryant is up to 118 40-point games in the regular season for his career, trailing only Wilt Chamberlain (271) and Michael Jordan (173).
71: The 71 points scored by Oklahoma City by halftime Tuesday night against the Lakers matched the highest first-half point total from any opposing team in Dwight Howard's career. According to the Elias Sports Bureau, New York is the only other team to top the 70-point mark against a Howard-led team by halftime -- in December 2004 in Dwight's second month in the league.
---
The Rockets don't just put a strain on scoreboards. For anyone who likes to indulge in the sport of NBA payroll-tracking and salary-cap bookkeeping, keeping up with Houston's maneuvers is a workout.
After the Rockets' latest moves before last month's trade deadline, they have had 25 players on this season's books. That includes the 15 currently on the roster, which is full again following Monday's return to Clutch City for Aaron Brooks, along with a whopping 10 players who have been waived or bought out.
Here's a list of the 10 players who are not on the current Rockets roster but who count for nearly $11 million combined toward the $58.044 million salary cap in 2012-13:
Jon Brockman: $1,000,000
Daequan Cook: $3,090,942
Derek Fisher: $644,005
Gary Forbes: $1,500,000
Lazar Hayward: $1,174,080
Tyler Honeycutt: $809,875
JaJuan Johnson: $1,089,240
Shaun Livingston: $1,000,000
Scott Machado: $236,802
E'Twaun Moore: $381,098

PS -- Grantland ace Zach Lowe has a longer look at Houston's unorthodox approach to team-building that sources say will continue this summer with the free-agent pursuit of Dwight Howard -- and Andrew Bynum and Josh Smith if Howard rebuffs them -- to pair with star swingman James Harden.
PPS -- Houston still had just a shade under $5 million in leftover salary-cap space before signing Brooks, who received a two-year deal (Year 2 at Houston's option) worth $2.4 million for the rest of this season and potentially $2.5 million next season if Brooks is still on Houston's roster after June 30. One source with knowledge of the deal told ESPN.com that Brooks surrendered just under $3.4 million of the $6.6 million guaranteed in his Sacramento deal for the right to be bought out and return to free agency after clearing waivers.
6. Eastern Conference
The persistent whisper into Stein Line HQ, according to sources with knowledge of the talks, is that Josh Smith-to-Milwaukee is the trade scenario Atlanta came the closest to consummating before the Feb. 21 trade deadline.
Reports this week that the Sixers and Hawks were close on a deal that would have sent Evan Turner and Spencer Hawes to the Hawks in a package for Smith were dismissed by one source who insists that the Hawks' talks with Philly were never as serious as the discussions with the Bucks.
Yahoo! Sports subsequently reported Friday that the Celtics and Hawks hatched a three-way trade scenario that would have brought Smith to Boston and routed Boston lifer Paul Pierce to Dallas that ultimately collapsed when Atlanta sought an additional first-round pick from the Celts.
Yet it's believed that the Hawks, like many teams over the past few years, had internal questions about how serious Celtics president of basketball operations Danny Ainge really was when it came to surrendering Pierce or Kevin Garnett at the deadline. Although Pierce, Garnett and Rajon Rondo have all been openly mentioned in trade speculation since the Celtics' crushing defeat to the Lakers in Los Angeles in Game 7 of the 2010 NBA Finals, with Ainge known to aggressively call around the league to see what's available in potential deals, there remains considerable skepticism about his willingness to actually go through with dealing with Pierce or KG after those 30-somethings helped end Boston's two-decade championship drought.
What's indisputable is that the Hawks, given their druthers, had hoped to send Smith to the Western Conference if they found a workable trade. Sources say that Dallas was among the teams that rejected those overtures, with the Mavs unwilling to add a draft pick to a package that would have cost them Vince Carter and Chris Kaman's expiring contract in addition to rookie Jae Crowder and the expiring deals of Brandan Wright and Dahntay Jones in exchange for Smith. The Mavs simply weren't prepared to give up Carter, Crowder and a pick for an undeniable talent but longtime enigma who A) could leave after the season via unrestricted free agency, B) reportedly wants max money and C) wasn't guaranteed to fit well alongside Dirk Nowitzki since both play the 4.
When all of its J-Smoove talks fizzled, Atlanta opted for a much smaller deal involving two of the players in the proposed Smith-to-Dallas deal by swapping Anthony Morrow for Jones.
---
Some numbers of note in the East this week:
16: Miami's 16-game winning streak entering Friday's home date with Philly means LeBron James is two wins shy of Michael Jordan's longest-ever winning streak. Jordan's Bulls won 18 in a row during their 72-win rampage in 1995-96; Wilt Chamberlain's Lakers hold the NBA record with a 33-game win streak in 1971-72. Magic Johnson's longest winning streak with the Lakers was a 16-gamer in 1990-91, while Larry Bird's Celtics topped out at 14 consecutive wins in 1985-86.
48: Entering Saturday's visit to Golden State, Milwaukee's Brandon Jennings had racked up 48 assists in his past three games, tops in the league this season for any player over a three-game span.
14: Kyrie Irving's decisive 11 points in Wednesday's fourth quarter in Cleveland's come-from-behind win over visiting Utah marked the 14th time this season that Irving scored in double digits in the final period. That was good for fourth in the league, entering Thursday night's play, behind Kevin Durant (20), Kobe Bryant (19) and Jamal Crawford (17).
2: Irving, who has been playing through a knee injury after missing 14 games thanks to a variety of earlier ailments, is about to become only the second player in league history born outside of U.S. borders to average better than 20 points and five assists in a season. Tony Parker did it in 2008-09 and is doing it again this season. Irving will soon be a Team USA fixture for years but was born in Australia.
20: As the third option in Miami, Chris Bosh's career scoring average has dipped to 19.6 PPG. But if he were to finish his career in the 20s, Bosh would make the NBA Draft Class of 2003 only the second in history with four 20-PPG men, along with the Class of 1970 ... making the not-so-risky assumption that LeBron, Dwyane Wade and Carmelo Anthony are there to stay too.
---
The Bucks have a number of tricky financial decisions to make with Brandon Jennings headed for restricted free agency, newly acquired J.J. Redick soon to be an unrestricted free agent and Monta Ellis expected by many teams to give strong consideration to opting in for next season at $11 million despite the longstanding presumption in Brewtown that he's determined to opt out. So there are a lot of variables in play at season's end, since paying all three -- as well as they've been playing together -- would figure to be a serious stretch for the small-market Bucks.
Yet word is that Milwaukee has some interest in bringing back free-agent-to-be Samuel Dalembert separate from sorting out the futures of its backcourt trio. The veteran center had fallen completely out of favor under Scott Skiles and was widely regarded as a near-lock to be dealt this trade season before re-emerging as a contributor behind Most Improved Player and Defensive Player of the Year candidate Larry Sanders under interim coach JimBoylan. (Boylan's own ability to stick around beyond this season, of course, remains yet another matter of debate.)
The only number that matters in the short term, mind you, is seven. With the threat of Philadelphia or Toronto working their way back into the race for No. 8 steadily fading, Milwaukee dreams of moving up just one more spot in the East standings, since the No. 7 seed spares you from seeing Miami in the first round of the playoffs. But the Bucks might have to focus on trying to catch Brooklyn, Atlanta or Chicago given the way Boston has come together in the wake of Rajon Rondo's season-ending injury.
7. All The King's Men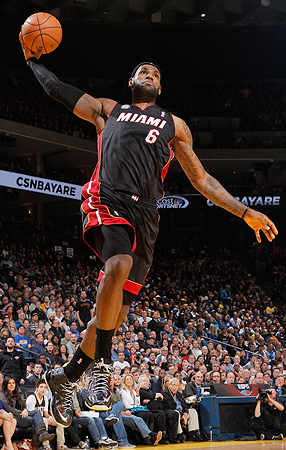 Rocky Widner/NBAE/Getty ImagesLeBron is Miami's engine, but it's the role players who have helped keep the Heat atop the East. (See Box No. 8)
8. Chatter Box
Marc Stein, NBA
What are Denver's realistic playoff prospects? Marc Stein joins hosts Les Shapiro and Tom Nalen on ESPN Radio in Denver (102.5/103.5 FM) to discuss the Nuggets' home-court dominance, Ty Lawson's second-half emergence and how far they can really go in such a tough conference.
9. Film Session

In advance of Miami's bid to stretch its winning streak to 17 games Friday night with Philadelphia in town, Marc Stein joins "SportsCenter" to discuss the contributions from the Heat's role players and coach Erik Spoelstra in support of the LeBron James/Dwyane Wade duo driving the defending champs.
10. Corner 3
Three slams and dunks from the deepest recesses of Weekend Dimedom:
1. Good organizations tune out the noise. So why would the Bulls care one whit about the external obsession surrounding Derrick Rose's return from knee surgery? If Rose doesn't have complete confidence in his left leg, which he clearly does not if he's practicing but still not mentally ready to return to full active duty, there is zero reason for him to come back this season. None. What exactly is he rushing back for? What is the payoff? Even if he made an Adrian Peterson-esque return to immediate greatness, where is Chicago going this season when Joakim Noah, Taj Gibson, Luol Deng and Kirk Hinrich are also all banged up to varying degrees? If the public and the press are getting impatient, so what?
2. Golden State was back in its short-sleeved soccer jerseys Friday night on ESPN against Houston in a showdown of conference foes trying desperately to cling to their positions in the West's top eight. The rest of us, meanwhile, will largely resume being mortified by a shirt design that I'm convinced, no matter how much we all protest, will become more and more standard in coming years. The reality is that there's no shortage of business-minded industry these days certain that an NBA jersey with sleeves is going to be easier to sell to the public at large because a jersey with sleeves is easier to wear after buying one. And it's going to take a lot more than Twitter protest noise to dissuade them.
3. I know it's the sort of question that only an absolute travel geek like me would ask, but I can't help it: What happens to the Suns' US Airways Center now that US Airways is merging with my hometown American Airlines? We can't possibly be headed for an NBA where 1/10th of the arenas (Miami, Dallas and Phoenix) have AA branding on the building, can we?